Tips
Kitchen Cabinets 101
By Danielle Miller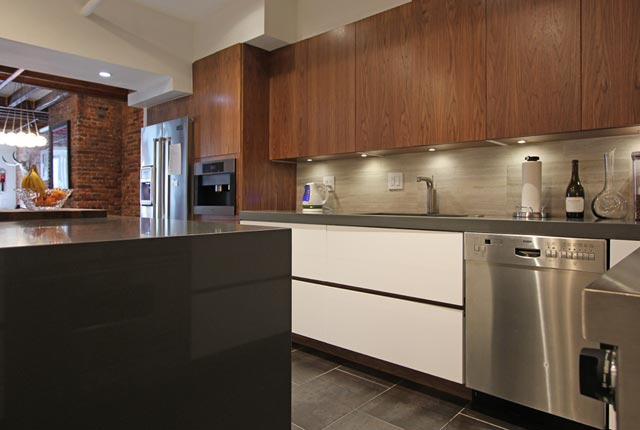 Kitchen cabinets come in a wide selection of door styles, wood types, finishes, moldings and storage solutions.  This endless range of possibilities can overwhelm even the most organized among us.
Since we talked about counter tops in the last post, today we'll mention a few things about choosing kitchen cabinets.
Honda Civic vs Rolls Royce
Like many things in life, purchasing kitchen cabinets is like buying a car: are you going to choose the sedan or the luxury vehicle?
When thinking about choosing kitchen cabinets, start by thinking about the job you'd like for your cabinets to perform, what you'd like for them to look like, and how much of a budget you're comfortable with.
The things that will set one cabinet apart from another are craftsmanship, materials, hardware, design details and level of customization.
Basic Cabinet Types
There are three basic kitchen cabinet types: in-stock, semi-custom and custom.
In-Stock Kitchen Cabinets
In-stock kitchen cabinets are pre-fabricated and tend to be the most economical choice.  When you think of in-stock cabinets, think: Home Depot or Ikea.
Most require little more than installation, but some, as in the Ikea ones mentioned above, come flat packed and need to be assembled. (yikes).
Pre-made kitchen cabinets tend to measure between 12 to 36 inches wide and make use of infill panels to cover up gaps.  Counter heights are the industry standard.
Semi-Custom Kitchen Cabinets
Semi-custom kitchen cabinets are also pre-fabricated, but allow more for more customization in terms of sizing, styles, materials and finishes.
Contractors and/or design firms that offer customizable designs generally provide a ton of assistance with helping a client choose the right cabinets.  The level of services usually comes at the price of waiting a few weeks to a few month before delivery.
Custom Kitchen Cabinets
Like having a suit tailored to your measurements, working with a local cabinet fabricator to create custom kitchen cabinets has many advantages (you can spec odd-sized cabinets to work with your room dimensions, for instance).
You'll pay a higher price per linear foot, however the lead time could be considerably less than the wait for semi-custom cabinets.
Custom kitchen cabinets makes sense for those that have odd corners or an odd space to over or design is very important and can't be done with in-stock or semi-custom cabinets.
__
Whether you select solid wood or laminate, the kitchen cabinets you choose will be an important factor in the look and function of your kitchen. Take your time in deciding and choosing the right set.
Looking for inspiration? Check out some of our NYC kitchen renovations to see a wide variety of kitchen cabinet styles or view our projects and reviews on Houzz.