NYC Remodeling Tips and FREE Kitchen Planning Guide

Important Tips for Renovating in Manhattan
As one of NYC's leading home remodeling contractors, we know the dos and don'ts of tackling a remodeling project in the city. The links below lead to some of the most helpful resources on our website.
But first…
We want to help you start the home renovation process so we created the NYC Kitchen Planning Guide. This workbook will walk you through envisioning your new space and outline the 6-step process to make it happen.
Download the Kitchen Planning Guide.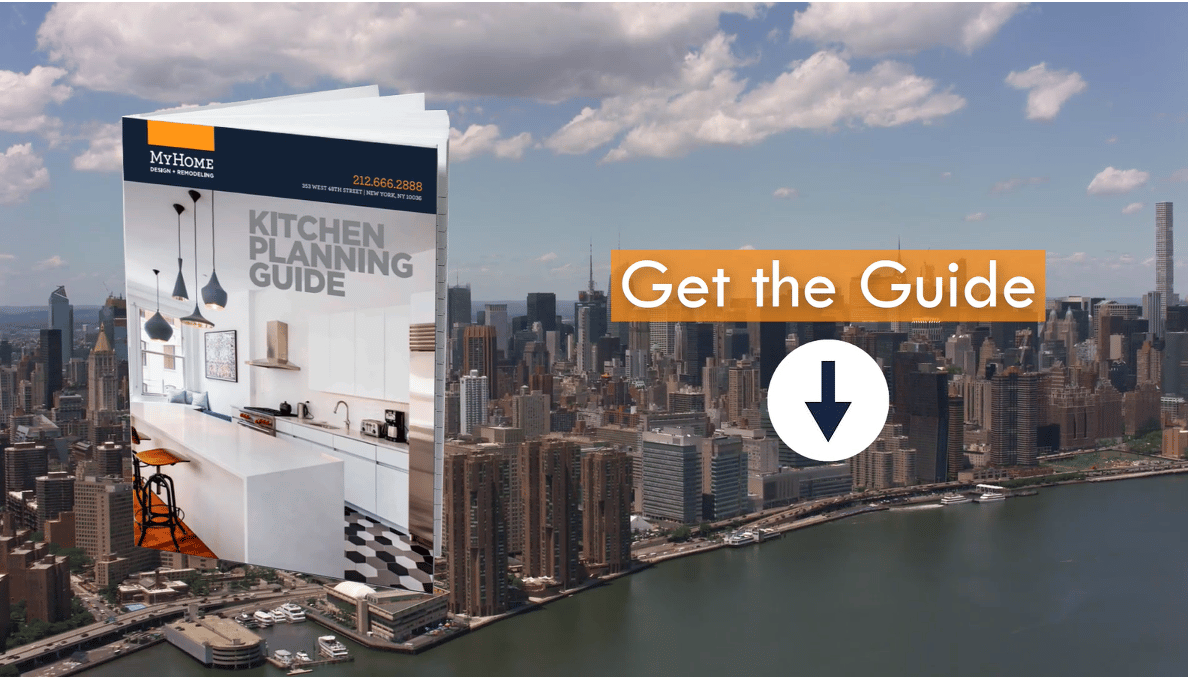 This guide is designed specifically for New York City homeowners. We put together helpful information, a simple questionnaire and a measuring guide all for FREE.
A form will appear below where you can enter your email address to receive the guide. You will also get links to helpful articles such as "What to Expect to Pay for a NYC Renovation?". (We value your privacy and will keep your information private.)
Helpful Links for Renovating in Manhattan
Tips & Suggestions from the Pros
Identify Goals – Before you begin, think about the goals you want to achieve. Is stellar design the driving force? Improved functionality? Resale? Perhaps you're looking for energy savings? Or maybe it's a combination of all these elements?
Get the Vision – Give yourself the creative space to envision what you want. Take a walk through one of our showrooms and get inspired by the different materials and displays.
Know the Process – Before you hire a renovation or remodeling company, ask them about their process and how they approach projects.
Check References – Check references and make sure the remodeling or renovation company you're considering is reliable, stable and professional.
Start by Planning – The more time you spend planning, the easier the process is. It's much more efficient to follow a plan than to work ad hoc.
Know Your Budget – Develop a budget range for yourself that will help you make decisions when you are choosing materials and appliances.
Choose a Point Person – A renovation project has many moving parts so make sure that you have a Project Manager who will be dedicated to the project from beginning to end.
Communicate Clearly – Communication is an important part of a successful renovation project. Ask a lot of questions and work with a company that you trust to give you the answers.
Secure Warranties – Ask your contractor if they have a warranty for their work and make sure you get all the warranty information for the manufacturers.
Enjoy the Process – While a major renovation project can be disruptive, it doesn't have to be stressful. When you have the right company, you'll enjoy the process and revel in the results.
What Others Are Saying
"We met with several companies to do our full apartment renovation before we settled on MyHome. We worked with Lior on the design part of the project, he was especially helpful with picking out materials that were in line (aesthetically and in budget) with our vision. He also gave us good advice on what would or not work given the lay out of our apartment. Our construction manager, Todd, was very responsive each time we reached out to him and he was diligent about addressing any concerns we had. We would gladly work with MyHome again."

– Michael C. (via Houzz)
MyHome Design and Remodeling is a great contractor! They have people who help you all along the way of the project. They were recommended to us by a friend and we liked the work that they did in our friend's home. Everything went smoothly, they finished on time, they kept us posted on the status of the appliances/equipment/light fixtures that were on order and when they would arrive. Their crew was on time and worked all day. Great contractor for small or large projects!

– Susan D. (via Houzz)
My Home did a great job in renovating an extremely small Manhattan kitchen on a moderate budget. Not only is the kitchen way more functional (my primary focus), but it looks even better than I thought it would. Ben Pitt, the designer I worked with, has a great eye for design. And the project came in on-budget and on-time, even though I made some minor changes to the design plan as the project progressed.

– Risa G. (via Houzz)
---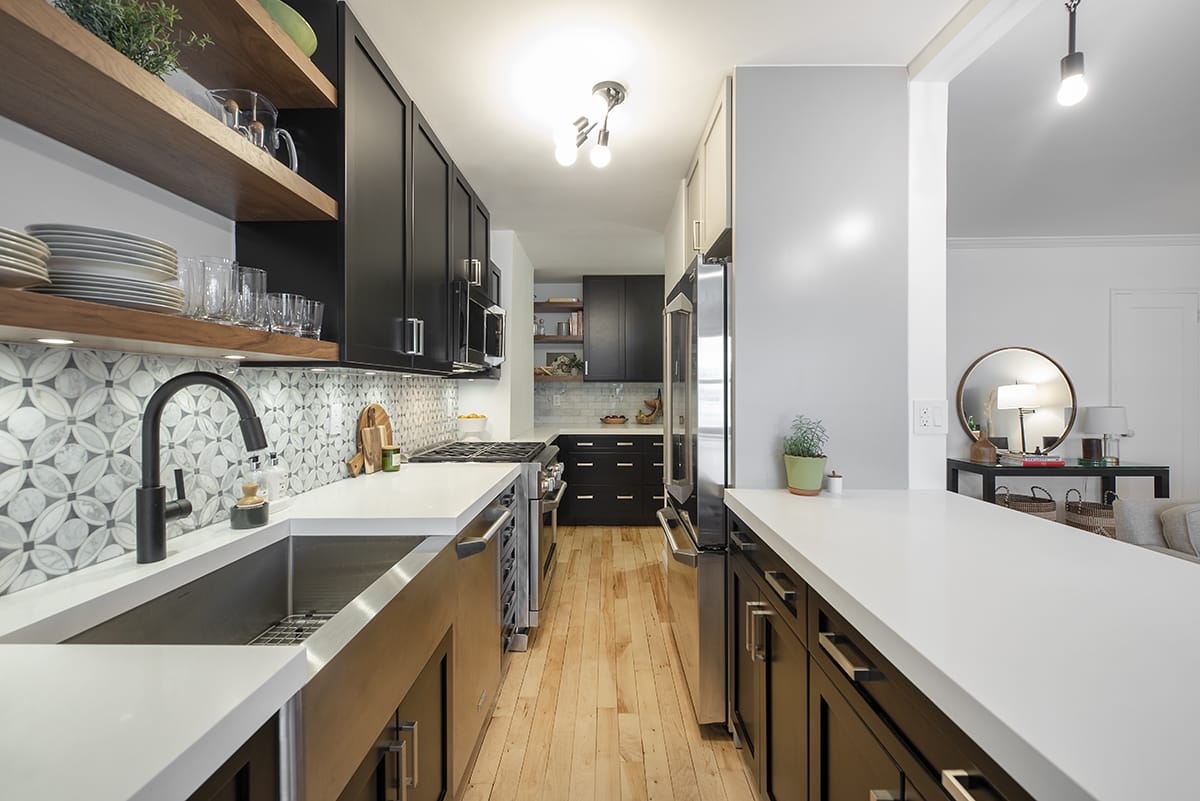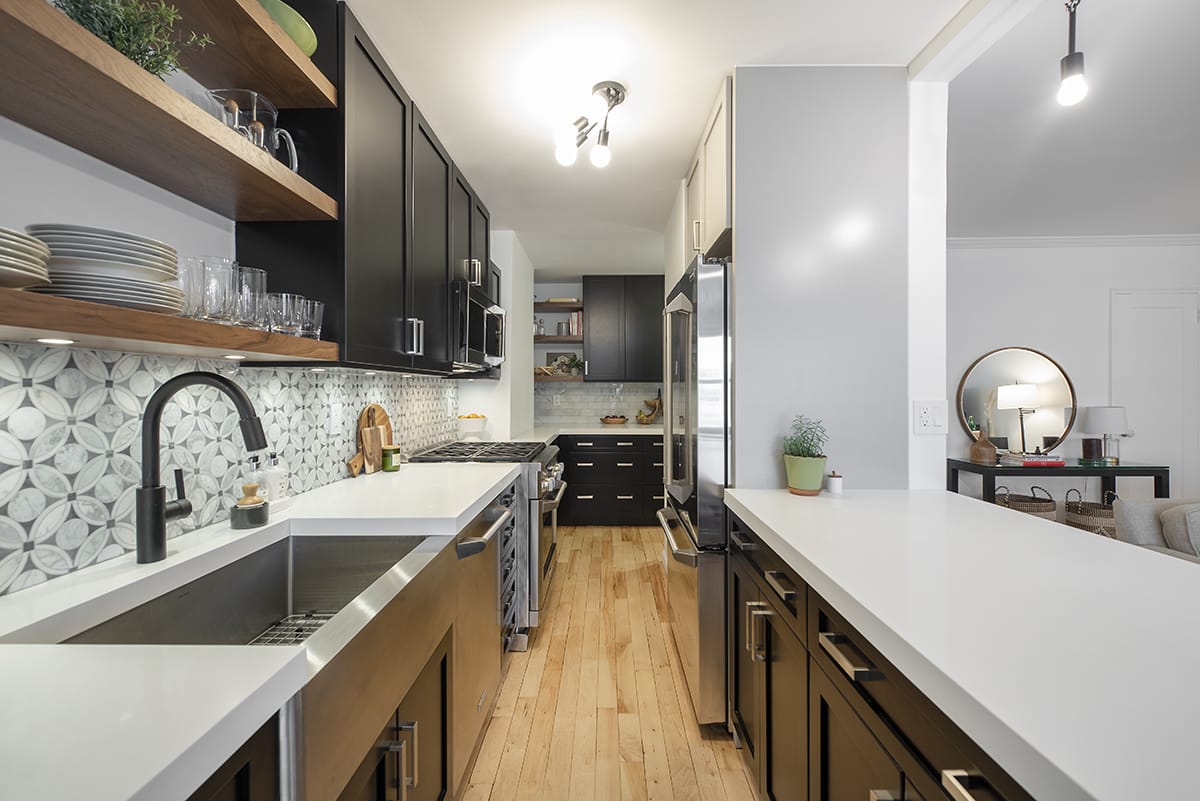 MyHome is your one-stop-shop for everything kitchen and bath.
Our kitchen and bath showroom is fully stocked with state-of-the-art kitchen cabinets, bathroom vanities, hardware, accessories, backsplash options and tiles –everything you'll need is all under one roof.
MyHome will supply and install everything for you –we'll walk you through this sometimes difficult path hand-in-hand, until you are satisfied with the result. Since all of our projects are under warranty you'll have peace of mind in the years to come.
MyHome's remodeling process is straight forward as can be considering how complicated remodeling project can be in New York City:
Free Consultation
Labor Proposal & Design
Ordering Materials
Production / Construction
Touch-Ups
5-Year Warranty
MyHome strongly believes remodeling shouldn't be chaotic and stressful. That's why we've formulated this step-by-step process, guaranteed to make your home improvement project easier, faster, and ultimately successful.
Free In-Home Design Consultation
We come to you! Schedule a design consultation with one of our Remodeling Experts. They'll use their expertise to help you get a clear picture of your renovation. They can even provide you with an estimate, so you'll know what to expect.