NYC BUILDS ! 2015 Offerings in Manhattan New Construction
As the US economy recovers from years of recession and stagnation, we are finally starting to see the emergence of some amazing new residential NYC builds and build plans happening for the city right now!
You don't have to look anywhere but up these days to notice a building boom is well under way in our amazing city.  From trendy storefronts to gorgeous coffee shops, gourmet eateries to nail salons, the evidence of growth in businesses alone is everywhere.  With the growth of new businesses also comes the desire for new digs.
We would like to take this opportunity to highlight just a few of the spectacular new NYC builds in the works.  Cutting edge design, style, decor and innovation will always be a hallmark of New York City, and what we are about to show you promises nothing less!
625 WEST 57TH STREET – BJARKE INGELS
VIA 57 WEST, the anchor of the 57 WEST residential block, provides a dramatic visual gateway to Manhattan's skyline along the Hudson River. The first project designed by the Danish Architecture firm BIG – Bjarke Ingels Group in North America, VIA 57 WEST offers residents a compelling mix of 709 rental residences, an unsurpassed selection of resident amenities, and 45,000 square feet of retail space.
Natural light, views, trees, plants, and moving water are integral components of VIA's holistic design aesthetic and The Durst Organization's commitment to creating properties in which people can live, work and thrive. The centerpiece of VIA 57 WEST's unique design is VIA Garden, a lushly planted courtyard that opens toward the Hudson River, bringing views and low Western sun deep into the block.
VIA 57 West's materials, products, construction methods and operations have been carefully vetted by The Durst Organization with a view of their impact on both the environment and daily living experience.  Scheduled to open in 2016.
photo courtesy of www.durst.org
520 PARK AVENUE – ROBERT A.M. STERN
A 780-foot-tall, 52-story limestone-clad residential tower rises to a crown of four corner chimneys framing pilasters and aedicules where it joins the nearby skylineof iconic towers such as the Sherry-Netherland and the Pierre. At street level, the building engages with architecturally distinguished immediate neighbors: Bertram Goodhue's Grolier Club (1917) and Cram & Ferguson's Christ Church (1931).  Scheduled to open 2017.
photo courtesy of www.ramsa.com
432 PARK AVENUE – RAFAEL VINOLY
432 Park Avenue is a supertall residential project with 104 condominium apartments developed by CIM Group in midtown Manhattan, New York City. Originally proposed to be 1,300 feet (396 m) in 2011, construction began in 2012 and is scheduled to be completed in 2015. The building required the demolition of the 495-room Drake Hotel, which had been built in 1926. In 2006, the hotel was sold for $440 million to developer Harry Macklowe, and the hotel was demolished the year afterward. The site became one of New York's most valuable development sites due to its location, between East 56th and 57th Streets on the west side of Park Avenue.
At a height of 425.5 m (1,396 ft),  432 Park Avenue is the third tallest building in the United States, and the tallest residential building in the world. It is the second tallest building in New York City, behind One World Trade Center, and ahead of the Empire State Building. When measured by roof height however, 432 Park Avenue is the tallest building in New York City, surpassing One World Trade Center by 8.5 m (28 ft).
photo courtesy of www.architecturebeast.com
ONE57 – ATELIER CHRISTIAN DE PORTZAMPARC
ONE57 West 57th Street is Extell's new flagship residential tower and hotel development. Designed by 1994 Pritzker Prize Winner, Christian de Portzamparc, this striking modern glass tower will transform the famed skyline of New York City. 

Currently the tallest completed residential property in Manhattan, this architectural masterpiece rises to over 1,000 feet (90 stories) and provides residents with breathtaking views of Central Park to the North, Downtown to the South, and both Hudson and East Rivers. The building houses 94 luxury residences above the 210-key Park Hyatt New York hotel.
photo courtesy of www.portzamparc.com
30 PARK PLACE – ROBERT A.M. STERN
Sharing a city block with the Woolworth Building, Cass Gilbert's iconic 1913 skyscraper, 30 Park Place will combine a 189-key five-star Four Seasons hotel with 157 top-end condominium apartments in a slender 82-story tower that will become an important landmark among the constellation of towers in Manhattan's Downtown.
The hotel entrance on Barclay Street will lead visitors into four floors of lobbies, lounges, restaurants, ballrooms, meeting facilities, and a spa and fitness center. The public rooms of the hotel will face a through-block garden framed by a lower annex building that will conceal building services and access to below-grade parking. A separate entrance and lobby on Park Place will serve the residences.
Amenities for the apartments will be located on the 38th floor; the function rooms and fitness center will open to exterior loggias. The limestone and precast concrete shaft of the tower will rise to a dramatic skyline profile of full-floor penthouses and setback terraces. Opening is scheduled for 2016.
photo courtesy of www.ramsa.com
53 WEST 53RD (TOWER VERRE) – JEANE NOUVEL
The 82-story structure at 53 West 53rd Street planned for mid-block between Fifth and Sixth avenues will have a total of 442,357 square feet of residential space, composed of 140 residential units that include six penthouse units as well as 30 additional staff quarters on floors 14 through 16, for a total of 170 units, according to the condominium offering plan developer Hines submitted Aug. 13. As of last week the plan was under review and had not yet been accepted. 
With his design for the Tower Verre, Jean Nouvel proposes to take the strict respect of the zoning envelope to the point where its shape becomes the tower itself. Governed by its legal envelope and the structural framing needed to withstand the wind loads, this building is as unique and singular as the parcel it stands on. From close up, its receding stealth geometry makes it surprisingly discrete and unobtrusive for its height. Seen from Central Park, the bridges and most locations on the river banks, its triangular silhouette stands out and is very recognizable in the Manhattan skyline, inscribing the MoMA unmistakably as one of New York's most famous and successful cultural institutions.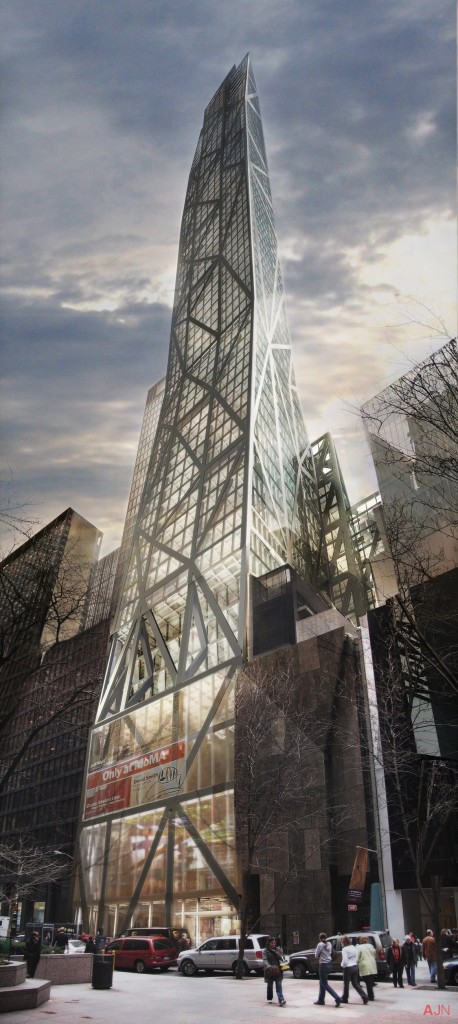 photo courtesy of www.jeannouvel.com
This is our short list of some of the new and exciting offerings that New York has been working on over the past several years.  Complimenting this world-class city are the efforts of these leading designers, architects, and build companies that have no rival.
Just as these modern ideas come to fruition through an ever-evolving and adapting design process, so do the design and cutting-edge services offered by MyHome Design and Remodeling, the premiere source for the most distinctive tastes in existing home renovation in New York City.