What NYC Homeowners Need To Know About Kitchen Remodeling
Taking on a kitchen remodeling project in New York City is a big step that can cause some homeowners to feel anxious. Choosing all the materials, attaining permits, hiring professionals and all the other steps in between is definitely a lot to plan. Our professional team has a fool-proof remodeling method for completing a project efficiently and on time. Today, we're sharing some of our most helpful information so you can be fully prepared for your upcoming kitchen upgrade.
Step 1: Kitchen Design Process
First up is the design process where we collaborate to create the soon-to-be kitchen of your dreams. There are four main aspects to the design of any remodeling project that take careful consideration:
Measurement – The first step in our design process is to take measurements in the home repeatedly to make sure everything is correct.
Layout – After measuring, the design of the kitchen including the cabinets and appliances has to be completed.
Finish – Choose the right finishes best suiting your kitchen countertops, appliances, floors, lighting, backsplash, and accessories.
Budget – A knowledgeable remodeling consultant should help you set a budget and preferred design as per your budget.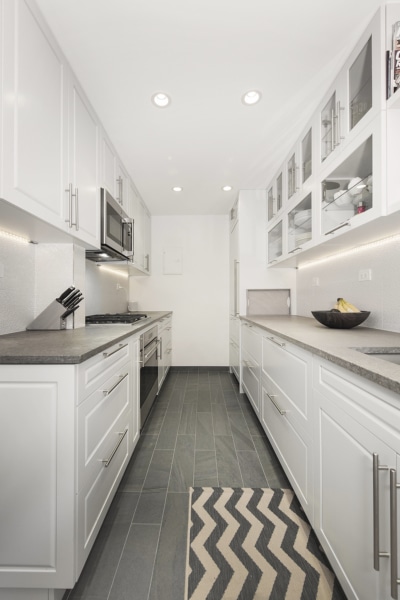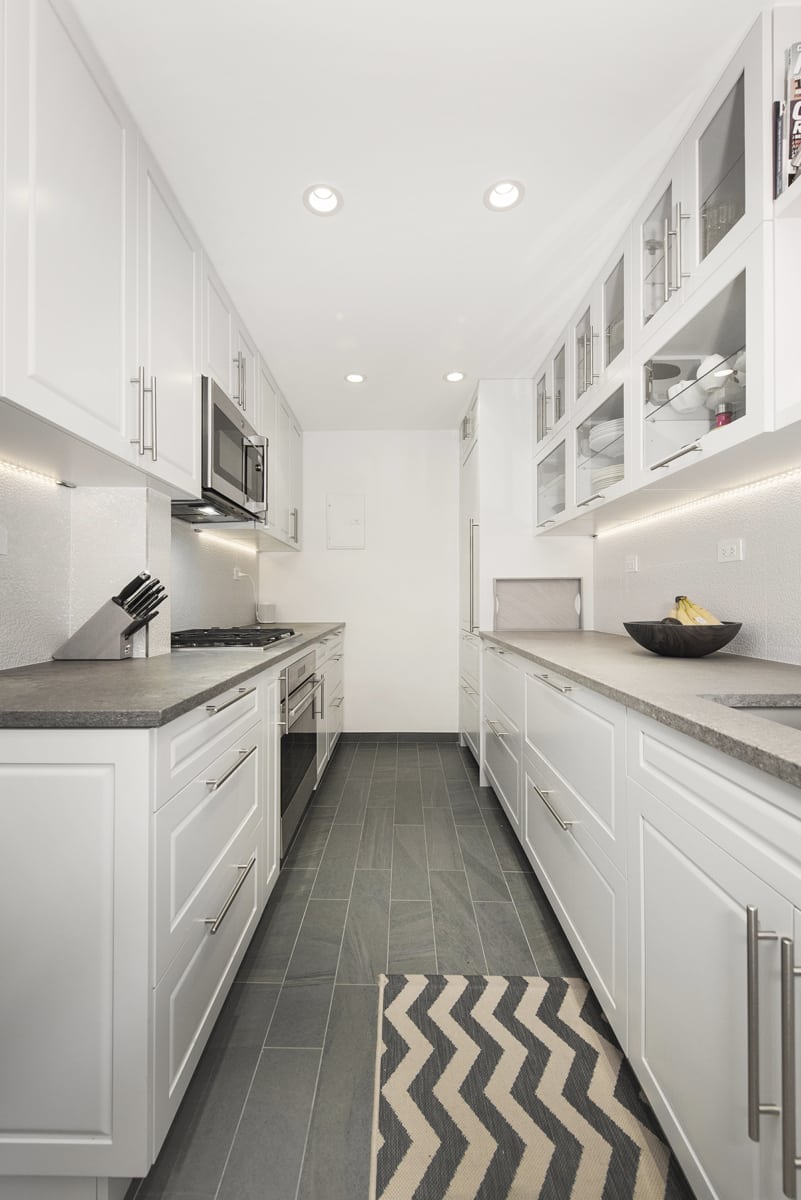 Step 2: Securing Materials
The second step of the process entails securing the supplies and materials that you and your remodeling consultant agreed upon. Luckily, our Manhattan showroom is the home to an extensive selection of things needed to complete any kitchen renovation. There will be no need to search too far when our showroom has all of these essential kitchen materials:
Kitchen Countertops – There are many options available to pick from; granite, natural stones, quartz countertops, solid surface, stainless steel, wood, glass, or concrete. We also have specialty surfaces like Richlite, the recycled paper product, and Ice Stone, made with concrete and recycled glass.
Kitchen Cabinets – We house 10 different types of cabinets from a myriad of manufacturers including big brands and small local brands. Whatever material, style or finish you desire, we can supply it.
Kitchen Tile – We carry almost any type tile you would want to utilize in your upcoming remodel such as ceramic, porcelain, glass, stone, wood and metal.
Kitchen Accessories – Our showroom is stocked full with a various array of kitchen sink and faucets from every brand, size, shape, and color!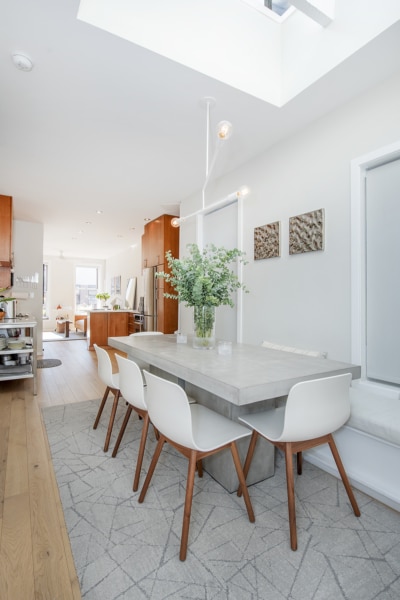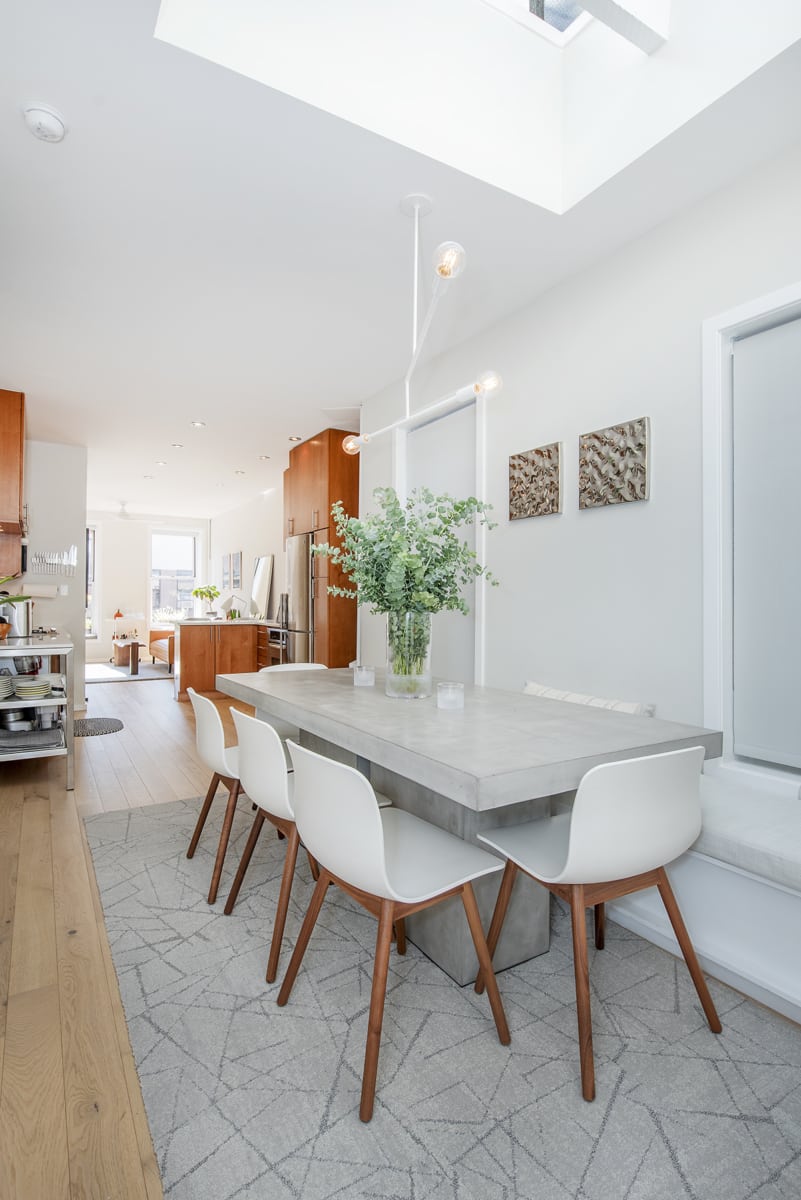 Installation and Warranty
Finally it's time for the best part – installation! During install we will be able to:
Add More Cabinet Storage – It's a known fact that many NYC kitchens are on the small side, so allow us to open up your storage possibilities with additional cabinets or even super chic open shelving!
Give A Modern Design Touch – Maybe you are not completing a top to bottom remodel, and just want some contemporary design elements added into your project. We will work with you to make sure the kitchen you envisioned becomes reality.
Address Any Other Concerns– If at any point during the install process, you see something you don't particularly like or you have a sudden design inspiration, just let your remodeling consultant know! We are more than happy to pivot and adjust.
We are thrilled to offer all of our customers a five year warranty after completing each project. It's basically like buying insurance for your renovations, so you will feel at ease throughout the entire process.
Frequently Asked Questions About Kitchen Remodeling
During each of these remodeling phases, there will be plenty of questions that arise! View our kitchen remodeling FAQ to get answers for common home improvement questions that we often see during the kitchen project process.
MyHome's kitchen design style is backed by complete follow through from the very beginning to end of every project. Our NYC based showroom carries an extensive selection of things you need to get your kitchen renovation done. We have every style of kitchen accessories from modern to traditional and every budget range from very basic to high-end. Our kitchen renovation experts can create any kitchen space you imagine and have the ability to redesign anything you've encountered on any magazine, showroom or website. Schedule a free Zoom consultation with our team to get started.