Home Planning & Renovations
Murphy Beds – A NYC Tradition That's Better Than Ever!
By Tiffany Smolick
Let's face it, most of us living in NYC face constant challenges with living space, whether it be shopping for a new piece of furniture that might not fit, or wondering whether you can actually fit 20 of your friends in your space for that special party you would like to throw. But when it comes to overnight guests, the challenge becomes all too real. If you are lucky enough to have a spare room, even that might prove to be an issue as spare rooms in this city seem to become "storage" rooms!
In the past, Murphy Beds were a must, used by most city-dwellers to better utilize space and to keep your sleeping space free and clear from clutter and grit from the industrial carnival outside. Yes, Murphy Beds, those cute beds that fold up into the wall or cabinet that you may have seen on old television programs or movies. Usually associated with more budget-conscious folks living in tight quarters, Murphy Beds have usually been seen in comedy sketches where somebody is in the bed and for any number of reasons, the bed would fold up into the wall on its own, trapping it's unsuspecting inside, arms and legs flailing hilariously.
Well, the days of the old-school Murphy Beds are gone, and there are options now available that are simply amazing, chic, and comfortable. When utilized properly, these pieces of furniture can turn any space into an instant guest room, creating a comfortable sleeping area and saving you tens of thousands in cash.
Here are some examples of what a modern Murphy Bed can look like:
Wall unit, as part of a larger storage unit
Desk unit, multi-purpose
Mirrored wall, hidden with style
Home office
Oak desk
Lastly, Murphy Beds for the pup!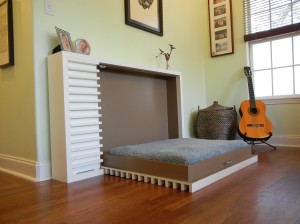 Now that you've seen a few great examples of a modern Murphy Bed, we hope that you will take advantage of this newly-found information in making your home a comfortable option for friends and family when visiting NYC.
Also, if you are considering a remodel of your home, MyHome Design and Remodeling would love to consider a Murphy Bed in your renovation plans!

photos 1-4 courtesy of www.techlinestudio.com
photos 5,6 courtesty of www.oddee.com
photos 7,8 courtesy of www.zoom-room.com
photos 9,10 courtesy of www.bredabeds.com
photos 11,12 courtesy of www.flyingbeds.com