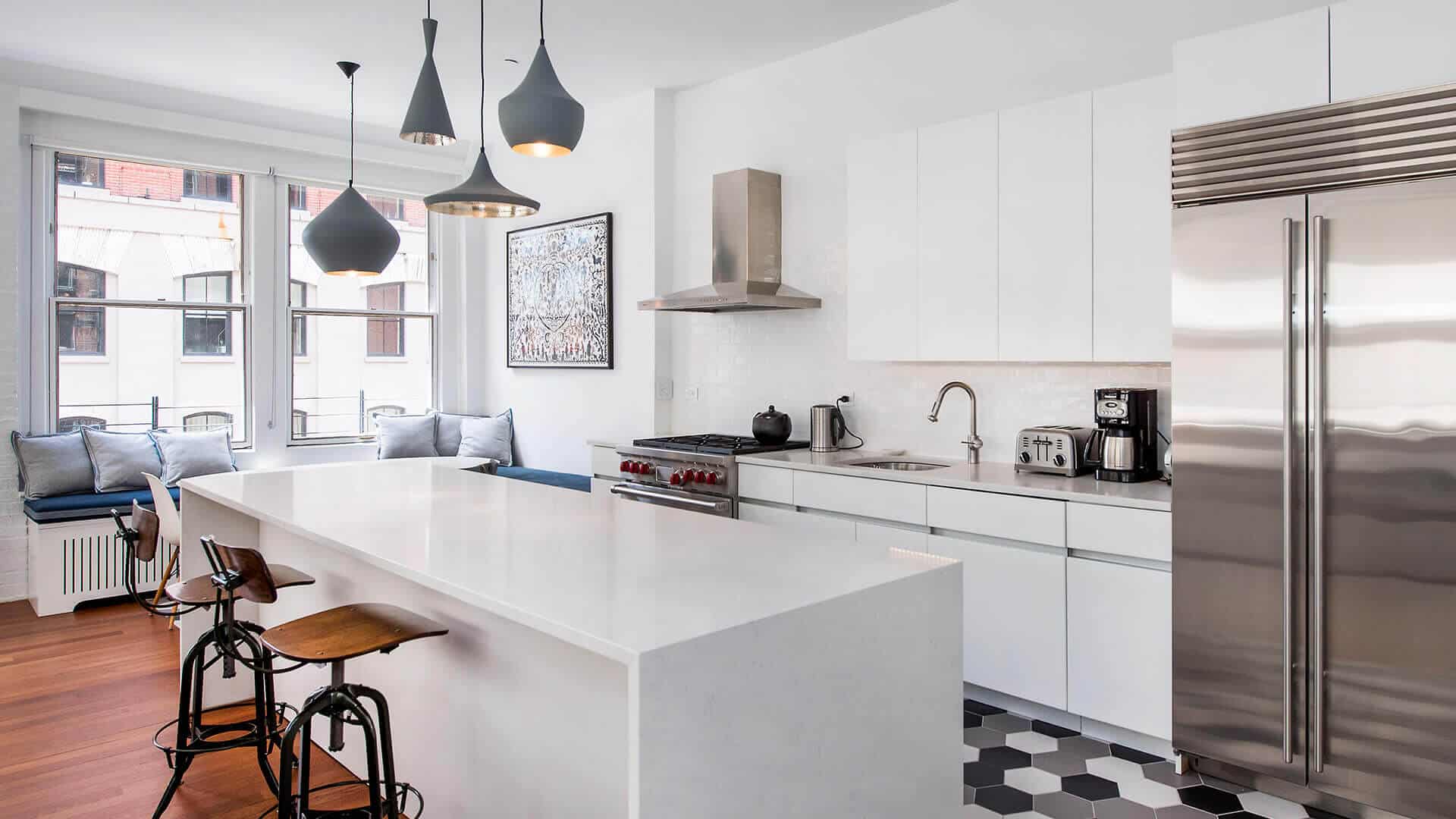 NYC Home Improvement Events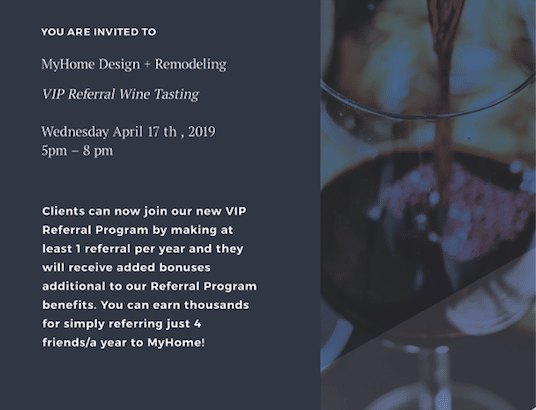 My Home Remodeling + Design Presents a VIP Wine Tasting Event
NEW YORK – April 17, 2019
In celebration of our VIP clients, The MyHome team is thrilled to host a private wine tasting event from 5-8PM on April 17, 2019 at our showroom in New York City. These VIP clients received exclusive invites to this event by referring at least one new person per year to utilize MyHome services. MyHome is grateful for the business that these individuals bring to our team. You can learn more about joining our VIP Referral Program below.
VIP Referral Program
Clients can now join our new VIP Referral Program by making at least 1
referral per year and they will receive added bonuses additional to our
Referral Program benefits.
VIPs who make at least 1 referral each year qualify for added bonuses:
BONUS #1: Tiered rewards!
If you make multiple referrals in the same year, we're stacking the
rewards:
 $250 for 1 referral meeting and $500 for signed contract
 $250 for 2 referral meeting and $750 for signed contract
 $250 for 3 referral meeting and $1,000 for signed contract
 $250 per referral for 4+ referrals and $1,250 for signed contract
 Amounts are PER REFERRAL in a calendar year, which means
you can earn up to $6000 for referring just 4 friends/a year to
MyHome!
BONUS #2: + 1-year extension on your warranty
MyHome's Limited Warranty helps protect your remodeling investment
and promises to preserve peace of mind for your most valuable asset!
Every remodel comes with a 5-year limited warranty. When you join
the VIP Referral Program, you get a 1-year extension on your warranty.
BONUS #3: VIP Access
Special event access! When we host events, you'll be on the VIP list.
This VIP access is good for not only events in our NYC showroom, but also
special events.
If you would like to qualify for our new VIP program or simply read more
about it please visit our link at https://www.myhomeus.com/referral-vip/.
---
[rev_slider alias="GrandOpening"][/rev_slider]
Announcing Grand Opening Event for Recently Renovated Kitchen and Bath Showroom in Manhattan
NEW YORK — JULY 10, 2018
MyHome, the Manhattan-based renovation company, recently completed an upgrade of their 3,500 sq ft showroom at 353 West 48th Street in New York City. The year-long project resulted in 8 kitchen displays, 2 full bathroom displays and 12 bathroom vignette displays to inspire NYC homeowners planning a home remodel.
Visiting a showroom is often the first step of a remodeling project. Homeowners get ideas for their space as they browse through the different styles, sizes, shapes of kitchen and bathroom accessories. "It's like browsing a home design magazine, but better because it allows visitors to touch and feel all the elements. It makes it easy to envision yourself in your new space." shares MyHome CEO, Eran Chelcinski.
The goal of the renovation was to continue to keep the showroom at its highest level and to maintain the vendors and products that are modern, fresh, and in line with current design trends.
MyHome's kitchen and bath showroom is now fully stocked with state-of-the-art kitchen cabinets, bathroom vanities, hardware and accessories, backsplash options and tiles – everything one might need is all under one roof.
Some of the unique features of the new showroom include:
Drawer dishwasher
Cobalt blue Wolf range
Underlit onyx wet bar with wine fridge
24" Lieber refrigerator
Large variety kitchen add-on/drawer inserts
Soaking tub
Dreamline barn shower door
Toto Wash-let Toilet
MyHome's team of designers played an intricate part in the showroom renovation. "Our designers make it a priority to stay on top of trends and their input helped to achieve a more aesthetically pleasing showroom renovation," Chelcinski shared.
When asked how they chose which trends to include in the displays, Yoel Piotraut, managing partner at MyHome explained, "some home interior designs come and go and some stay longer and turn into classic design styles. MyHome designers analyzed the current trends and decided which were most pertinent to our customers."
To achieve state-of-the-art kitchen and bathroom displays, MyHome is partnered with some top kitchen suppliers such as Cuisine Laurier, American Olean, Akdo, Hanssem, Caesarstone, Glazzio, Porcelanosa, Top Knobs, Milmonde, Executive Cabintery, Hansgrohe, Cancos, and Canyon Creek.
MyHome is hosting a Grand Opening event in celebration of the new showroom. The event will take place on July 27, 2018 from 5:00 pm to 9:00 pm.
Those wishing to attend are asked to RSVP with MyHome by emailing info(at)myhomeus(dot)com.