Home Planning & Renovations
Trending Now: Nude Toned Bathrooms
By Tiffany Smolick
If you are seeking to remodel your NYC apartment bathroom into something that is trendy but, timeless and forever eye-catching, look no further than the popular neutral tone. Nude color palettes are popping up more frequently in remodel requests, and for a good reason! They give rooms an air of finesse and refined taste. Far from harsh and bold, these palettes give bathrooms a soft look. Our talented Interior Designer, Esther Trattner, gave the rundown on all the best practices for renovating your bathroom into a neutral yet stylish space you will love for years to come.
Nude Bathroom Basics
Nude-toned baths are all about creating a peaceful, natural environment. Choose one nude shade as a starting point, and then add items that are darker or lighter within the same shade. This cozy palette gives the space a relaxing and calm atmosphere. Once you have the base for your nude bath, there are numerous supporting colors to complement it and give it depth. There are many shades of nude; from light to dark with pink, terracotta, gold, and mocha undertones. How you combine these shades will determine how unique your bathroom nude aesthetic will be. Just remember–a nude bath is meant to be sophisticated and warm. Warm green, blue, and orange shades can really make the room pop. Don't be afraid to experiment when deciding on your palette.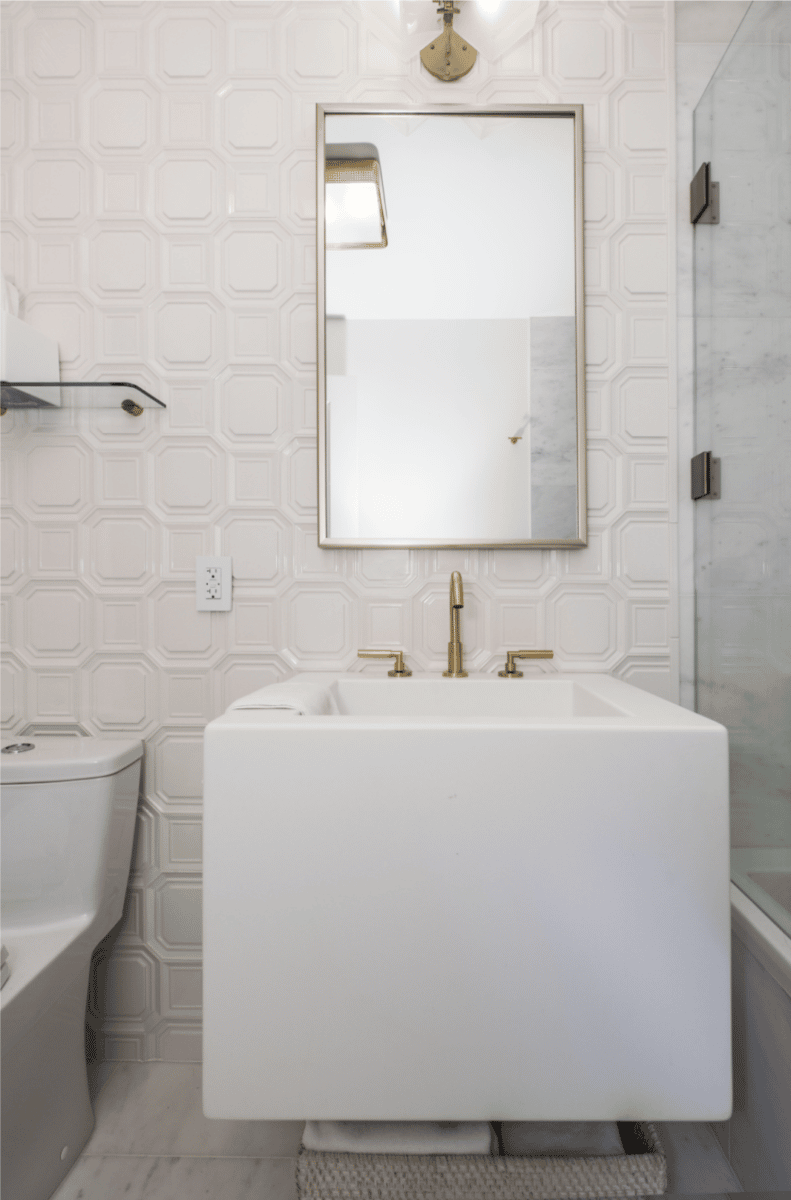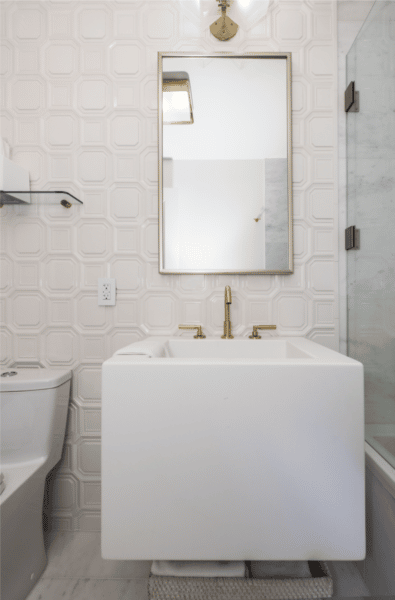 Avoid Contrast In Nude Bathrooms
In general, we tend to avoid very dark cabinetry in a light nude bathroom. You'll want to avoid harsh contrast between walls, cabinetry, and hardware and aim for a more tone-on-tone approach Gold, brass, and bronze hardware is warmer and offers less contrast with a nude color scheme than black and chrome fixtures.
Other great color choices for your furniture are maroon, moss green, navy blue, and gray, which are all super compatible with a nude bathroom. White is another color to consider for your furniture. Cool shades of white can pair really well with all the warm tones you've got lined up. Patterns are also a great way to add contrast. Adding intricate lines or geometric shapes to your blinds, wallpaper, or even tiles can break up the monotone feel a plain bathroom nude palette might have. The effect they give off makes rooms appear larger than they really are.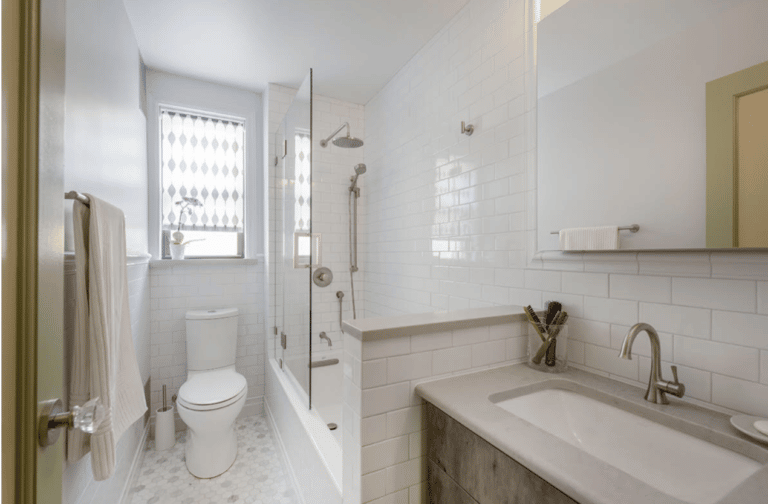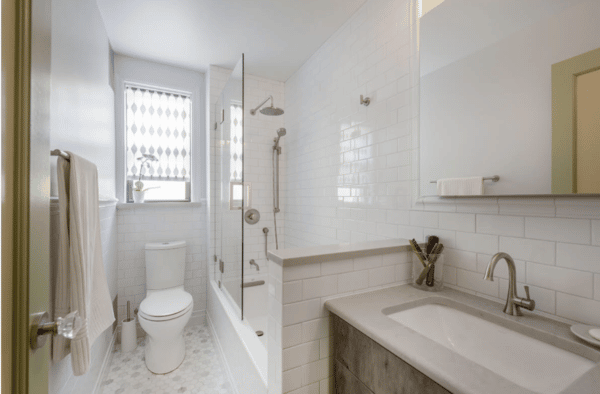 How To Use Natural Light In Nude Bathrooms
Selecting the right nude shade in the bathroom depends on how light or dark you want the overall color scheme to be – and the amount of natural light in the bathroom. Bathrooms with lots of natural light can accommodate nudes in more saturated shades, while bathrooms with less natural light would do best with softer shades to avoid looking garish under intense LED lighting. We recommend that LED lights be dimmable for a nude bathroom to look its best and be most comfortable to use – which is what it's all about!
You might also want to consider adding multiple sources of light instead of one. Accent lights are a great way to illuminate bathroom nudes, and when combined with warm white lighting, will not disrupt the calming look. Light can be added in multiple locations instead of just overhead on the ceiling. Cabinets and mirrors are fun places to add lights to, or you can just add them along the walls. The shape of the light and bulbs will make all the difference in how bright and natural the room feels.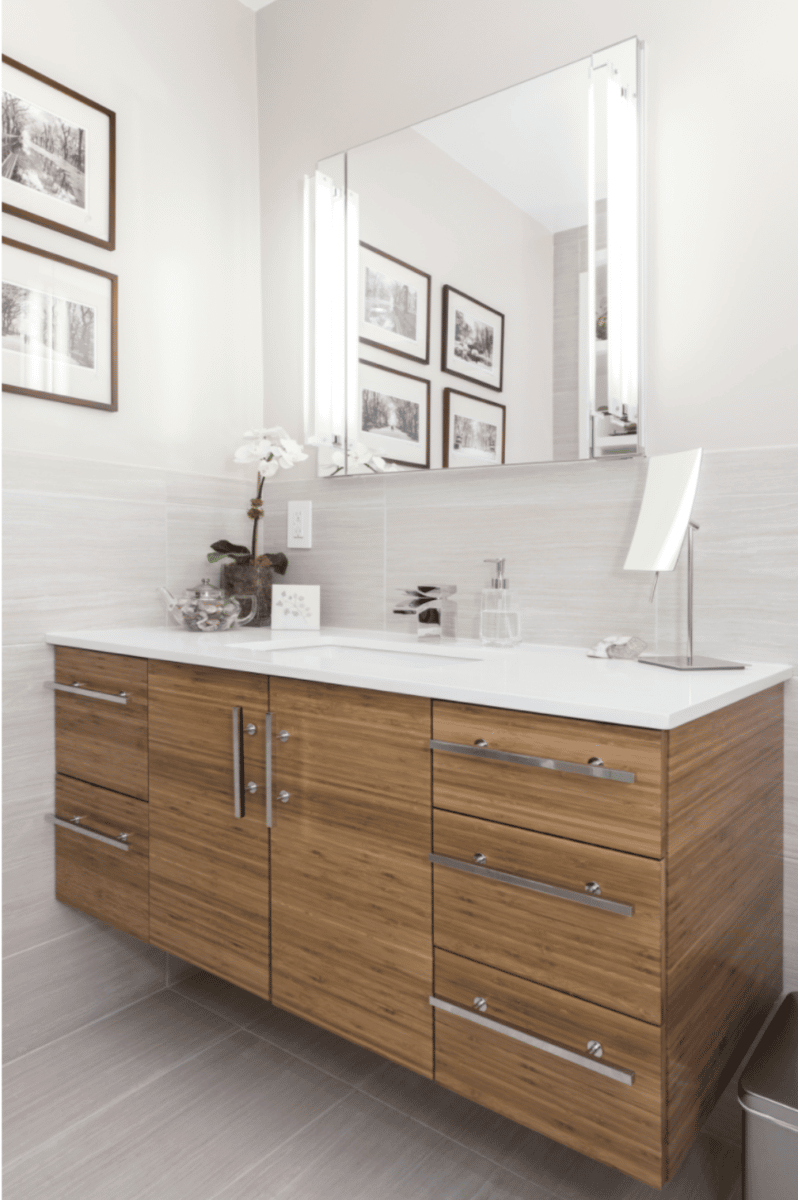 Nude Bathroom Accents & Materials
We would pair a light nude-toned bathroom with lighter wood tones, such as natural stained walnut, maple, or even teak for a bright mid-century modern wood tone that works well with brass and gold hardware. Because there shouldn't be as much color contrast in a nude bathroom, the visual interest comes from texture. Another great way to decorate your bathroom is with nude art, like earth-toned paintings or ornaments. Oil paintings specifically have a great and unique texture to them. Handmade tile, a concrete sink, an off-white tub, or a wood vanity with visible grain can all add layers of visual and tactile texture. Use a light hand with textures in permanent fixtures, and don't forget that texture can also come from simple decorative items like flowers, countertop items, and linens.
Lighting and furniture fixtures also count as part of nude art, helping to give your bathroom appealing visuals and feel. Fake flower bouquets can really liven up the space with soft pink, yellow, or off-white silk petals and gold or bronze stems. Adding weave baskets is a perfect way to achieve texture contrast and it sticks with the theme. If you prefer more metallic decorations in your bathroom, consider the material and color when looking. Bronze and rose gold-colored metal will further complement the bathroom.
Bathroom Remodel Made Possible
The team at MyHome Design + Remodeling is ready to help NYC homeowners achieve a beautiful bathroom design. From the beginning consultation to the final walk-through, we will be involved every step of the way. Schedule your completely free virtual design consult to get the process started!