Home Planning & Renovations
Small Apartment Makeover
By Tiffany Smolick
New York is known for it's small apartments. Luckily, a lack of space doesn't have to cramp your style. Our clients Natasha & Rob prove that it's possible to live well in the tiniest of spaces – 350 square feet, to be exact. All it take is a little creativity.
Full of clever solutions, their teeny-tiny East Village apartment boasts a full size gourmet kitchen, a bathroom, bedroom, two closets, a washer/dryer, and a spacious living room.
Small Kitchen Design
The kitchen is very important to their lifestyle, so we helped them create a modern, sleek space with lots of counter space and storage. Full sized, with a long row of glossy custom white cabinets, it has plenty of style and function: there's even a dishwasher!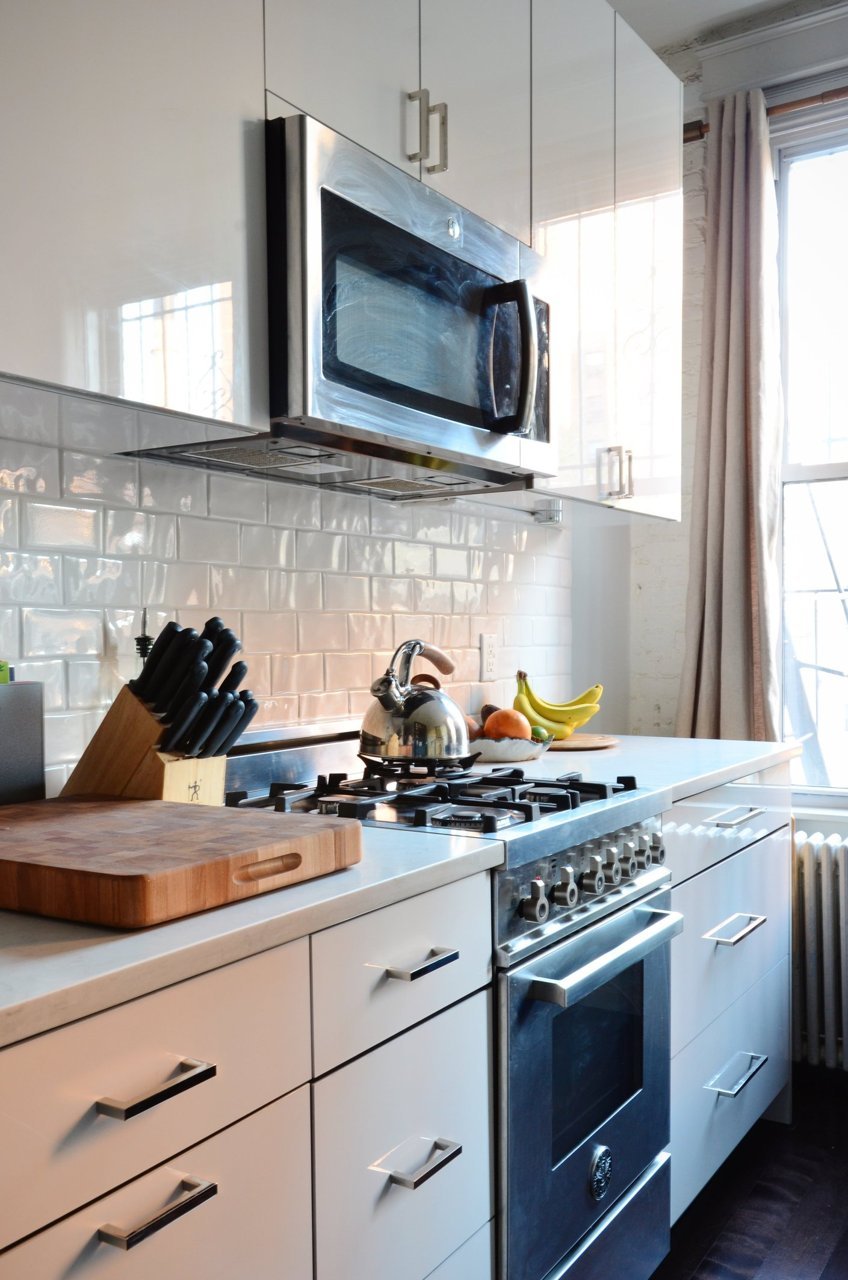 In the living room, a rustic wood fireplace defines the space,
The dichotomy of the sleek kitchen opposed to the painted brick wall with decorative fireplace almost makes the space feel like two separate rooms.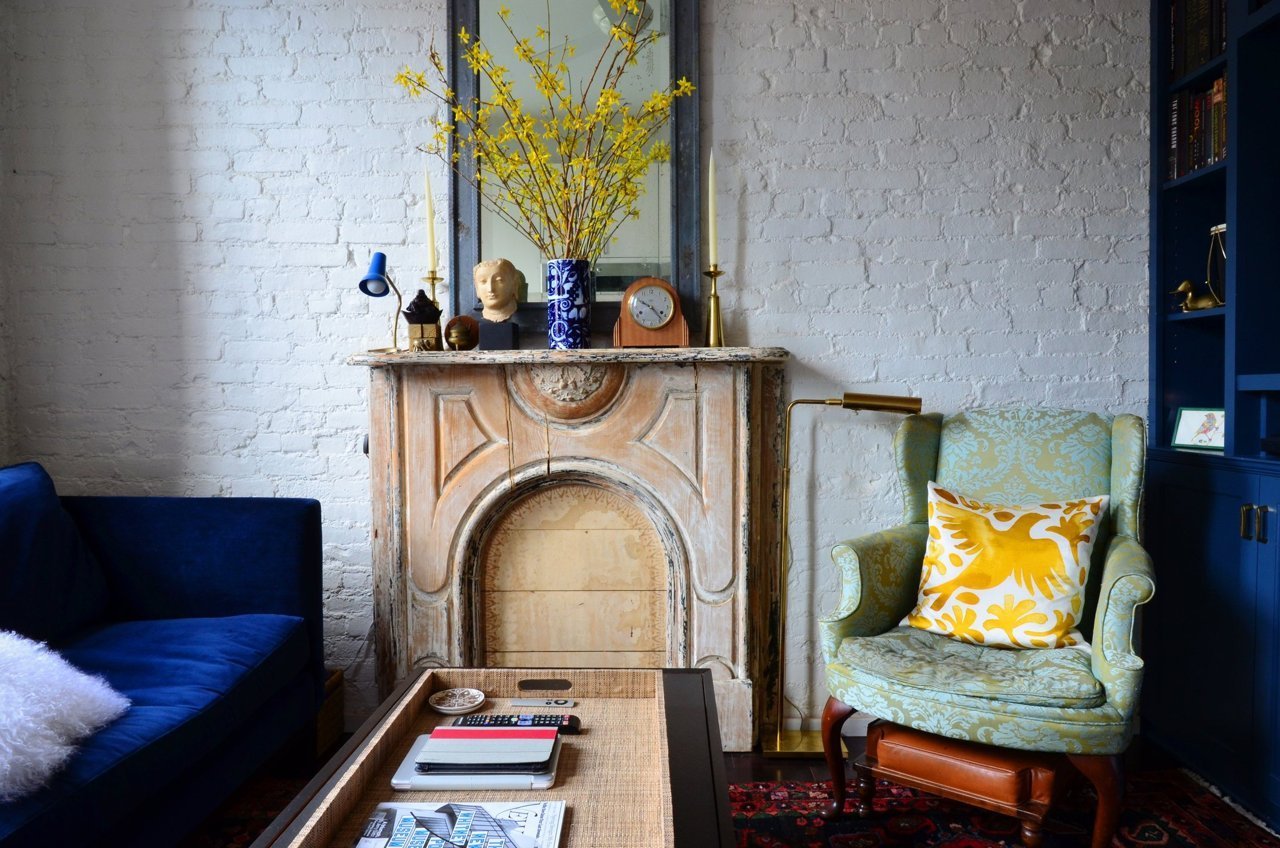 The dark colors of the custom built-in bookcase help it visually recede, creating a feeling of more space and offering lots of storage.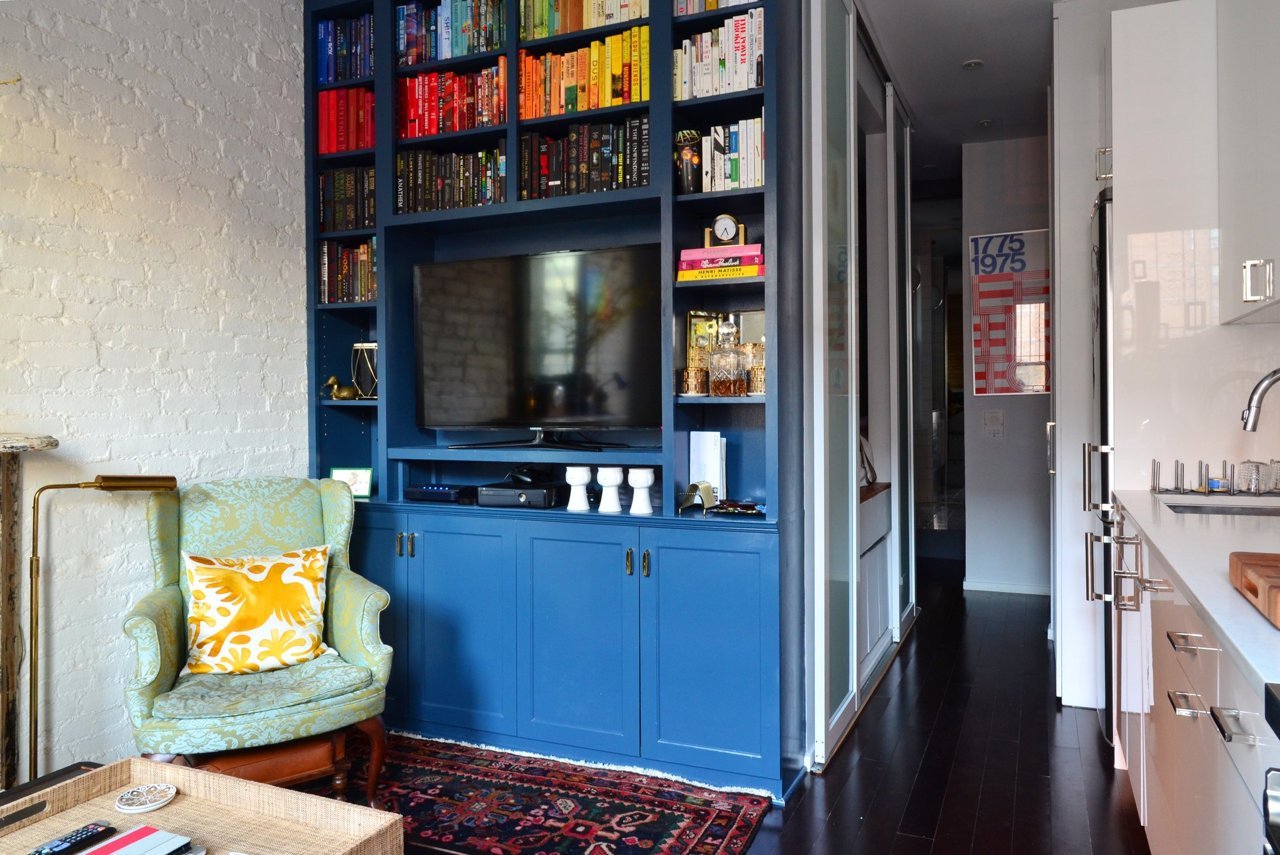 Utilizing every square inch, we tucked the bedroom in behind the bookshelf and built storage underneath, with closets opposite. In the bathroom, the custom vanity hides a surprise… a built in kitty litter box.

The clients were thrilled with the transformation, and now love their teeny-tiny home.
The kitchen is all we could ask for, with tons of counter space, cabinets, and updated appliances, the bathroom is modern and streamlined, and the "bedroom" is a cozy, secluded getaway.
MyHome was there from start to finish, helping to strategically design the space, source the materials from our Manhattan kitchen and bath showroom, and do all the renovations to transform the micro apartment.
To see more photos and take a video tour, see this project featured on Apartment Therapy.
***
Looking for More Small NYC Apartment Ideas?
Checkout MyHome Design & Remodeling on Houzz.com, search our large portfolio of kitchen and bath remodels and renovations in NYC, or stop by our NYC kitchen and bath showroom, conveniently located in midtown Manhattan, New York City.
MyHome is Manhattan's trusted kitchen and bathroom remodeler for a reason. With hundreds of projects and satisfied clients, we excel at making the remodeling process as seamless and stress-free as possible. And we offer FREE kitchen design to help turn your ideas into reality.
So call us at 877-973-1114 or visit our showroom at 353 West 48th Street, NYC. We'll be happy to talk with you about creative ideas to transform even the smallest NYC apartment.