Home Planning & Renovations
Small Apartment Storage Ideas: 5 Great Tips for Winter
By Tiffany Smolick
As the colder weather approaches, we will start pulling out our bulky coats, jackets, hats, scarves, gloves, etc. from their often-times deep deep storage spots that aren't always so easily accessed.
Here are a few easy small apartment storage ideas that will help you reorganize your space to better accommodate these bulky items and add space – plus a bit of design flare – to your NYC home sweet home in the colder months.
1. Entryway Storage & Coat Hangers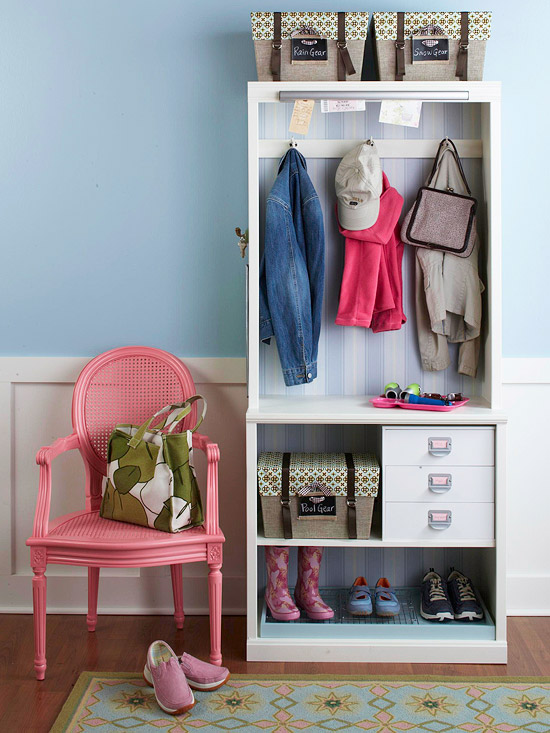 If your apartment lacks a designated entry, create your own with a bookcase.
Remove the top shelves and install hooks on the back wall of the bookcase for hanging coats. Add more hooks to the sides of the books case for hanging leashes or umbrellas.
Outfit the bottom shelves with baskets and small drawers for storing mittens, sunglasses, and other out-the-door essentials. Add a memo bar from an office supply store to the top of the bookcase as a place to organize reminders.
2. Table & Sink Skirts
Need to hide things away? Adding some colorful fabric to a bathroom sink or living room end table that accentuates your existing decor is a great small apartment storage idea that can provide hidden space for large boots or shoes, or small baskets for hats and gloves.

3. Multi-Purpose Hamper

A nifty little clothes hamper, well-placed near your entry door can provide a tidy solution to lots of hats, gloves, scarves, umbrellas, etc.
But remember, you've got to add a little flare to this solution so that your decor is untainted.
There are lots of low-cost options available, especially here in NYC. Your local low-cost home furnishing stores usually can provide the best options.
4. Corner Baskets
Every apartment has corners, and it's about time to put those corners to good use. An inexpensive small apartment storage solution is to add small baskets to these corners, tucked behind that chair or end table.
These baskets can be used to store your summer flip flops and sandals, so that you can put your galoshes and boots in a more accessible place, where the flip flops and sandals used to be!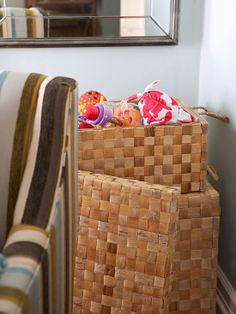 5. Mirrors! (Faux-Space Maker)

Although most of us have a pretty good idea on where to hang a mirror in our home, they're often times far more versatile than we initially think.
Well-placed mirrors can be one the best tools in the small space owner's back pocket to create the illusion of more space. In our personal opinion you can never have too many.
While larger mirrors can be quite pricey, many of us don't have the budget for such things. Look for smaller decorative mirrors at discount or thrift stores to get big impact on a small budget.