Home Planning & Renovations
Three Examples to Inspire Your Tub to Shower Conversion
By Tiffany Smolick
The fast pace of life in NYC means most of us don't have the time to sit and soak in a tub. So, it's no surprise that a tub to shower conversion has become a hot trend in 2017. One of the most popular requests we get from our New York City clients is transforming their unused tubs into a luxurious shower.
To tub or not to tub? This is a question most clients face when designing their bathroom renovations. Besides its convenience, switching out your tub to a shower will lower cost compared to a traditional bath tub renovation.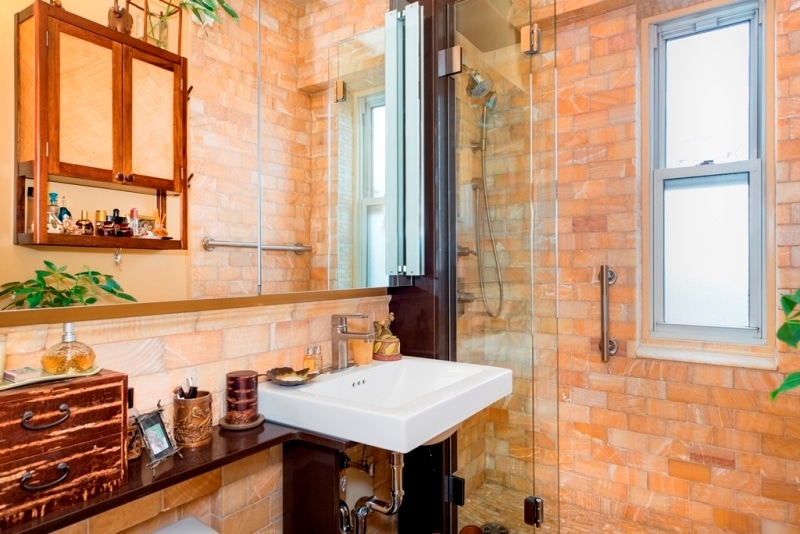 Whether motivated by the lack of time to actually sit and take a bath or an interest in lowering costs, swapping your a tub to shower conversion is the perfect solution. By remodeling your tub into a shower, you'll open up a world of possibilities to customize your design. From tiles to shower benches, and a wide variety of hardware, the options are endless.
With additional options to tailor your design, you can install storage which will make your bathroom more functional. Converting a tub to shower will also require fewer parts than a typical tub would. Fewer parts equals fewer chances for things to break. Using a shower, you will actually be using less water and therefore, your water bill will be lower too.
Below, find three examples of bath to shower renovations done by MyHome. Check them out to see what kind of shower conversions you have as an option!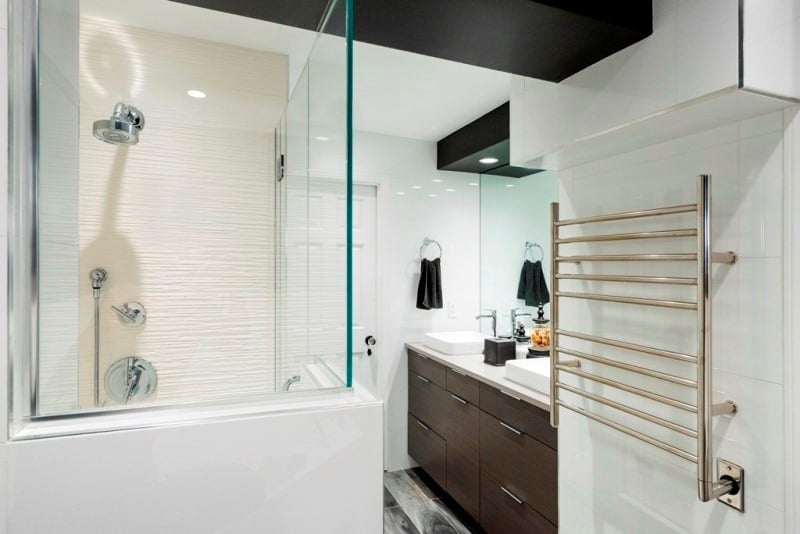 Tub to Shower Conversion Example #1:
Let's check out our first tub to shower conversion before and after results:
Dated to Delightful
Before:
The bathroom had a neutral tile floor, out-of-date his and her vanity, and the step up was not a good use of the floor plan and layout. The dated green subway tile, the tub that the clients barely used and the shower not shown stood in a separate area off to the right were in desperate need of updating. Also, despite the amount of square footage in this bathroom there was inadequate storage.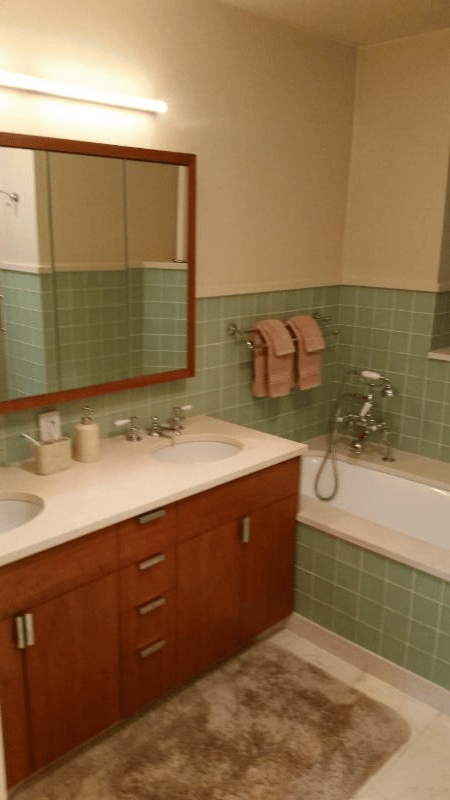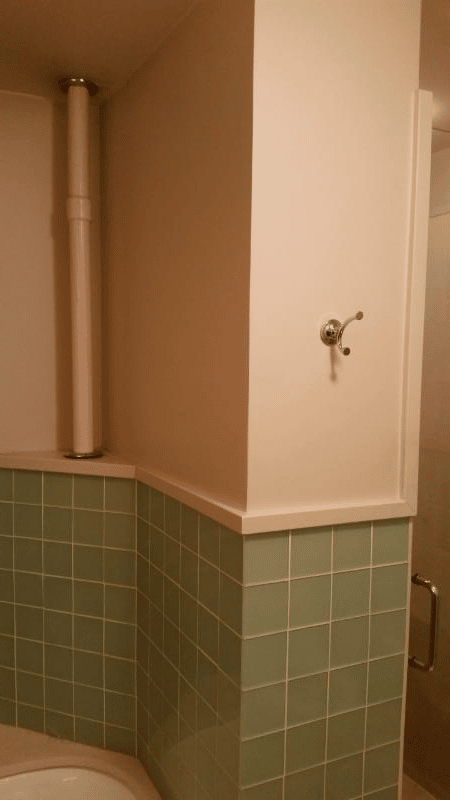 After:
The bathroom was torn down to the studs and remodeled. The designer converted the tub area into a beautifully stunning walk-in shower and the shower area was converted into a vanity and makeup area. Although the organization of the elements is the same as before, there's now a transparent shower door separating the vanity and walk-in shower so it doesn't feel cluttered. That is because the tile shower and the transparent door give the room a more spacious look.
Lighting is of utmost importance when it comes to a bathroom makeover. After all, you'll have to look at your reflection every morning in there. It's only natural you'd want lights that complement it. For that reason, interior design experts emphasize using the right lighting so you can be comfortable while checking yourself out. The client added recessed lights in the shower for improved lighting. A new his and hers vanity was installed with plenty of storage. The new shower features a rain head shower fixtures, a bench, and three niches for storage. It's great for a relaxing hot shower after a long day, and the best part about it is that it's super easy to maintain.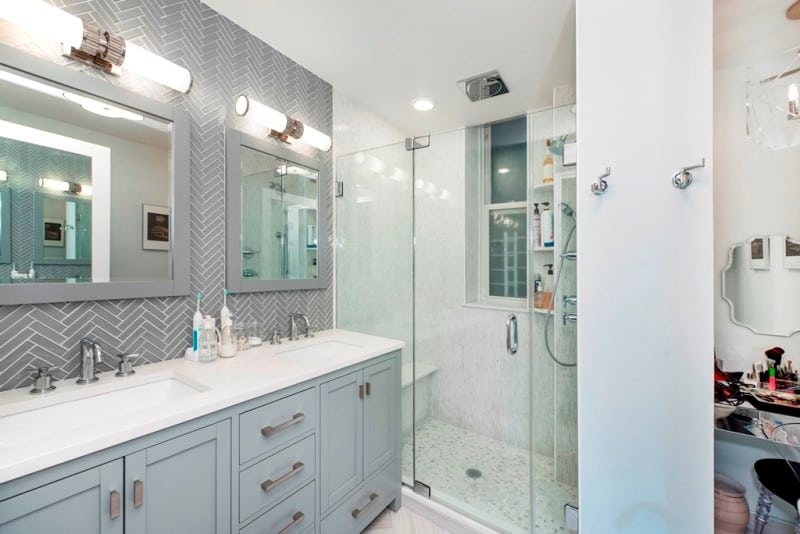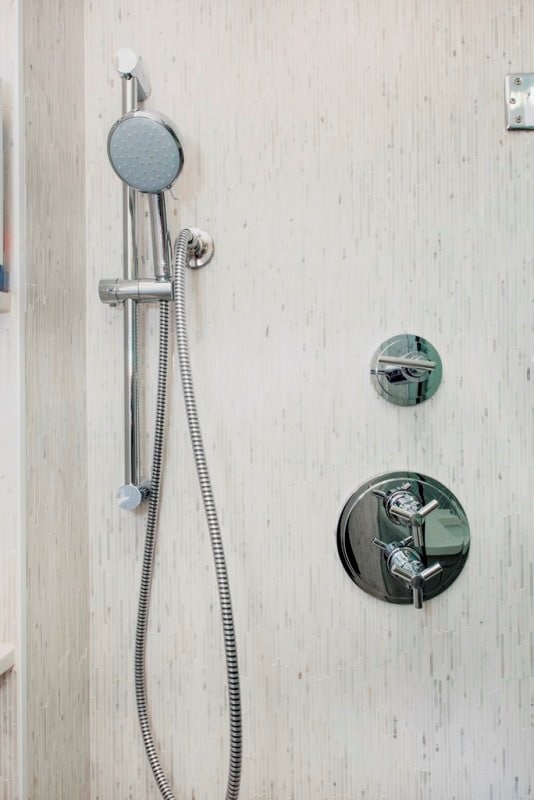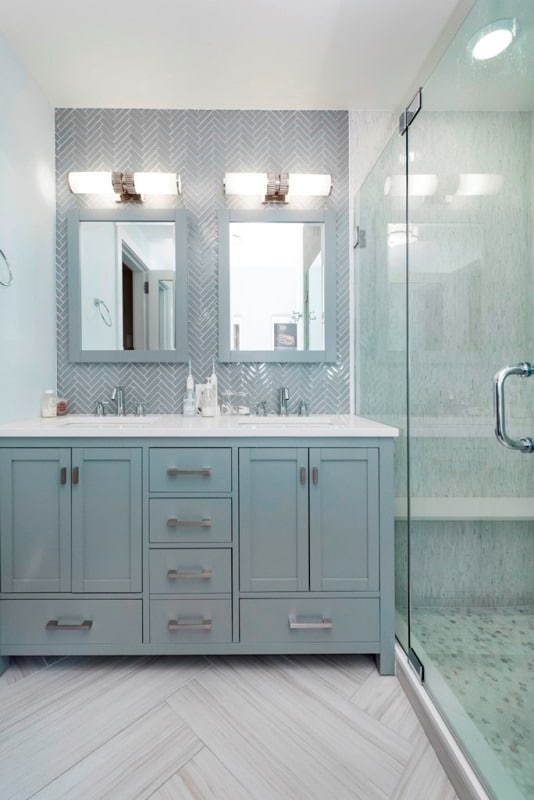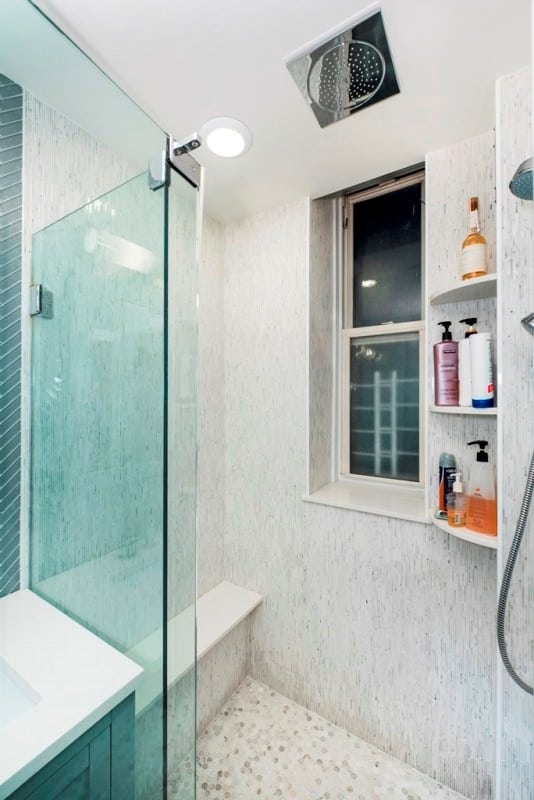 Tub to Shower Conversion Example #2: Outdated to Oasis
Before:
The client's bathroom was cramped and outdated. The purple paint on the walls and old flooring made the space feel particularly small. The pink tub was decades old and too small to comfortably fit an adult. Our before photos are from mid-remodel, but you can still get a feel for the space. There was a dire need for bathroom remodeling, as the whole interior mimicked a 90s bathroom design, which has been "out" for decades.
It was time to give this bathroom a brand new look!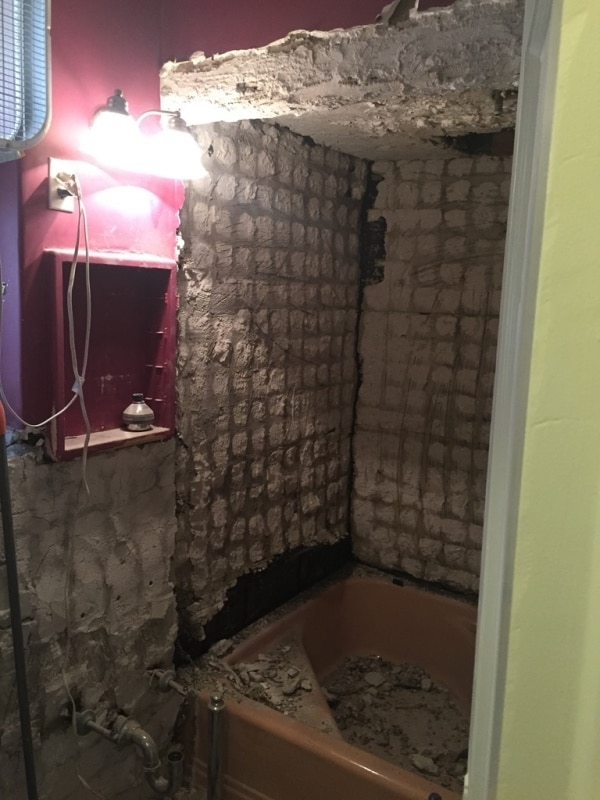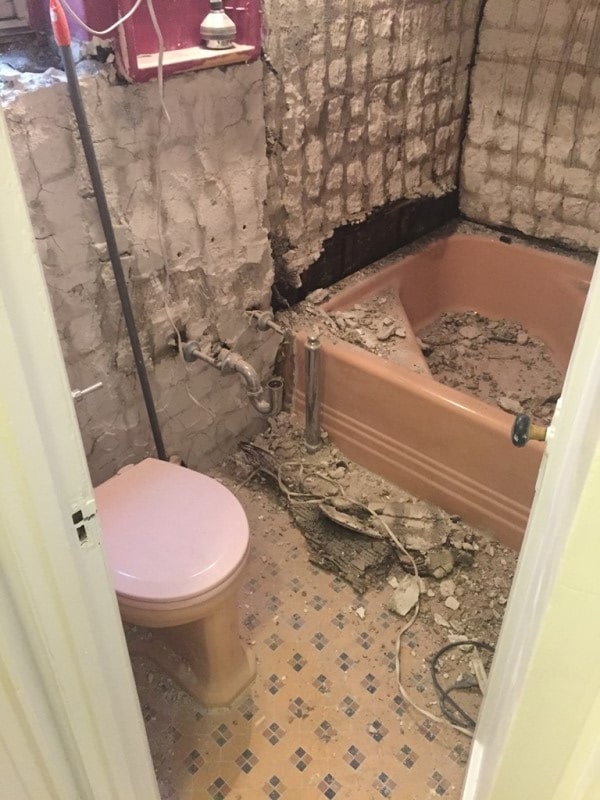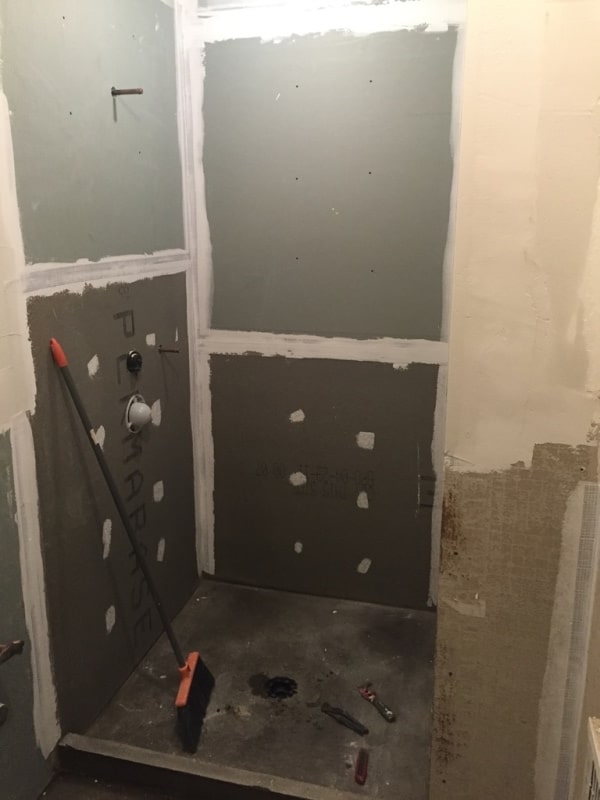 After:
MyHome designer Andrew Rooney tore down this bathroom and transformed the blank space into a modern oasis. Everything existing was removed and redone from the ground up; a new walk in shower, shower fixtures, new wall and floor tiles were installed. By keeping the bath's original layout the homeowner avoided expensive plumbing repairs. To provide more privacy, the designer used a foggy shower door that doesn't show the inside of the shower base.
The finished results are stunning. Rooney installed ceramic black glossy wall tiles and satin brites ceramic black glossy floor tiles. The shower contains two Kohler master shower fixtures; one wall mounted, and one handheld. It's practical and saves on space, especially when compared to the pink bathtub.
This shower remodel isn't as dramatic as the rest, as the plumbing and electrical pipes still remain the same. However, just by refreshing the old tiles and replacing the clumsy bathtub, the entire space has been given a new look and feel. The designers definitely captured the modern and sleek look they were going for.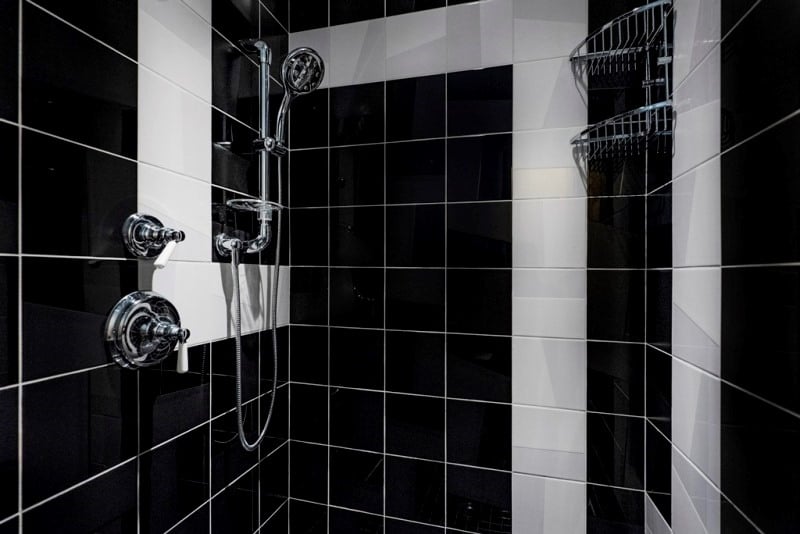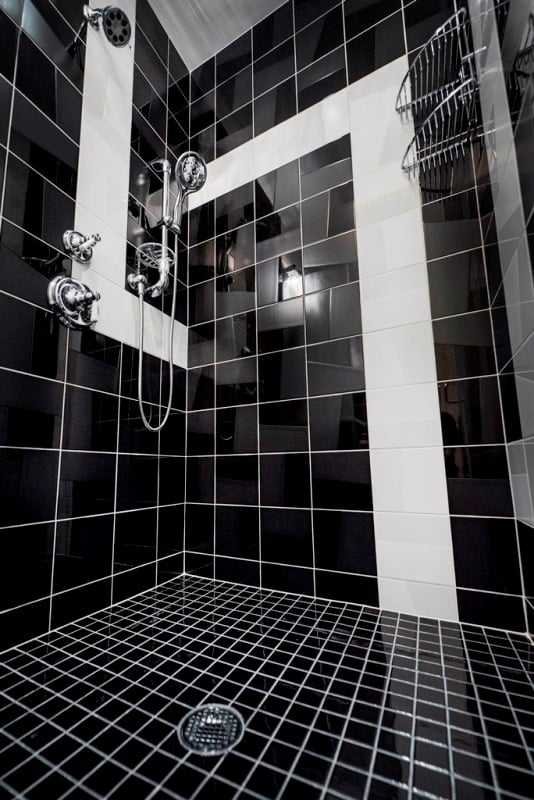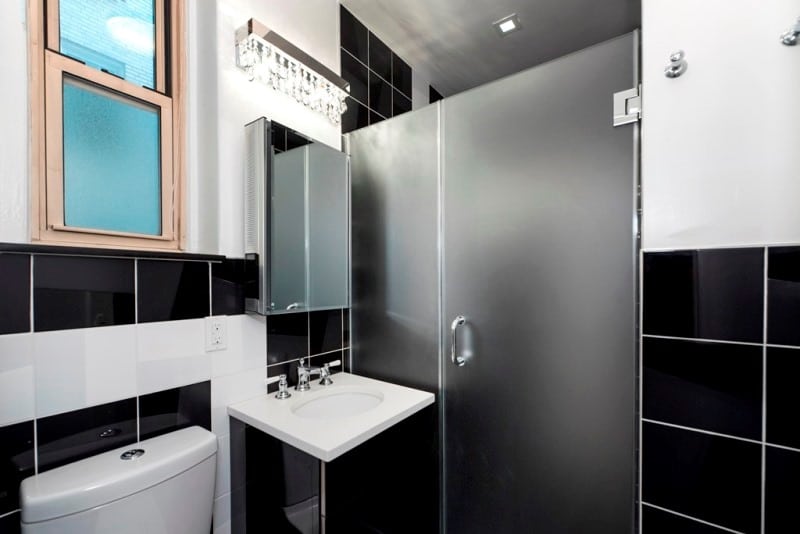 Tub to Shower Conversion Example #3: Odd to Outstanding
Before:
This existing master bathroom had a neutral tile floor and an outdated sink with a very unique fixture. Although the idea of having a unique statement sink is great, the space is small and felt cramped with the bath. The bathroom has quite big dimensions; however, the whole bathroom appears cluttered and confined due to the arrangement of the elements. The nude and light tiles seem old and need a total makeover.
Also, as mentioned, lighting when doing a bathroom remodel is super important. According to the pictures, there is yellowish lighting that's more on the dim side, which is a big no-no. It needs to be perfect.
And to end the Before section, there was also a mouldy ring around the tub.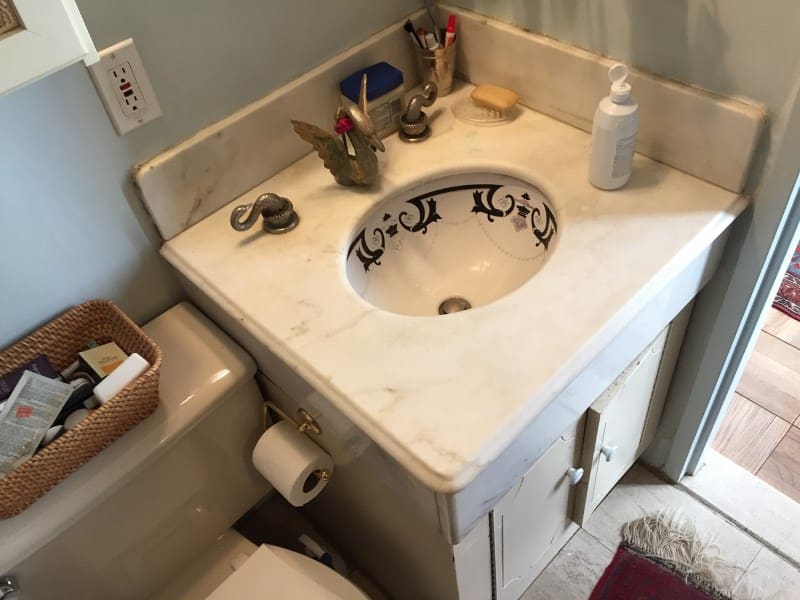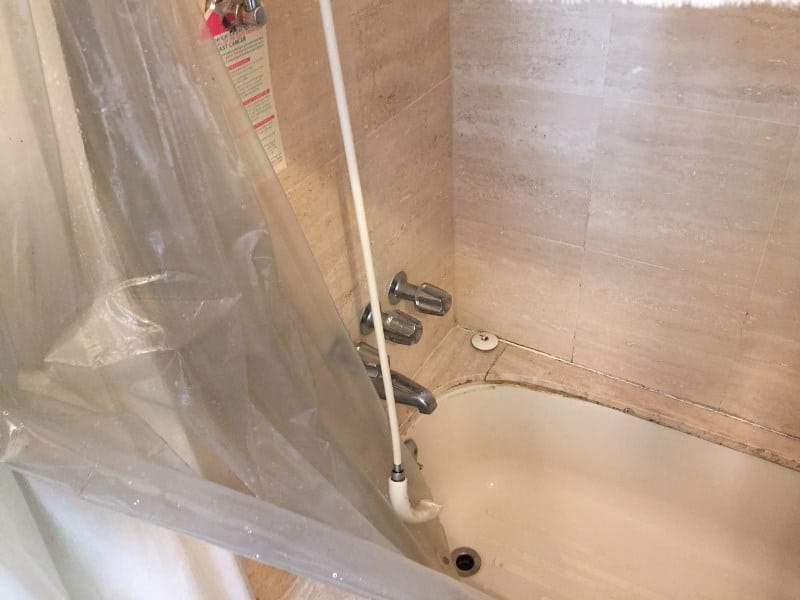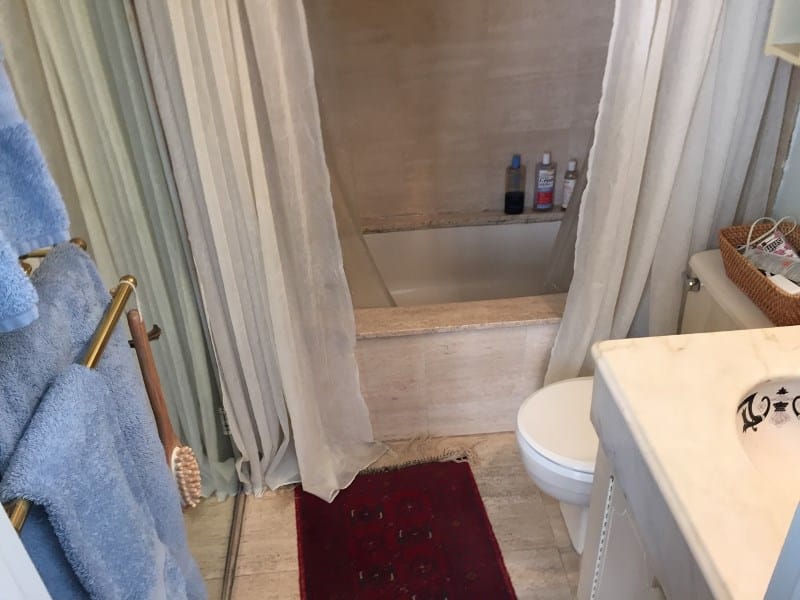 After:
MyHome designer Ben Pitt created a gorgeous modern, elegant bathroom for his client. A spacious shower lined with subway tile replaced the outdated tiles and mold. This shower also includes two Hansgrohe rain dance shower heads, one hand held and one wall mounted.
A modern bench and niche with Carrara marble tops gave this bathroom renovation functionality, as well as beauty. Basketweave Carrara tiles cover the shower floor, adding pattern and contrast to the subway tiles on the shower walls.
In a few steps, the new walk-in shower of the bathroom remodel is not only practical but adds to the aesthetics. The white tiles and the wooden elements supported with white LED lights make the entire setting more spacious, easier to maintain, and eco-friendly–just the kind of shower conversions you should go for!
And with that, we conclude our tub to shower conversion before and after projects!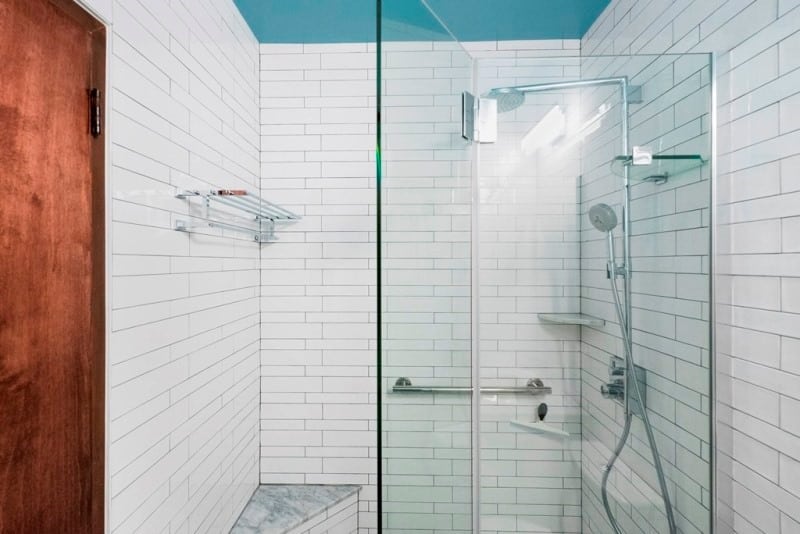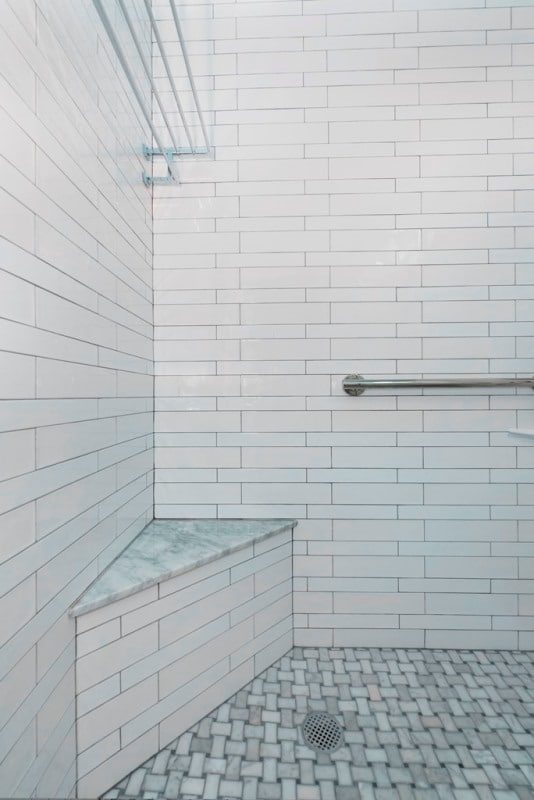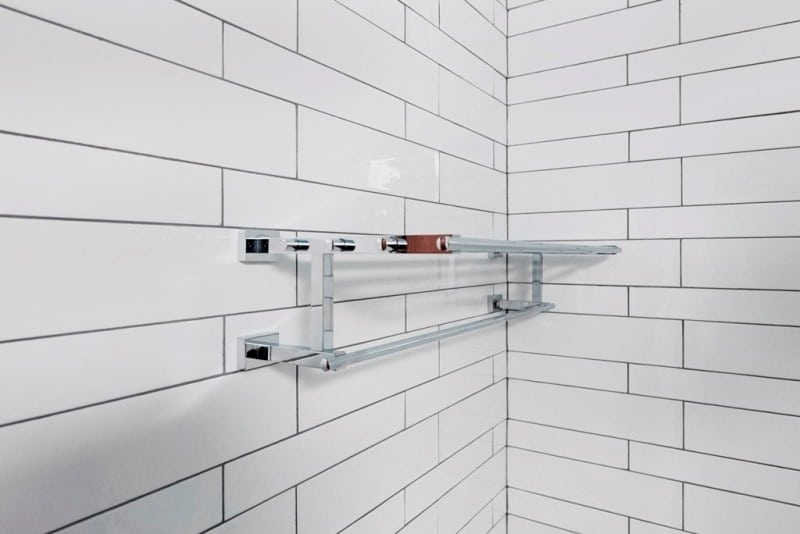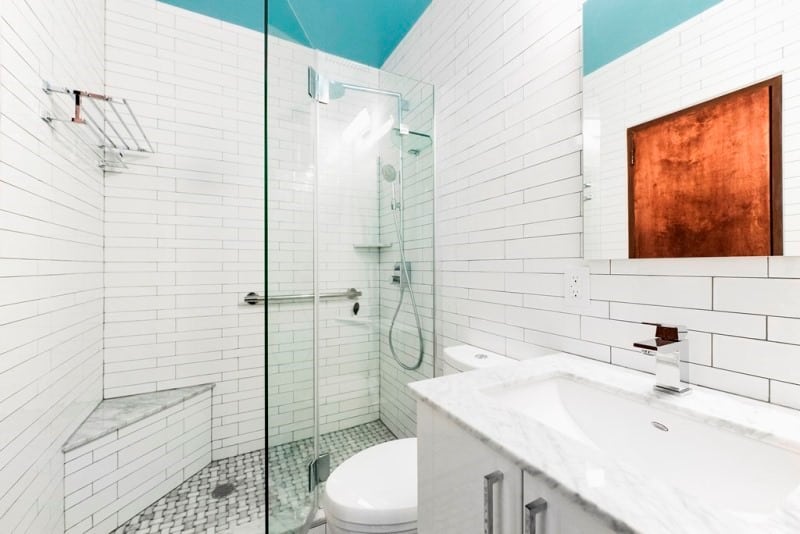 You can convert your bath to a spacious shower and create more storage, more design and less costs. Use these three examples as inspiration for your bath to shower renovation. They can also serve as ideas for a unique shower wall design that'll leave guests flabbergasted!
. . .
We hope you found this bit of information helpful, inspiring, and motivating toward renovating your kitchen and bathroom.