Winter Remodeling Special
October, 2020
Get a free Bosch dishwasher or a free Toto toilet when you sign the labor agreement for your new remodeling project. Read more
MyHome Is Back In Business
July, 2020
These past few weeks have been challenging for everyone, and we hope that you are all safe and healthy amid the COVID-19 pandemic. We feel extremely fortunate to be back in business and compliant with all the buildings requirements during this time. Read more
2020 Bathroom Design Trends
March, 2020
Bathroom design is evolving. The quality of your bathroom has an effect on your home's overall value, so it's important to stay competitive if you plan to sell your home in the near future. Read more
Resolutions For Your Home In 2020
February, 2020
Need help sticking to your New Year's Resolutions already? The MyHome Team can relate! Our theory is that real change starts with the home. That is why we are suggesting resolutions for your apartment to get yourself in the right mindset to complete your personal 2020 goals. Read more
Timeline For A Typical NYC Remodel
January, 2020
After watching endless hours of HGTV you're ready to make your dream home a reality. Having realistic expectations of the timeline will help keep stress levels low so you can have a positive remodeling experience! Read more
Zero Down Winter Special
December, 2019
Our Zero Down Winter Special is taking off. It's not too late for you to sign up. This is an exciting opportunity to get started on your renovation without a deposit. Don't let it pass you by. Read more
News For House Flippers
November, 2019
New York City is a real estate investment dream. There are so many unique neighborhoods and home styles to update. It would be safe to say the phenomenon of flipping homes in NYC has had its ups and downs. Read more
Conserving Energy Tips
October, 2019
By upgrading your home and adding automation and remote access to your heating, lighting, security, and appliances you can reduce your consumption and lighten the load. With an average annual uptake of 20% over the past three years, smart technology is on the rise! Read more
Galley Kitchen Tips
August, 2019
We have a secret for you, the newest trend in NYC Kitchens is loving your galley kitchen! MyHome is here to show you just how beautiful this small space can be – with the right design. Don't knock it till you try it! Read more
House Plants & Health
July, 2019
House plants are quickly becoming the new must-haves in NYC kitchen design and are being carefully curated to reflect the personality of the home owner. In this blog post, you'll find a few important tips for bringing plants indoors; plus, 5 plant types that are apartment-friendly. Read more
Joyful Organization
March, 2019
It's time to "Spark Joy" in your home life. Learn how to utilize Marie Kondo's trending approach to organization and incorporate this method into your design project. Further this positive change by removing the harmful affects of clutter in your kitchen and bathroom. Read more
What to Expect for Apartment Renovation Costs in NYC
February, 2019
Having an idea of the general costs to renovate will quickly clarify whether or not now is the best time to take on a renovation. Here are rough estimates of what you can expect to pay for a NYC apartment renovation. Read more
Design With Color
January, 2019
In this month's newsletter we have included some inspiring design tips for your next renovation project including bold colors and calm neutral choices. Plus, check out this month's featured video entitled, Visual Impressions, for glazed wall tile inspiration. Read more
NYC Festivities Guide
December, 2018
In this month's newsletter we included a helpful NYC holiday festivities guide, plus some quick tips on how to make your holiday clean up easier. Read more
Energy Saving Tips
November, 2018
During the holidays we take on many additional expenses. Thankfully, our monthly electric bill doesn't have to be one of them. Make these energy saving tips part of your holiday planning and you'll thank yourself for it later. Read more
We have A New COO
October, 2018
We have wonderful changes happening this season as we welcome in Jessenia Toro as our Chief Operating Officer.This month's featured video shares a kitchen remodel project –hear a firsthand experience from those who have worked with MyHome. Read more
12 NYC Architects Worth Knowing
September, 2018
You may want to read our latest blog post featuring the 12 NYC Architects Worth Knowing. Plus, don't miss your chance to win a Starbucks gift card by answering our NYC trivia. Read more
NYC Trivia & Our Showroom Grand Opening Event Recap
August, 2018
This month's featured video shares a tip for having confidence that your remodeling investment is protected. Plus, we're bringing you a recap of last month's Grand Opening. Read more
Announcing our Showroom Grand Opening Event
July, 2018
Join us at our showroom Grand Opening for a private event featuring our most popular vendors as guest speakers; discussing everything from tiles to cabinets and countertops. Read more
5 Design Tips to Help You Create a Lavish Living Room
June, 2018
In this newsletter, we're sharing 5 design tips to help you create a lavish living room. You're also invited to check out our VIP Program that will give you bonus rewards each time you refer a friend or family member to MyHome. Read more
6 Ways Your Contractor Should Make it Easy for You to Renovate
May, 2018
This month, we're sharing 6 ways your contractor should make it easier for you to renovate. Plus, get the inside scoop on the best contractors this year in NYC. Read more
Hidden Home Hazards + Plus, 3 important Remodeling Tips
April, 2018
Happy Spring! This month, we're sharing hidden home hazards every homeowner should know. Plus, get three important remodeling tips and a tour of our showroom in the featured video. Read more
Did you know? Facts about Remodeling + Plus NYC trivia!
March, 2018
When you have a contractor's license number, you can call the New York City Department of Consumer Affairs and confirm that the license number is valid and up to date. MyHome's license number is 1357367. Read more
MyHome Awarded Best of Houzz 2018
February, 2018
Did you hear the news? MyHome was just awarded Best Of Houzz 2018 for the fifth consecutive year! MyHome was chosen by the Houzz community from among more than one million active home building, remodeling and design industry professionals. Read more
When is the best time of year to remodel? + Plus, the 10 most popular bathroom design trends of 2017
January, 2018
When selecting our most popular bathroom design trends of 2017, we have plenty to choose from. This year we've seen designs from bold flooring to gorgeous accent walls and everything in between. Below, you'll find our list of MyHome's 10 most popular bathroom trends. Read more
Wishing you a happy holiday! + Plus, 7 tips to keep stainless steel appliances spotless
December, 2017
Keeping stainless steel appliances spotless can be a daunting job, especially if you have little ones at home. In this blog post, we share seven tips to help you keep these trendy appliances looking their best. Read more
We are Thankful for you! + Plus, 3 examples to inspire a tub to shower conversion
November, 2017
To tub or not to tub? This is a question most clients face when designing their bathroom renovations. In addition to its convenience, switching out your tub to a shower will lower cost compared to a traditional bath (tub) renovation. Read more
A unique process for Kitchen Remodels in NYC + Plus, a guide to achieving the closet of your dreams
October, 2017
The well-organized closet is a dream we can all attest to as most of us have disorganized, messy closets. All of us have closets and appreciate them, but many of us would rather that our closets were fabulous and organized to perfection.  Read more
360° video tour of a recently remodeled NYC bathroom + Plus, 3 ways to create the perfect bedroom this summer
August, 2017
Not only is your bedroom your sanctuary, it should reflect rest and relaxation because it's probably the room you spend the most time in. Summer is all the more reason to freshen it up. Read more
A video tour of our NYC showroom + Plus, important tips about the home remodeling process
July, 2017
Our kitchen and bath showrooms are fully stocked- everything you'll need is all under one roof. Our goal is for you not only to enjoy your new kitchen, bathroom or renovated space, but to also learn about the process itself. Read more
4 Inspiring Examples of the Mixed Cabinet Kitchen Trend
June, 2017
This year we've seen a lot of materials paired with colored kitchen cabinets against white and neutral backdrops. This trend isn't NYC biased either; it's emerging in kitchens across the country. Read more
3 Areas to Declutter Before Summer
May, 2017
Spring is in full swing and sunnier summer days are coming soon. It's the perfect time to declutter your home and get ready for a new season. This article covers tips for getting started in three key areas in your home. Read more
Showroom Renovations are Underway + Plus, Inspiration for Kitchen Vents
April, 2017
Designing your kitchen will involve choosing your hood range. We put together a quick overview of these kitchen hood venting options to help you plan your NYC remodel. Read more
5 Low Budget Bathroom Upgrades + Last chance to win $2500
February, 2017
Even if you can't afford to have a full bathroom renovation or switch out the old tub or replace tile, there are ample changes you can make without emptying your wallet. Read More
Cleaning your Caesarstone Countertops [Video]
January, 2017
With a small amount of care, your Caesarstone surface will look as great as the day you bought it for years to come. This 2-minute video will show you the best way to care for your counters. Read More
A Guide to Preparing Your Home for Winter
November, 2016
It's the perfect season to take care of the small items in your home so as to avoid a winter disaster. Most of the preparation tips listed in this article you can do yourself. But, if you choose to have a professional take care of it, it's definitely worth the expense. Read More
NYC Event + How to Make Your Kitchen Feel Brand New
October, 2016
Do you dream of a new kitchen, but don't have or want to spend the money or time necessary to take on a major renovation? Why not improve the space you have with some of our simple design tips. Read More
Introducing MyHome Referral Rewards
It's a win-win! When someone asks about your newly remodeled kitchen or bathroom, refer them a contractor they can trust. They'll save $750 on their home renovation project and you'll get $750 as a VIP client. >> Click here for more information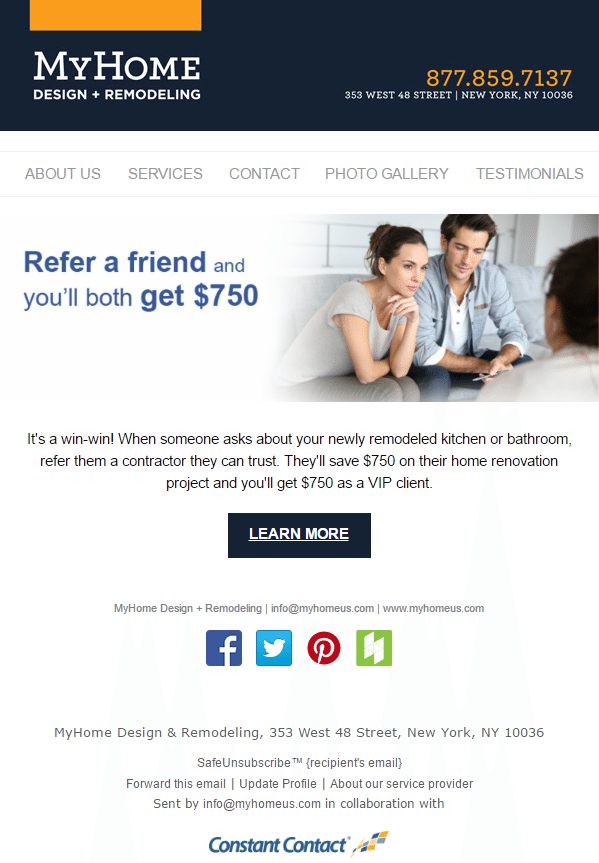 What Does it Really Cost to Remodel in NYC?
June, 2015
When it comes to remodeling in NYC, the more you know the better. Wondering just how much it will cost to remodel your Manhattan kitchen or bathroom? We put together a handy guide to the most popular renovation and remodeling projects of 2014, including an average of how much they cost in New York City. Read More
2015 Kitchen Trends: Luxe Metallics
May, 2015
Looking to add a bit of drama and sophistication to your kitchen? Take a peek at one of 2015's hottest design trends: luxe metallics. From dazzling gold to warm bronze and rich copper, these metals shine. Read More
Winning for Service 2 Years in a Row
April, 2015
You helped us win the distinguished "Best of Houzz" Service Award for an impressive level of customer satisfaction. This year MyHome Design & Remodeling was chosen by over 25 million monthly users on Houzz.com from among more than 500,000 home design and building professionals. Read More
Turn up the Heat: 11 Fireplaces to Inspire You
February, 2015
On these frigid winter days we find ourselves dreaming of the cozy warm glow of a fireplace. Didn't manage to snag one when you bought your home? Don't despair. We have 11 stylish and affordable fireplaces you can add now. Read More
Looking for inspiration? Peak inside your neighbor's home…
January, 2015
Over the last 14 years MyHome Design + Remodeling has worked in hundreds of buildings across Manhattan. Now you can peak inside them. Read More
Fall/Winter 2014 Color Trends for your NYC Kitchen & Bath
December, 2014
Here at MyHome we're always looking for the latest trends and ideas for our NYC kitchen & bath clients. Our latest inspiration? The bold colors from NYC Fashion Week 2014. Check out the Top 10 Colors and get ideas for your kitchen or bath. Read More
Small Apartment Storage Ideas: 5 Great Tips for Winter
November, 2014
Grab your hats and boots, we've got some great small apartment storage ideas to keep your cozy NYC apartment organized all winter long. Read More
8 Creative Small Kitchen Design & Storage Ideas
October, 2014
Have a tiny NYC kitchen? Minimize clutter and maximize space with the best creative small kitchen design and storage ideas. Read More