Things To Consider When Choosing A New Sink And Faucet 
Picking a new sink and faucet during your kitchen remodeling process is an unexpectedly fun part of the journey! Unlike choosing countertops or cabinets, sinks and faucets are very style fluid and you can pick most of what you like at first glance. The main priority would be matching the finish to your already existing cabinet hardware. Mismatched finishes make for a slightly chaotic kitchen look. After that small obstacle, there are a few things to consider when picking a new sink and faucet, but the possibilities are numerous!
Sink Materials & Function 
The first thing to think of when choosing a sink is how you will be utilizing the appliance. Some materials are more durable than others and meant for harder use than others. Stainless steel is definitely the way to go if your household is prone to throwing things in the sink or plenty of dish washing. Enamel-Coated cast iron is a traditional material that offers up one of the best looking sinks, but often scratches easily and needs a bit more maintenance. (HGTV) It's a great material for a really low duty sink! For folks with a lower budget, composite sinks are an option that come in a variety of colors. Composite is fairly durable, but not quite as strong as stainless steel.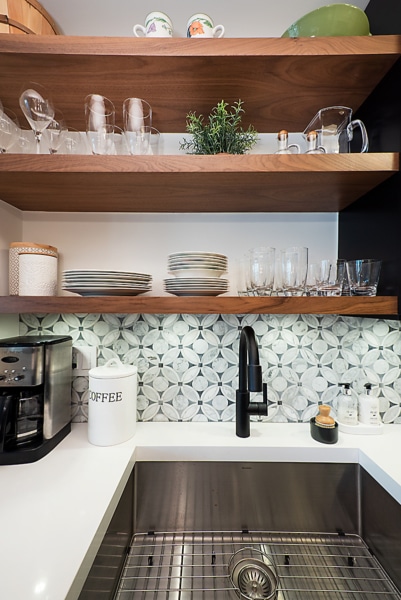 Helpful Tip: Undermount sinks are a bit tougher to clean due to the space between the countertop and sink. Solid surface sinks are the best for families wanting easy clean up.
Faucet Types 
Whether you pick single handle, double handle, pull down or or separate spray faucet, it's up to your personal preference and perhaps the type of plumbing already installed in your space. Any of those faucets will not truly affect your design style in your kitchen. On the other hand, if you prefer commercial style or pot-filler faucets, those mesh well with a more industrial and modern style kitchen. (Home Stratosphere) The finish of your faucet will more so help you achieve your desired style of rustic, contemporary, modern, traditional, etc. Bronze is definitely best for a cozy, farm style kitchen. Zinc Alloy or stainless steel will ensure a modern look and both are popular in NYC kitchen remodels.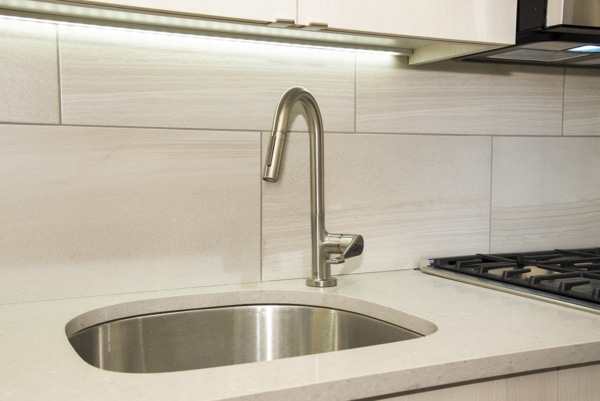 Helpful Tip: When upgrading only your faucet, pay attention to how many holes are drilled in the sink. Some new faucets will come with a plate to cover up additional water line holes you no longer need, but some do not and you don't want to have to go back and forth exchanging faucets. (Family Handyman)
Come visit our team at the MyHome Manhattan showroom to view our many sink and faucet types available in all shapes, sizes, materials and colors. This showroom is the ultimate remodeling inspiration space! Once you are ready to begin your renovation journey, schedule a completely free virtual consultation with our professional design consultants.