Home Inspiration
8 Creative Small Kitchen Design Ideas
By Tiffany Smolick
January 5, 2023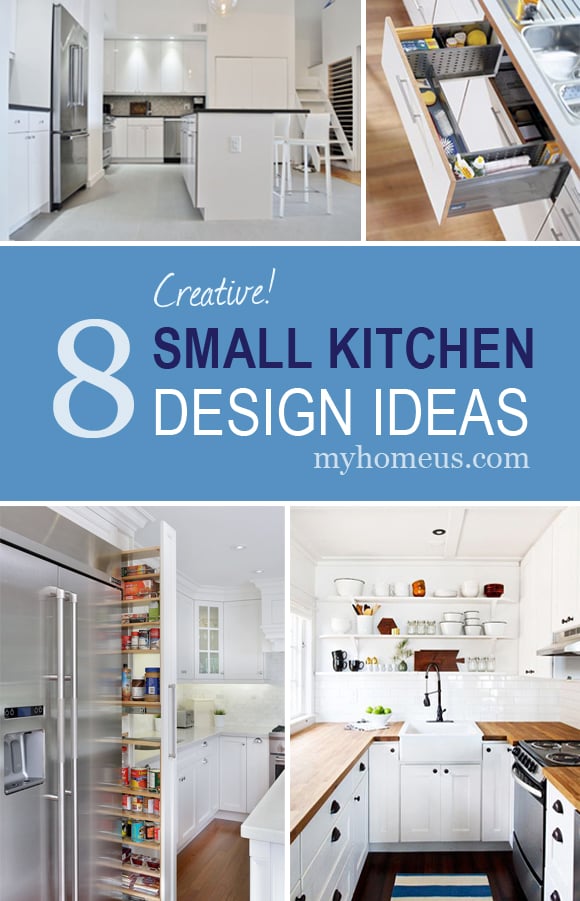 Ah, New York City living: big on style, small on space. Whether you live in a loft in SOHO or an apartment in the East Village, cramped kitchens are the norm in NYC.
Want to make the most of every fabulous square inch you've got? We've rounded up 8 of our favorite creative small kitchen design ideas that will help you live large in the tiniest of kitchens.
1. Get Rid of Clutter
When your New York City kitchen is the size of a large closet, it's easy to get overwhelmed by clutter. Yet crowded counters, shelves, and cabinets can make a small NYC kitchen feel even tinier.
Minimize visual distraction by clearing off countertops and removing seldom-used appliances, cooking utensils, and gadgets. The rest can be ruthlessly edited, organized, and hidden away.
2. Open Up
Small galley kitchens can often feel dark, cramped, and claustrophobic. Now that you've conquered the clutter, switching to open shelving can have a big impact, taking away the visual heft of a wall of cabinets and making a small kitchen feel more airy and spacious.
3. Build-In Storage
In a small kitchen, it's important to have a place for everything to keep clutter at bay. Pull-out shelves and an appliance garage will keep even the tiniest of kitchens organized and functional. A slim pull-out "pantry" can organize spices while the hidden slide draws can organize knives and silverware.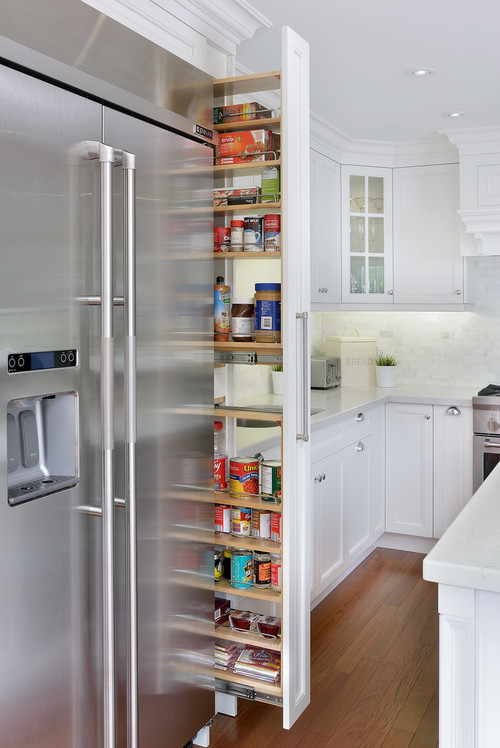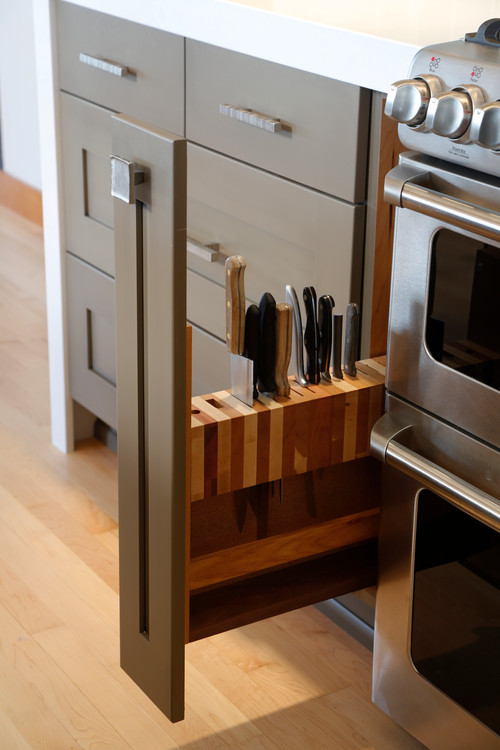 4. Lighten Up
Small kitchens can often feel dark and cramped. Create the illusion of more space with lighting.
Recessed and task lighting can brighten up a small, dark kitchen. Under cabinet lighting can make a small kitchen seem larger.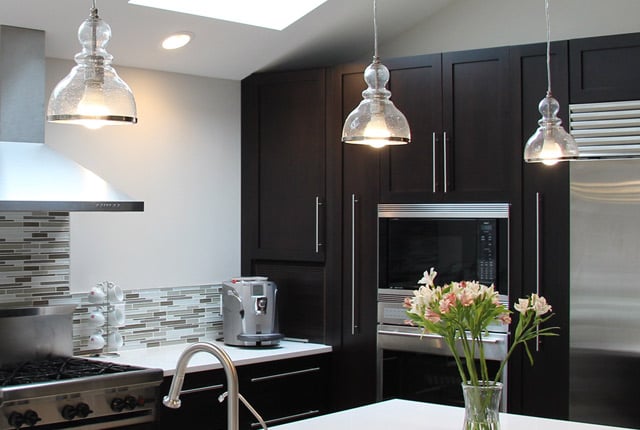 5. Go With Glass
Replacing solid cabinet doors with glass fronts can open up a tiny NYC kitchen and make it feel more organized and spacious.
6. Use Every Inch
When kitchen space is at a premium, it's important to save space, reduce clutter and maximize every square inch.
Get creative with storage solutions. Open shelving can be built around a small kitchen doorway. A drawer can wrap around a sink. Corner pullout drawers and shelves can make use of awkward spaces. A dish drying wrack can be hidden away in a cupboard above the kitchen sink.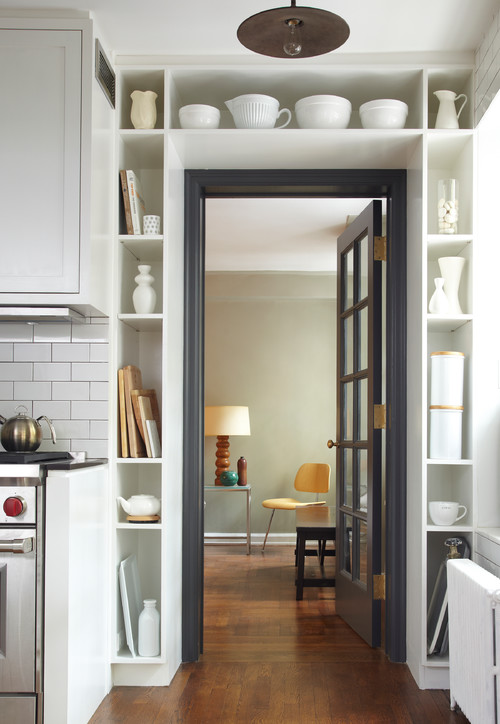 7. Keep it Simple
When you're working with a small space, keep it simple. Choosing one color for the cabinets, countertops, and walls visually erases the boundaries between them, making a tiny kitchen feel bigger.
White and light colors will reflect light and make a space feel bigger.
Deep tones, such as dark woods, charcoal, and black, recede visually and can give the impression that the walls are further back than they really are.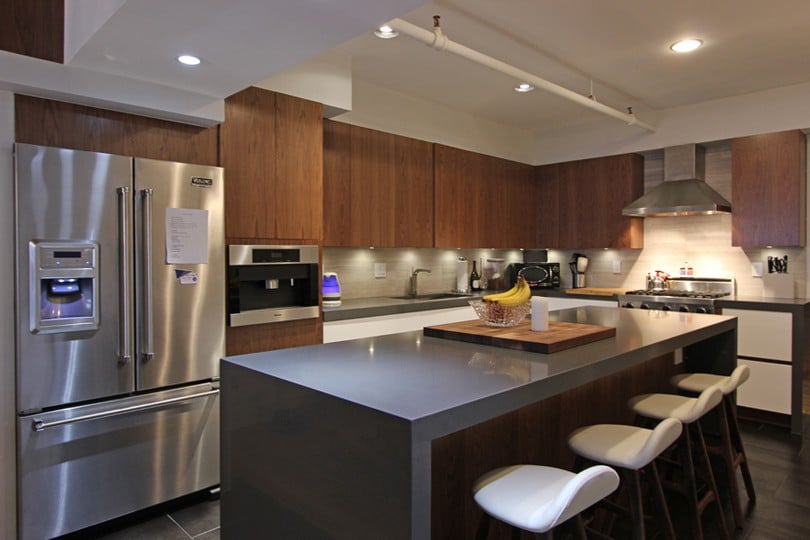 Clean, tailored lines with minimal hardware unify a space and can make a small kitchen feel roomier.
8. Shine On
Reflective surfaces, such as high gloss white cabinets, marble, and stainless steel, reflect light, making a small kitchen seem larger.
For more great small kitchen design and storage ideas, check out our portfolio of NYC kitchen remodels and follow us on Pinterest and Houzz.