Home Planning & Renovations
Design Your NYC Apartment: Hardware Combinations and Kitchen Cabinet
By Tiffany Smolick
December 5, 2022
A huge factor in achieving your ideal kitchen design style is all about the look of your kitchen cabinets. Whether you're going for modern, rustic, traditional, minimalist, or bohemian – the first thing guests will notice is your cabinets! The color and material of your cabinets will lead the way to creating your dream aesthetic but don't forget to pay special attention to the hardware. The right hardware will guarantee you meet your design style goals.
White Cabinets with Silver Hardware
White cabinets with silver or other light-colored hardware can help you achieve a few different design styles. If standard-shaped hardware is chosen, you get a timeless modern look with your kitchen cabinets. If you choose hardware that's sleek and industrial you can achieve an upscale contemporary design for your apartment.
Dark Cabinets with Light Hardware
The gray, black, or navy color scheme is very trendy this year. Using these hues for your cabinets will guarantee your kitchen remodel is very unique. If you are seeking a modern design, use brushed nickel or silver hardware.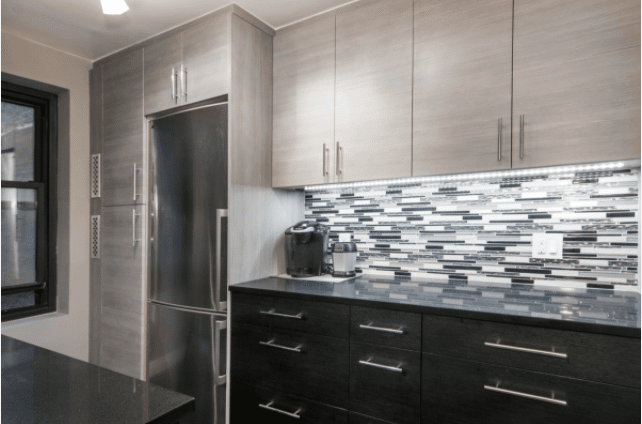 Light Cabinets and Dark Hardware
There are many styles you can portray through white or other very light colors and materials. Pair white cabinets with black hardware and you can get rustic, farmhouse, as well as traditional kitchen looks. An added benefit of utilizing black hardware is that it resists stains and fingerprints.
Seamless Cabinetry
The easiest way to achieve your minimalist dreams is to skip the hardware altogether! There are plenty of options for drawers and cabinets that push to open or have creative cutouts to access your storage. While it's popular to have this cabinet variety in white, the team at our showroom can order custom cabinets of any color.
Wood Finished Cabinets with Silver Hardware
Tried and true, wooden cabinets remain stylish forever and outlast any and all home remodeling trends. Pair wood stock, semi-stock, or custom cabinets with silver hardware to obtain traditional style status. Do you like this look but want a different style? The range of hardwood shades is endless and we can work together to achieve your dream style!
NYC Kitchen Design Specialists
Your perfectly designed kitchen is within reach. Our team is ready to discuss all your design options and to achieve the aesthetic you have been envisioning for years! Let's create a beautiful space together inside your NYC home. The first step is scheduling a free design consultation via Zoom with our remodeling consultants.