Home Planning & Renovations
Countertops: The Good, The Bad and The Uncommon
By Tiffany Smolick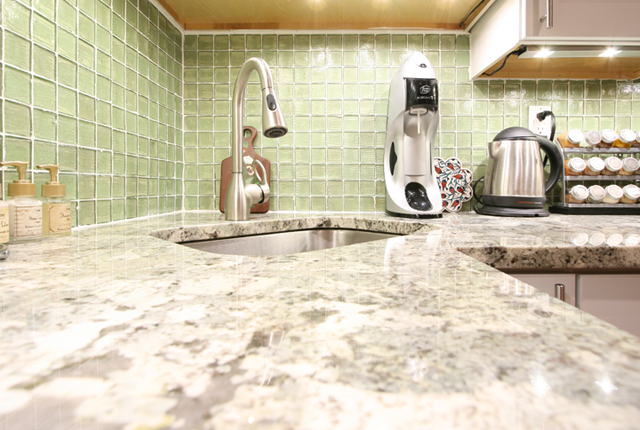 Kitchen countertops have the awesome, yet stressful, job of being both design savvy and practical.
Today we explore the buffet of countertops available, and some pros and cons associated with them. We'll also list a few materials some have used that are uncommon and virtually unknown to many.
Laminate Countertop
They're the countertops of our hippy ancestors, laminate counter tops have been a popular, affordable option for decades. They've come a long way in terms of design options and durability. Today, you can even find laminate countertops that mimic high-end surfaces such as stone or marble.
THE GOOD: They're low maintenance, available in many styles and can be found virtually anywhere; they're one of the most affordable options.
THE BAD: They're prone to scratching, burns and in some cases, staining. Also, with wear and exposure to moisture, the layers can peel.
Tile Countertop
With tile countertops, you can save money without sacrificing style. They're available in many patterns, styles and colors which makes this option fun for the Picasso's among us.
THE GOOD: modular and inexpensive, tiles offers nearly limitless options for design.
THE BAD: unsealed grout can stain; standing moisture can damage it and contribute to bacterial growth (ick). Tiles can possibly crack or chip if anything really heavy is dropped on them.
Solid Surface Countertop
With a solid surface, you can have a curvy countertop or one with traditional edges. You can have a gray countertop or tomato red. The design options are endless. Primarily made from acrylic and polyester, solid surfacing is made by a host of manufacturers and has enjoyed steady popularity over the years.
THE GOOD: solid surfacing is nonporous, it's virtually maintenance free. No sealing or special cleaning required. Any scratches or burns can be easily sanded out.
THE BAD: It can scratch – so careful with the sharp knives; also, it doesn't stand up too well against hot pans and might burn.
Engineered Stone Countertop
Resilient and aesthetically pleasing, engineered stone – or engineered quartz – is a good compromise between the beauty of stone and the easy care of solid surface.
THE GOOD: Like solid surface, this material is virtually maintenance free. It can be created to very closely resemble stone countertops, and it's just as durable; Resists heat and scratches.
THE BAD: There aren't many cons to this material other than maybe the price. You'll likely pay almost as much as you would for a natural stone.
Granite
The king of all countertops, this natural stone is beautiful, unique and durable. Each piece is one of a kind.
THE GOOD: Durable beyond belief; natural; each piece is a one of a kind.
THE BAD: Like most stone, granite must be sealed every so often to avoid stains. And its heaviness means very sturdy cabinet boxes or stands to support the weight; It can be very pricey.
Marble
Is there anything more breathtaking than the look and elegance of marble countertop? Luminescent and with its distinctive veining, it's an ultra-traditional choice.
THE GOOD: Stands up well to heat; Smooth and remains cool, year round — making this a traditional choice for pastry and baking stations.
THE BAD: Marble is as fragile as it is beautiful and is very sensitive to stains — even with sealing; also, it's among the most expensive out there in terms of purchase and maintenance.
—
For those of you out there who want their countertop to stand out and are looking for more unique, rare options, we present the following:
Glass Countertop
Glass is almost always used for its attractive and modern appearance.
THE GOOD: Non-porous, resistant to heat and moisture, very easy to clean
THE BAD: Not as durable as other countertops; high chance of glass getting scratched or chipped and repair is not possible — the entire piece will have to be replaced making this one option among the most nerve-wracking
Paper Composite Countertop
Yes. Paper. The mix of paper fibers and resin, makes this surface a great, albeit, expensive, option for the more eco-conscious among us.
THE GOOD: It's durable and can withstand heat and water pretty well.
THE BAD: The material isn't scratch proof and can be susceptible to chemical damage. Super pricey since it's not ultimately all that popular, and it can be hard to find and install.
Concrete Countertop
For the awesome industrial look, concrete countertop is a beautiful and easy to customize option.
THE GOOD: Heat-resistant; very durable if sealed; shapes, edge details and texture can be fully customized since it's made from a general purpose mortar mix.
THE BAD: Is very porous unless sealed. If not sealed, the material can stain and be susceptible to water, heat damage and bacterial growth; also can be very pricey to purchase, install and maintain.