MyHome Projects
NYC Midtown West Apartment Gets Bold & Beautiful Upgrade
By Tiffany Smolick
A Midtown West apartment got a major facelift earlier this year courtesy of the dynamic duo of MyHome professionals, Anri Tchelidze and Adam Blake. With so many people spending more time indoors as of late, remodeling a space to feel larger and more efficient is very important. This was especially true for our client residing at 424 West 46th Street. The homeowner desired a new modern aesthetic for his NYC bathroom including more light and space.
Before the renovation, this was a very small and dated bathroom. The wall tiles were painted by a previous owner, and it did not suit our client's tastes. Overall, the cramped and difficult-to-clean space needed a major overhaul in order to elevate the home and the owner's spirits.
A Lights and Modern NYC Bath Design
The bathroom needed updating to modern standards as it had not been upgraded in quite a while. The vanity was too large, and the style did not fit the homeowner's aesthetic. The homeowner was also adamant the new design include plenty of light. This was especially important since the bathroom had no windows.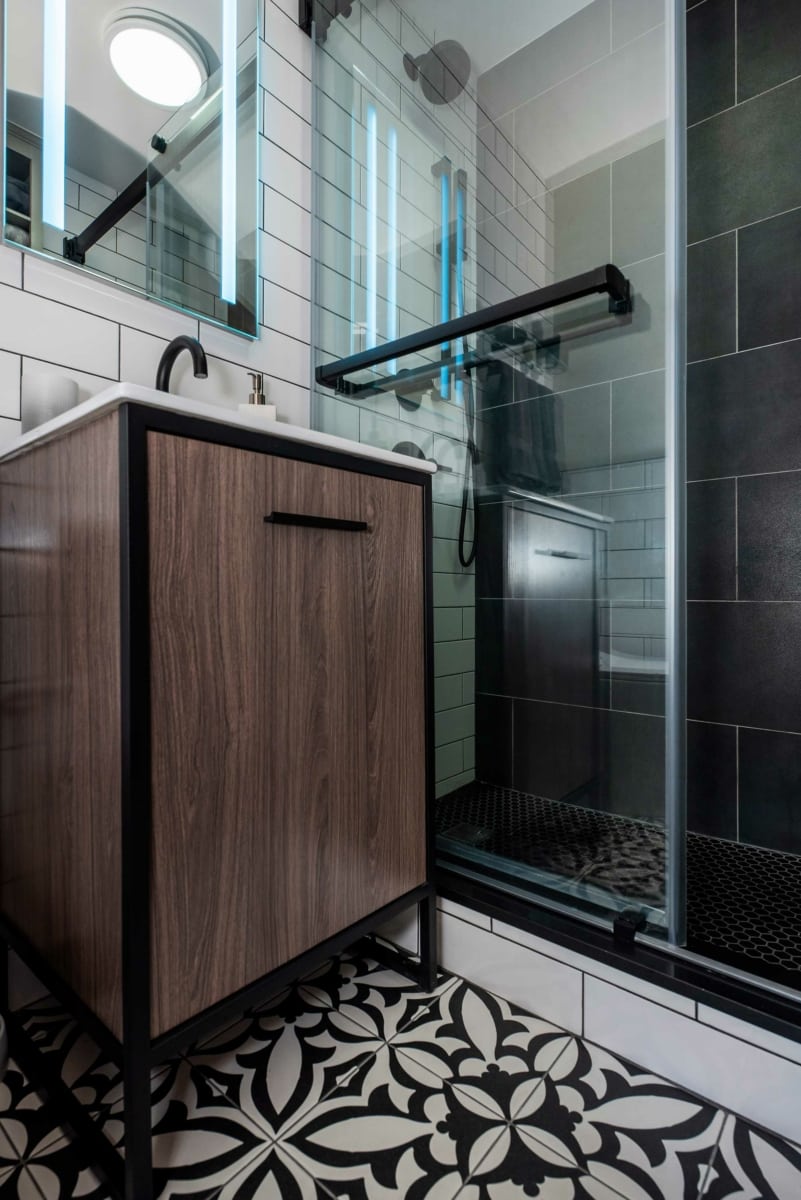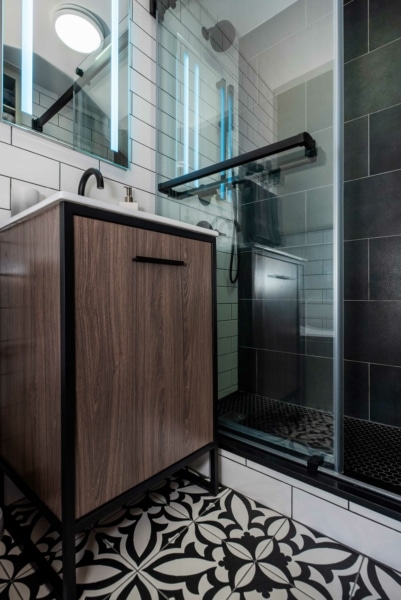 MyHome worked with the owner to create a design that would bring happiness instead of headaches. The client wanted a clean, simple bathroom with a graphic element. Adam Blake suggested the floor as the bold feature. Once the perfect floor tile was found, the design for the rest of the space came into focus. The end result is a bathroom with the feeling of a high-end hotel with luxury finishes.
Bold Bathroom Remodeling Materials
In order to complete the dream remodel of the design, Adam and Anri worked alongside the client to select AKDO 4×12 white subway tiles for the walls, with an accent wall in a Daltile Neoconcrete finish. The graphic floor tiles are Zio Retro Fleur Noir 8×8 porcelain tiles, which add a very dramatic effect in a small space.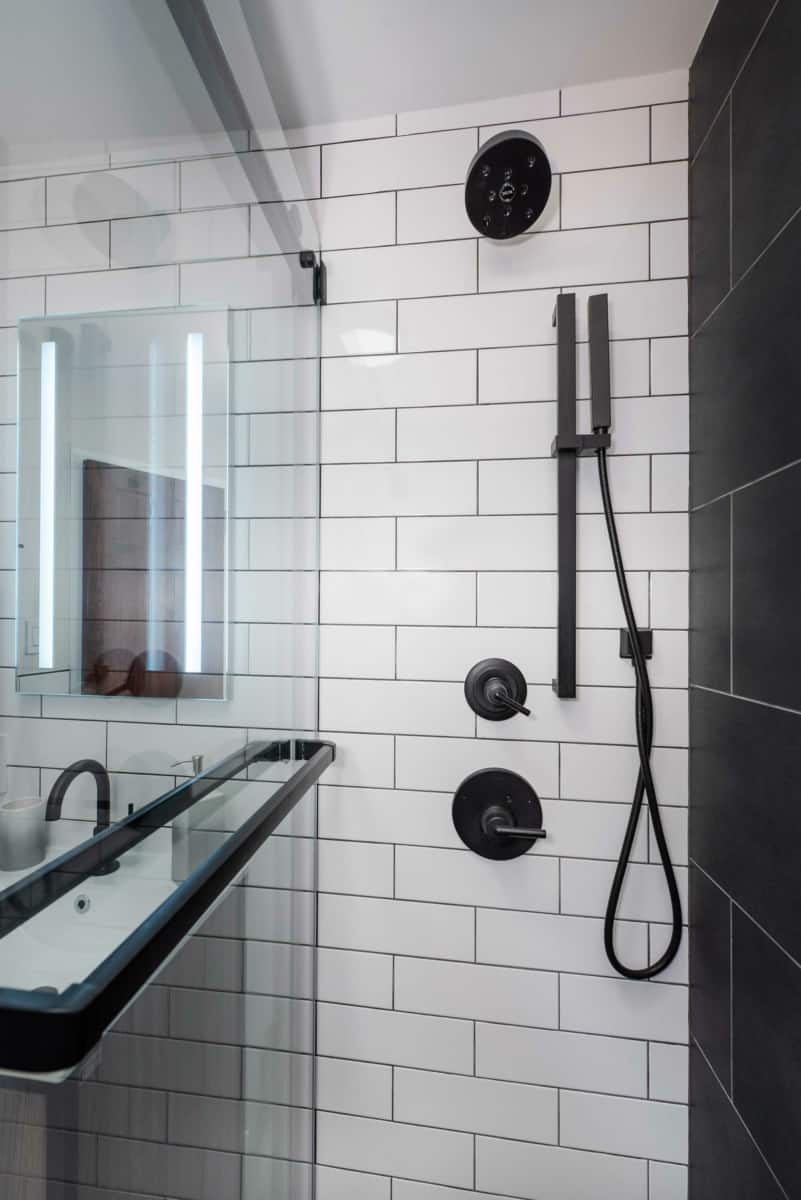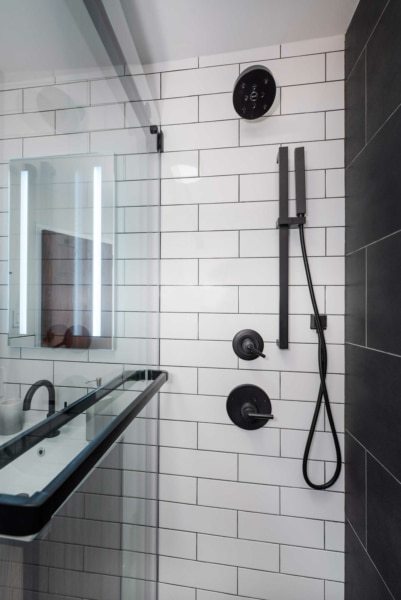 The dim overhead fixture needed to be replaced with a bright LED light to bring in much more light. In addition, we added a Sofia medicine cabinet with integral LED lighting for even more brightness. Fleurco's frameless shower doors allowed the space to feel larger, as compared to the old shower curtain. The wall was painted with an excellent bright neutral color, Benjamin Moore Dove Wing. The client and our team were happy to find that this project was a simple, clean installation with very few issues.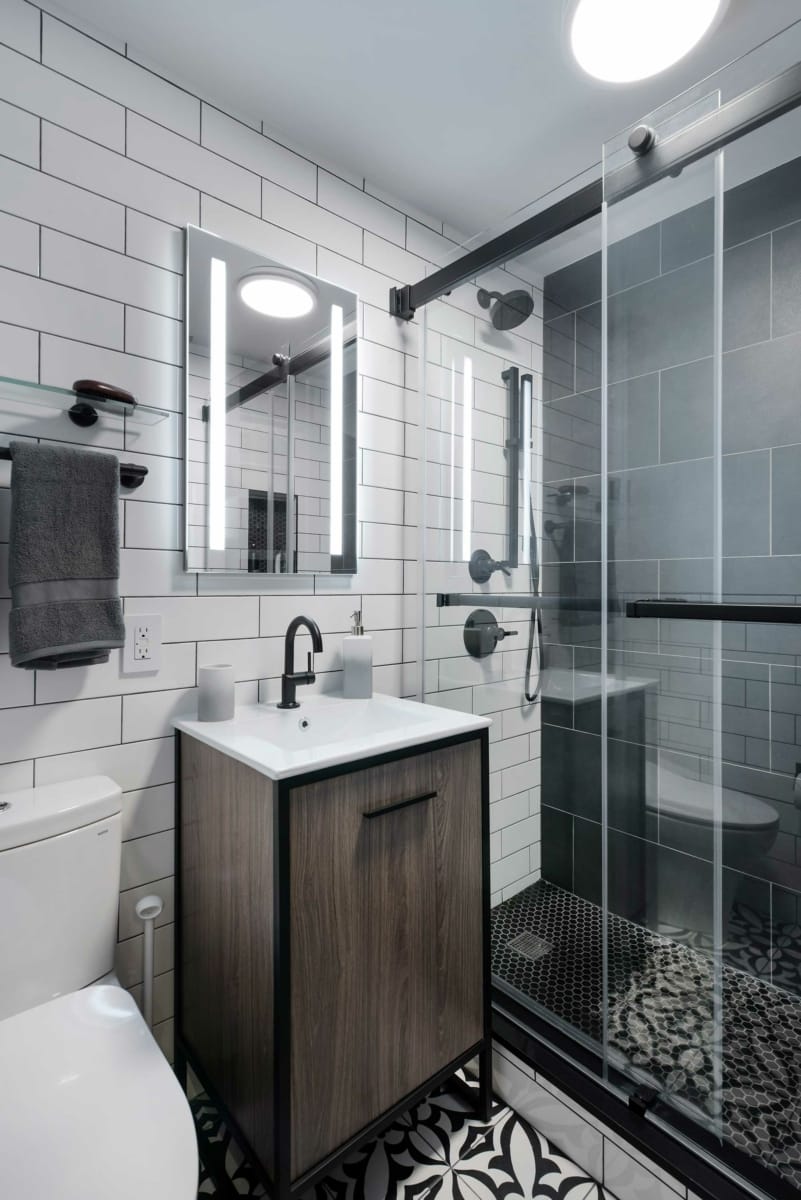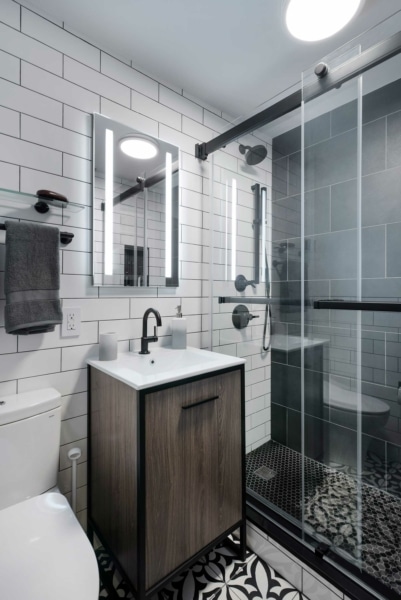 MyHome Offers Premier Bathroom Remodeling Services
Understanding the challenges and hassle of a bathroom renovation in New York, our experts are dedicated to delivering a superior level of service, including decision-making, project management, and industry-best craftsmanship. Our entire NYC bathroom remodeling work is backed by a 5-year warranty.
If you want to remodel your Bathroom, we're happy to help you through the process! Contact us Today!