Home Planning & Renovations
5×7 Bathroom Remodel Cost in New York: Factors Affecting Costs and Average Renovation Prices
By Tiffany Smolick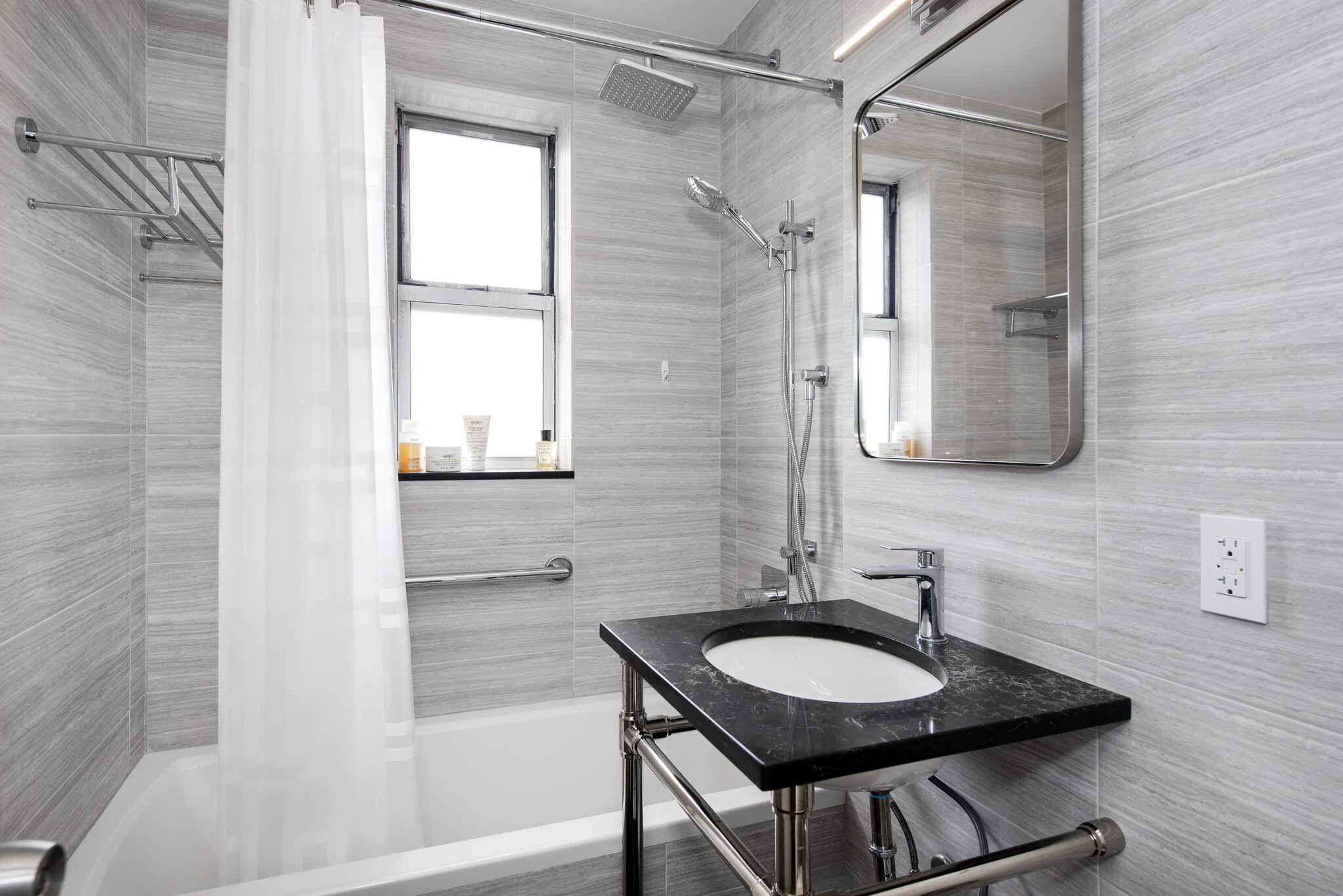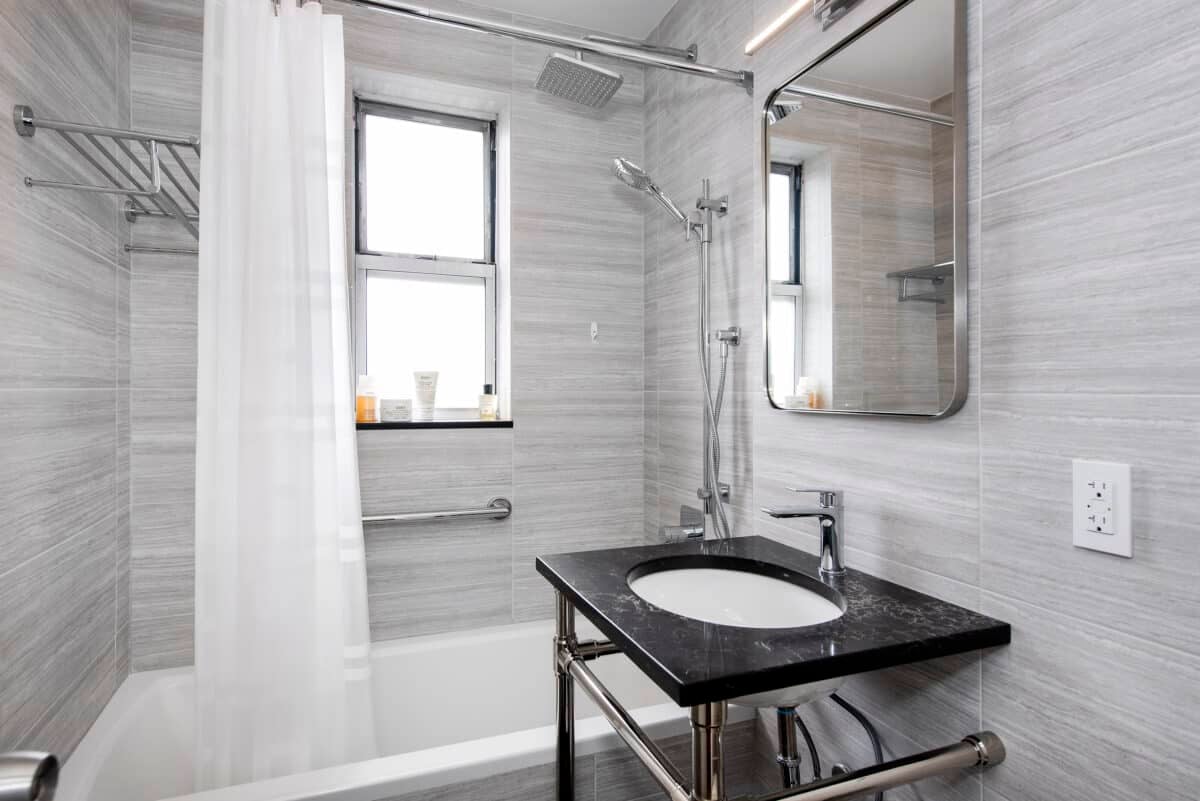 A 2021 US-focused Statista survey shows that homeowners all have different reasons for wanting to kickstart a remodeling project. Some stated they finally had the means to do it, others could no longer stand their old bathroom, and some simply wanted to add a personal touch.
Thus, various factors determine how and when you'll remodel your bathroom. Nonetheless, with solid planning, you can always come up with a cost-efficient yet aesthetic floor plan to transform a bathroom of any size. What you need to think about is necessities first and luxuries second.
Looking for a 10×10 or 5×7 bathroom remodel cost average? Let's see how the prices add up depending on your desired features and available space.
Average US Bathroom Remodel Costs
The average cost range for a mid-range bathroom in the US is $27,164, with a resale value of $15,990 and a 58.9% reimbursement. On the other hand, an upscale renovation project will cost you about $82,882.
The ideal option is to go for a universal bathroom remodel, whichwould cost you around $42,105. Granted, the cost reimbursement could be better, but this bathroom renovation takes into account people of all shapes and sizes and provides the utmost comfort.
Bathroom additions are definitely some of the most expensive remodeling projects you could undertake. A mid-range bathroom addition will cost you $63,986 on average, while an upscale one will cost $114,773.
If you go for a small bathroom renovation, say a 5×7 one, you'll end up saving a significant amount of money as opposed to splurging on a master bathroom. As such, the total 5×7 bathroom remodel cost is between $3,500 to $7,000 for a toilet, a small tub or shower, and a sink.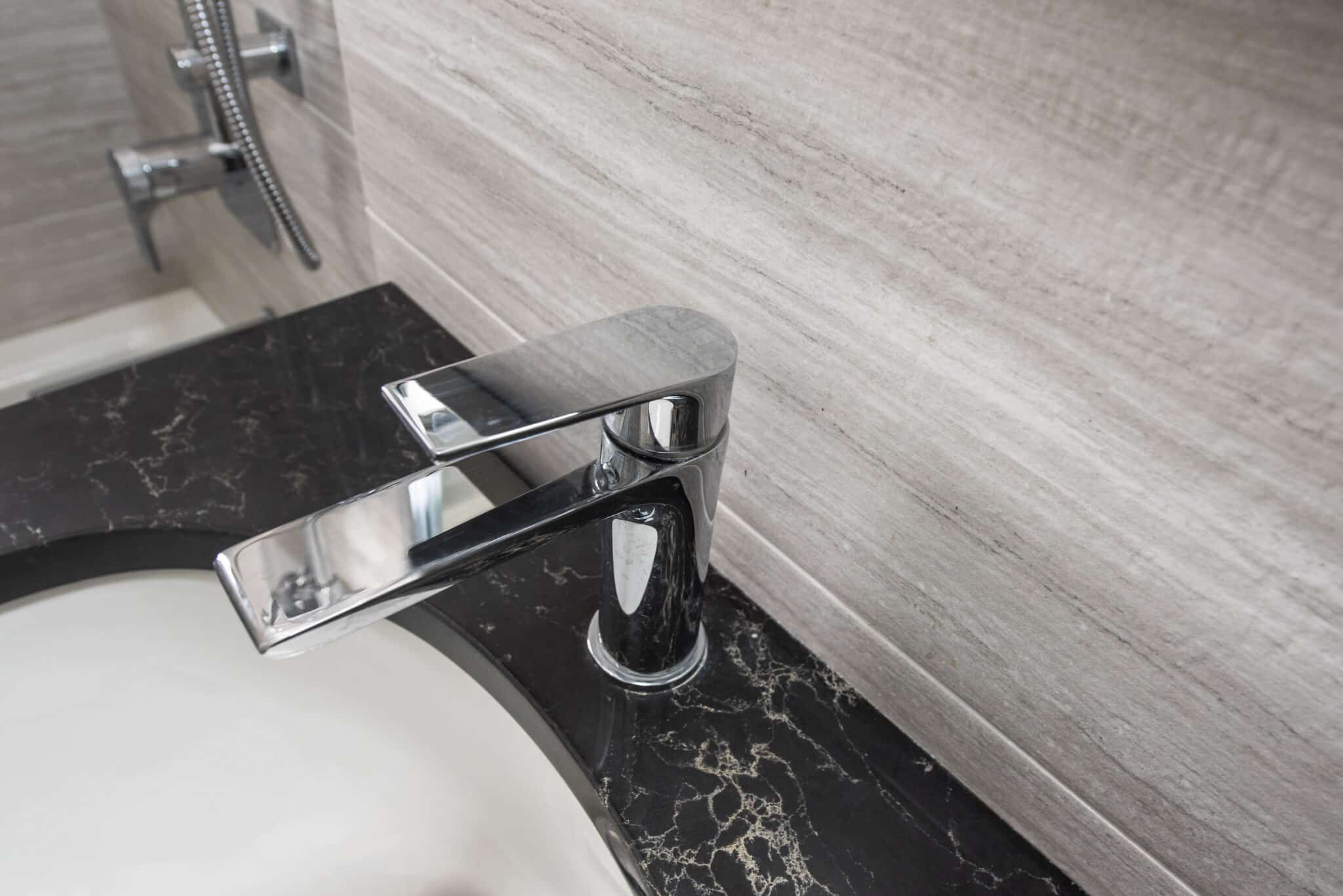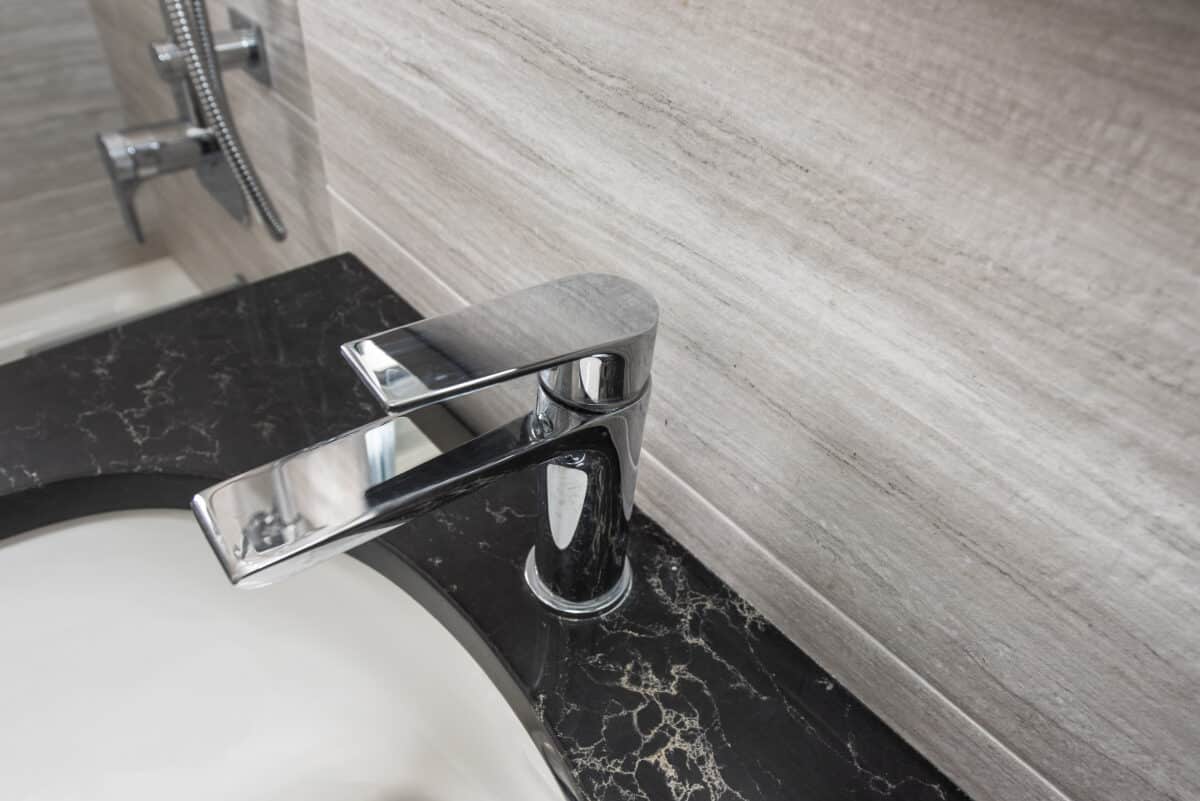 Different Bathroom Remodeling Project Costs
Bathroom remodel costs range depending on the state, city, current material and labor market, and your personal preferences. There's also the dilemma of renovating the entire bathroom vs. part of it and the choice to add a new sink and a separate tub or not.
Let's look at the main factors, like labor costs, in-depth:
Master Bathroom Remodel Cost
By definition, a master bathroom includes a toilet, shower, possibly a bathtub, and two sinks. It's perfect for accommodating two people without needing more space.
The cost of a master bathroom renovation and bathroom design can vary based on the materials selected and the complexity of the plumbing fixtures and installation.
Besides the bathroom fixtures, the price is also tied to the level of renovation – are you looking to revamp the whole place or spruce up individual parts?
Half-bath or Powder Room Remodel Cost
A half-bath renovation doesn't include a shower or bathtub and mainly serves as a guest space. So, to completely renovate a half-bath, you'd have to change the toilet, bathroom sinks, cabinets, mirrors, and possibly lighting fixtures, walls, and floors.
Half bath remodeling project cost varies from $2,500 – $15,000 depending on the scope of the project and the chosen fixtures and finishes. Here, you should take into account elements such as materials, size per square foot, labor cost, demolition, and installation.
Cost to Paint a Bathroom
The cost of painting a bathroom ranges according to factors such as room size, amount of preparation and patching required, type of paint used, and location.
The total cost of bathroom repainting also depends on whether you'd like to add new elements or cover the existing space with wall tiles. This is important because most bathroom remodels depend on square footage, and the total project cost for this can range from $150 – $350 per square foot plus additional costs.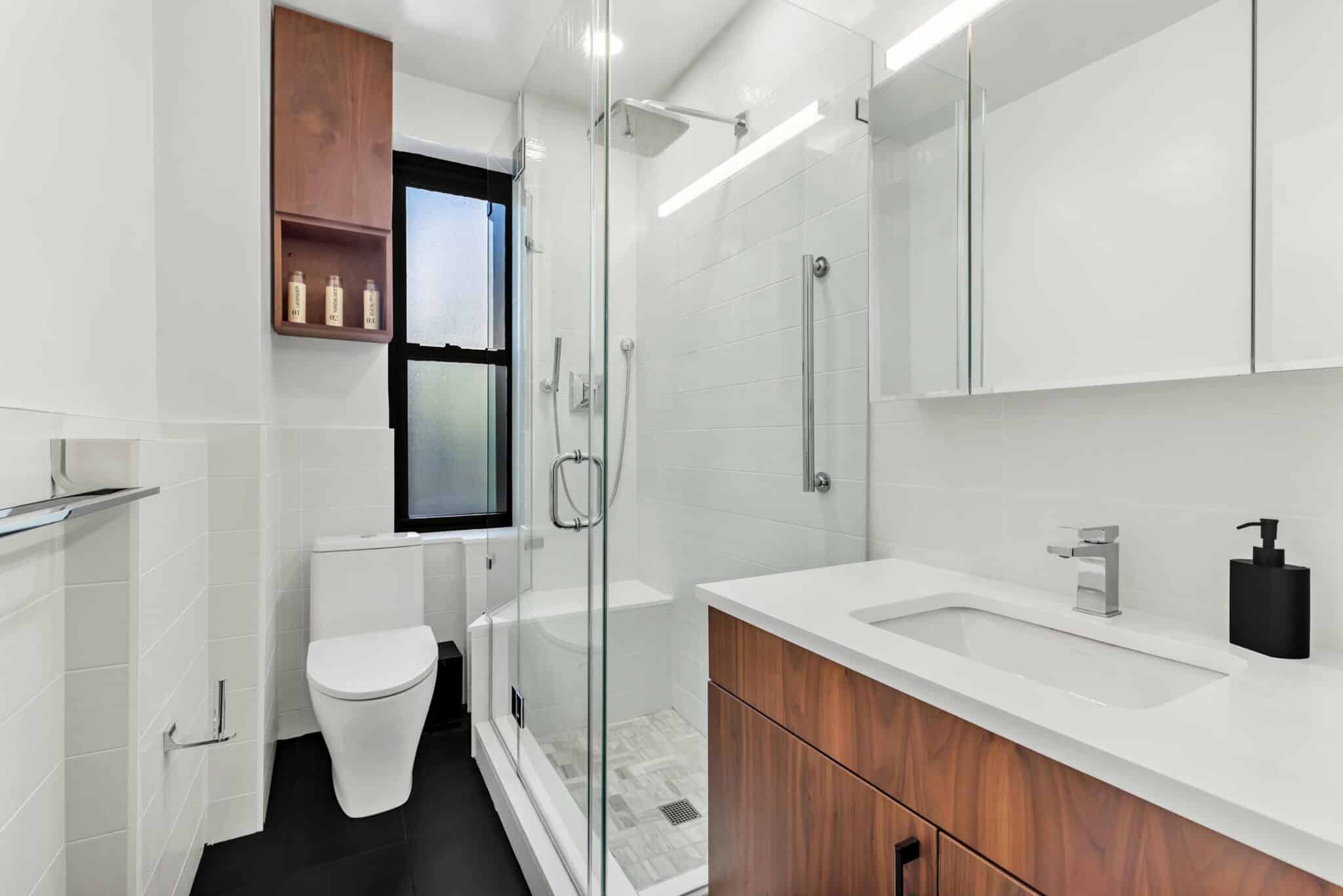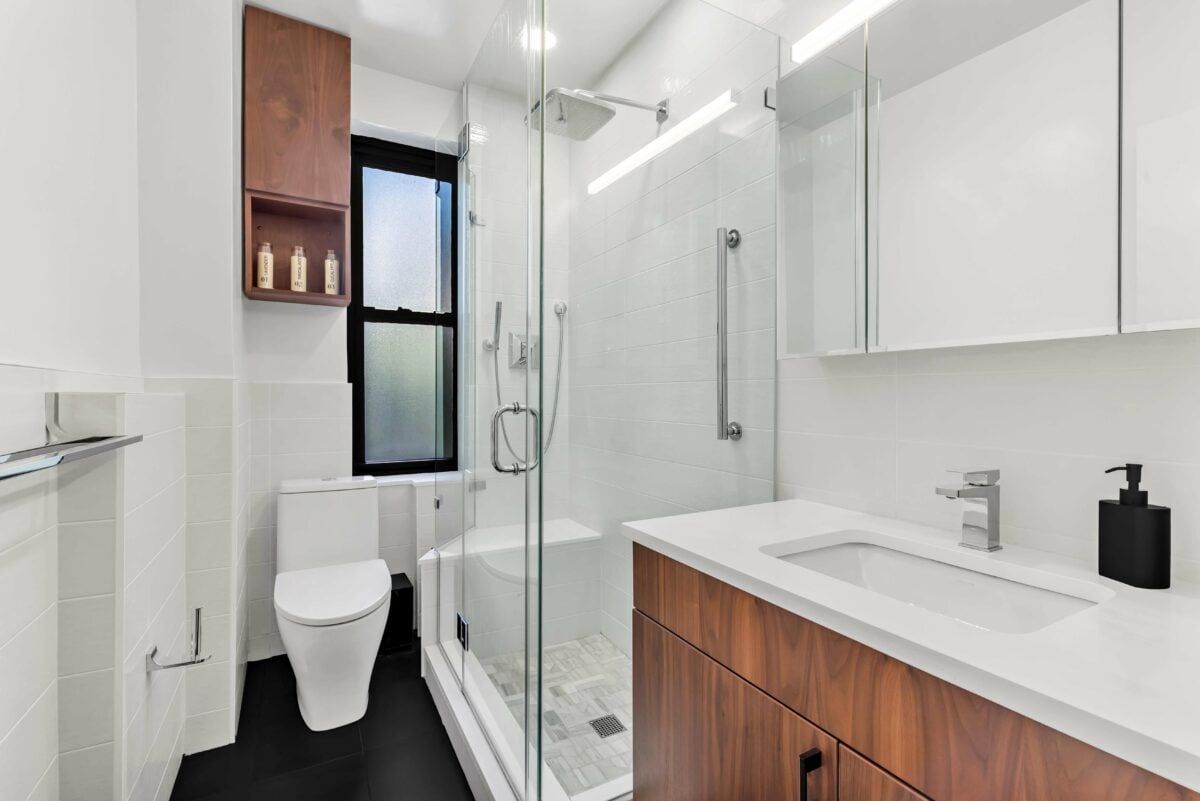 Cost to Expand a Bathroom
Nowadays, it is trendy to have big bathrooms with huge natural-stone shower stalls and double sinks paired with heated floors. Although all of this seems nice, expanding the bathroom is never an easy job, especially if you have a small 5×7 bathroom.
Changing existing items with new bathroom materials vs. paying for a full bathroom renovation can alter the price significantly. If you choose the former, you'll be able to save as much as possible but won't be able to alter and make better use of the floor plan. If you choose the latter, you can expect to pay upwards of $80,000-100,000, especially if you live in an expensive borough like Manhattan, NYC.
Cost to Demolish a Bathroom
As exciting as it is when you start a remodeling project, it can be labor-depending and hard till you see the end of your dream bathroom renovation. Bathroom demolition may be difficult, especially when dealing with bathroom tile, tubs, and glass blocks.
The bathroom demolition prices depend on the bathroom size, amount of fixtures removed, local labor rates, and more. Bathroom demolition costs homeowners $39 per square foot in New York City and lower in other parts of the US.
DIY bathroom demolition may be a more cost-effective choice if you're trying to save. However, hiring professional bathroom remodeling contractors is always the wisest choice because they'll know exactly what and how to demolish. After all, ripping out tile flooring isn't for novices.
Cost of a New Bathtub
A bathtub or shower demolition cost ranges from $60 to $110 per unit, with an average cost of $85 per unit.
The bathroom remodeling costs are different depending on whether there are other elements included for the bathroom remodeling. For example, you may want to change the position of the bathtub, expand your options regarding material, or go for a more luxurious look.
In the end, it all depends on the goal of the project – whether you'd like to install a modern element like a wet room or save money.
Cost of a New Shower
The cost of transforming a bathtub into a shower typically ranges from $1,000 to $8,000, depending on the amount of work you want to be done, how fast you want it done, and with which materials.
There are several popular options here, like applying small vanity or double vanity, depending on the space, in order to expand your barrier-free shower. Maybe you want to install a new modern alcove shower or improve the wet room that you currently have.
The cost of labor per square foot can also have a substantial influence on the entire cost of a shower makeover. So, most people will opt for only the part of the bathroom containing a shower.
Cost of Water Damage Repair
Water damage repairs refer to the process of fixing damages caused by water infiltration in a building. Natural causes, such as floods or storms, leaks from malfunctioning plumbing systems or appliances, or even small spills, can all cause this problem.
Water damage repair often involves removing excess water, drying and cleaning the affected area, and repairing damaged materials and surfaces.
Professional water damage restoration services are often required to effectively repair the damages caused by water. These services are provided by certified technicians who follow industry standards using proper methods and tools.
Sometimes, situations like these lead to homeowners finally making a decision whether they want a full bathroom remodel or not. The greater the damage, the most extensive the remodeling.
Water damage restoration cost is dependent on the severity of the damage and the type of water involved. Gray water damage, for example, costs roughly $4.75 per square foot, and black water damage from sewage or major floods might cost up to $4.50 per square foot.
Cost of Bathroom Remodel Elements
Flooring, bathtub or shower size and design, vanity and sink type, and lighting and fixture options are all critical considerations that can increase the entire cost of bathroom makeover materials.
Some of the full bathroom remodel elements include:
Drop-in tub – $170 – $770
Bathroom doors – $90 – $1,500
Bathroom vanity – $140 – $1800
Double vanity $840 – $2,800
Vanity sinks – $100 – $200
Alcove shower – $3,500 – $15,000
Natural stone – $30 – $48 per square footage
Walk-in shower – $1,000 – $15,000
Light fixtures – $40 – $280
Freestanding tub – $550 – $1,400.
There are baseline prices to get you started; the actual costs will vary on your chosen brand and price point.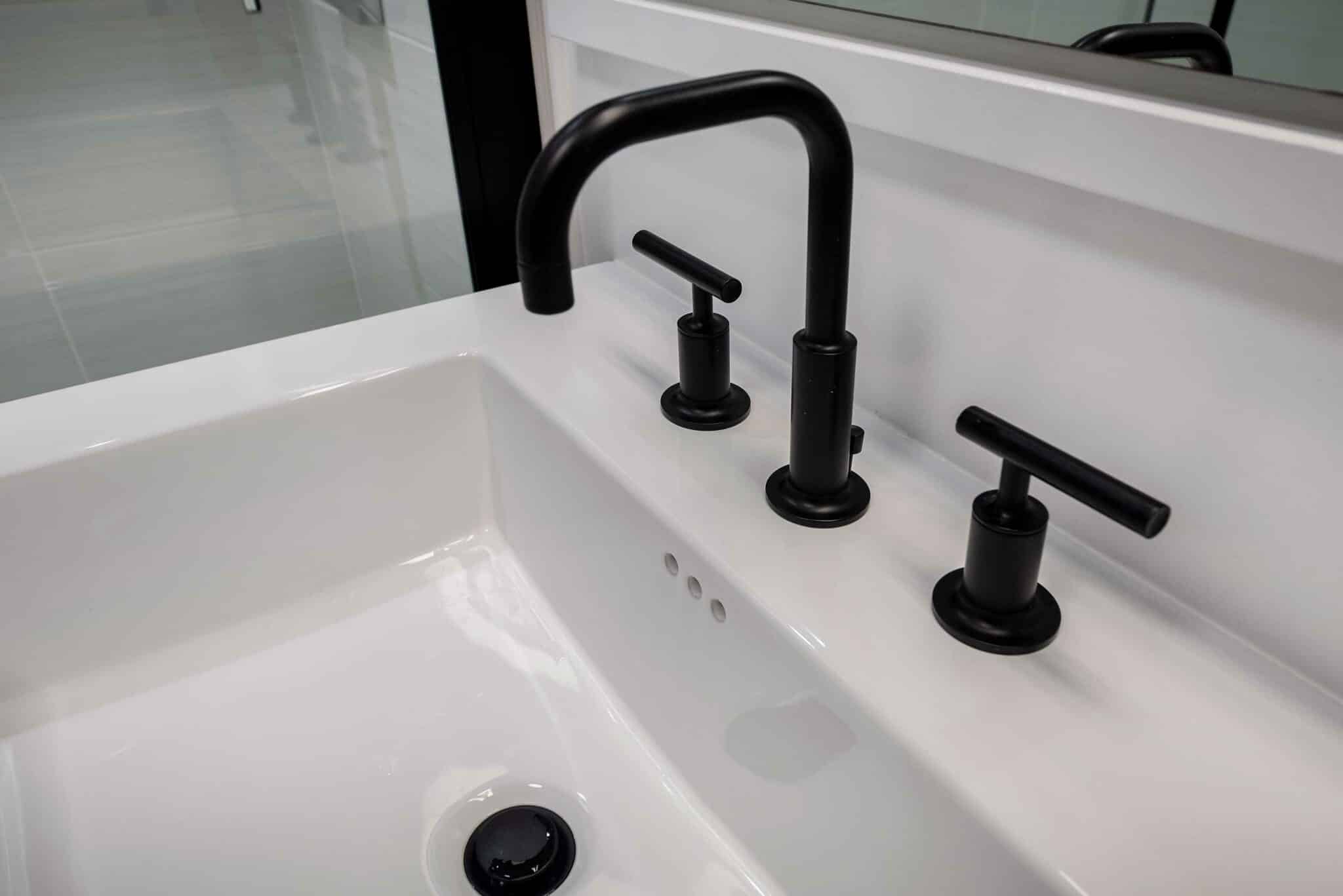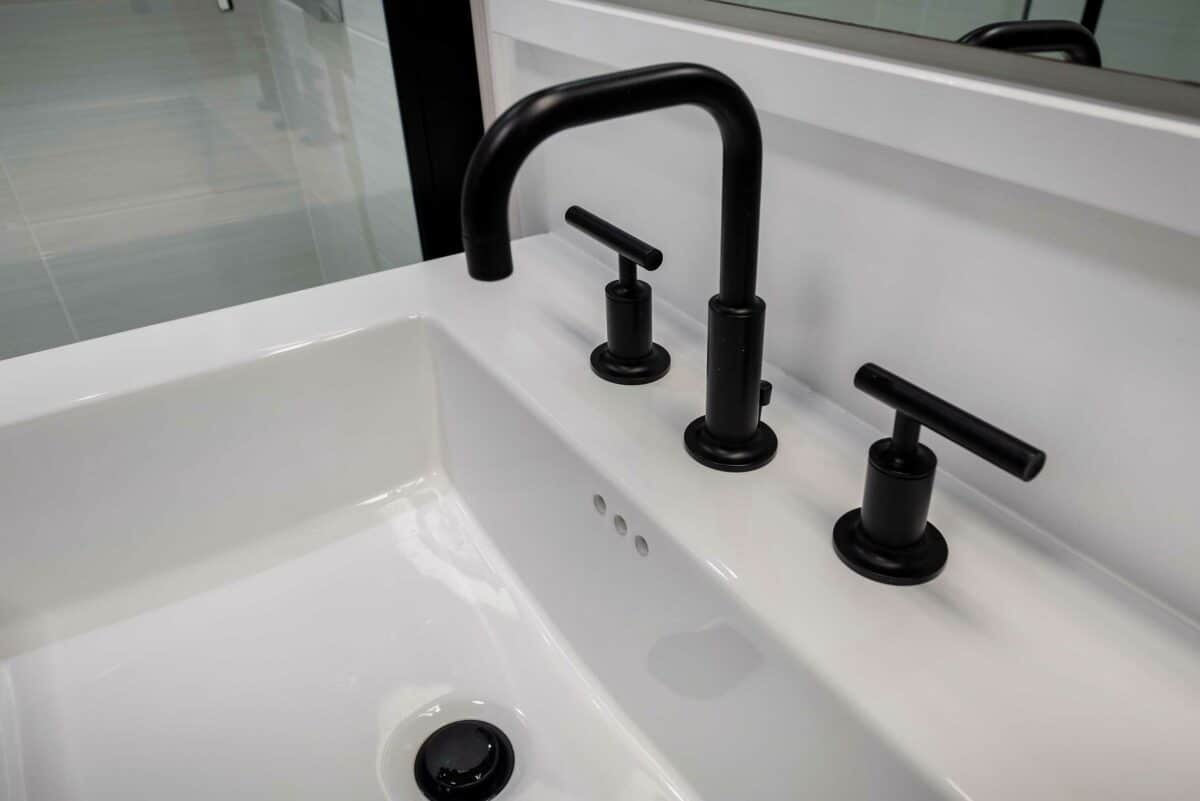 Bathroom Remodel Floor Plan Change Ideas
Changes to your bathroom's floor design can considerably enhance its utility and appearance. Here are some bathroom remodeling ideas and resources to get you started:
Determine the layout: A linear style is ideal for a long, narrow bathroom, but an L-shaped or U-shaped layout is suitable for bigger bathrooms. Be sure to create adequate space for important items like the toilet, shower or bath, and small vanity or sink.
Draw a floor plan: Create a visual representation of your bathroom design and floor plan. This will allow you to understand how different aspects go together and make planning for fixtures and storage easier.
Consider fixture placement: The placement of the toilet and sink in your bathroom may have a huge impact on the flow and function of the space.
Think about storage: A well-designed bathroom should have enough storage space for towels, toiletries, and other accessories. For this, you can hire a reliable bathroom remodeling contractor instead of risking the quality of the work with DIY methods.
Choose flooring and heating options: It is essential to choose the proper flooring material for both functional and aesthetic reasons. Tile, marble, and stone are common bathroom floor materials, and electric radiant floor heating may offer warmth and comfort.
Budget and plan for construction: Once you have an idea of how the full bathroom would look, you will know the total cost of the material and labor needed.
It is important that you know what idea you have for your new bathroom. Is it going to be a master bathroom with a walk-in shower or something smaller but cozier, like a 5×7 bathroom? Once you decide, you'll be more aware of the 5×7 bathroom remodel cost.
The Importance of Bathroom Lighting
A proper master bathroom remodel with lighting may enhance the aesthetic of the space by emphasizing the many components of the bathroom, such as the vanity, shower, and bathtub.
Lightning is important when it comes to the bathroom. For example, a jack-and-jill bathroom that is spacious with a lot of elements needs adequate lighting features for each square foot. On the other hand, a simple 5×7 bathroom may not require anything besides overhead lighting.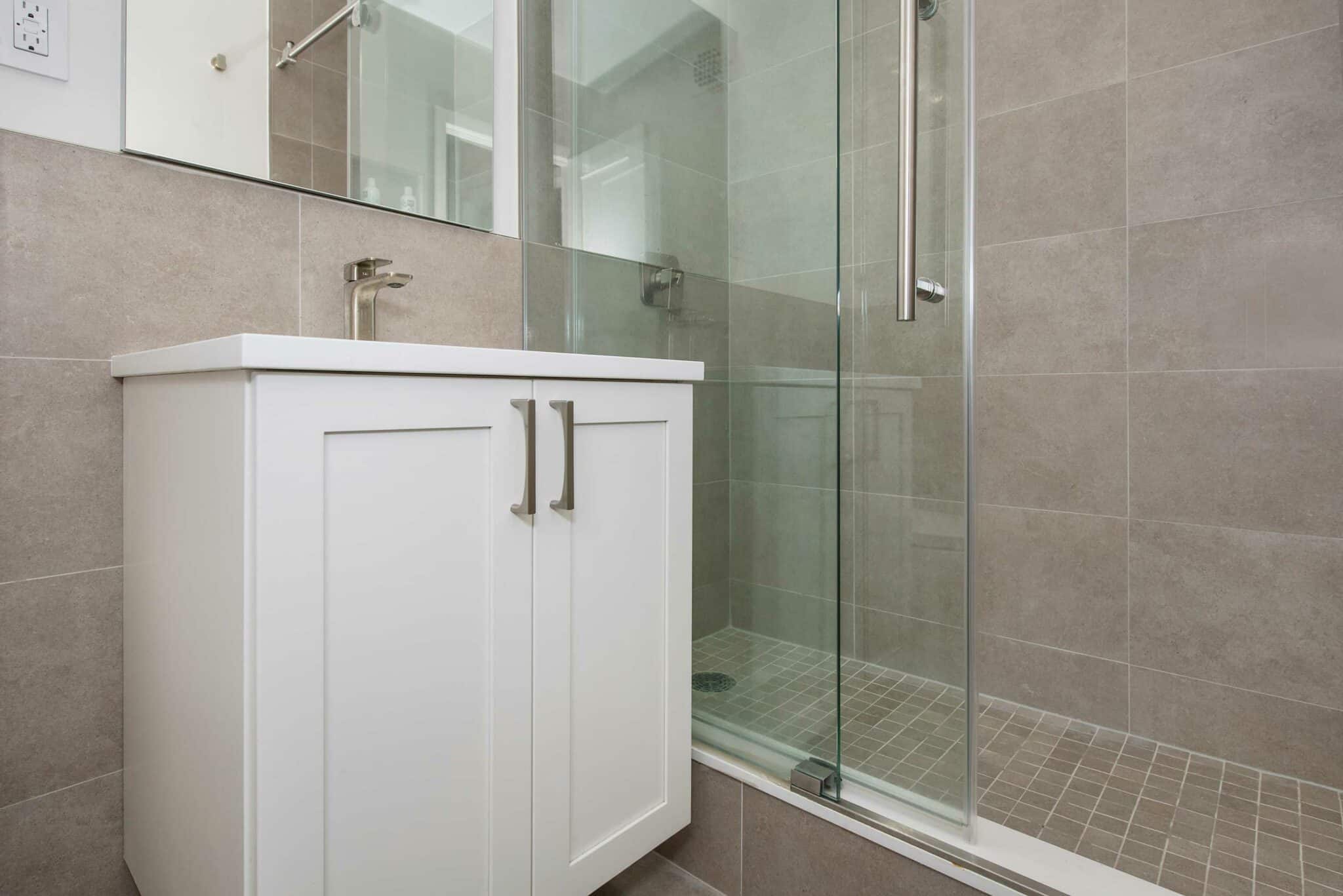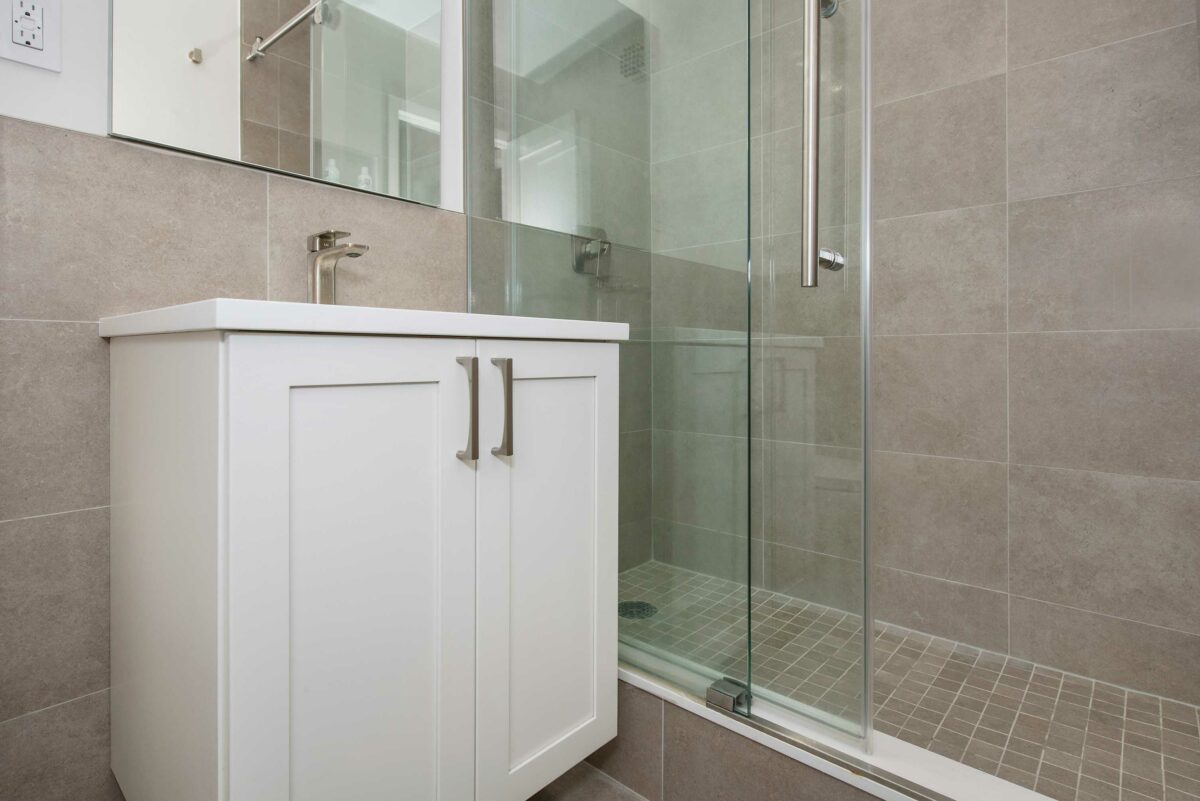 What Is the Return on Investment for a Bathroom Remodel?
Bathroom renovations are a good step to boosting your home's market value and increasing the resell value. As the most popular type of project, mid-range bathroom revamps can result in an ROI of 70%.
On the other hand, the average return on investment in upscale bathroom renovations is around 60%.
Specifically for New York, here's how the numbers for the average ROI on bathroom remodels looked in 2022:
Average remodel cost – $35,254
Average ROI – 56.40%.
Prices have somewhat increased since a year ago due to inflation, which is another factor to take into account.
Conclusion
We went over the average bathroom remodel costs for US-based homes. However, average doesn't always mean a fixed price point. In some cases, the final cost will vary depending on where you live, whether you want a complete remodel, and how much you're willing to spend on a bathroom designer.
For example, the total 5×7 bathroom remodel cost is between $3,500 and $7,000. A main bathroom, on the other hand, can enter the five digits.
FAQs
Is 5×7 big enough for a bathroom?
Yes. In fact, a 5×7 bathroom offers just enough space to fit all bathroom necessities.
How long does it take to remodel a 5×7 bathroom?
It may take about a month to remodel a bathroom of this size.
Can I remodel a bathroom for $5,000?
Yes. Bathrooms on the smaller side can be remodeled for even cheaper. However, the revamp won't be drastic.
What is a realistic budget for a bathroom remodel?
There's no set realistic budget; you can use the national average prices discussed above to curate your own.