Home Planning & Renovations
How Much Does It Cost to Remodel a Bathroom in NYC?
By Tiffany Smolick
November 15, 2022
Bathrooms come in every shape and size, from little powder rooms to spacious and fully-equipped areas. Still, no matter the type, this is one of the most commonly used rooms in a house. As such, any bathroom will require regular maintenance or remodels.
Remodeling combines renovation and construction. It refreshes a room as a makeover would while also providing some additions, like new paint and tile work, new lighting, or possibly a chic mirror. All of this raises the question: "How much does it cost to remodel a bathroom?".
Well, bathroom remodeling costs will vary, however, there are still ways to estimate the price and draft a great plan of action. Keep reading for a remodel cost breakdown and information to help you figure out how to complete an extensive project within your budget.
Average Cost Based on the Type of Bathroom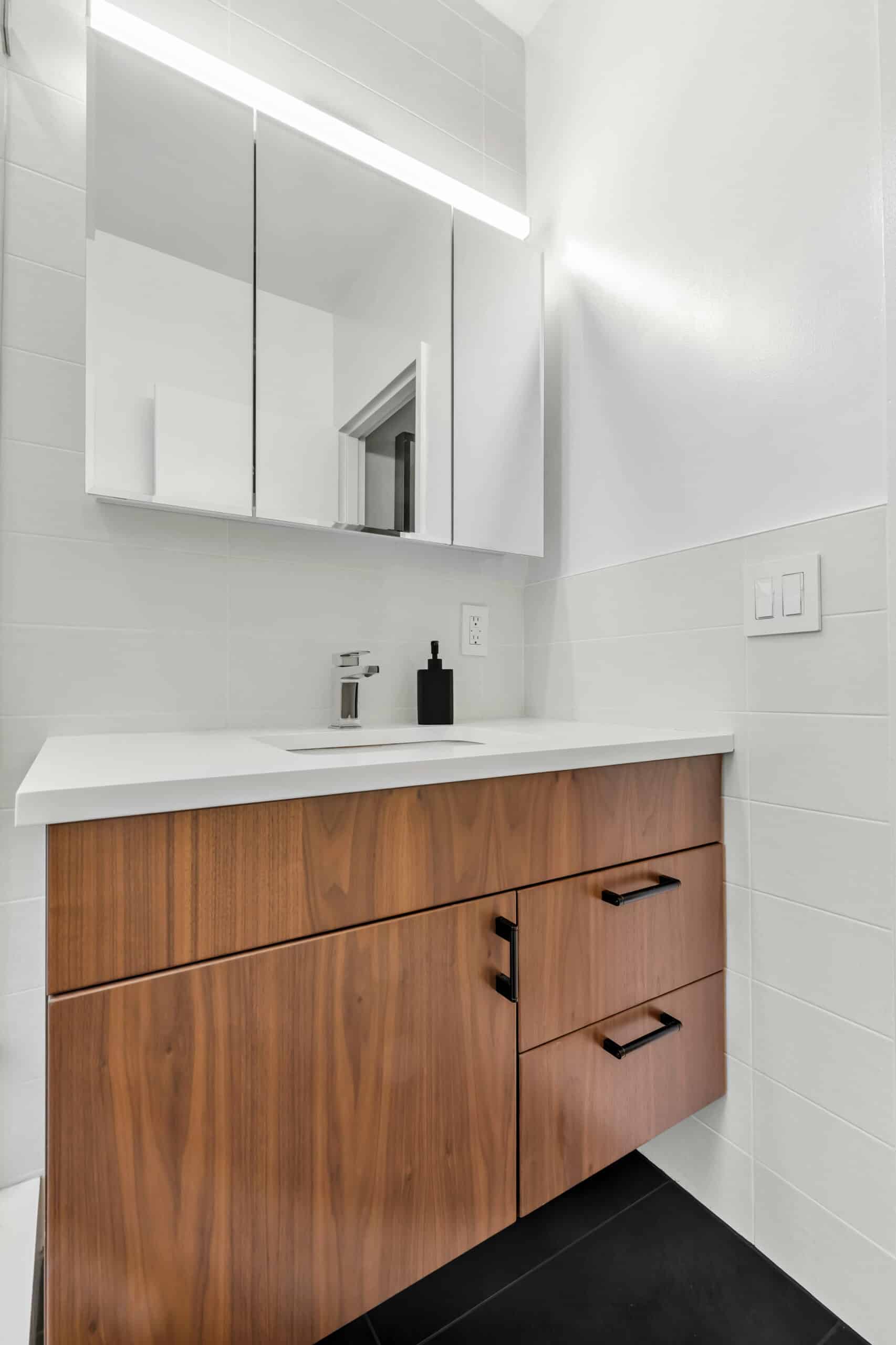 It's clever to look for a rough estimate of how much you'll be spending on renovations. In fact, one of the most frequently asked questions is, "What is the average bathroom remodel cost?".
Well, the mean cost for remodeling a bathroom in the USA falls between $5,500 to $15,000, depending on the size and materials used. The average varies because bathrooms can be very different from one another.
Yet, although this room can have many shapes, layouts, and sizes, there are generally 3 main types of bathrooms – master, guest, and half.
Master Bathroom
A master bathroom is the largest in a house or one that connects to a master bedroom. This room will feature all the necessary items like a sink, toilet, and a shower or bathtub.
The cost to remodel a master bathroom is usually larger than that of other types. This makes perfect sense when you consider that it's usually the most extensive project. It's also the area that's most frequently used, meaning it sees a lot of wear and tear.
Prices will be higher than the overall average and are typically between $10,000 and $33,000. This still depends on the size and style, as well as the scope of renovations. A luxury master bath remodel may cost upwards of $50,000 and include high-end fixtures and materials.
Guest Bathroom
The guest bathroom can be adjacent to a guest bedroom but can also be placed elsewhere in the home. This type should have all the necessities, like a sink, a toilet, and in many cases, a shower installation or bath.
Still, a guest bathroom isn't a very personalized space, so while it probably should follow the style of the rest of the house, it's there for convenience more than aesthetics.
A full remodeling of a guest bathroom can cost anywhere between $3,500 and $10,000 on average. If you're only planning a partial remodeling, you can expect the project to need a lower budget of $2,800 to $5,000.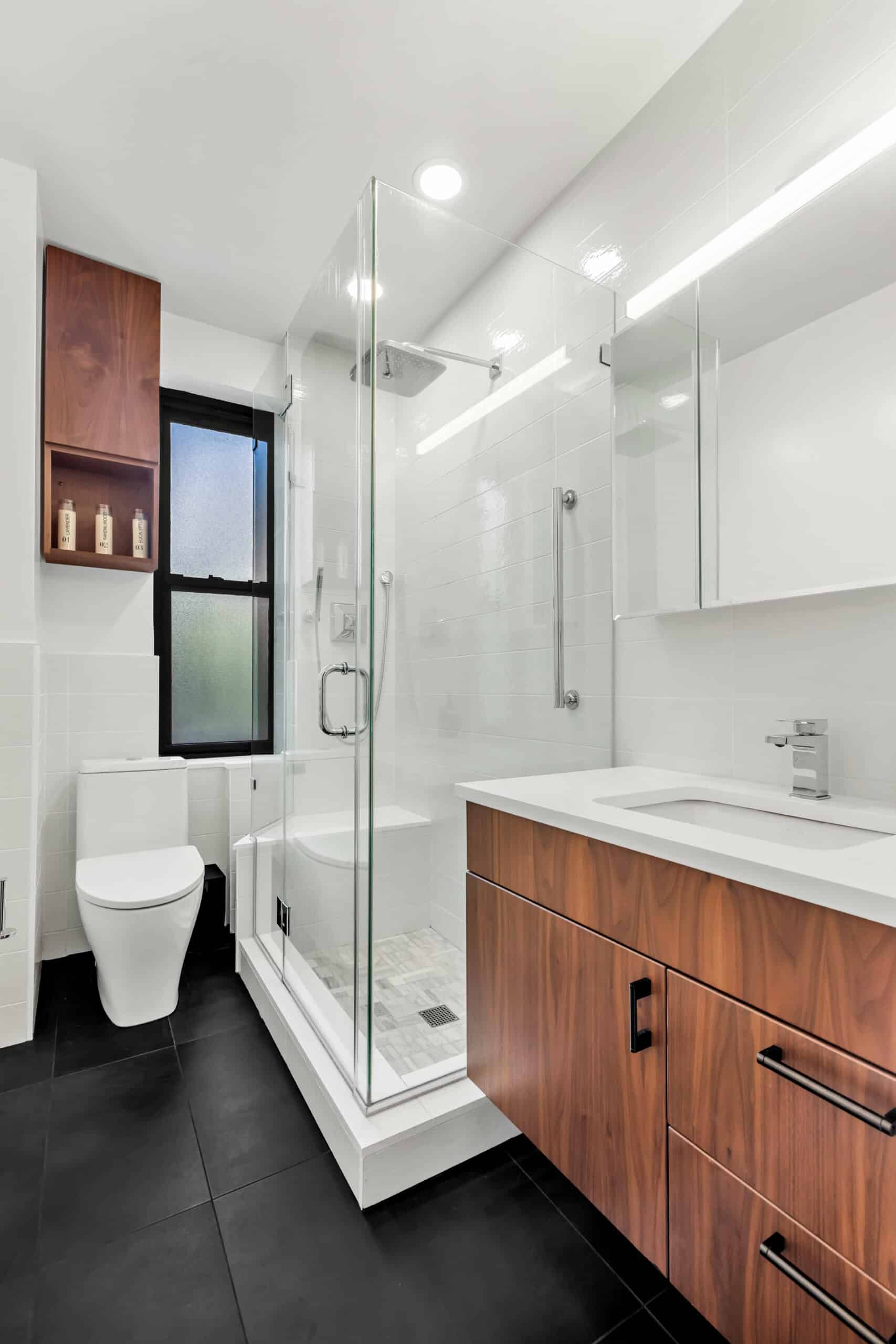 Half Bath/Powder Room
A half bath, or a powder room, is a somewhat small room that features a toilet and a sink but doesn't have a shower or tub. Oftentimes, areas near a foyer are made into half baths.
A half-bath makeover is typically less expensive than different bathroom remodels, yet it can add significant resell value to your property. A powder room renovation costs between $5,000 and $15,000. However, this price can, again, change depending on the requirements of your project.
Powder room remodels may cost between $1,500 and $3,000 on the lower end, usually if you're only partially getting the room done. Meanwhile, the cost of extensive and "all-out" undertakings can even exceed $15,000.
Average Bathroom Remodel Cost per Square Foot
The square footing of a room can be important in multiple ways – it'll decide the type of bathroom, the layout, and maybe even the style you choose to go for. However, the most important thing it impacts is price.
The larger your bathroom, the more there is to refurnish, repaint, or reconstruct. Every square inch will add some surface area that needs to be tiled or painted. In addition, larger bathrooms tend to have more amenities to fill the space, which will also cost money.
You can expect a full renovation to cost around $100 and $290 per square foot, depending on the quality of the fixtures, materials, and labor. A partial makeover or refresh typically requires less than $100, with most projects landing around $80.
Although this is the general price point for most US bathrooms, you can always go for an extravagant remodel and refurbish, with extensive renovations and high-end materials. This will bring the price to well over $300 and may even cost over $1,000 per square foot.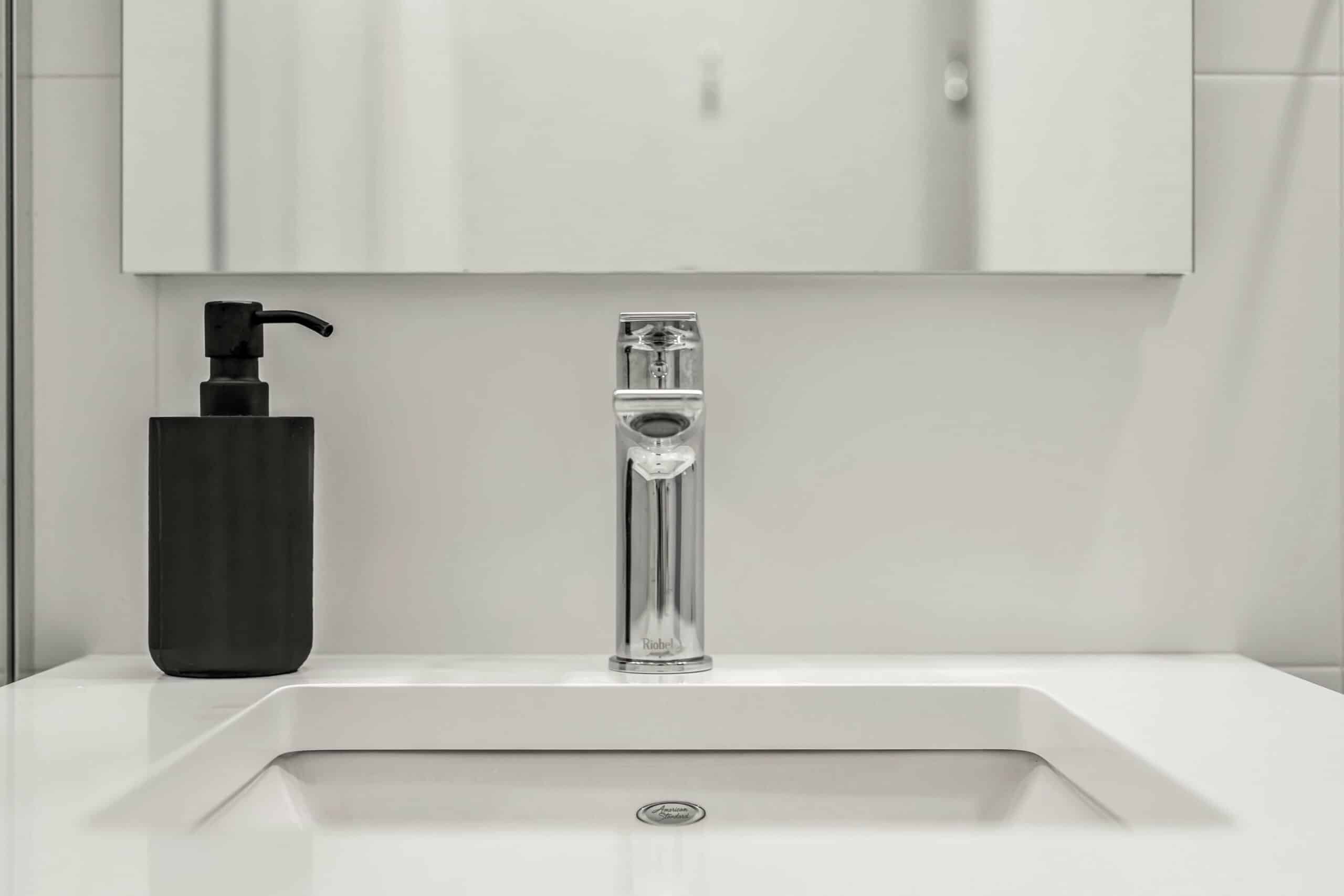 Average Bathroom Cost in New York
A small bathroom makeover in New York City can cost between $7,500 and $27,000. Meanwhile, a complete, rip-and-replace redesign of a full bathroom can cost between $18,000 and $74,000, depending on the size of the area and the quality of the materials used. This latter range is where most NY bathroom renovations fall.
Luxury remodeling can, as usual, significantly up the price. These high-grade renovations can cost New Yorkers who are looking for a grand, opulent bathroom upwards of $70,000. Usually, luxury renovations fall into the $80,000-$200,000 range.
How Bathroom Costs are Allocated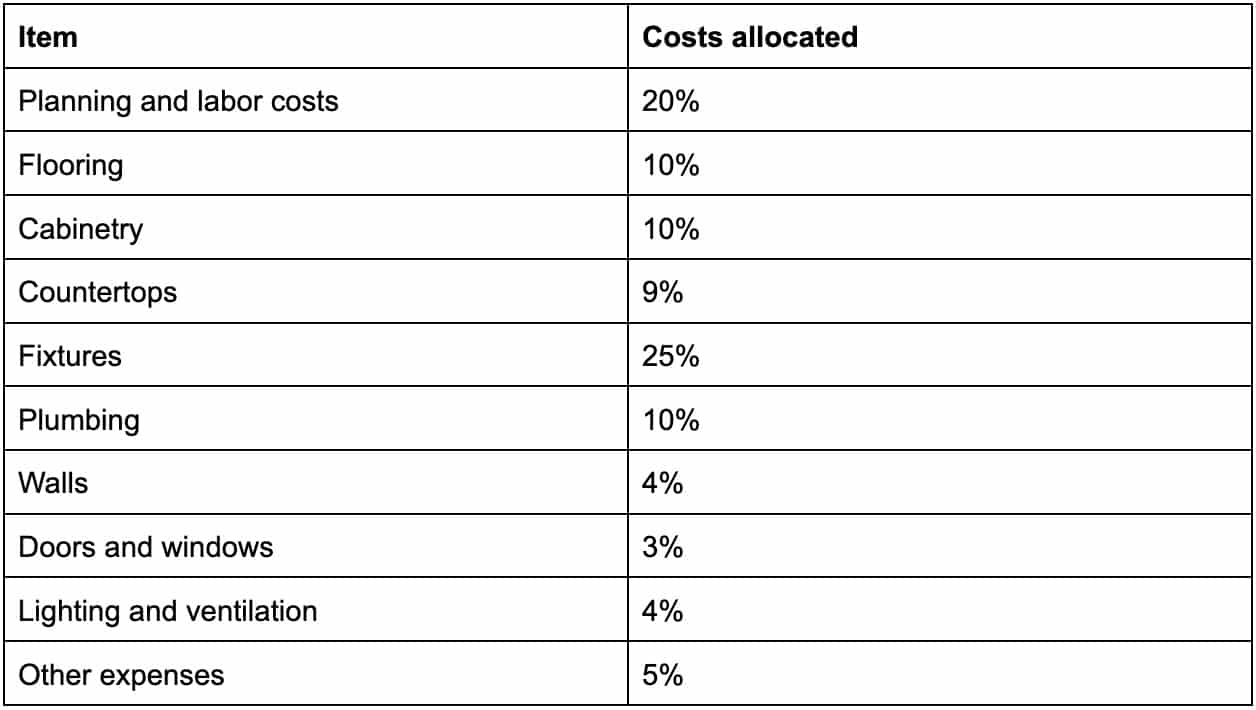 It's crucial to know how your renovation budget will be allocated so you can decide which features are a necessity, when to splurge on material, where to cut back, etc. For a full remodel of an average bathroom, renovation costs are divided as follows;
You should know what you want to see in your new bathroom prior to starting renovations. Make a list of all the features you're considering, and then divide the list into must-have and good-to-have things. This will not only help you save on items you don't really need but also better answer the question, "How much does a bathroom remodel cost?".
Sample Bathroom Remodel Cost
Based on the latest prices for materials and labor, below is a remodel cost breakdown for an average size bathroom, which is around 40 square feet.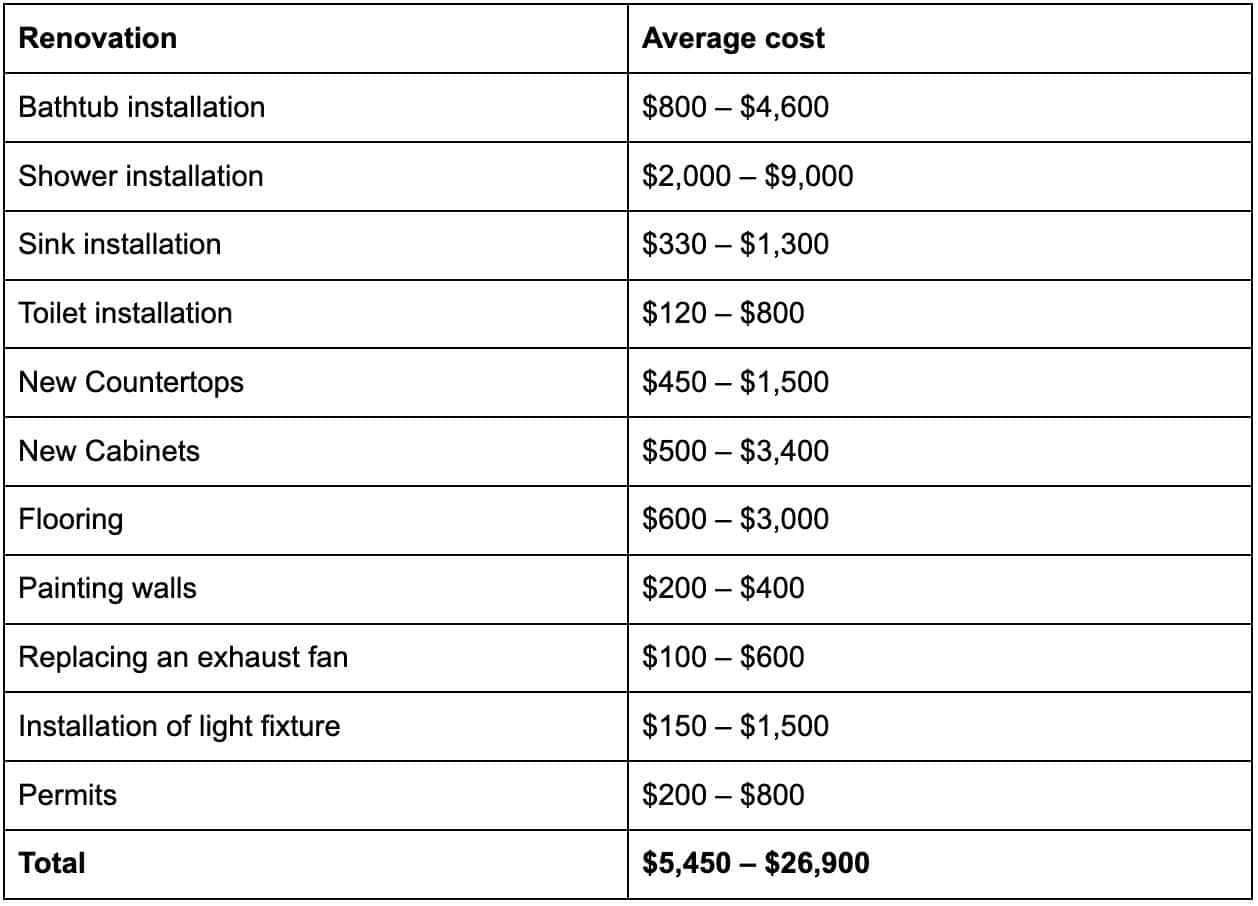 What Influences the Costs of Remodeling Your Bathroom?
Remodel costs can be influenced by many decisions you make both before and during a project. The final price point will vary depending on:
Where you reside
Some cities, like New York and Los Angeles, simply have higher renovation costs. The cost of a bathroom remodel generally coincides with the price of real estate, and in more expensive states, you will need a larger budget;
The size of your bathroom
If you have a larger bathroom, you'll naturally pay more than you would for a small powder room. This is where estimates based on square foot come in handy for determining the potential price of a project;
The extent of your remodel
Partial renovations will be on the cheaper side and only cost a few thousand dollars, while full remodeling projects can stretch the required budget by tens of thousands;
Materials used
Choose between ceramic or porcelain for tiles, brass, stainless steel, or chrome faucets, wood or PVC cabinets, etc. Your choice of material will impact the price but also the durability of a bathroom, as pricier high-end materials are less likely to need replacing after a short time;
Labor costs
Bathroom remodels have a particularly large cast of contractors. A designer, building permit expediter, demolition contractor, carpenter, plumber, electrician, tile setter, drywaller, and painter are just a few examples of the contractors and subcontractors that might be used;
The current condition of the room
Any bathroom has a lot of plumbing and electrical, much of which is concealed behind walls in moist locations, making it possible for unexpected corrosion or failure to go undetected. Remodelers should budget between $80 and $1,000 for each anticipated electrical or plumbing component.
Carefully consider all of these factors in the planning stages. One of the most expensive things you can do during any project is to change your plans in the middle of it. At best, it causes a delay while you buy new supplies and return the old ones. At worst, you will have to hire a remodeling contractor to redo previously completed work.
Water Problems
Water issues can range in severity from severe to manageable, but they must all be resolved before construction starts. Even if you don't plan to change the plumbing systems, it's essential to prepare for emergencies because costs may soar when there is a problem.
The cost of replacing the water heater that serves the tub can range from $811 to $1,566 if it is found to be rusted or leaking. It may also be more expensive than anticipated to fix a broken drain pipe or any other water issues.
To check for potential problems, try turning on the tap and listening for any rattling noises coming from behind the walls. Also, watch out for water leaks and fluctuating water pressure close to the sink and faucets. Clogged sinks and drains are yet another indicator that you need a plumber.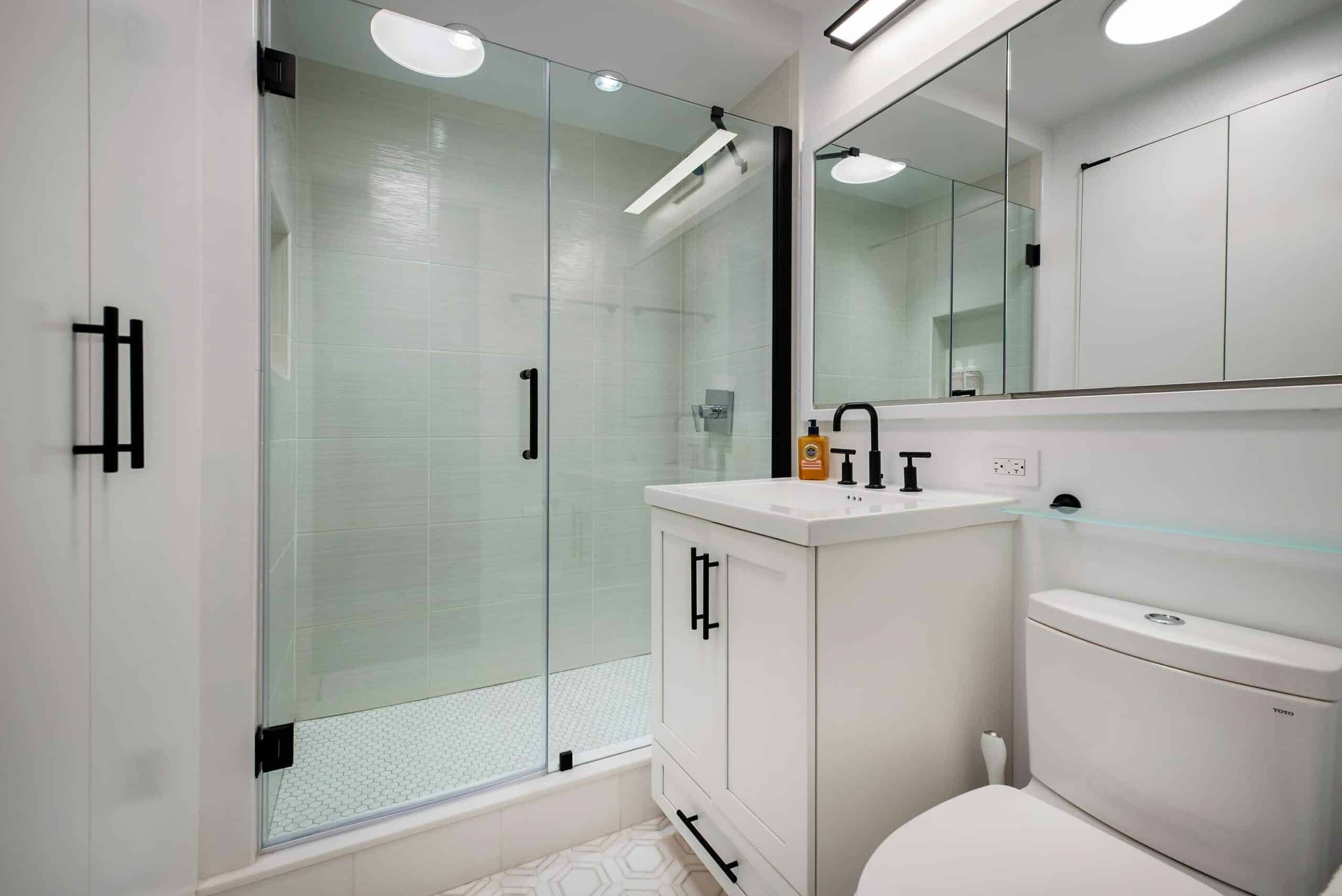 Can you Save Money by Doing it Yourself?
Since the prices of the materials have increased in the past few months, you can still save some money if you have the skillset and time to do certain tasks yourself. Painting, making simple plumbing adjustments, removing an old vanity, and installing a new one are all easy DIY projects.
However, when a bathroom wall or floor is opened up, even a lot of knowledgeable homeowners shudder at the thought of some potential outcomes. Mistakes can be expensive and may harm you or other people.
Electrical, plumbing, and hot water connection are just a few of the many important systems that come together in the bathroom. For tasks involving these, it's a smart idea to hire some help since it requires highly trained labor to install water-resistant walls while working in an oftentimes confined space.
How MyHouse Can Help You Remodel Your Bathroom
Everyone benefits from having a helping hand – especially if that hand is an expert in the field. MyHome can help visualize your goal and make it a reality.
We work with budgets of different sizes and create anything from highly-functional units to the opulent space of your dreams. No matter where you are along the way, we can help you – from planning and designing to picking the best materials and overseeing construction.
Whether you want a bathroom update or another addition like a kitchen remodel, we'll make sure you realize your home remodeling project and create the best environment for you to enjoy your time in!
Contact us by filling out this form – and we will get back to you!