Home Planning & Renovations
Are You Covering all the Angles with your Bathroom Lighting?
By Tiffany Smolick
January 20, 2023
No matter its size, a bathroom should always feel bright and inviting. The design concept for bathroom lighting should incorporate a lighting arrangement that fully illuminates the space but does not overpower the room. Perfect lighting can also reduce the clutter in the space, making it feel organized.
Layering is a great way to brighten up your space without having the light source emanating from one location. The three main types of lighting are

Task,
Ambient, and
Accent.
Below are the three main types of lighting and some lighting tips on how to cover all the angles when you're updating your bathroom. Are you covering all the angles?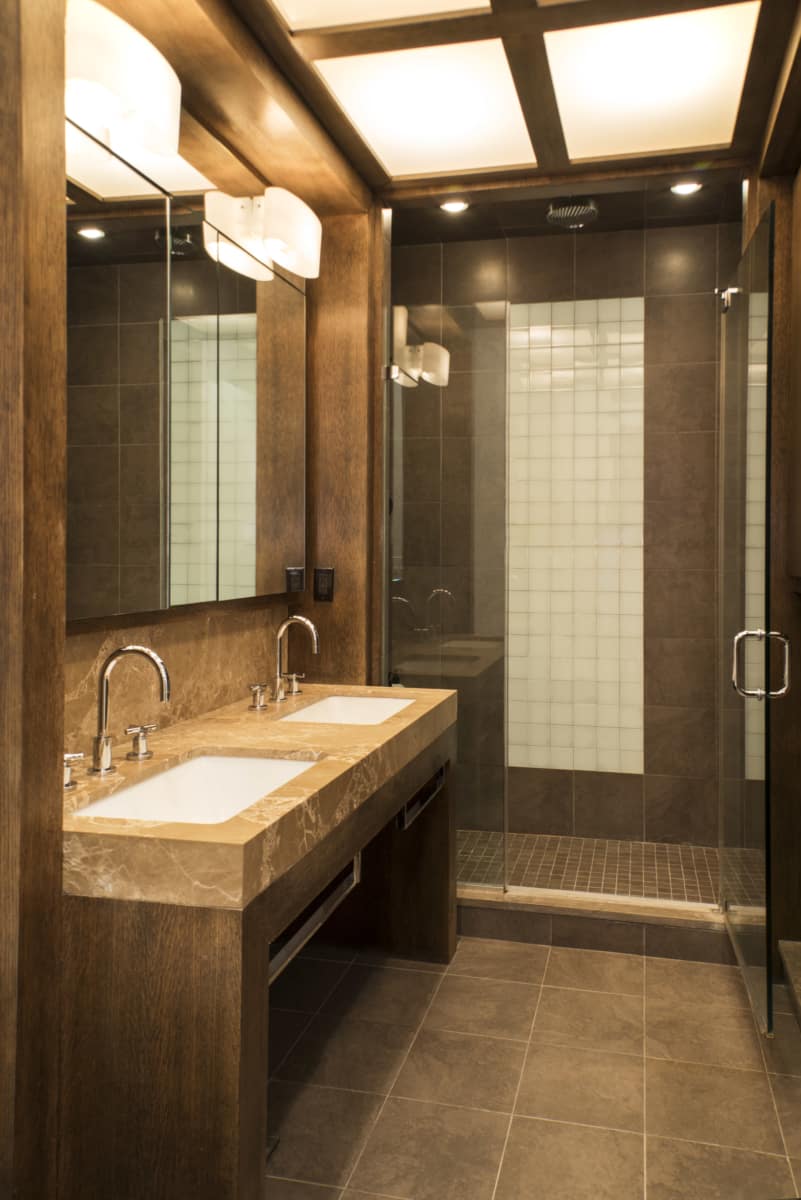 Task Lighting
#1: Vanity Lighting
Naturally, in the bathroom, task lighting is the most important. Whether on or around your vanity to light your evening dental tasks or ceiling lighting for shower/ tub rituals.
Sconces are the best options for lighting the head and face for grooming. They cast an even light across the face, allowing for the best possible task lighting. However, in NYC, this is not always an option. Pendant lights are a fun alternative to scones if you are looking to get really creative.
PRO TIP: To eliminate shadows under the chin, eyes and cheeks the fixtures should be mounted 36 to 40 inches apart. The center of each fixture should be approximately at eye level or around 60-66 inches above the floor.

– MyHome Design + Remodeling
Lit Mirrors and medicine cabinets are ideal for small bathrooms if the space located around the mirror is limited. They provide face forward task lighting which is perfect for grooming and come with many other features like electric outlets and USB ports to name a few.
If you are using a vanity light above the medicine cabinet, there are a few points you can follow to ensure the best lighting. First, it should be placed 72-82 inches above the floor and at least 150 watts. Ideally, the light should spread across at least 24 inches, which is why the bar lights are so popular.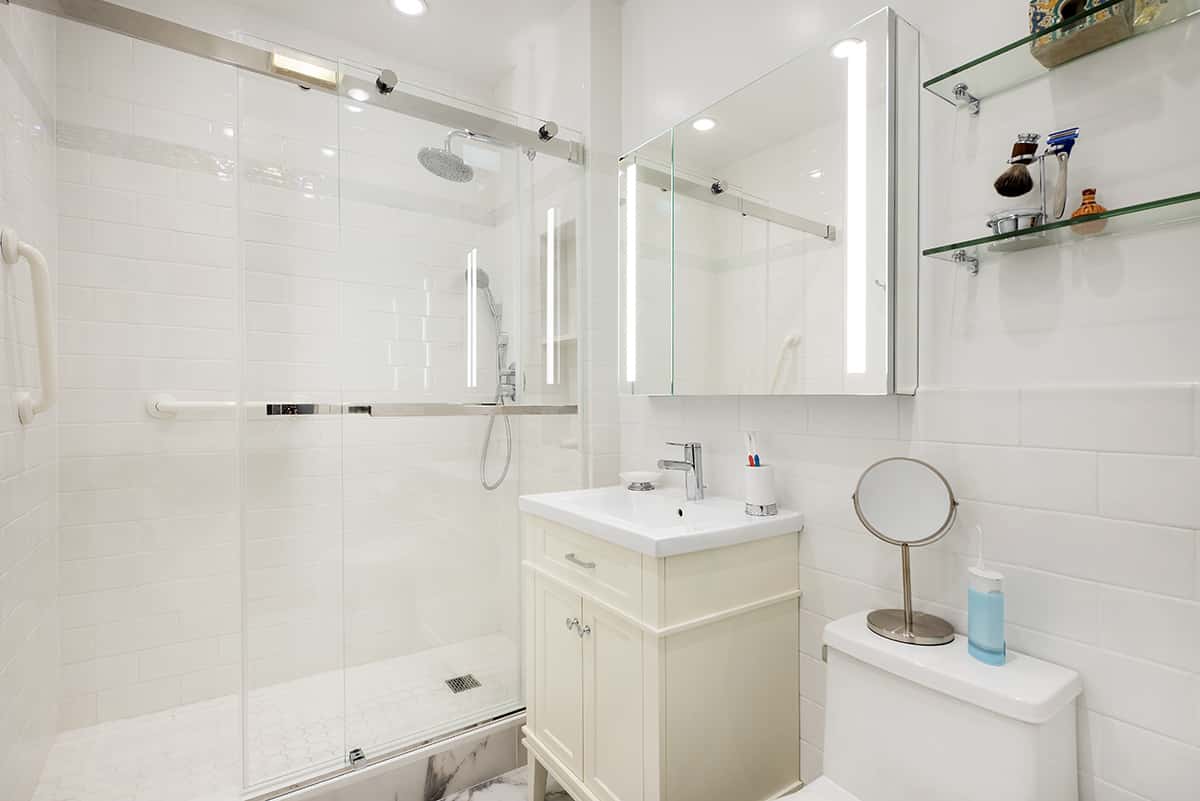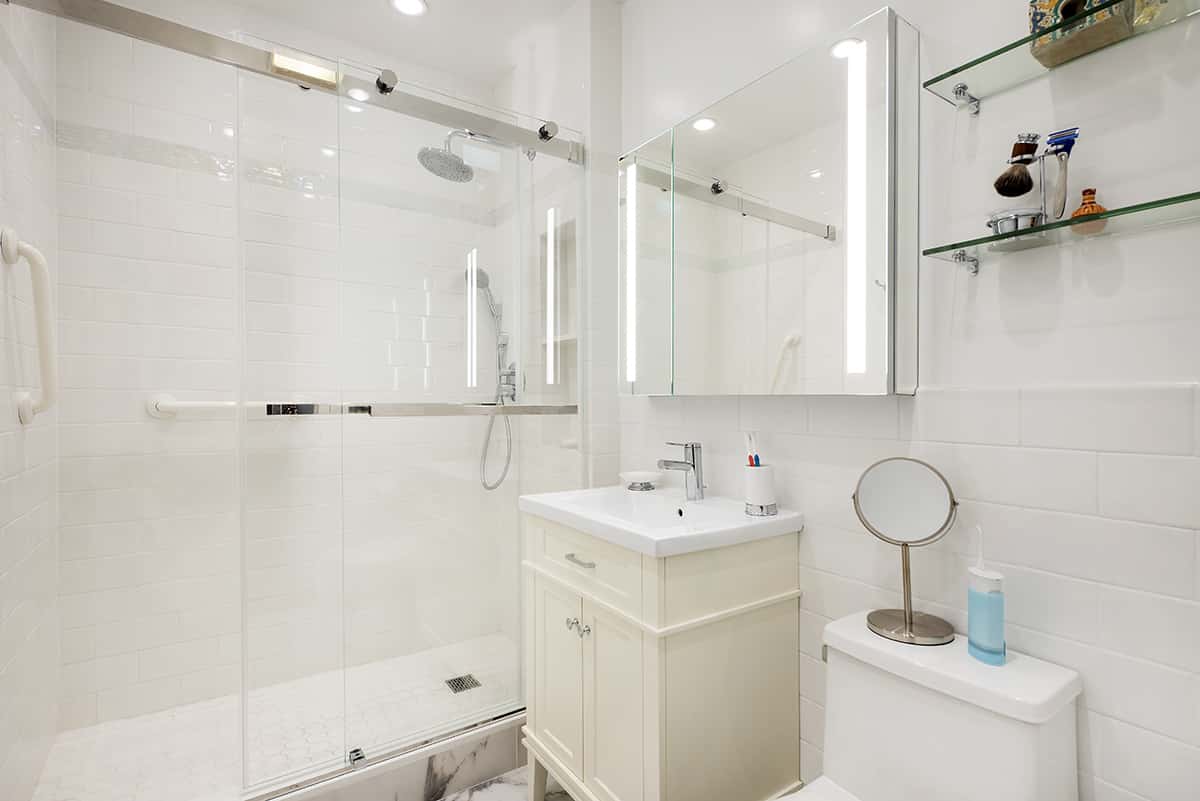 #2: Shower/Tub Area Lighting
This is another area where you will want to have adequate lighting. The most commonly used lighting is recessed ceiling lights. They add just the right amount of additional lighting for this space.
PRO TIP: If you have glass doors you may be able to get away without it but if you are renovating your bathroom, we recommend you discuss this with your designer/contractor during the design phase.

Book A Free Design Consult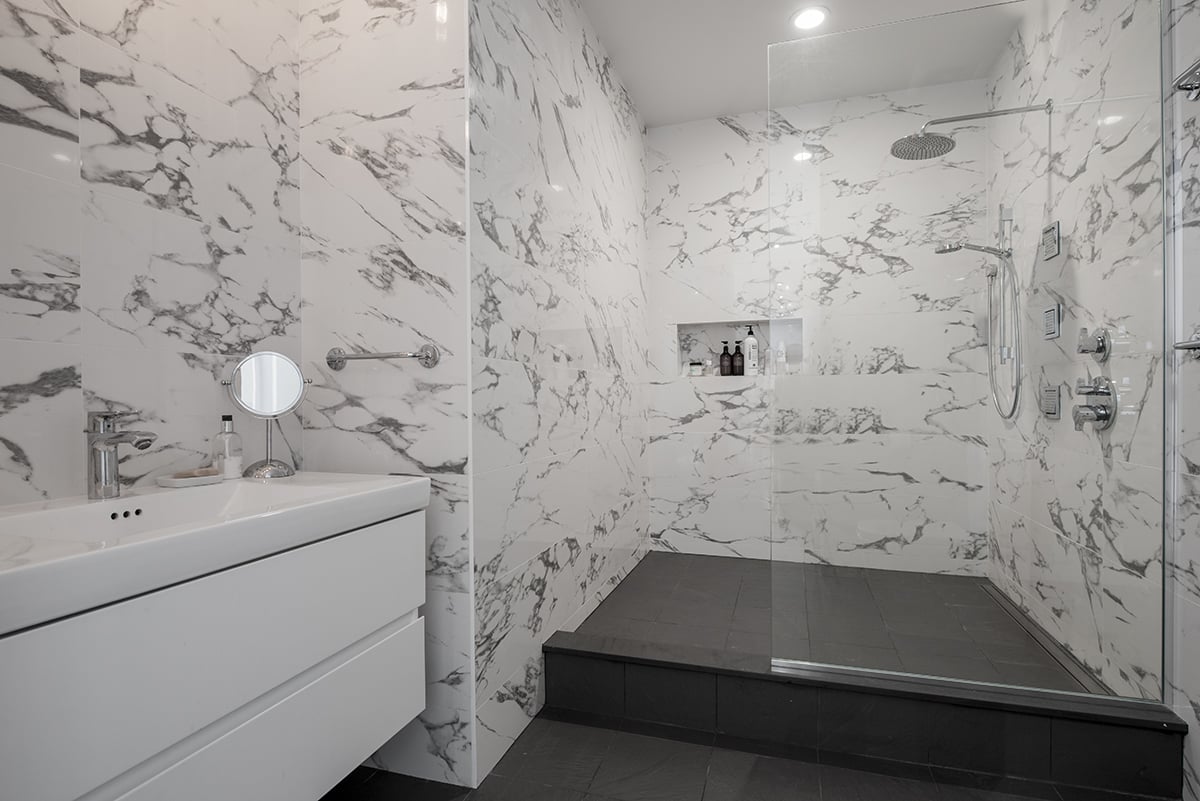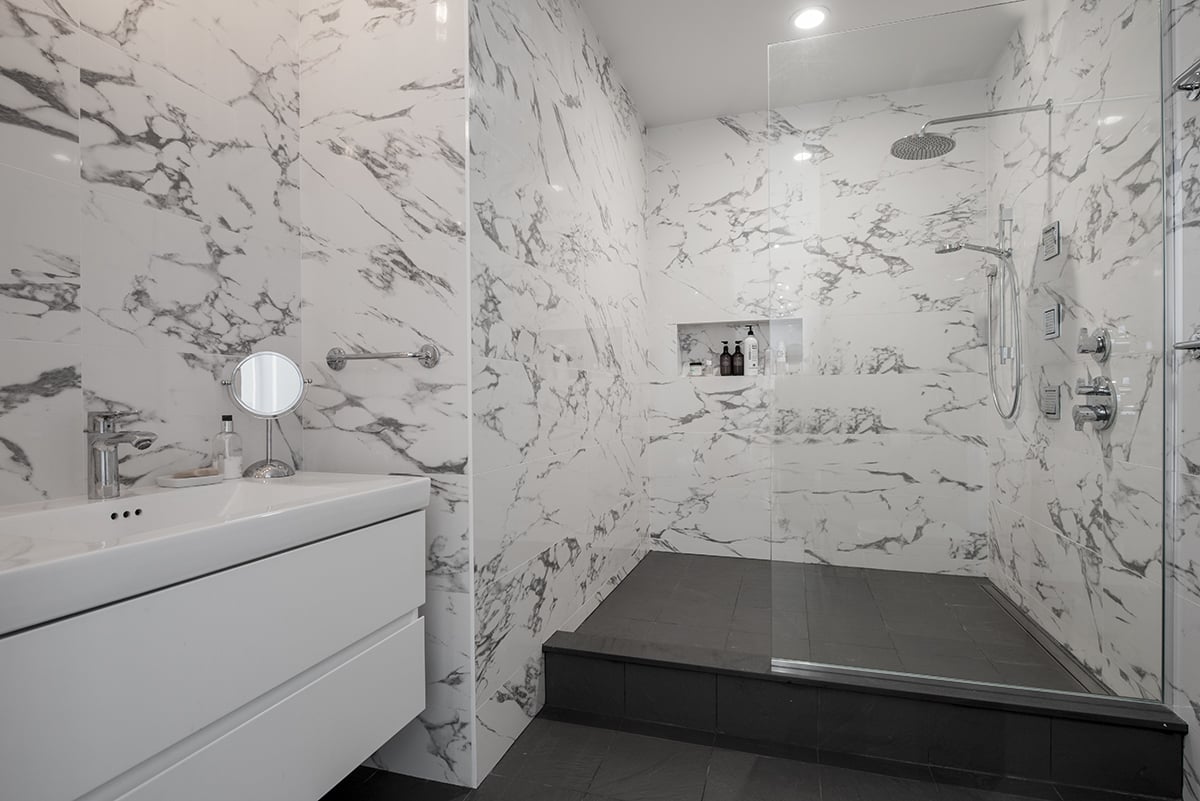 Ambient Lighting
The central ceiling fixture provides ambient light in the space, it serves as a natural substitute for natural light. Its sole purpose is to distribute light evenly throughout the space. It's common to use a surface-mounted ceiling light as your central ceiling fixture. If you decide on a pendant light, it should hang between 12 and 20 inches below an 8-foot ceiling.
PRO TIP: If you are lucky enough to have higher ceilings, add an extra 3 inches for every extra foot of ceiling height.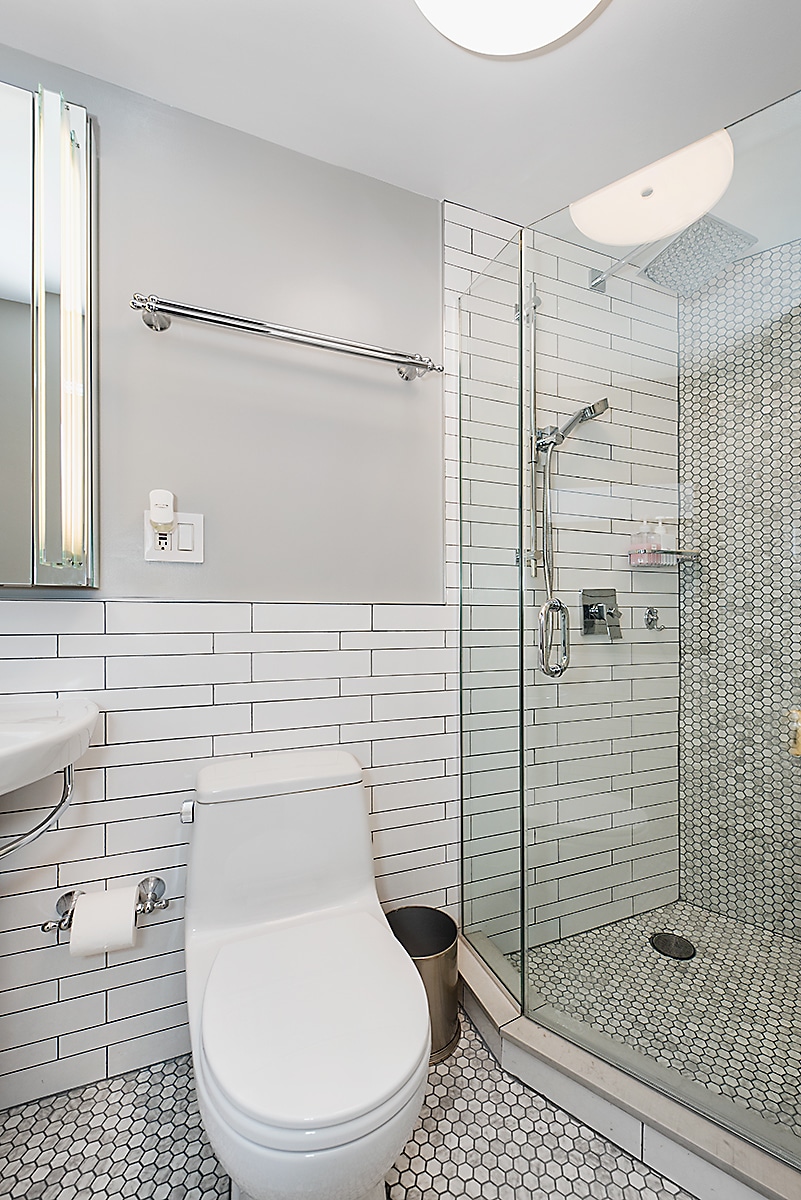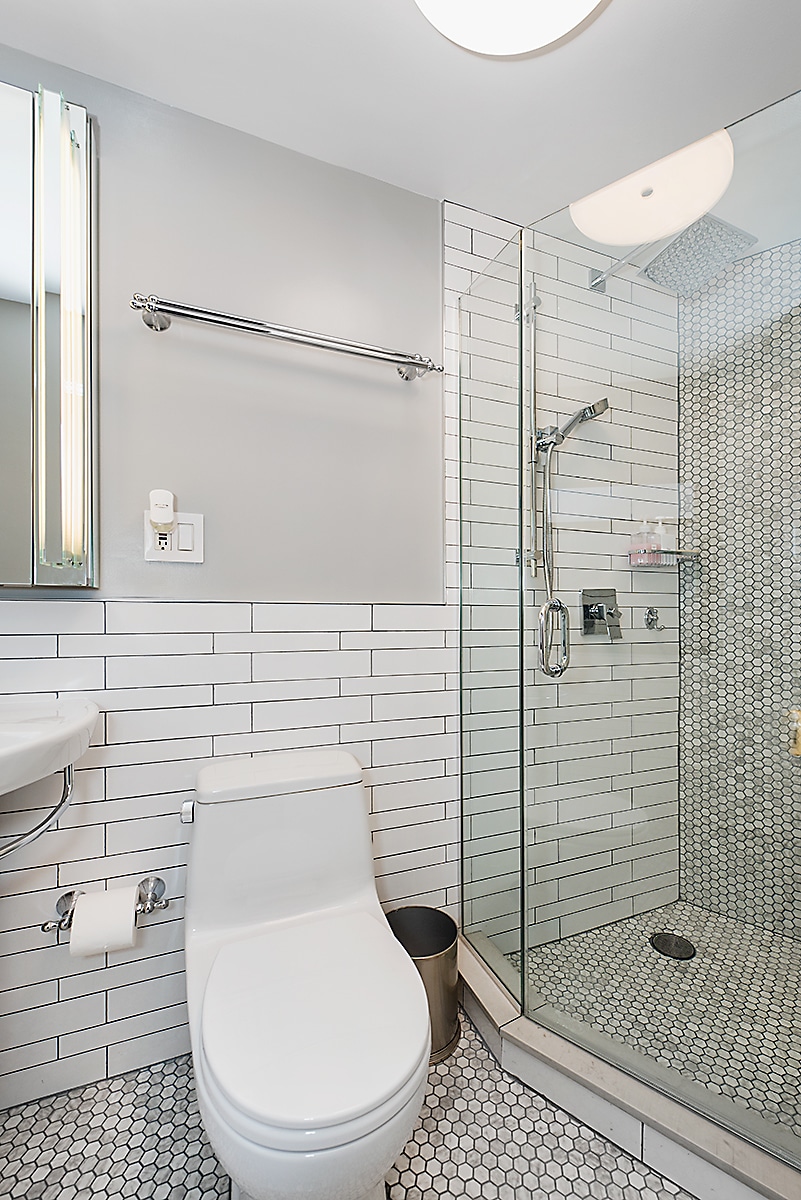 Accent Lighting
Recessed lighting in niches, adds a bit of sparkle and ambiance to the shower if you have the room to add cove lighting, it will add a soft glow around the perimeter of the room.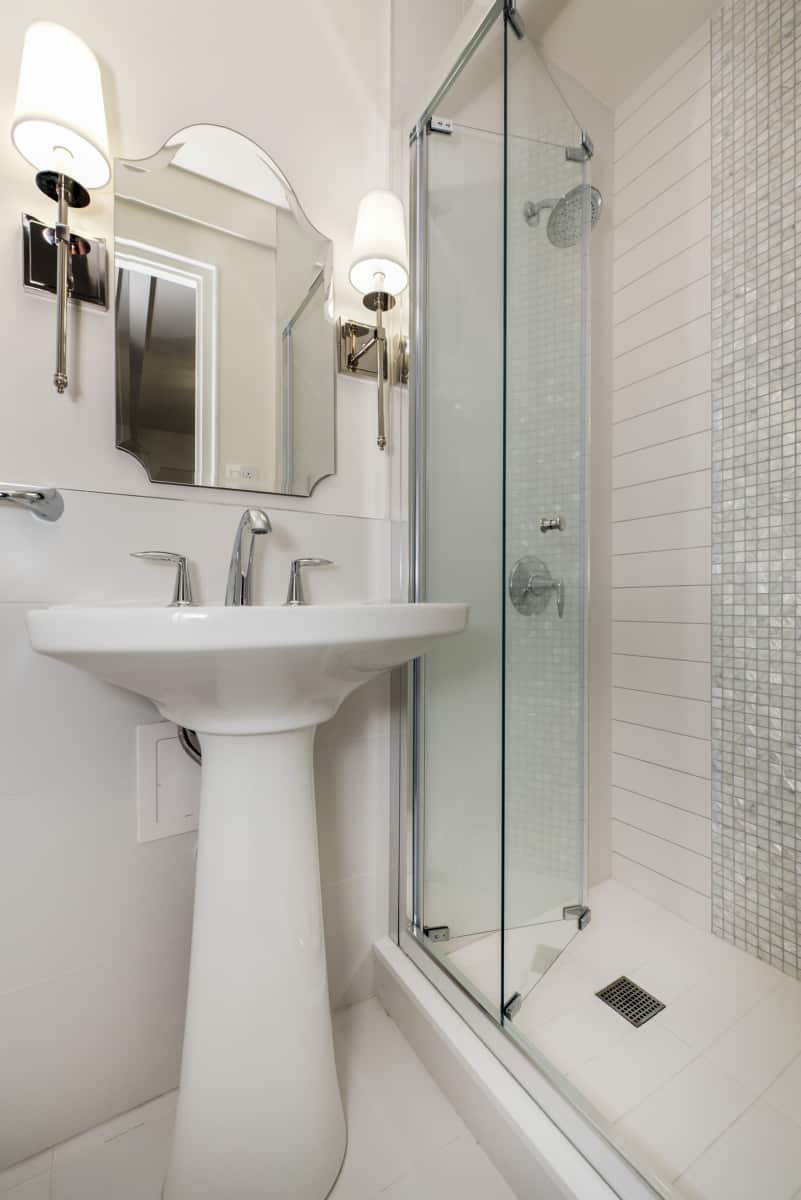 If you're planning a bathroom renovation, think about what kind of lighting you will need for your space before you start the renovation process. We hope by highlighting these three lighting styles with examples; you have the tips and inspiration you need for your next renovation.
Looking to remodel your bathroom? MyHome US would be happy to help you with our team of experts. Contact us today to get started.
. . .

We hope you found this information inspiring and motivating in assisting you on your journey to design the perfect bathroom lighting during your next bathroom renovation.