Home Planning & Renovations
Countertop Options That Are Better Than Ever!
By Tiffany Smolick
As we continue to celebrate the arrival of Spring here in New York City, we would like to highlight some great options for sprucing up your kitchen countertop.
For those times that you feel a full renovation of your kitchen might be a bit overboard, why not try just replacing your countertop? This fairly simple design element change could be just what you needed in providing a fun, interesting and aesthetically pleasing new look for your kitchen. The following options have been put into a neat and concise list for your browsing pleasure.
GRANITE
The cost of granite varies based on the type and availability of the specific stone. Its durability ranges from medium to high, and granite can be easily cleaned if properly sealed. A highly versatile surface, granite is available in a wide variety of colors, "patterns," and veining. A traditional kitchen design may use granite with ogee edges and soft curves, while mitered built-up 3" edges, pencil edges, and straight-edged cuts in the stone complement transitional and contemporary design kitchens. Since granite is prone to staining and etching, make sure to wipe off the countertop after each use and avoid leaving cooking oils, citrus, and alcohol on the surface. Blot any spills immediately with a paper towel, and clean with stone cleaner or mild soap and water. Re-buff and seal your granite countertop every year or two for best stain resistance and appearance.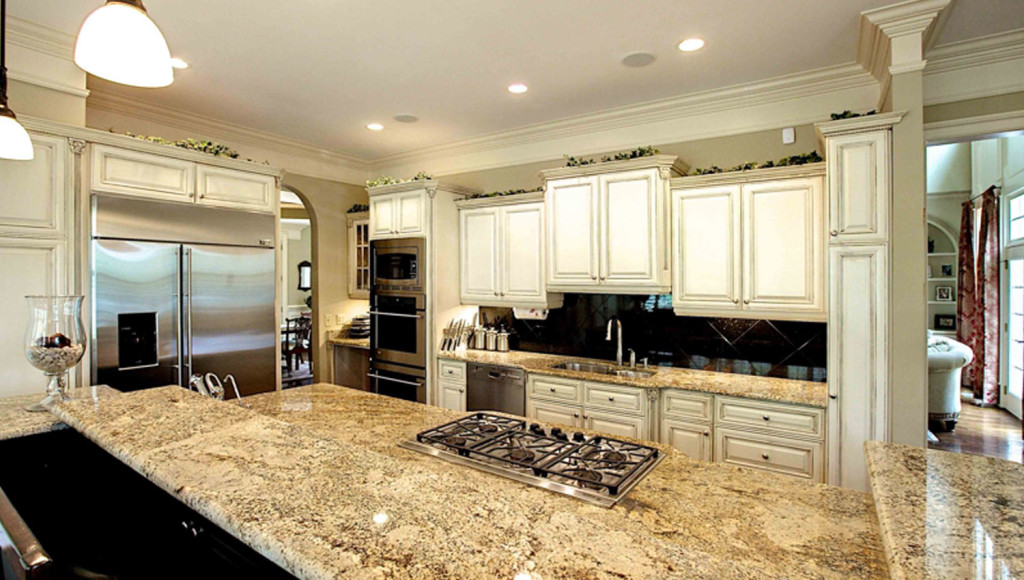 photo courtesy of www.homedecormagz.com
SOAPSTONE
Relatively soft, soapstone prices can range from middling to very expensive. Soapstone is prone to chipping, scratching, and flaking, but it can be oiled to maintain a uniform appearance. Soapstone is naturally dense with low liquid absorption, making it relatively food safe, and it's most common in more traditional designs thanks in part to veining in the stone. Soapstone is also commonly used for smaller countertops, and it can be cleaned with soap and water in addition to occasional treatment with food-safe mineral oil for appearance and sealing.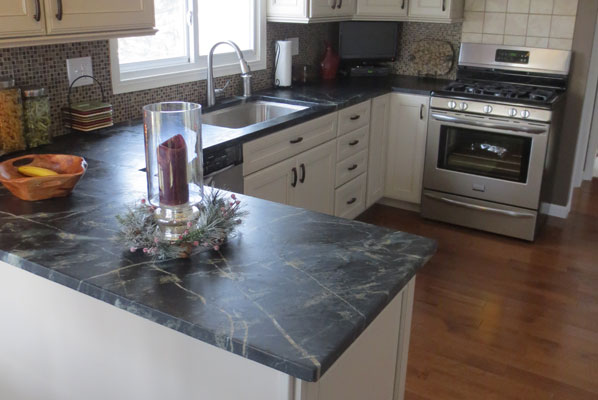 photo courtesy of www.oswegosoapstoneandtile.com
CONCRETE
Eco-friendly—the material is so durable, it could literally last a lifetime—concrete is also a recyclable material. At its most basic, a concrete mix consists of sand, rock and cement, which makes it more a more sustainable option than other countertop materials (think granite or marble) that are mined, non-renewable materials.
A concrete countertop is also quite heavy, so you'll need to make sure the base, whether it's cabinetry or an island, is strong enough to support the weight. While beautiful in its natural state, concrete can also be colored or stained in a variety of colors.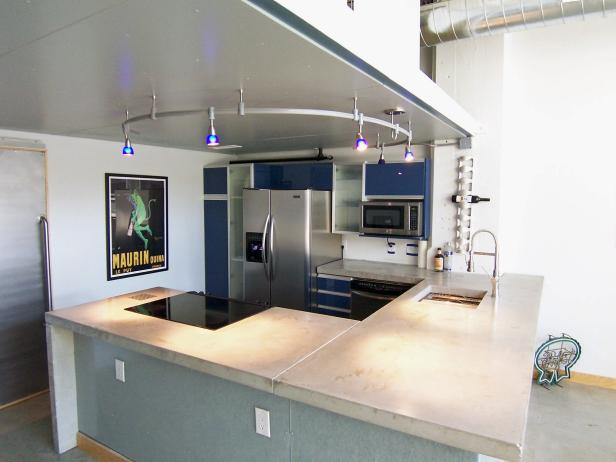 photo courtesy of www.hgtv.com
QUARTZITE
Quartzite is an extremely hard stone, depending on the quartz content, but it can be prone to chipping and high costs. Less porous than some stone surfaces, quartzite is highly versatile with varying colors. Depending on the particular stone, some quartzites can be more stain resistance. A quartzite countertop is easy to maintain with stone cleaners or soap and water, but avoid using excessive cleaner or soaps, which may leave streaks or a film.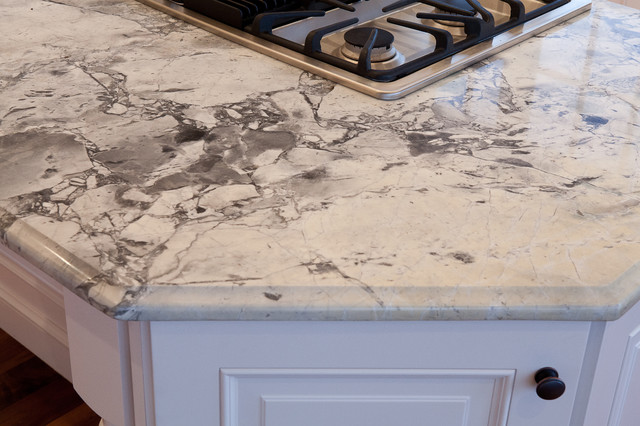 photo courtesy of www.houzz.com
QUARTZ
Mid-range in costs as far as a countertop goes, quartz is highly resistant to scratches, burns, and stains. Quartz is also a very eco-friendly option and is comprised of ground quartz, a binder, and pigment. Easy to maintain and clean with soap and water or glass cleaner, quartz maintains a polished appearance with minimal effort and needs no sealing.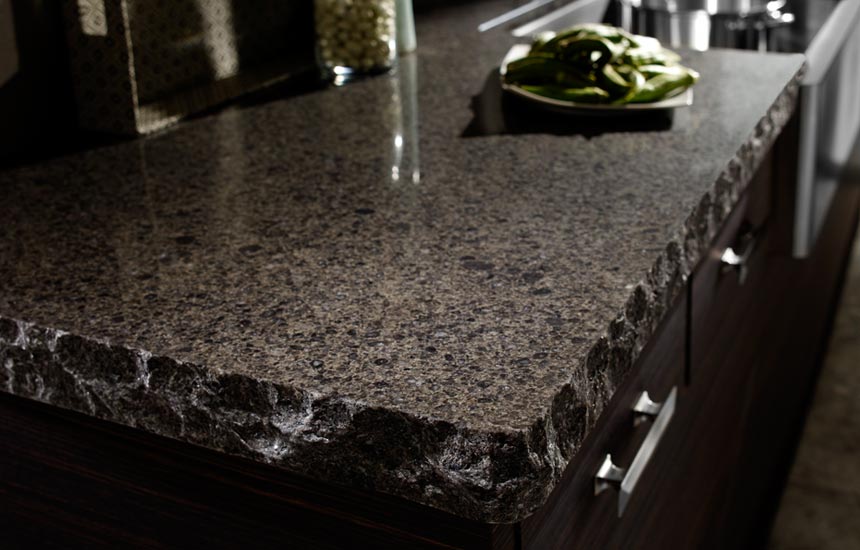 photo courtesy of www.floors55.com
NATURAL WOOD
With costs varying from medium to very high, natural wood is softer than stone and will eventually show nicks and wear (although that may add charm and uniqueness to your surface). Natural wood contains anti-bacterial enzymes found in its trees, or it can be sealed with food safe sealer. Wood is most commonly used in transitional and traditional styles of design, but it can also add warmth to contemporary designs, utilizing contrasting materials like stainless steel and glass in combination. Clean natural wood countertops by wiping them clean and sanitizing them with a mixture of vinegar and water; you can also occasionally oil wood after cleaning.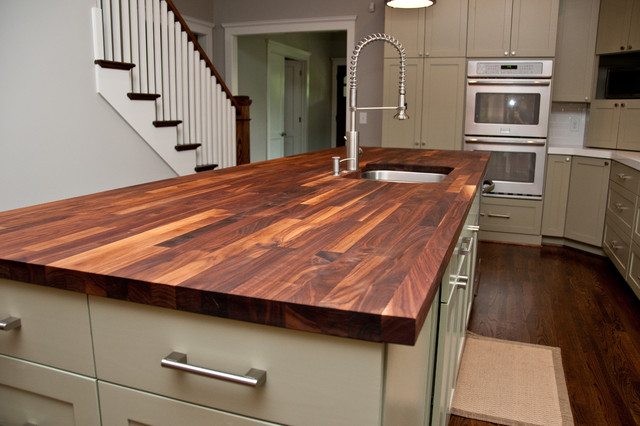 photo courtesy of www.houzz.com
GLASS
While customized glass will be more expensive, glass prices are equivalent to mid-range and above granite. Glass is non-porous, easy to clean, and a very versatile countertop material that comes in varying colors and thicknesses. Glass can also be backpainted in any color, and it's available with a wide variety of possible trims and other effects like frosting, etching, and edge lighting. Glass can be cleaned easily with glass cleaner or soap and water, but it can scratch and chip with improper use and care.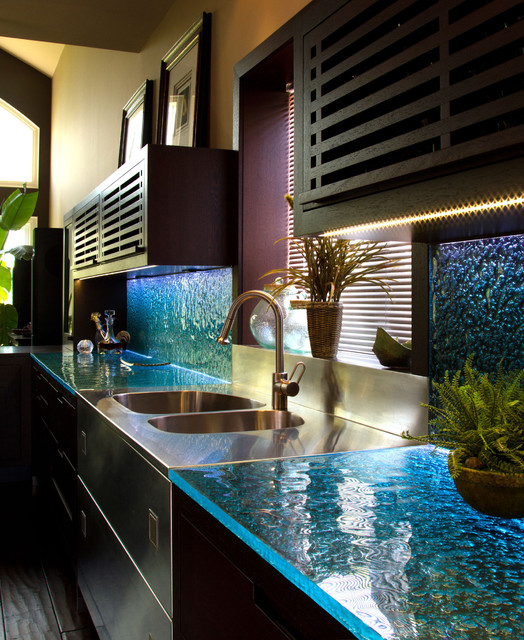 photo courtesy of www.cbdglass.com
MARBLE
Marble is most often used in traditional designs thanks to its distinct veining and classic aesthetic, and it's usually found on islands, bathrooms, and flooring. Marble falls on the high end of the cost spectrum and is susceptible to staining, etching, and scratches. Marble should be properly sealed to reduce staining, and while it can resist all but high heat, use trivets or mats to avoid scratching and marble repair. Clean marble with stone cleaner, water, or mild soap and water.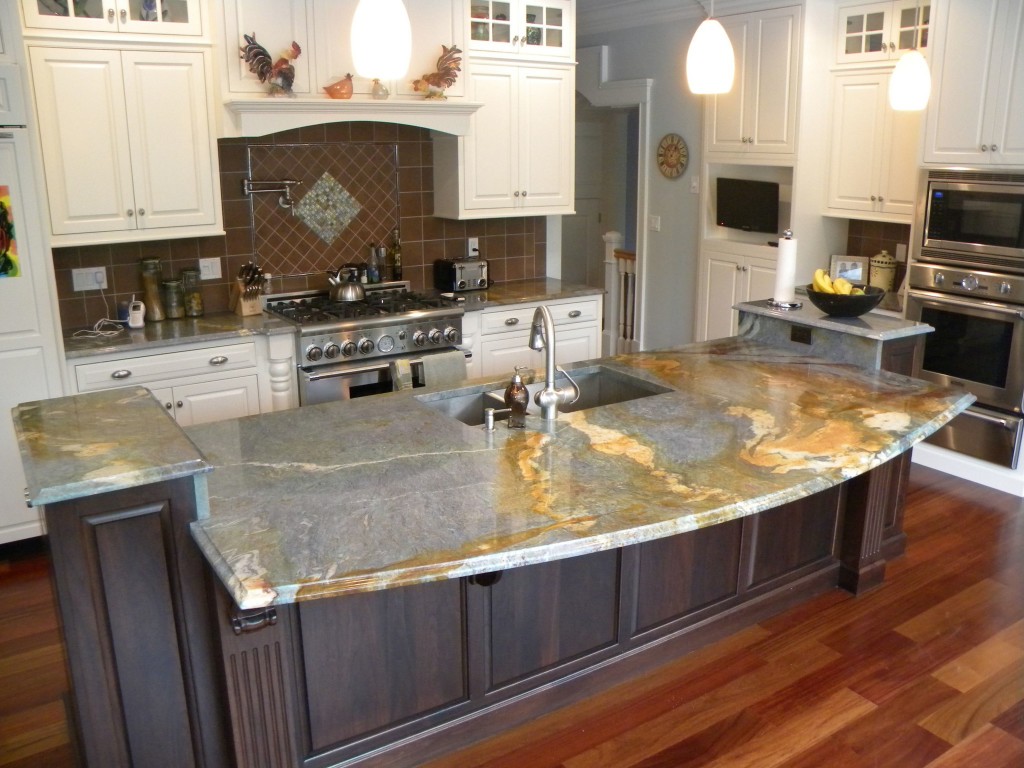 photo courtesy of www.rusacc.com
ZINC
The use of zinc as a kitchen countertop material has become a recent trend in the design industry. Zinc is a reactive material that will show patina and change with age. We refer to it as a "living" metal. It ages to a dull pewter-like color that separates zinc from other options like stainless steel. Zinc countertops have been a classic in bars and seafood restaurants, and fit perfectly for residential kitchen countertops.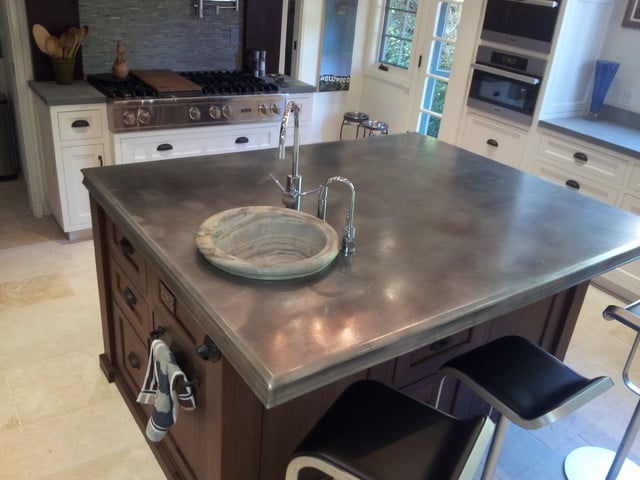 photo courtesy of www.finedesignfabrication.com
There you have it, a good sampling of the latest and greatest in countertop design and ideas just in time for your Spring renovation plans. Using this countertop guide, you can now make the best choice for what kitchen countertop you want in your renovation!
Contact the MyHome Team to see how we can help you here!