Home Planning & Renovations
Your Complete Guide to Remodeling a Bathroom Shower
By Tiffany Smolick
November 29, 2022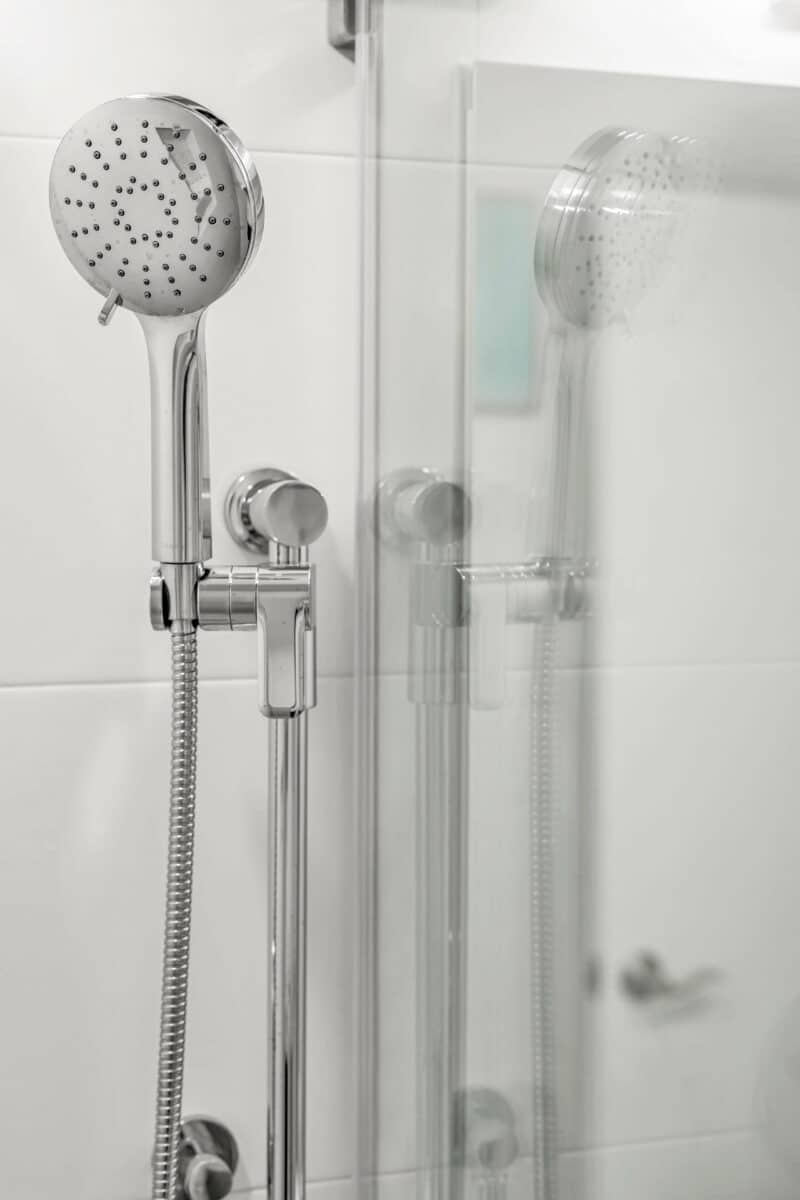 A shower is one of the essential features of a bathroom and something you use daily. But, when it comes time to overhaul, renovate, or remodel this area, it can be challenging to figure out what to do.
You'll need to know how to mesh style and function, where to find the best materials, and when to employ the help of a contractor. This article is a complete start-to-finish guide on how to remodel bathroom shower areas, where we discuss everything you need to know before starting a project.
Walk-In Showers vs. Tubs
One of the first decisions homeowners make when building or renovating a bathroom is whether to install a tub or only a walk-in shower. This will have a massive influence on the entire design as well as the budget, so consider your options carefully.

For starters, decide whether you have the space and money to invest in both fixtures or just one. Also, consider that switching from a tub to a shower or vice versa can be difficult, as you'll need to rearrange the rest of the area.
Additionally, you should consider who will use the shower area the most. Seniors and others with restricted mobility will benefit from a walk-in shower, especially if it has grab bars, a bench, and a non-slip surface. However, small children require help bathing and can't do it independently. In this case, a sizable bathtub accessible from all sides is far more practical.
Considerations for Keeping or Ditching the Tub
The renovation price largely depends on the materials used and the types of fixtures you choose, but overall, tubs and showers come at similar price points. So, budget isn't a consideration when deciding if you should keep a tub. However, you do need to ask yourself:
How big is the bathroom – a tub is usually 5 feet long and 2.5 feet wide, so a shower is a better option for small bathrooms;
How often do you use the bathtub – if members of your household only ever use the showerhead, the tub might be a waste of space;
Is replacement the most affordable option – sometimes a new finish on your tub is more cost-effective;
How will it impact future listings – a bathroom without a tub can only be listed as a three-quarter bath.
Ultimately, you should decide if getting rid of a tub is the best option both now and in the future. Even if you don't use it much, it might be a necessity down the line if you plan on having children.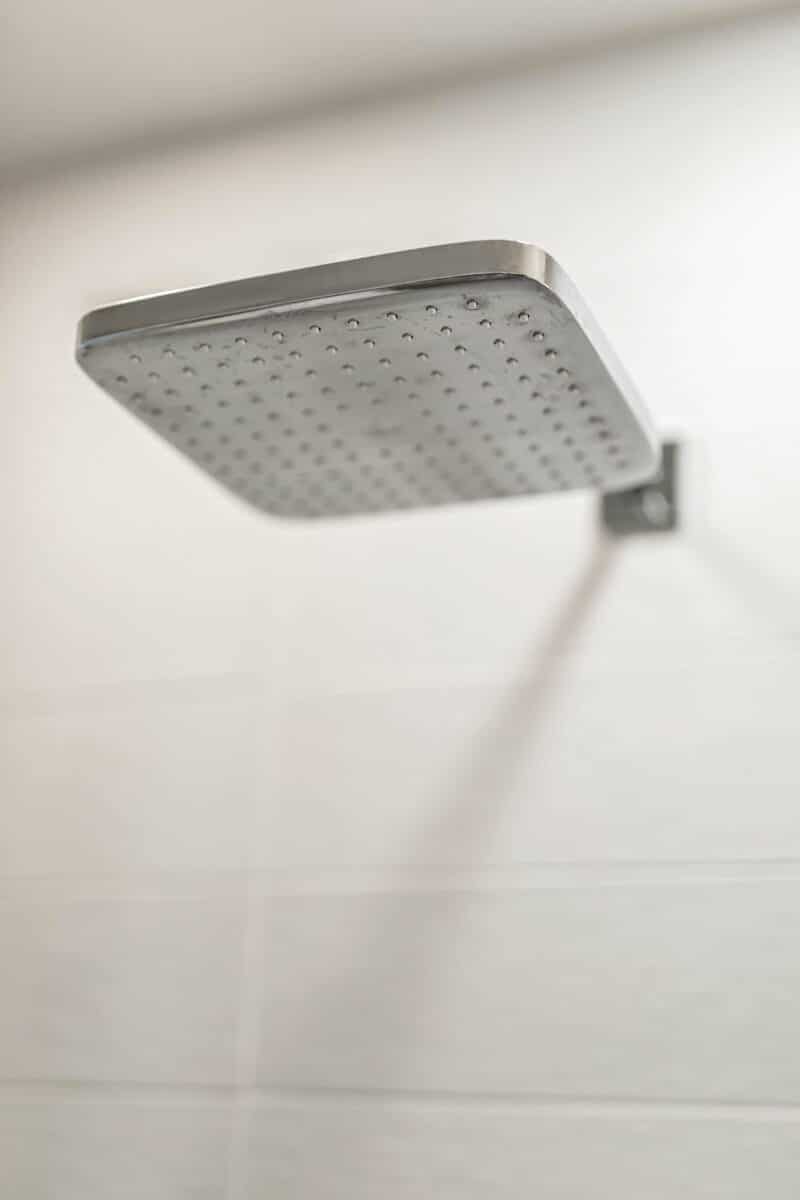 Tie a Tub and Shower Together
The easiest way to tie together your tub, shower, and the rest of the room is to use the same color scheme and materials for both. For example, a bathtub's acrylic surround can easily clash with shower tiles, especially if you've picked them out separately without considering how they work together.
Stand Out With a Freestanding Tub
A freestanding tub can be an attractive focal point if you have a spacious bathroom. This addition also makes a striking style statement and screams elegance.
You can install a shower in a freestanding tub, but you will also need to add curtains to keep water off the floors. Other options include having both a tub and a separate shower or setting up a freestanding tub inside a shower enclosure.
Walk-In Showers
Walk-in showers are easily accessible and give your bathroom a more luxurious touch. They come in various designs and can include some lovely details like built-in spa seats, rainfall shower heads, and soap holders on the walls.
Walk-in showers can be more expensive to install than baths, however, they may be customized to fit any bathroom, and they're easier to clean and maintain.
Move the Tub/Shower Area
Say that a contractor inspects the bathroom and discovers relocating the shower or tub will free up space. This will be pricier than keeping it where it is, but the extra room can be useful in a smaller-size bathroom. You may also want to move fixtures based on your own layout preferences or accessibility issues.
Tile or Acrylic
As the renovation progresses, you'll likely have to choose between two main options for the shower walls – tiles and acrylic. Before making a decision, it's a good idea to educate yourself on both material types and how to remodel a shower with tile or acrylic.
Most homeowners choose tile walls since there are various colors and patterns to pick from. The main types used in bathrooms are porcelain and ceramic.
While nothing can match the look or feel of tiles, they are a pricier choice and more difficult to maintain. Tile walls are also more prone to leaking, however, if they are installed correctly by an expert, they are highly reliable and will serve you for decades.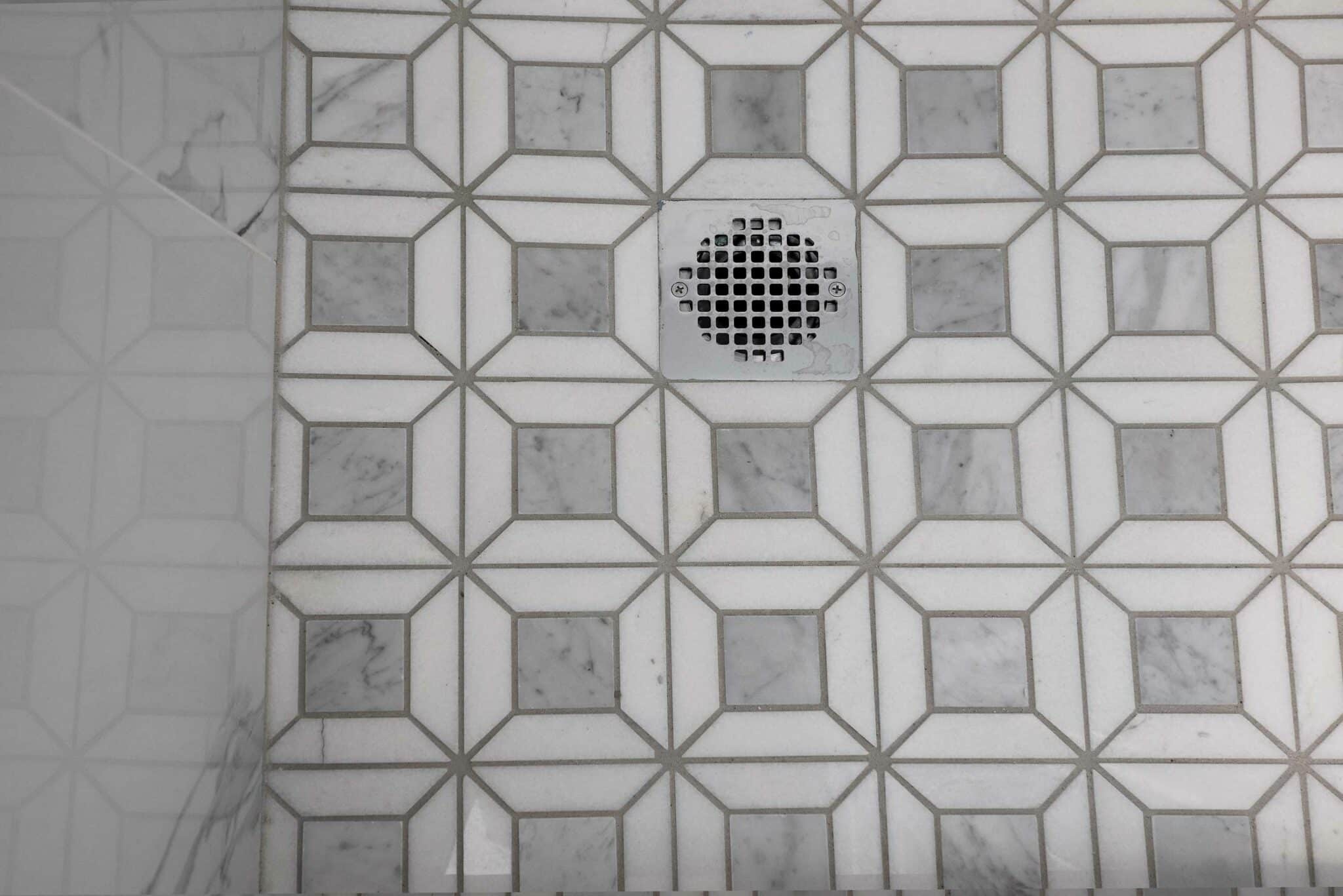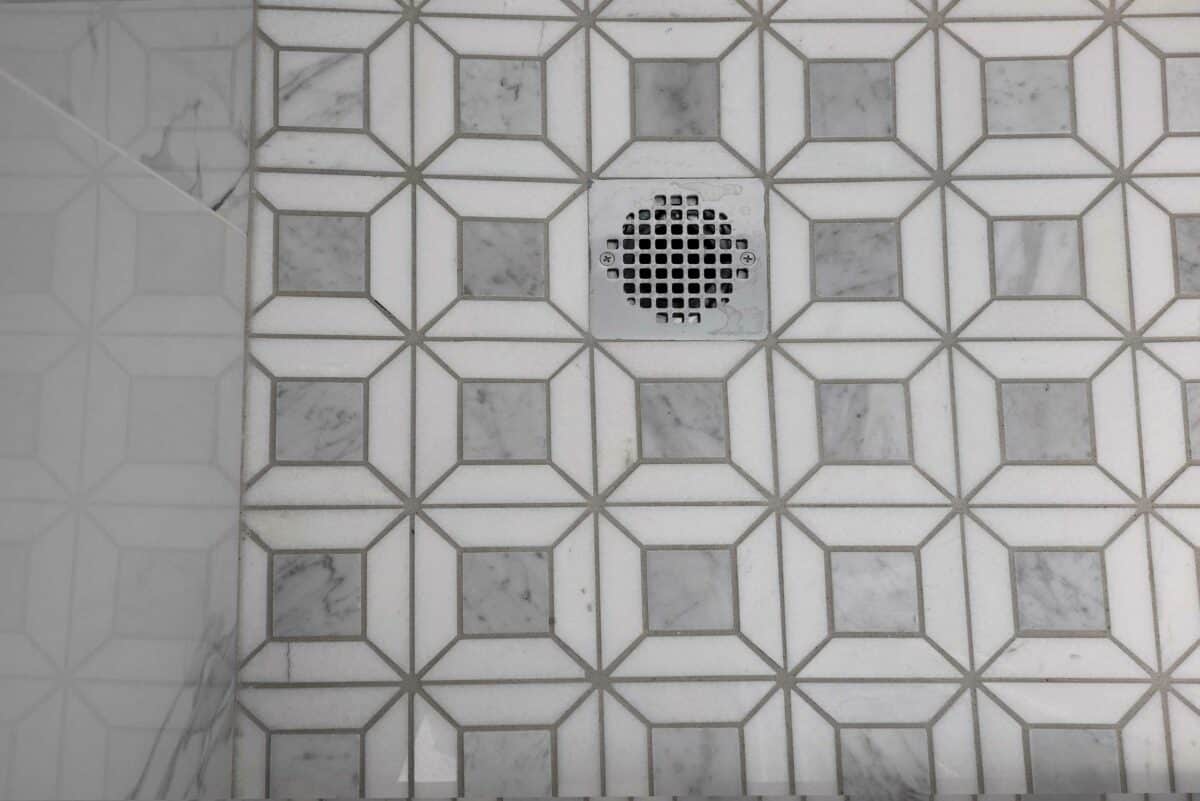 Acrylic and Fiberglass
Acrylic walls are a budget-friendly option that's still long-lasting, hygienic, and stylish. They're easy to maintain and non-porous, so they eliminate the risk of water damage.
Fiberglass is also a more affordable option compared to tiles. A fiberglass pan is durable and water-resistant, not to mention a far more convenient choice than retiling the shower.
Round Out Your Shower
Often, you can gain some more room by using clever placement and design choices. For example, a corner shower is a great solution for small areas, but rounding it out makes it even better.
A quarter-round corner shower saves more space and comes with sliding doors. Because of this feature, you don't have to worry about possible door obstructions as it doesn't swing out.
Raise the Roof for Better Air Circulation
Showers can retain a lot of moisture, and one creative way to combat this is by removing or raising the roof. This allows for air to flow and provides natural ventilation while also letting in more light.
Splurge for Heated Shower Floors
Heated shower floors are wonderful additions to your bathroom that are also more energy efficient than average space heaters. While this option will be pricier than regular flooring, the investment is usually worth it as you get more comfort, energy savings, and a better resale value.
Refresh the Fixtures
You can refresh the faucet and shower fixtures and choose from various finishes – just be sure that if you change one piece, you also replace the rest to match. Brushed nickel and stainless steel are some of the safest choices, but chrome is also popular and always seems to be in style. Some bolder selections include brass, oil-rubbed bronze, matte black, and gold accents.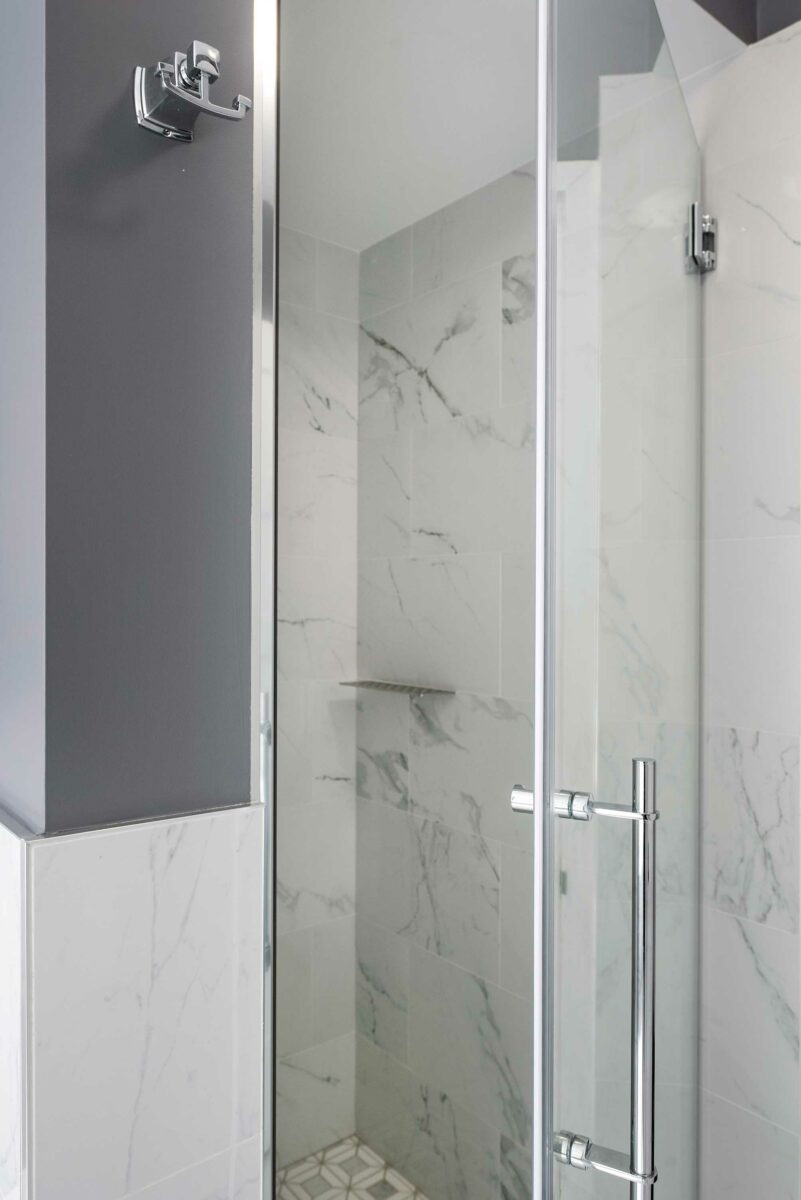 Should you Ditch the Shower Door?
A lot of times, people think hard about how to remodel a shower stall, yet the answer can be as simple as deciding if you should keep or lose the door. Shower doors can make the area more difficult to clean, and they can get in the way if they swing open.
You can get rid of the shower door even in a tiny area if you upgrade your shower head, mount it higher, and ensure it sprays vertically rather than at an angle.
Incorporate a Shower Curtain
If you want easier access to the shower but don't want to risk exposing the rest of your bathroom to water, install or replace the shower curtain. This cost-effective addition can add flair and a personal touch to your bathroom.
Brighten the Space With Frameless Glass Doors
Frameless showers have walls made of tempered glass that are attached to each other with metal clips. This is an elegant option, but it will cost much more than framed shower units.
Frameless showers, or just a frameless glass door, can be an exceptional choice if there's a window in the area. Since the enclosure is made of glass, it will allow for natural daylight to spread to the rest of the bathroom.
Shower Vents and Lighting
A renovation is a good time to update electrical components, from replacing existing fixtures to installing new components. The shower vent is essential to your bathroom as it removes moisture. Any exhaust fan inside a shower should meet a few requirements:
Appropriate size – you want an airflow of at least 1 cfm for each square foot;
The fixture must be wet-rated;
The vent should be installed with GFCI protection;
The fan should be as quiet as possible;
Upgrade the Lighting
A good way to keep the shower area well-lit is to place one or two recessed lights on the ceiling. Alternatively, you can use multiple small fixtures along the sides of your shower walls. If you're changing the look of your bathroom, invest in lights that will fit the new design and make a statement.
For this step, you should hire an electrician, especially if you have never dealt with home wiring previously and if the dimensions of new fixtures differ from your past ones.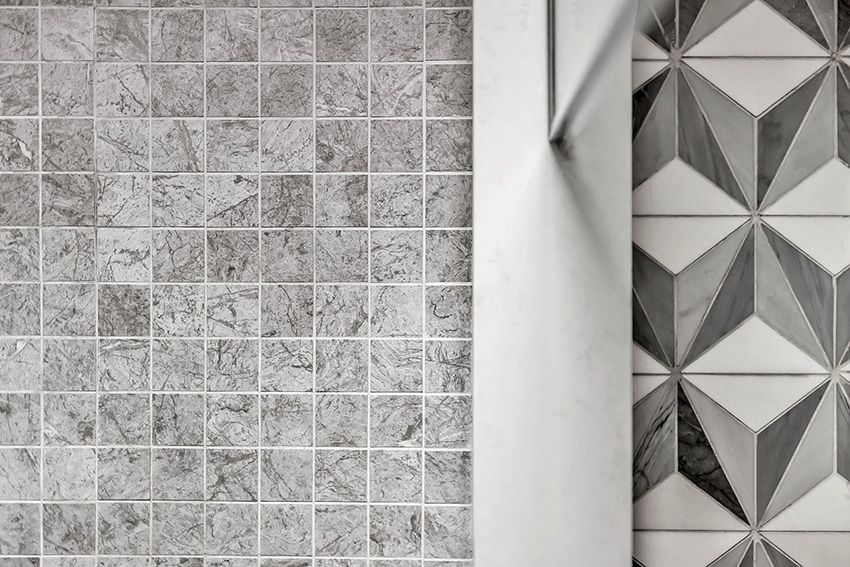 Two Ways to Waterproof Your Shower
Although the floor and walls of your shower are covered with tiles, the grout between them is not. Thus, it's important to know your options for waterproofing the floor under your shower tiles.
Mortar Bed + Membrane
Today, most contractors use waterproof membranes beneath the layer of grout to prevent water damage and mold growth. First, a pan is packed with a bed of mortar, and then it's covered with a membrane that prevents water penetration.
Mortar bed application requires a higher skill level and takes days to complete but allows a lot of flexibility in design, allowing you to customize the size of the base.
Prefab Foam Components
Prefabricated foam components can save a lot of time as you won't have to assemble as many segments, and you'll you less adhesive. This waterproofing method allows you to set up a base and start tiling within only a few hours. However, prefab components allow for less customization and are pricier than mortar beds.
Shower Drains
Showers mainly have point or linear drains. Point drains are most common, and they're found in the middle of the shower, so the floor needs to slope from all directions. Meanwhile, linear drains are placed along the back wall of a shower, so they only require the floor to slope in one direction.
You should choose a drain with a square grate rather than a round one to make tiling easier. It's much simpler to tile up to straight edges than try to cut and alter tiles to fit around circular grates.
Shower Styling
Elegant finishes, useful accessories, and modern accents seem like minor details, but they will completely transform the atmosphere of your shower and the entire bathroom. There are a couple of different ideas that you can implement in your next remodel.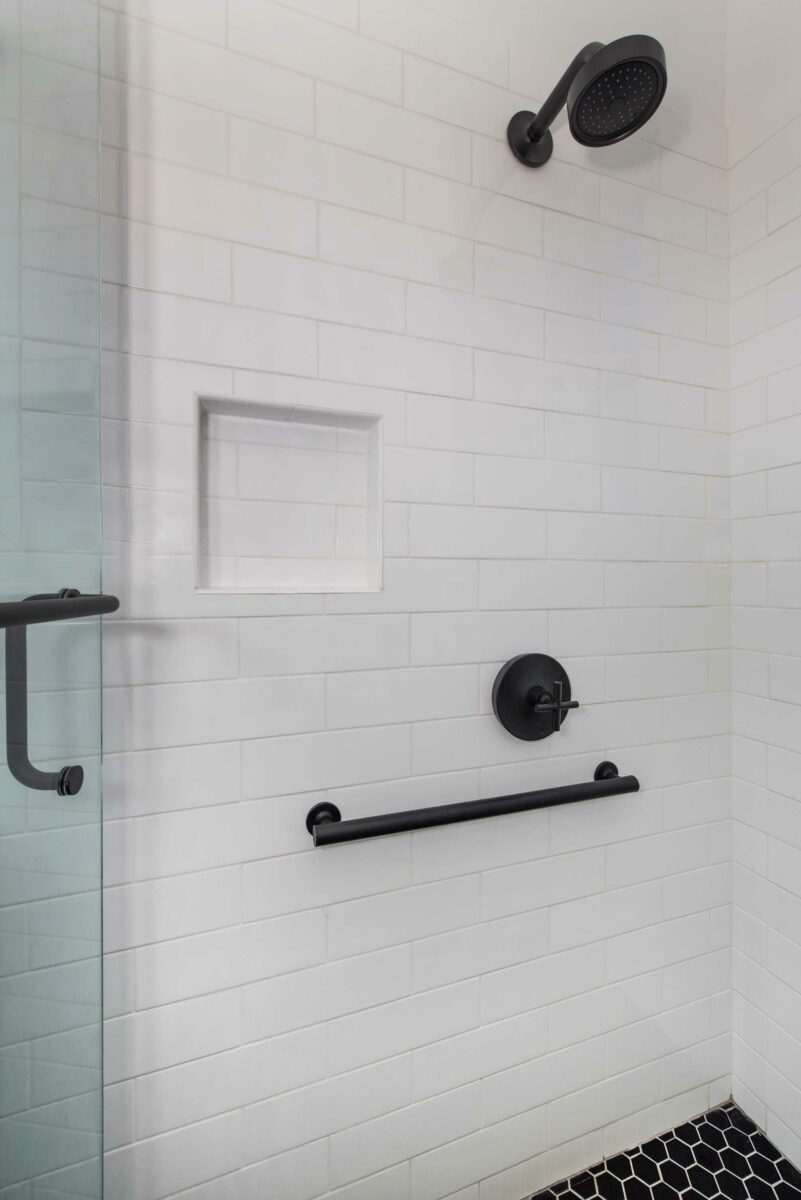 Make Your Color Palette the Star
Bathrooms tend to use a very neutral palette, so picking out a bold and vibrant color to accentuate can make the place instantly look a lot more stylish. You can implement this into your shower by selecting a colorful tub or curtain or by using exciting and bold tiling.
Go White for Spaciousness
It's great to embrace light and spaciousness, especially if your bathroom is on the smaller side. Using white for walls and tiles helps the shower appear larger than it is. If you want to incorporate other colors but still keep the shower looking roomy, make sure you stick to light and muted colors.
Add a Bench
A shower seat or bench can have many benefits. This addition is very useful for propping your leg up when exfoliating or shaving, it can offer a place to sit if you ever need it while showering, and it can also serve as a designated area for your shampoo bottles.
Add Arches
Showers can feel quite boxy and uninspired. Adding a simple design choice, like an arched entryway, can soften the lines of the shower, add some variety, and help to tie in your entire bathroom.
Add a Shower Towel Rack
If your shower is spacious enough, you can add a towel rack on the inside. Now you won't have to step outside of the shower area to dry off, and the steam will even soften the towels more, so you enjoy the ultimate cozy bathroom experience.
Get Shelves for the Shower
You will undoubtedly need to store things in your shower, shampoo bottles, body wash, conditioners, and so on. So, while renovating, don't forget to add a space for these items. You can install floating shelves or a freestanding unit in a large shower area. Meanwhile, if you want to save on space, add a built-in niche.
Renovating your shower area can be a challenging task, and it can be difficult to get it right, so if you want to make sure to do it right the first time around, we at MyHome US would be happy to help you with the shower in your NYC bathrooms – contact us here, and we will get right back to you!