Home Planning & Renovations
How to Remodel a Bedroom in Your NYC Apartment
By Tiffany Smolick
Sometimes you're just looking to freshen up your bedroom with a new color scheme, while other times, you're planning a bigger project that involves tearing down walls. Either way, bedroom remodels are the perfect way to increase your home value and give your apartment a brand-new look.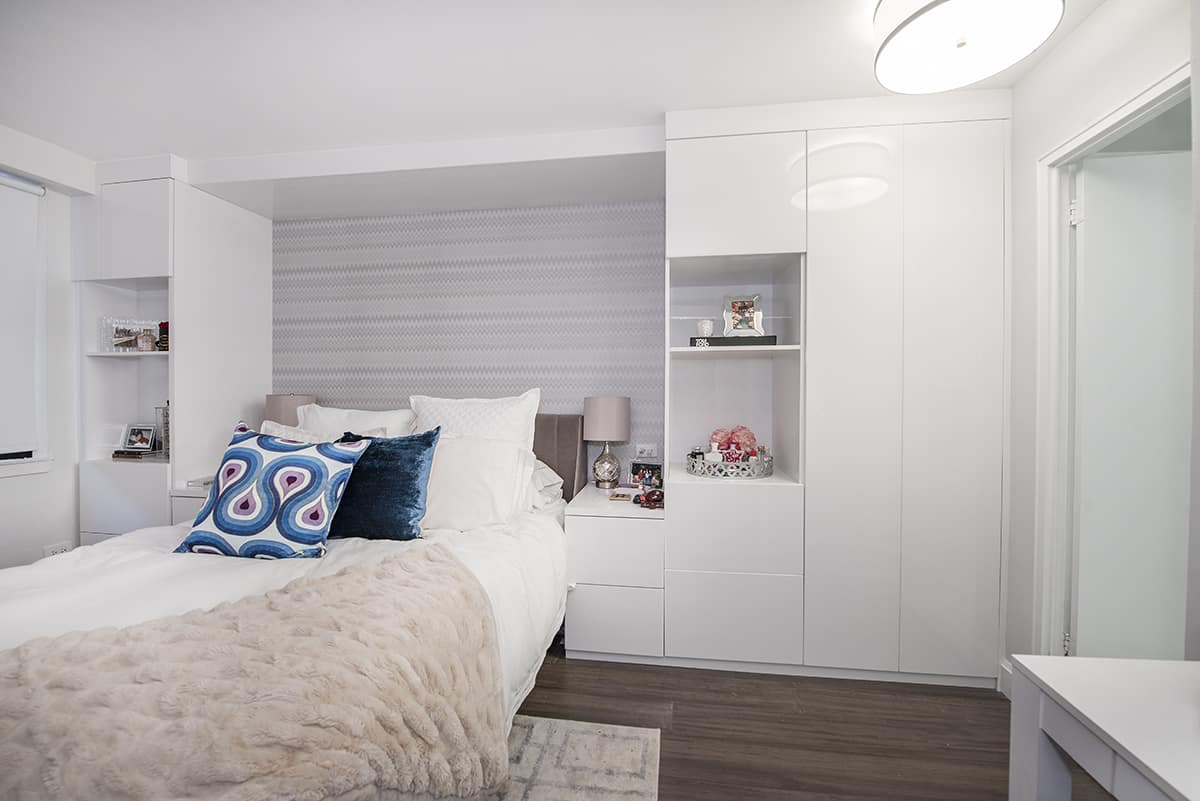 Compared to kitchen or bathroom renovations, they are generally less expensive and do not require a lot of preparation and heavy work, such as plumbing and electricity installation. A bedroom remodel can be an excellent project where you can truly unleash your creativity and channel it into crafting the perfect rest area.
Keep reading to find out how to start your NYC apartment bedroom remodel, how to plan your budget, and get some great ideas that may serve as inspiration.
Bedroom Remodel Ideas
If you do not have a clear image in mind of how to remodel your bedroom, it might be a good idea to start looking for inspiration. Sometimes even a simple piece of furniture can spark your imagination and give you a clue about what kind of design you want to incorporate in your new area.
Depending on your budget, available space, and preference, there are a lot of options to choose from. If you have a small bedroom and you are looking for ways to expand it, you can try to utilize some of the space from the hallway, living room, or walk-in closet to create a spacious master bedroom.
If you want to achieve a similar effect without the hurdle of tearing down walls, you can play with lighter paint colors and light to create the illusion of a big room.
Another way to breathe new life into your bedroom would be to create some character by replacing some of your old furniture with new and exciting pieces that resonate with your personality.
Where Do You Start to Remodel a Bedroom?
Reading about how to remodel a bedroom may give you lots of ideas about what to do with your space, but it can also leave you confused and not sure where to start.
The first thing to do before any remodeling project would be to sit down and make a plan. It's best if you write everything down – your budget, time frame, the scope of work needed to be done, materials, what can be a DIY project, what will need professional help, etc.
After that, you simply need to go ahead with everything you've set out to do. Now, this is all easier said than done, so let's further discuss all aspects of the planning, design, and construction process that you'll need to go through.
What Style Do You Want the Room to Be?
First off, you need to decide on the style of your bedroom. This will make it easier to settle on a color scheme, furniture, and decorations – plus, it'll help you keep everything cohesive.
Ideally, you would want the style of your bedroom to match, or at least complement, the rest of the interior. However, always remember that it should also resonate with your personality, so don't be afraid to go for it and stray away from the design in the rest of your home.
From rustic to modern and minimalistic, there are plenty of ways to go about renovating a space. Whatever style you end up choosing, make sure it's comfortable and creates an atmosphere where you can relax, unwind, and get some good sleep.
You probably have a vague idea of how to remodel your room, and if you don't already, you can check out the MyHome US site or NYC showroom for inspiration. Once you form a clear vision, it's time to lay out a plan for the most efficient way to achieve that look.
Making Style Decisions
Making style decisions can be tough because there are just too many options. Creating a vision board might make some of these choices easier and narrow down your options.
You can assemble your vision board on your computer or do it old-school on a big sheet of paper. Print out all the details that caught your eye, cut them out, and glue them on your board. This will help you visualize ideas and pick the ones that speak to you the most.
If you tend to be indecisive, don't hesitate to ask others for their opinion. Family and friends know your style and may help you weigh the pros and cons of an option.
You can also discuss your plans with a professional designer that's more familiar with interior design styles and their intricacies. Experts can offer valuable input and show you how to achieve what you're going for.
Draw a Floorplan
Drawing a floor plan of your future bedroom can help you to better visualize the room and make sure you're not placing too many things in too small a place. Your drawing doesn't have to be overly accurate or technical, and you can even use an app or other digital tools if you are not confident in your drawing skills.
Choosing Furnishings
For many people, choosing the furnishings is the best part of any remodel. For a bedroom refresh, obviously, the bed would be the star of the show. After you choose the style of bed that you want, pair it with the right dresser, nightstands, and accessories like bedding, throw pillows, blankets, lamps, wall art, and mirrors.
Liven up Bedroom With New Paint Scheme
Wall paint color is a great affordable way to personalize your bedroom. Get creative and choose colors that'll represent your character and embody what you want the room to represent. Following current trends might seem like a good idea, but they go out of style quickly, so it's best to use a color scheme that makes you feel good.
Of course, you can also keep in mind certain design tips to make the most of the space. For example, choose lighter color schemes if you want the room to appear larger, opt for matching hues when it comes to decorations, and make sure the furniture and the lights go well with your chosen palette.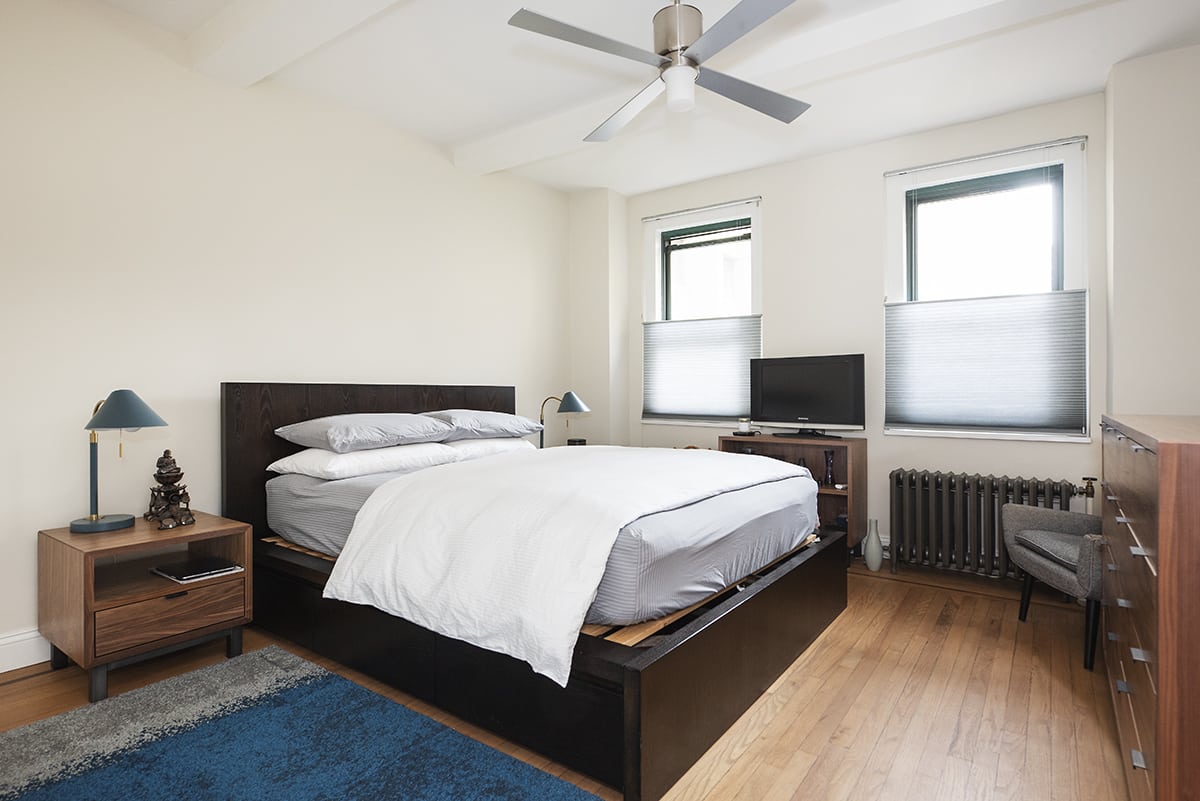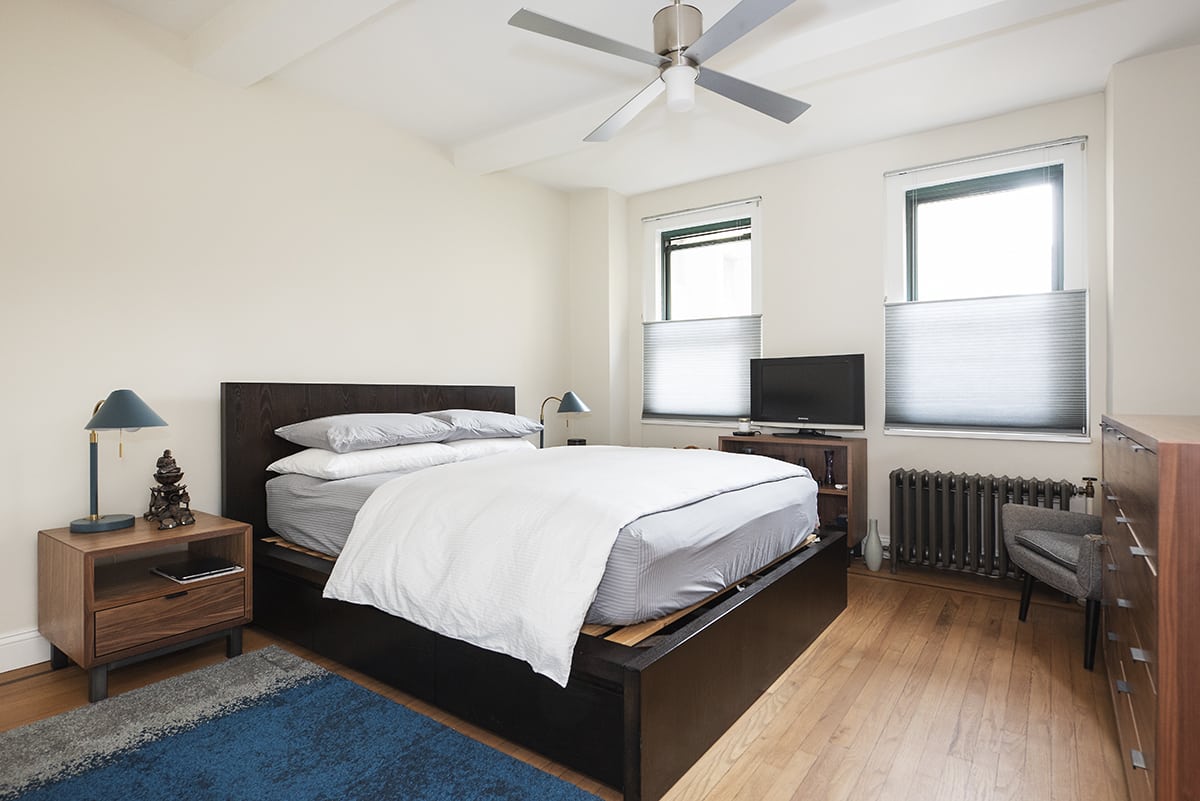 Window Treatments and Bedding
Curtains, drapes, and bedcovers can make all the difference in the appearance of the room. For the bedding, it's important to choose blankets, duvets, and comforters that are cozy and warm.
When it comes down to design, you can play around with colors and fabrics to achieve your desired look. What you wind up choosing will depend on your preferences but also the style you're working with.
If you're playing around with maximalism, you can try out loud patterns and bold colors. On the other hand, if you're more minimalistic, pay special attention to the texture of window treatments and bedding, as they're an important visual element that can add to the room.
Transform Bedroom Into a Primary Suite
If you're looking for more of a change, transform your small bedroom into a primary suite by knocking down some walls and merging two or more rooms together. To create that ultimate master bedroom look, don't forget to include a primary suite private bathroom and a walk-in closet.
Improve Bedroom Mood With Lighting
Apart from the natural light from your windows, you'll want to think about artificial lighting as well. In addition to the standard central light fixture on the ceiling, consider including some ambient lights and reading lights over your bed or reading area.
Improve Bedroom Comfort With New Flooring
Hardwood floors with a nice cozy rag or carpet floors are probably the best option. Bedroom floors should be warm and comfortable like the rest of the room, so it's best to avoid hard, cold floor options like ceramic tiles.
Add Personality to a Bedroom With Character Touches
Make your bedroom truly your own by adding some character touches. An accent wall, for example, is a great way to express your character. Pick one wall in your bedroom and paint or decorate it as you want – consider it your own personal canvas.
Budgeting for Your Bedroom Remodel
Setting up a budget for your bedroom remodel is very important as it will help you keep track of all your expenses and prevent you from overspending. To plan your budget efficiently, you'll need to think about the kind of changes you are looking to achieve and the prices in your area.
There are many ways to improve your bedroom on a budget, but sometimes you may need a bit of creativity or professional help to do it. You can visit the MyHome showroom in Midtown Manhattan to check out your options and get started.
Making Big Renovations
Expanding the bedroom and rearranging the floor plan will require more work than minor renovations. This is pricier, more time-consuming, and usually fairly difficult. Safe to say, it's not something you'd want to turn into a DIY project.
Big renovations usually require professional help, and in such cases, MyHomeUS can help you get the bedroom of your dreams. Our team of renovation experts can assist you in all stages of your renovation project, from planning, getting necessary approvals, creating a design, construction, and completion.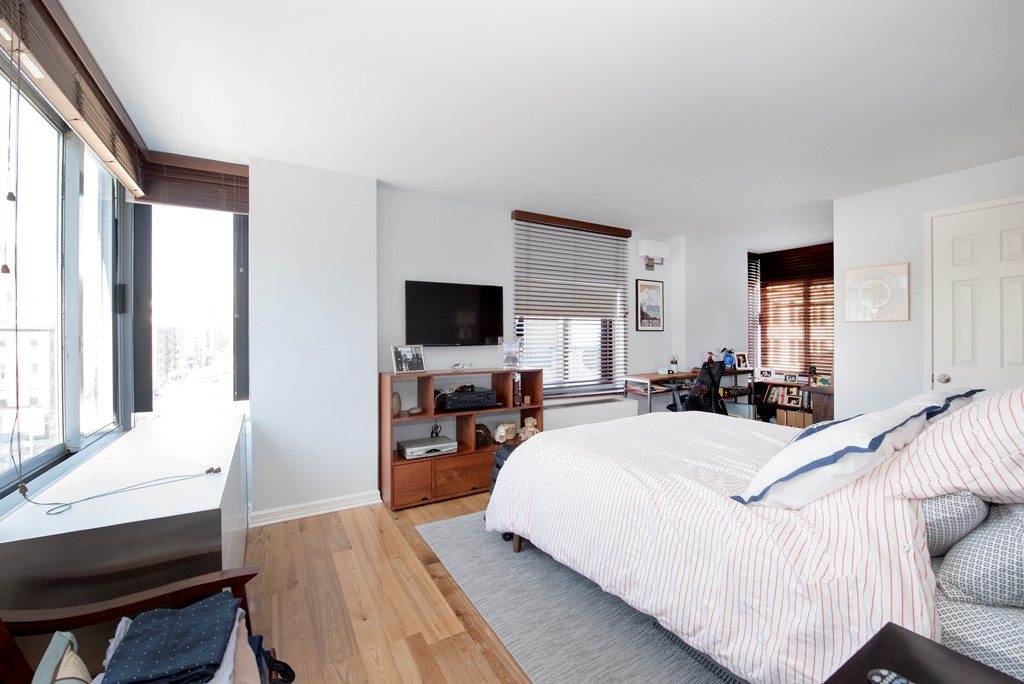 Bedroom FAQ
How Long Does a Bedroom Remodel Take?
Depending on the scope of work, a bedroom remodels can take anywhere between a couple of days to more than an entire year. Cosmetic remodels typically last from a few days to three months, medium projects from several weeks to six months, and major projects from six months to over a year.
Can I Get Help to Remodel My Bedroom?
Yes, you can get help to remodel your bedroom from many different sources. If you are not particularly good at construction, planning, or designing, you should probably seek out home renovation experts in those fields that can lend a helping hand. The MyHome US professional team offers these types of services and can help you create your ideal bedroom.
How Do I Plan for a Bedroom Remodel?
Planning involves laying out everything that needs to be done. Consider your budget, goals, and time frame, writing it all down to stay on track. Also, make sure you have a place to sleep and rest while your bedroom is under construction. Clear up another room, stay with family, or book a hotel beforehand.
If you're not that good at planning how to remodel a bedroom, getting in touch with a professional would be the right way to go. MyHomeUS offers free consultations for anyone looking to renovate their bedroom in NYC.
We Can Help You Remodel Your Bedroom!
You can always bring some new excitement into your home by renovating the bedroom. If you feel like you've been wanting to do this for a while but have been putting it off because you don't know where to start, you are in luck – MyHomeUS can help you see your project through from start to finish. Just give us a call and schedule your free consultation.