Home Planning & Renovations
How Much Does an NYC Kitchen Cabinet Remodel Cost in 2023?
By Tiffany Smolick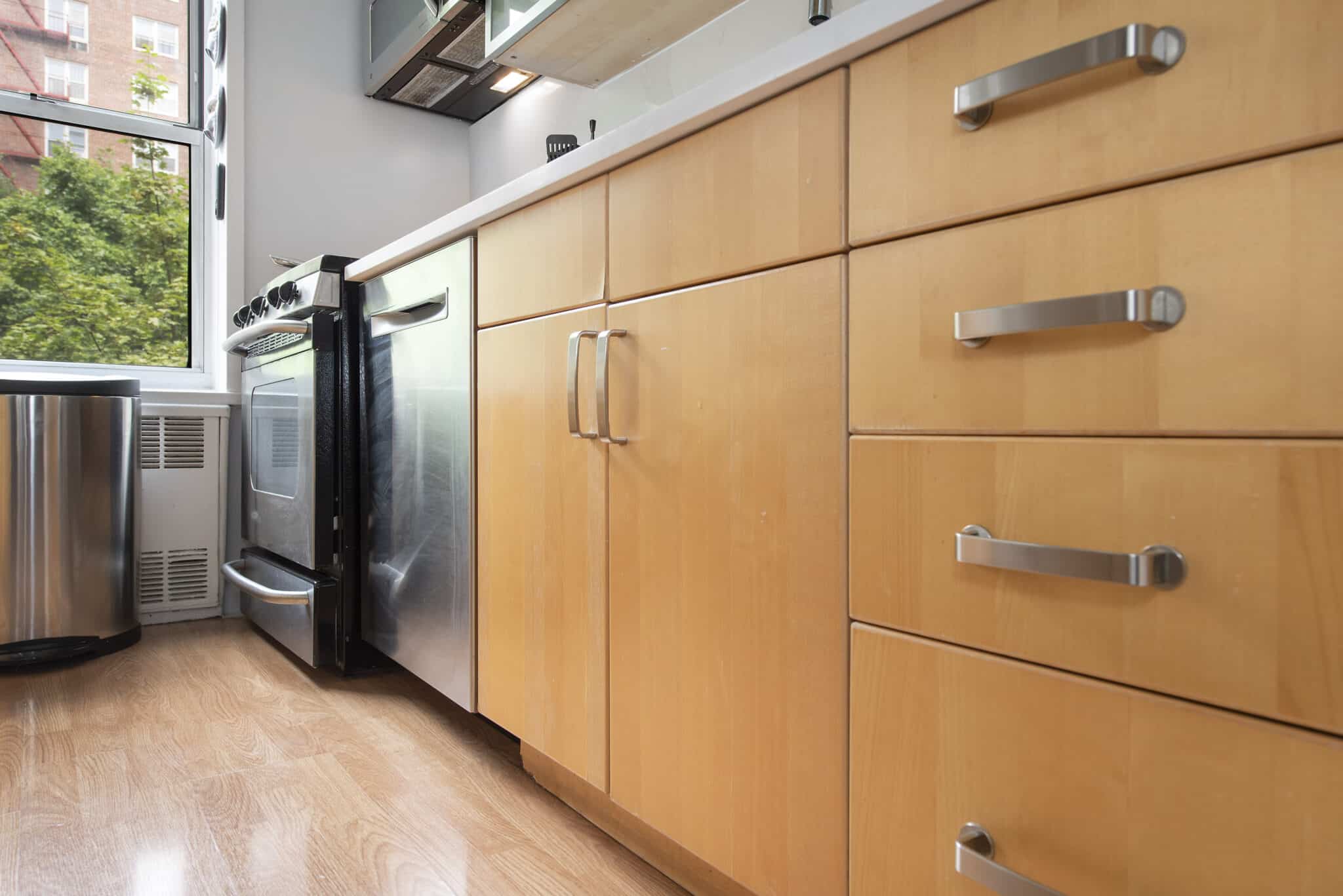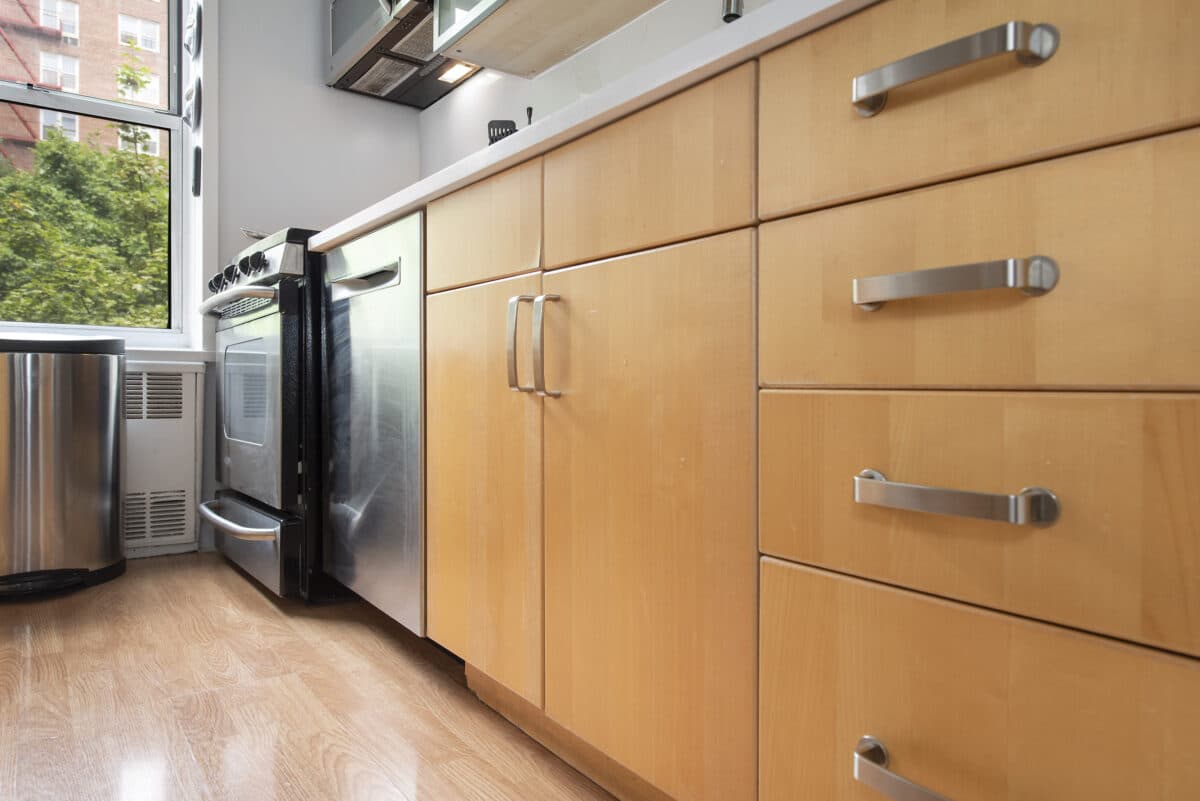 New York City is one of the costliest cities you can live in. If you have an apartment there, you probably possess all the know-how on budgeting and couponing.
With the high living costs, you probably don't have the freedom to think about additional expenses, let alone the kitchen cabinet remodel cost. But, if a kitchen renovation is something you've been wanting, you'll need to plan and divide your budget. Kitchen model costs can vary depending on the size, style, services, and time frame you are looking for.
It's understandable to want to give your kitchen a makeover after years of cooking. A kitchen remodel will only add to your comfort at home and transform it into your own little cozy paradise.
There are many kitchen remodeling projects in NYC, and you can end up paying much more than you thought if you don't plan step-by-step. Read this article to know what to expect if you are planning a complete kitchen remodel in NYC!
How to Save Money on Kitchen Remodel Cost
The size of your kitchen can work as a great indicator of how much money you'll need to put toward the kitchen cabinet remodel cost. If you have a smaller kitchen, you'll automatically pay less than a New Yorker with a king-sized one. But you can also save on expenses by not going "all out" with your kitchen remodel. This means changing a few things here and there instead of a full-on makeover.
You can decrease the small kitchen remodel cost by changing only the cabinets or faucet area. We especially recommend this if your existing cabinets look greasy and unkempt.
The average cost for kitchen remodeling in New York can fluctuate between $24.500+ to $76.500:
Budget-friendly kitchen remodel costs: $24.500
Mid-grade kitchen remodel costs: $37.500+
High-end kitchen remodel costs: $76.000+
If you're looking to replace the cabinets alone, you might be able to do that on a budget. Here's how to choose between custom and stock cabinets and sum up your kitchen remodeling costs.
Custom vs. Stock Cabinets
Custom cabinets are made to fit your type of kitchen perfectly, while stock cabinets are more economical and come in standard sizes.
There are three types of cabinets – custom, stock, and semi-custom. Let's see why some are more expensive than others and how they can affect the kitchen cabinet remodel cost:
Stock
Stock cabinets come in built-in, standard sizes. They are the less expensive variant of the three and can be delivered and installed pretty fast. But, the choices are limited when it comes to styles, shapes, and sizes.
Semi-custom
Semi-custom cabinets are a mix between stock and custom cabinets. With semi-custom kitchen cabinets, your order is not built until you fully disclose it. The customer has all the freedom to choose how they want their cabinets to be customized. Similarly to stock cabinets, the semi-customs are also chosen from a pre-set catalog and can include a custom front, matching interiors, decreased depth of width, extended stiles, etc.
Custom
Custom cabinetry involves constructing kitchen cabinets the way the customer pleases. This is usually done by a local cabinet shop that is equipped with tons of elements to produce a cabinet according to your liking. These elements include everything from frames and doors to boxes and drawers.
Custom cabinetry is considered the personal option out of the three. It's a flexible option where you can add suggestions and have things constructed according to your wishes. Custom cabinets are the most expensive option of the three, but you'll know exactly what you're going to get.
An average kitchen remodel cost starts with changing the cabinets. Stock cabinets are available on a budget, starting from $100 to $300 per linear foot installed. To get custom kitchen cabinets, you should expect to pay a bit more, somewhere between $500 and $1,200.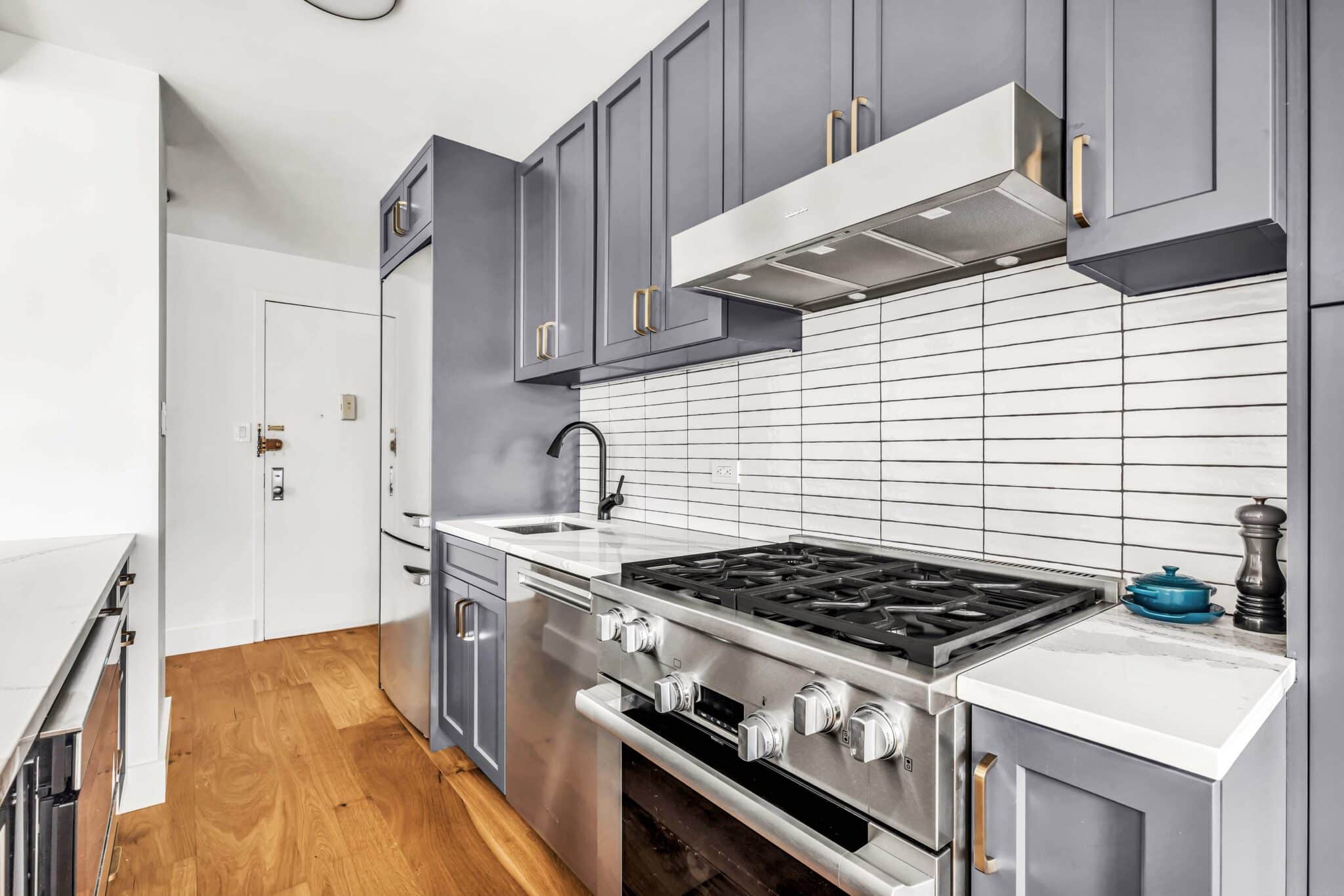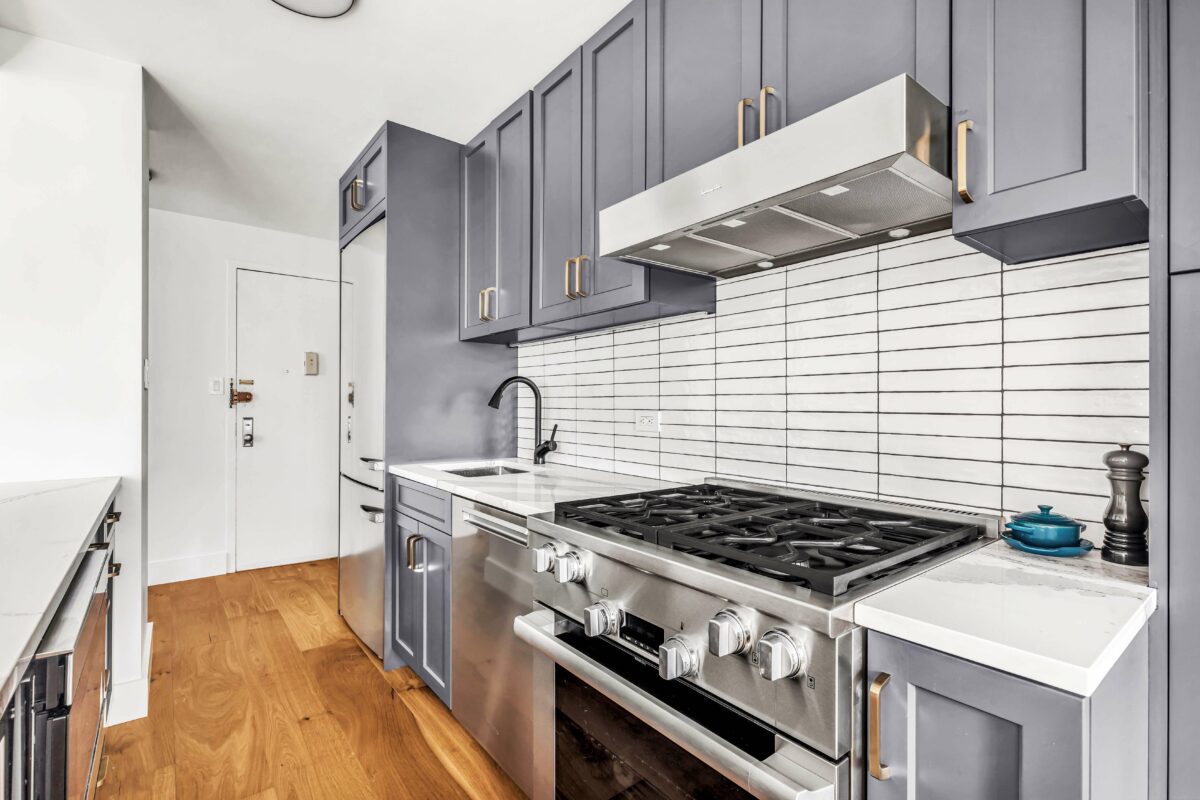 Additional Factors Affecting NYC Kitchen Cabinet Remodel Cost
A usual kitchen remodel does not only include changing the cabinets. It requires additional costs like labor costs, water rearrangements, moving services, and installation. Here's what to factor into the total kitchen remodel cost:
Labor Costs
If you are planning kitchen cabinet installation, you'll have to cover the preparation and the cleanup part – unless you do all the hard labor yourself. The installation price depends directly on the types of cabinets ordered and the professional working to install them.
The price for a small kitchen remodelling project in New York City is between $150 and $400 per square foot for the whole installation. Some pay the workers hourly, so it's possible to see the installation lasting more than two hours.
How Much It Costs to Replace Cabinets
The kitchen remodel cost in New York City can start at $35.000 to $250.000 depending on how much you want to remodel. If you plan on replacing existing cabinets with new ones, you should know whether you have enough for custom cabinets.
You should expect to pay the installing professional between $150 and $400 per linear foot. But a full-on rip-and-replace kitchen remodel cost for a small kitchen can range from $21.000 to $71.500 and up.
Water Damage
After long-term kitchen use, it's no surprise to have some leftover water damage. This just adds to your kitchen remodel cost because you can't do without water restoration. The process of restoring water damage is cleaning up after a pipe break, leakage, mold, etc.
Your kitchen remodel budget needs to have a section dedicated to paying the water restoration professional. You can expect the average cost of water damage restoration to be between $1,304 and $5,514. Add the total kitchen remodel cost, and you'll realize that it's no cheap service.
The lowest cost for repairing water damage for a small kitchen remodeling project would be $450. On average, New Yorkers pay $3.312 for a medium-sized kitchen or $13,000 for a king-sized, custom-filled high-grade kitchen.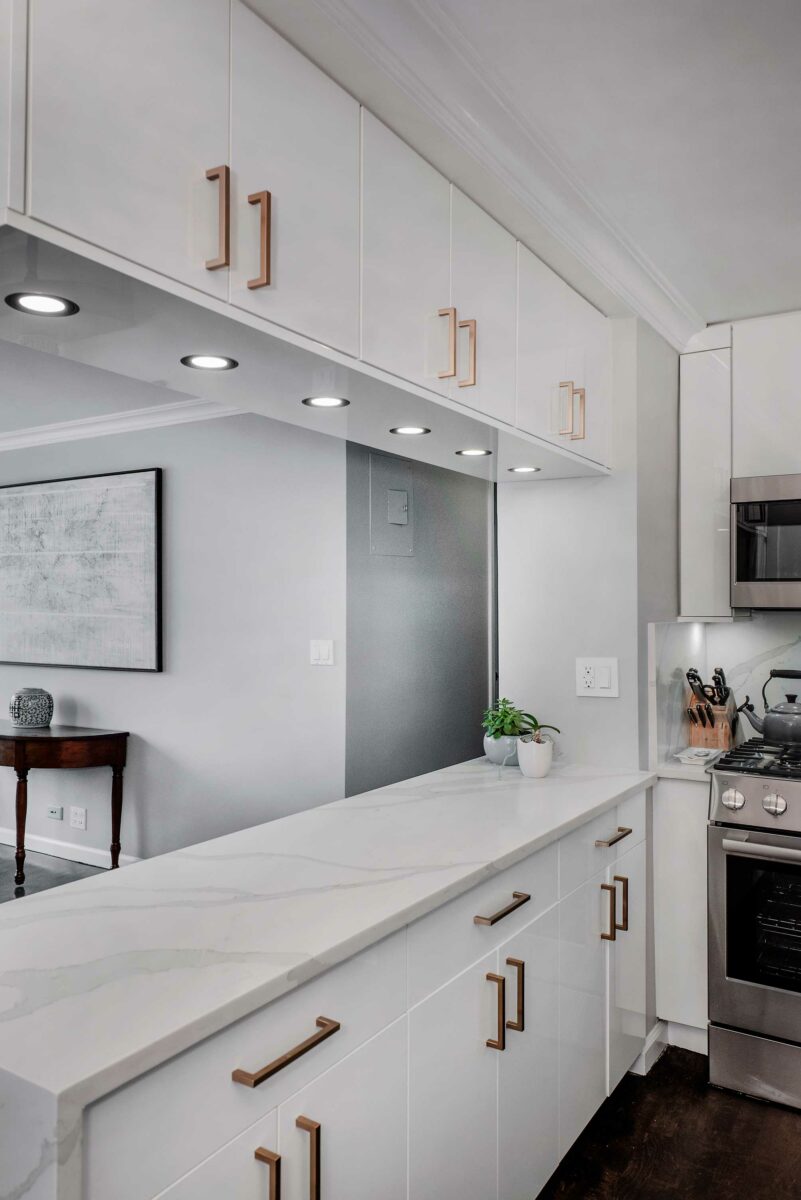 Broken Cabinets or Tiles
If your kitchen remodel cost includes replacing broken cabinets, then expect to pay from $300 to $1,000. The national average cabinet repair cost is $310, but it could go higher if you need to repaint or refinish cabinets.
You can sometimes repaint or reface the cabinets instead of buying brand-new ones. This can decrease your kitchen renovation costs significantly. If you reside in New York City, the lowest you can pay is $90.
Replacing tiles equals a mid-grade finish, and it's included in the backsplash installation cost. If you live in New York, then the cost ranges from $39 per square foot for a budget-friendly tile suggestion or $557 for a high-end slab option like marble. The labor costs are featured in the price of these figures.
Inefficient Layout
An inefficient layout is a wrong design you encounter during your kitchen remodel which could end in devastating results. Since not all kitchens are going to work well with every design, you need to tackle this extra cost in advance.
You can encounter issues like:
Not enough space between appliances
Too much space between appliances
Insufficient counter space
Lack of space for garbage bins
Crowded items
Inadequate light fixtures
The best type of kitchen layout is either island or U-shaped. You'll have enough space to move, plus the layout will provide ample countertop space for cooking and preparations.
If you have a gallery-type of kitchen makeover layout, you might end up with a kitchen that's crowded and claustrophobic. This only adds costs, and you won't be satisfied with the result.
If you're using the same layout, it might cost you $75 to $250 per square foot. A new kitchen layout adds to the kitchen remodeling cost, and it can range from $24.000 to $37.500.
Appliance Moving and Storage
Moving kitchen appliances involves taking your pricy china out of the cabinets and storing it in a safe place until the major kitchen renovations are done. You'll either put new appliances or restock your old ones into the new cabinets.
However, a kitchen is not only its dishes. You'll need help moving refrigerators, washers, dryers, and stoves. Often, people store their appliances just outside the work area, but the best place to store them is in a separate room.
The first thing you need to move when doing a kitchen remodel is the oven. If you own a gas oven, you need a professional to make sure it's properly disconnected from the gas. Once the oven is disconnected, you can focus on cleaning it, starting with the interior racks. After you have it nice and clean, cover the top and front with protective film.
The next thing you'll probably need to move is the fridge. Because you'll probably continue using the fridge throughout the kitchen renovation process, make sure to place it in a safe spot in your home, away from the work area. First, clean it up from all unnecessary items or empty it to ease the moving.
Include a protective film similar to the oven, and turn off the ice maker. Ask for help from the workers, which would be included in the labor cost. If your fridge has rollers, you can just roll it to a new location.
If you have a dishwasher, you need to remove that too. To properly store your dishwasher, you first need to disconnect it and have it drained. This needs to be done by a professional, while you can do the cleaning yourself. Don't forget to add protective film as you did with the oven and fridge.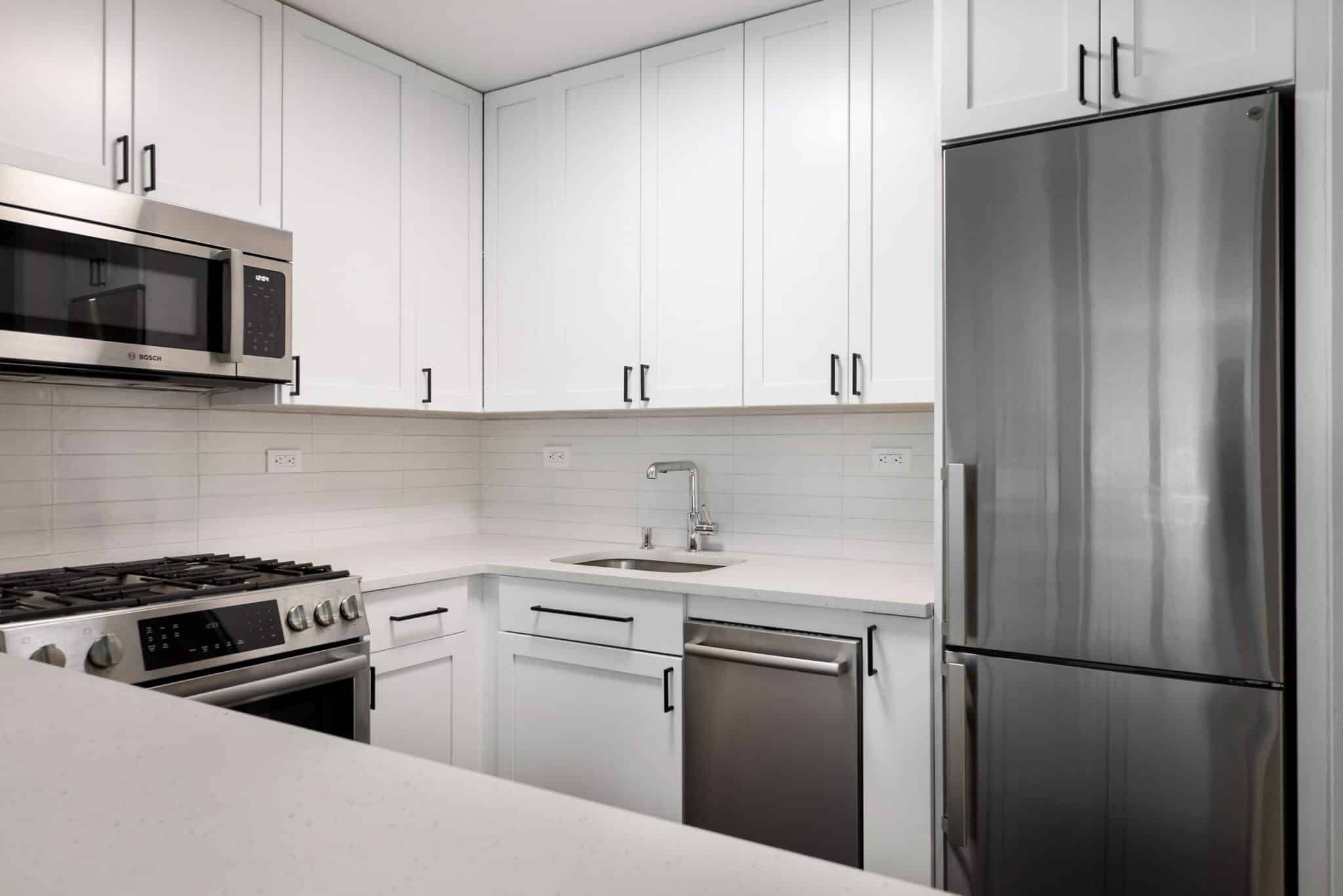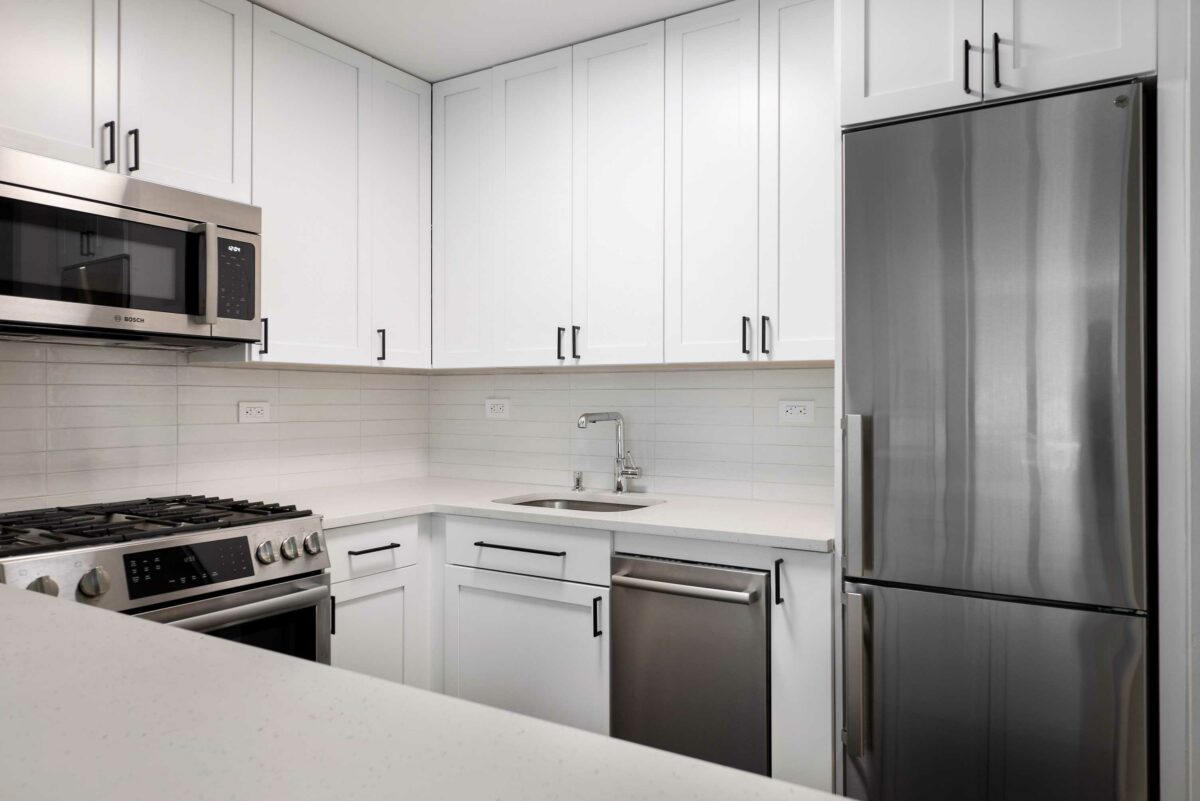 Popular Types of Kitchen Cabinets
There are numerous kitchen cabinet styles, ranging from graphite counters to ceramic tile to granite countertop materials. Here are some of the most popular you can opt for in New York City:
Traditional Kitchen Cabinets
Traditional kitchen cabinets are also called formal cabinets. They are stylish because they are often embellished with ornately carved details like flowers, patterns, lines, etc. The cabinet's doors have raised panels and arched designs. Traditional cabinets are usually in rich wood colors, but the carved ornaments are a result of antiquing or glazing.
Modern Kitchen Cabinets
Modern kitchen cabinets are the least detailed of all the types of cabinets on our list. The doors are usually flat with a full overlay. Modern cabinets have no trims, which gives them a clean look. The colors of modern cabinets range from wood with a little grain or usually stained maple. You can find modern kitchen cabinets in blue, orange, yellow, black, gray, and white colors.
Modern kitchens have an ultra-sleek effect because they are also covered in high gloss or lacquered.
Country Kitchen Cabinets
Country kitchen cabinets are the more casual version of the traditional kitchen cabinet. The materials used include shiplap, tin metal, reclaimed wood, and beadboard. Country kitchen cabinets can sometimes feature glass doors or open shelves for a more relaxed reach. Colors range from white and red to yellow, and you can sometimes find black.
I'm on a very tight budget. What are some of the least costly kitchen repairs I can do?
If you have a kitchen remodel cost estimator and want to stick to it, consider changing just your cabinets. Changing only your cabinets can save you from overspending, but you need to know how to pick the ones you like that are within your preferred price range. With some professionals in kitchen remodeling, you can even get a return on investment.
NYC Kitchen Cabinet Remodeling Project
Whether you are planning a small or major kitchen remodel, consulting a professional brings you a step closer to your dream kitchen. In this case, MyHomeUS can assist in you all stages of kitchen remodels from start to finish.
Our team of renovation experts will advise you on how to get the necessary approvals, how to create the right design, how to construct it, and what to expect while completing it.
Living in NYC must be filled with excitement, and you can always give your home a refresher by renovating your kitchen. If your tiles are coming loose or your cabinets are broken down, make sure to give MyHomeUS a call.