Uncategorized
Kitchen Design Trend Forecast for 2020
By Tiffany Smolick
In our last blog, we shared all about recent research that shows a kitchen remodel is likely to up your joy score. Today, we dive into the trends to help you envision your dream kitchen.
Trend #1: Embracing BLUE
Thought blue was just a passing phase? Not so! Blue has been holding strong as a trend in design for quite some time now. Pantone just named their color of the year for 2020, and we bet you can guess the color… Classic Blue. With this news, you can expect to see more blue in products from furniture and decor, to appliances and cabinetry. It's a classic that seems to always be in style and easily converted to modern décor and we'll be seeing plenty of it in 2020 kitchen renovations.
Presenting PANTONE 19-4052 Classic Blue, the Pantone Color of the Year 2020. A timeless and enduring blue hue, timeless in its simplicity. #pantone2020 #coloroftheyear pic.twitter.com/L0qH6CohsC

— PANTONE (@pantone) December 5, 2019
If you're looking to create a peaceful and relaxing space blue is the way to go. It is said blue helps lower your blood pressure and reduce rapid heart rate. Plus, we can't think of a better way to unwind when you're cooking dinner for your family than a newly-remodeled blue-inspired kitchen.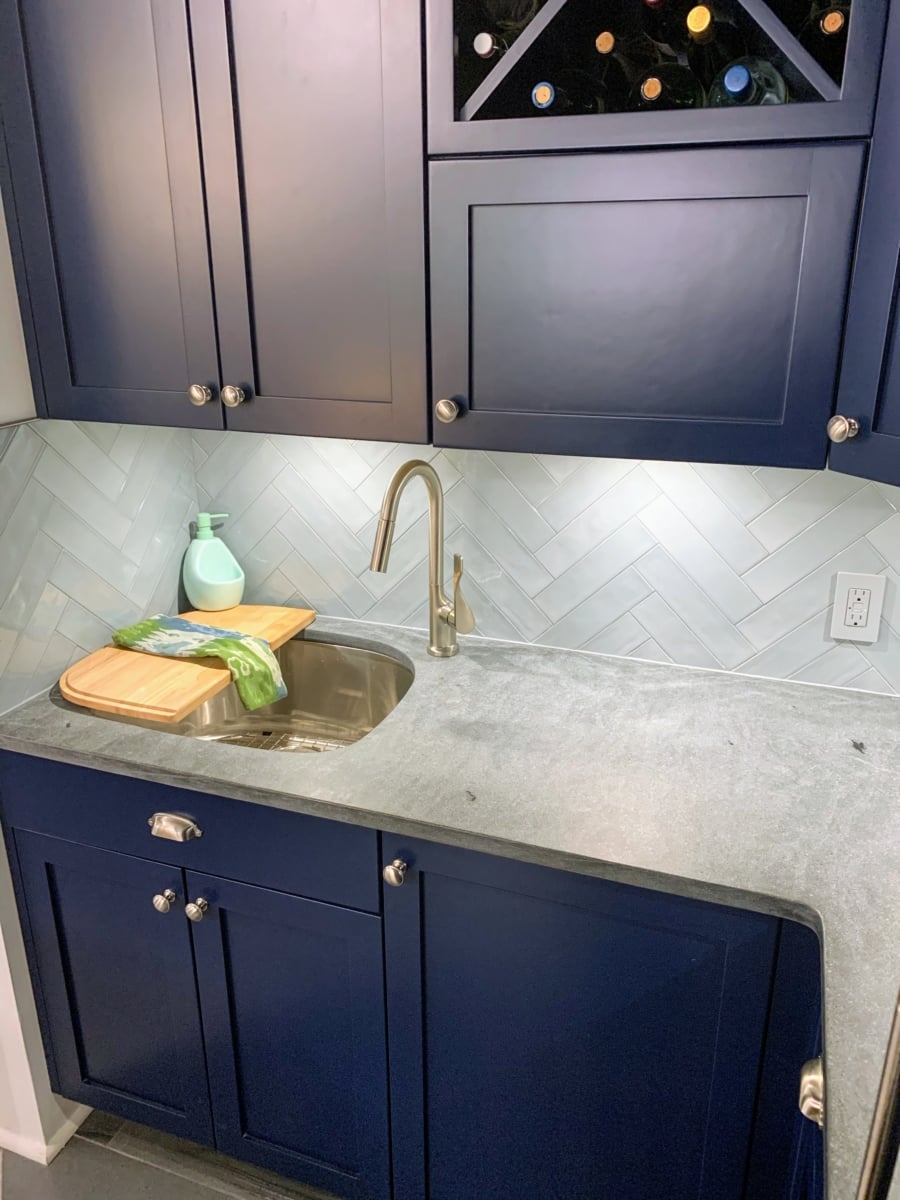 Trend #2: Less Lines, More Materials
Slab backsplashes are gaining momentum as clients are looking for less grout lines and more material. A slab creates a seamless and beautiful accent to your kitchen. It is becoming a staple ingredient in contemporary or transitional kitchens.
If you have a small NYC kitchen, you might be able to get away with using one slab to cover the counter and the backsplash. The compact size is an advantage to create a big look and is our BONUS trend for 2020 – Matching counter and backsplash material!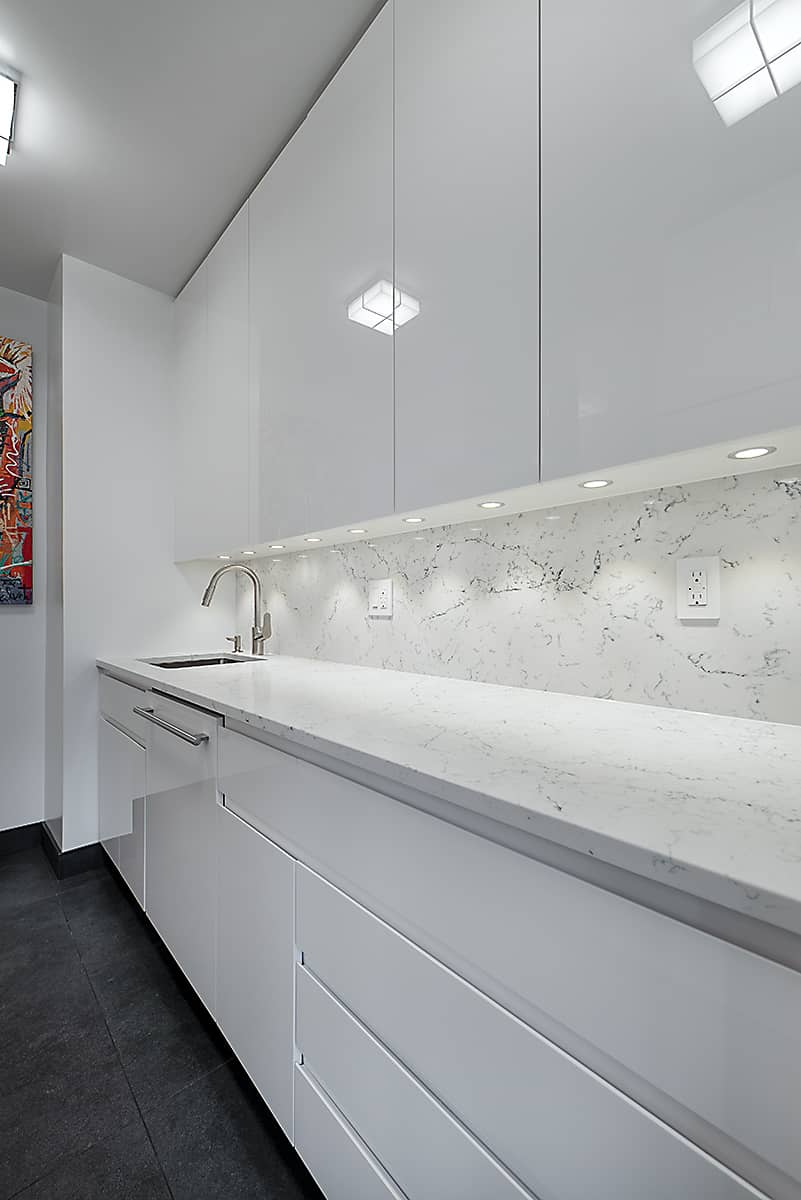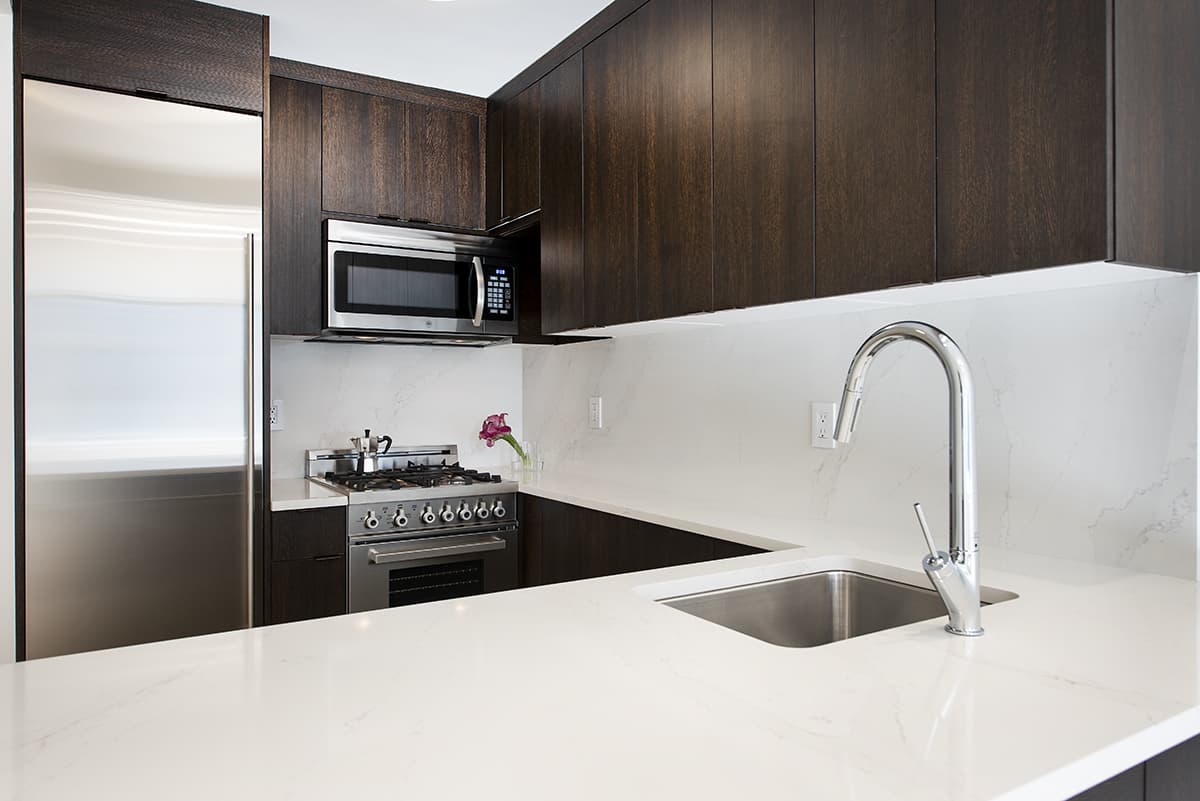 PRO TIP: A slab backsplash is not exclusive to natural stones. Corian, porcelain and engineered quartz are all eye catching and unique and easy to maintain.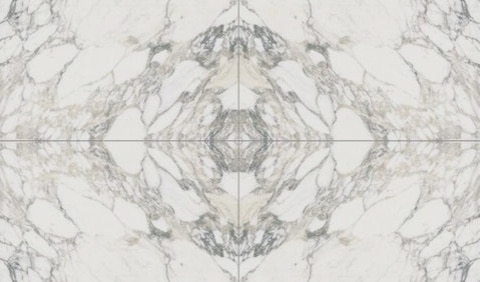 For a bit of the dramatic a book matched slab will offer up a unique backsplash design for your kitchen.
Trend #3: Pull Down the Crown
Many clients planning a kitchen renovation in 2020 are opting for a sleeker looking kitchen with no crown molding. This allows for more storage space (and in NYC we need all the storage space we can get).
Here we have a traditional shaker cabinet with no crown molding, it make the space feel slightly modern with a traditional twist. The blue base cabinetry is right on trend with 2020, this kitchen is definitely ready for the new year!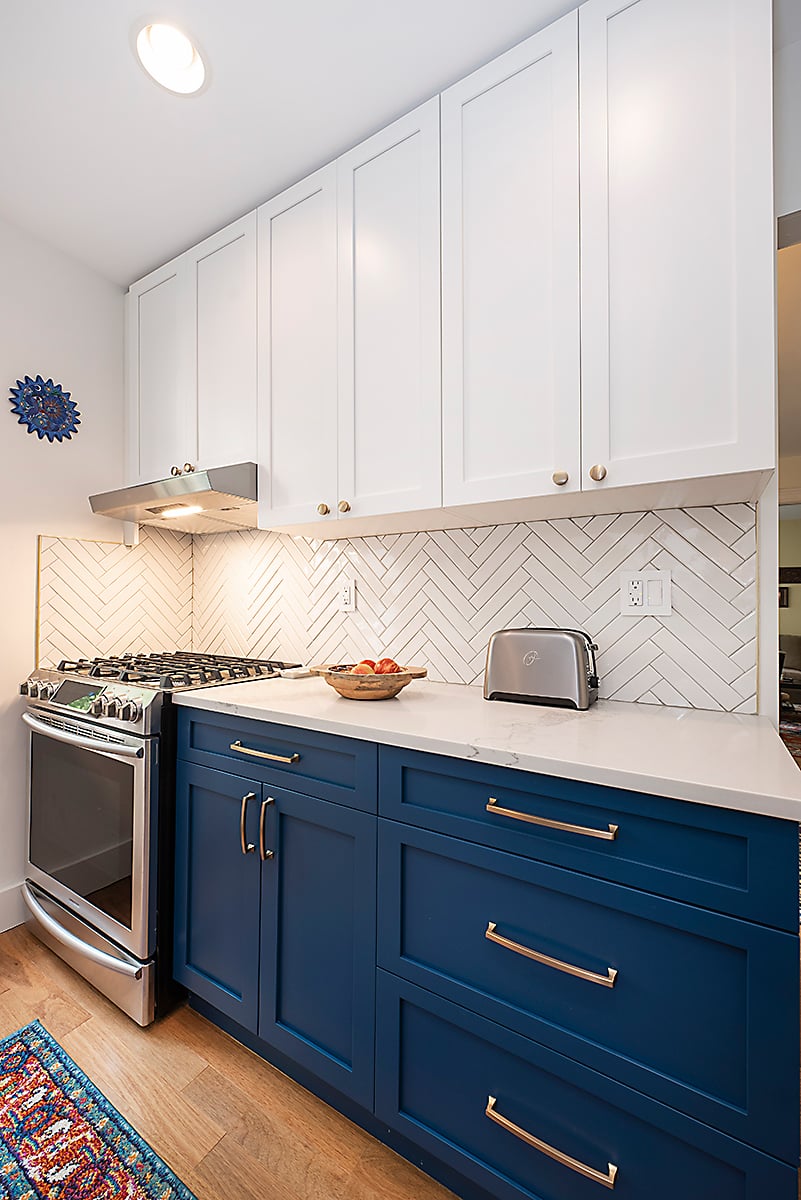 Kitchen Design Trend Forecast for 2020: Embracing Blue and Pulling Down the Crown Molding
Trend #4: Open Shelving
Everywhere you look, kitchens are ditching the upper cabinets for open shelving. It's beautiful and it lightens up the space. It's also a great way to display your nicer cups and dishes. For those of us who have enough storage down below, letting go of heavy upper cabinets will bring you into 2020 with a fresh new kitchen design.
DESIGN TIP: Open shelving mixed in with your upper cabinetry is a great place to display cookbooks, vintage jars and cookware while still maintaining hidden storage.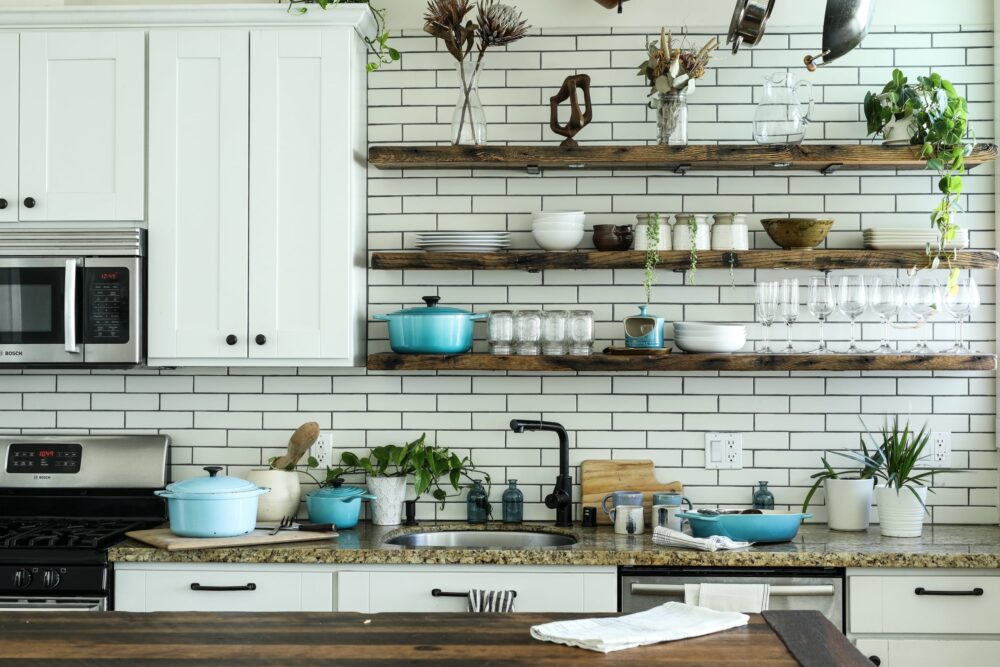 MIXING OPEN SHELVING AND UPPER CABINETS.
Trend #5: Clutter-Free Counters
Long gone are the days of cluttered countertops. With the help of a professional team, kitchens are now designed with storage for every item. The finished product is a minimalist kitchen even Marie Kondo would appreciate. Thankfully, you don't have to send your blender and table top mixer to the appliance abyss.
In our showroom we have so many options for easy accessibility, you'll wonder why you haven't had this done years ago! Come by our showroom at 353 West 48th to see for yourself. Click here for showroom hours.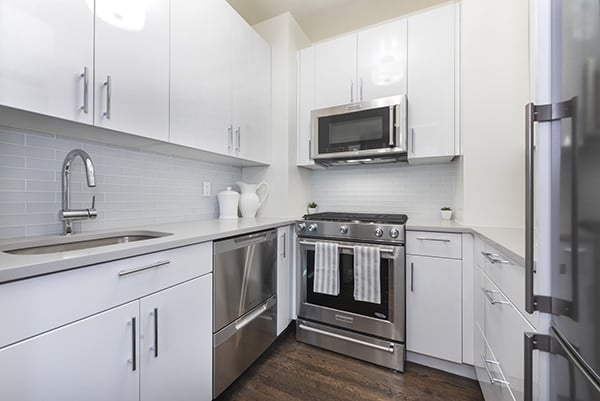 Sources: