Uncategorized
The Optical Illusion of Under Kitchen Cabinet Lighting
By Tiffany Smolick
December 18, 2022
MyHome's Designers are always excited to share insider tips and tricks to make your NYC apartment look magazine-worthy. One of the best ways to truly enhance a kitchen, in particular, is with smart lighting techniques such as under-kitchen cabinet lighting. Brightening a kitchen gives the illusion of more space and highlights nice countertops if you are looking to show off your investment.
Why Use Under Cabinet Lighting
A common problem in kitchens is that cabinetry creates shadows on the countertops. The countertop is the main and sometimes only workspace available in the small NYC kitchens, and therefore, it's the area where the most light is actually needed. Under the cabinet light is very popular in today's kitchens, providing ambiance and effectiveness in one package. Adding lighting under the cabinet, also known as task lighting, to your counter space adds brightness without a major expense. A majority of the time the cabinet lights are hard-wired when installed during a renovation. For a quick fix, it's possible to find options that can be plugged into the nearest outlet. The only downside to this is taking up potentially valuable kitchen outlets that might be needed for small appliances.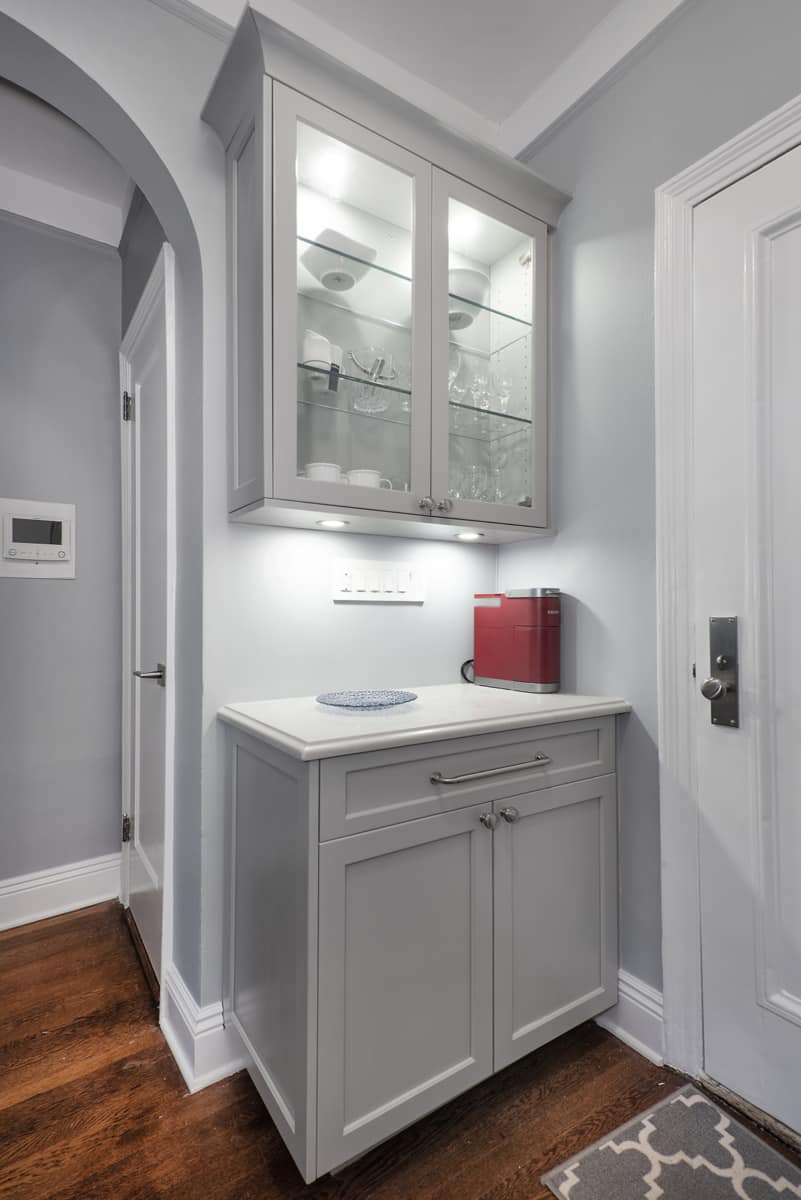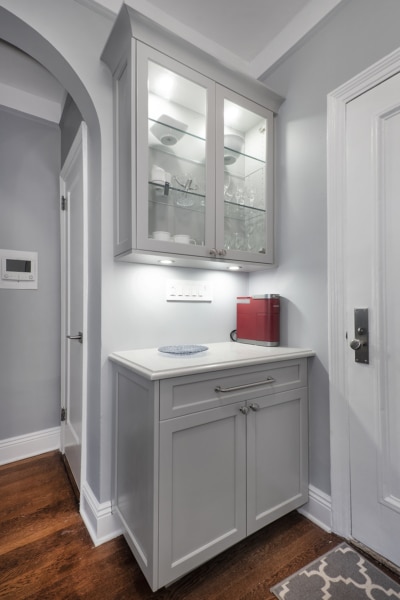 How To Use Under Cabinet Lighting
While including under-cabinet lighting is easy enough for remodeling the kitchen, there are some notes to take so it comes together seamlessly. The most important aspect is the color of the lights. The temperature of the under cabinet lights should match the color temperature of other lights in the space. Mixing colors of lights make the room appear a bit chaotic and in the end, you will not achieve your desired design style. In terms of type, MyHome recommends that LED fixtures are optimal for longevity. They are the light of choice for many homeowners since they produce very little heat and offer more color options. They can be great for energy-efficient homes.
Goals Of Under Cabinet Lighting
Under-cabinet lighting is almost always requested with current modern and contemporary kitchen renovation designs in New York City. This use of accent and task light fixtures illuminates essential preparation areas in your kitchen. NYC kitchens are often quite small in square footage and can appear dingy so plenty of light is the best solution. With this upgrade, you will quickly and efficiently get your meals on their way to the family table. If you really want the cabinets to shine, install small in-cabinet lights so dishes and other serving essentials are easily found.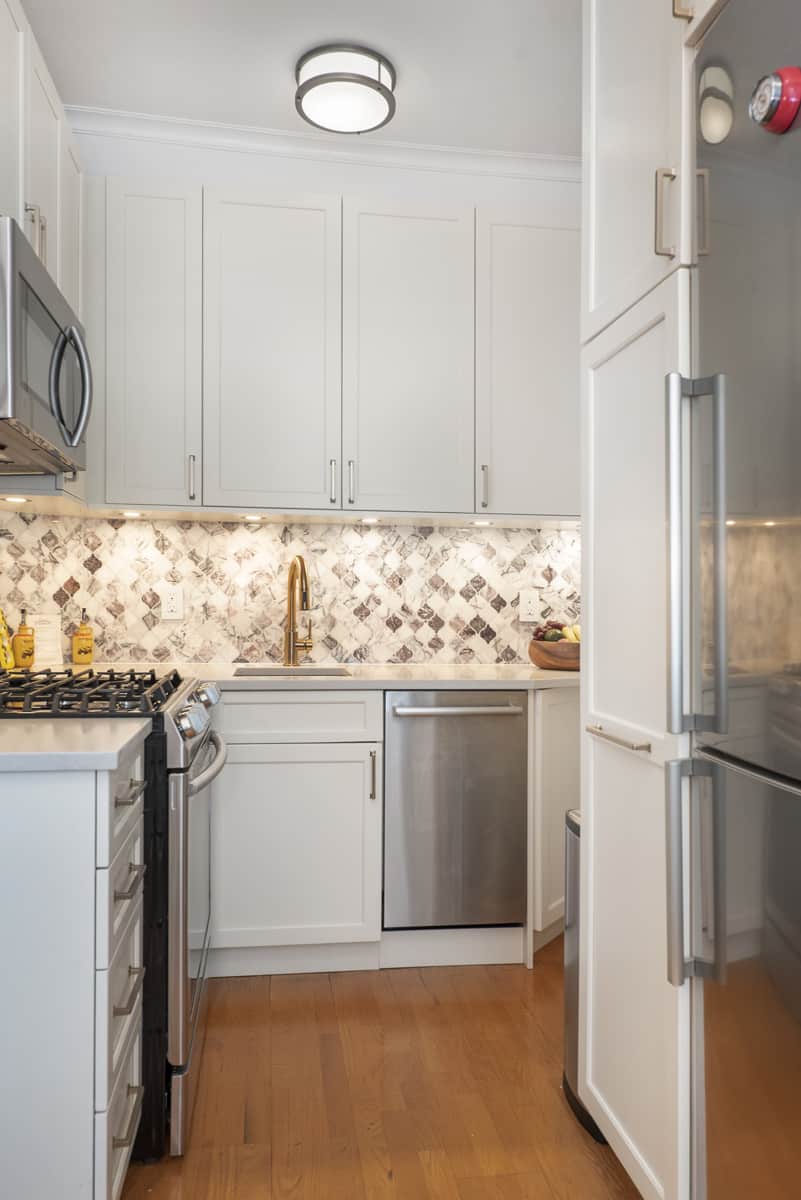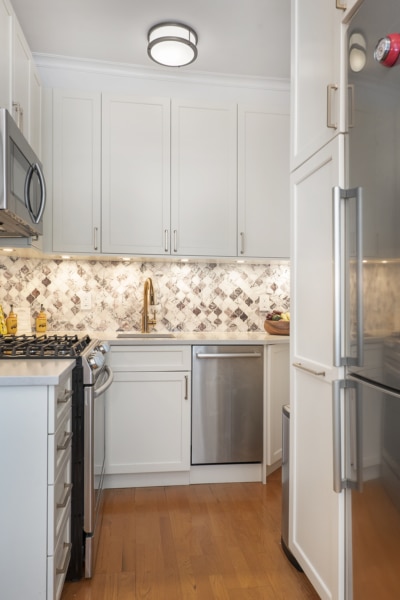 NYC Kitchen Remodel Solutions
The team at MyHome Design + Remodeling are experts at helping clients find the perfect mix of lighting options to brighten their renovated space. From the beginning consultation to the final walk-through, we will be involved every step of the way. Schedule your completely free virtual design consult to get the process started! Plus, get more tips like these when you sign up for our 10 essential free tips for a smooth and pleasant remodeling experience. Be prepared and avoid many of the headaches and confusion of remodeling in New York City.