Uncategorized
NYC Homes: Our 10 Most Popular & Classic Kitchen Design Photos of 2016
By Tiffany Smolick
Certain kitchen designs and features will never go out of style while other designs seem to arrive annually and surprise you. Below you will find MyHome's edition of our top 10 most popular kitchen photos uploaded in 2016. You will find classic designs such as white cabinets, farmhouse style sinks, and grey color palette designs.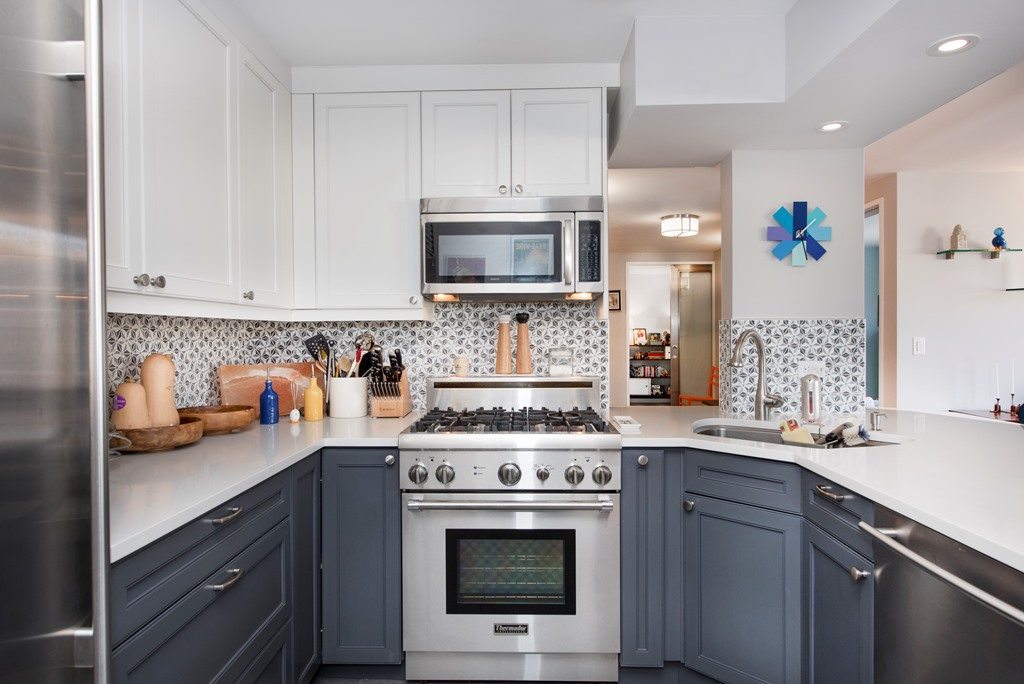 #10: An Entertainer's Dream
Large kitchens are very uncommon in NYC which makes this design an entertainer's dream. With this extra-large island, you could entertain your entire family all at once while you prep and serve during family parties. The high ceilings and wood flooring complement the grey and white cabinets beautifully.
When the homeowner decided to combine two apartments, they now had the space to add a new laundry room and create this open and airy kitchen. The rest of the renovation included installing new floors, framing and painting. Click here to view the full photo gallery for this NYC kitchen renovation.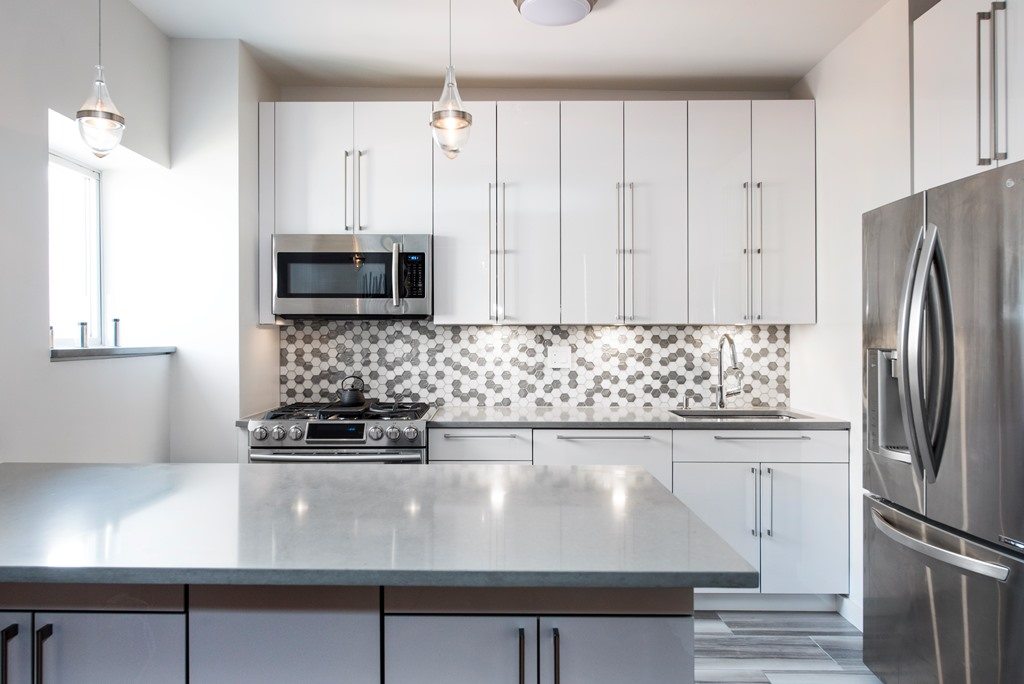 #9: Eat, Drink & Be Cozy
This affordable and fabulous kitchen remodel brings style and functionality to a compact NYC kitchen. This kitchen's glass hexagon styled backsplash in Aspen Grove finish gives this kitchen remodel elegance. The countertop features an eased edge Caesarstone in Pebble finish. This counter is not only durable, it's also chic. Click here to view the full photo gallery for this Upper East Side kitchen renovation.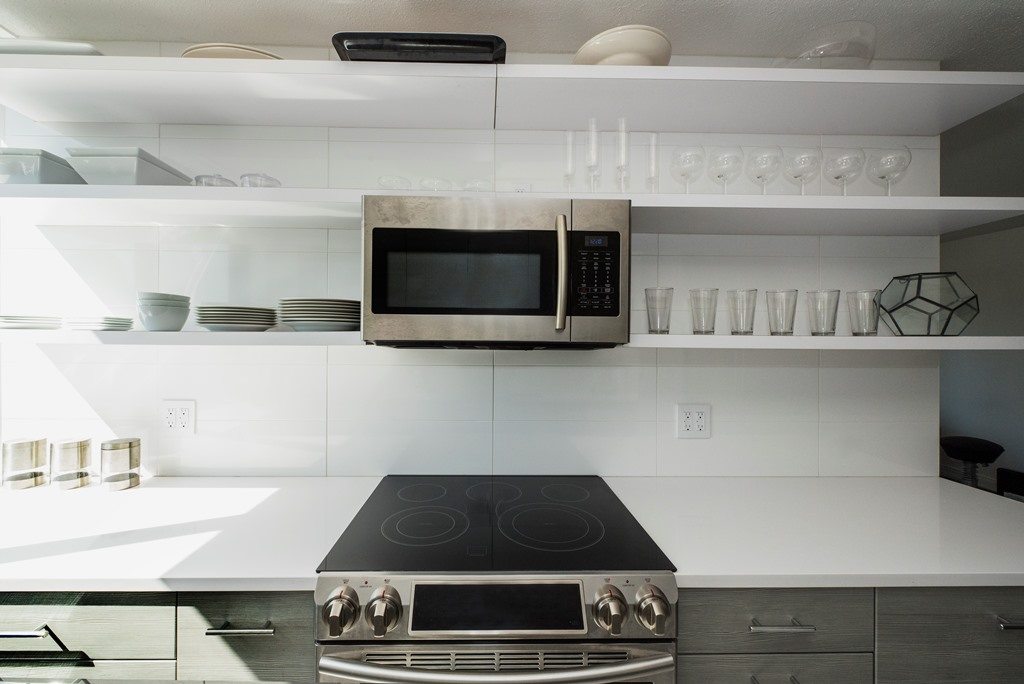 #8: Gray is the New White
Gray is not the dull and dreary ordinary color that it once was, instead having a gray palette is the new white. It's the hot neutral hue and it's here to stay. This design is coupled with open shelves giving this NYC kitchen design a gorgeous look that feels pulled together through several generations of your family. Most home design trends come and go, but we believe the open or wrap shelving trend will become the new normal. Whether you have a limited space in your kitchen or if you need more storage, taking advantage of your vertical wall space is a wonderful and trendy option. Click here to view the full photos gallery from this Manhattan apartment remodel.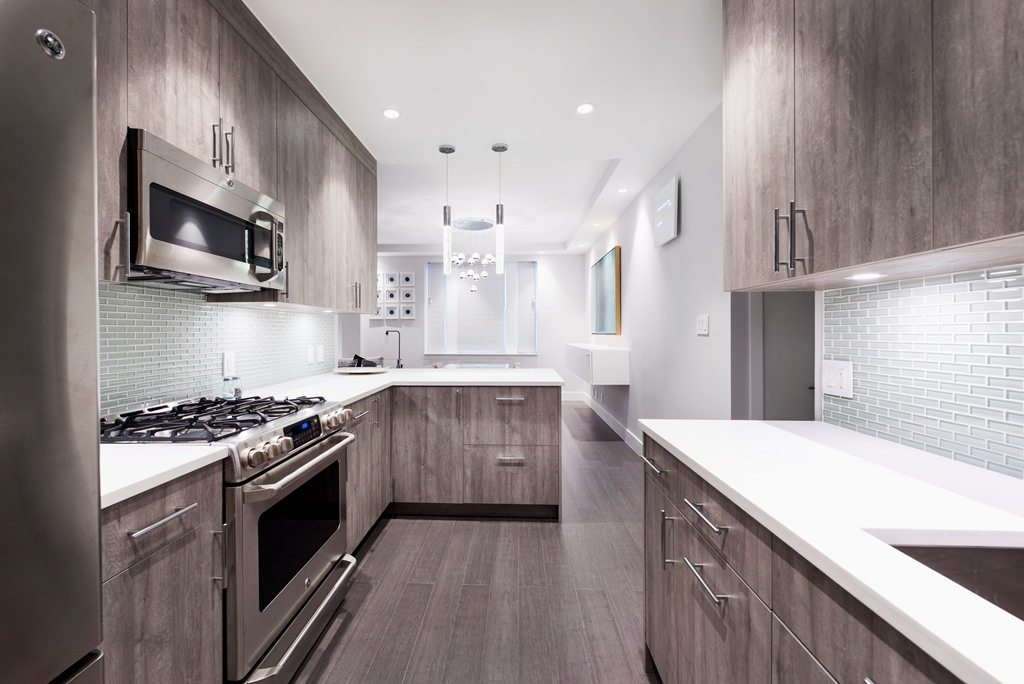 #7: L-Shaped Elegance
This stunning kitchen is both calming and friendly. The cabinets from Laurier Max in Grey Stone finish transform this kitchen into an elegant space. The L shaped layout wraps around a trendy island countertop is from Caesarstone from their Classico line in Pure White finish. The beautiful backsplash in a glossy Crystile finish brings a subtle splash of color to the space.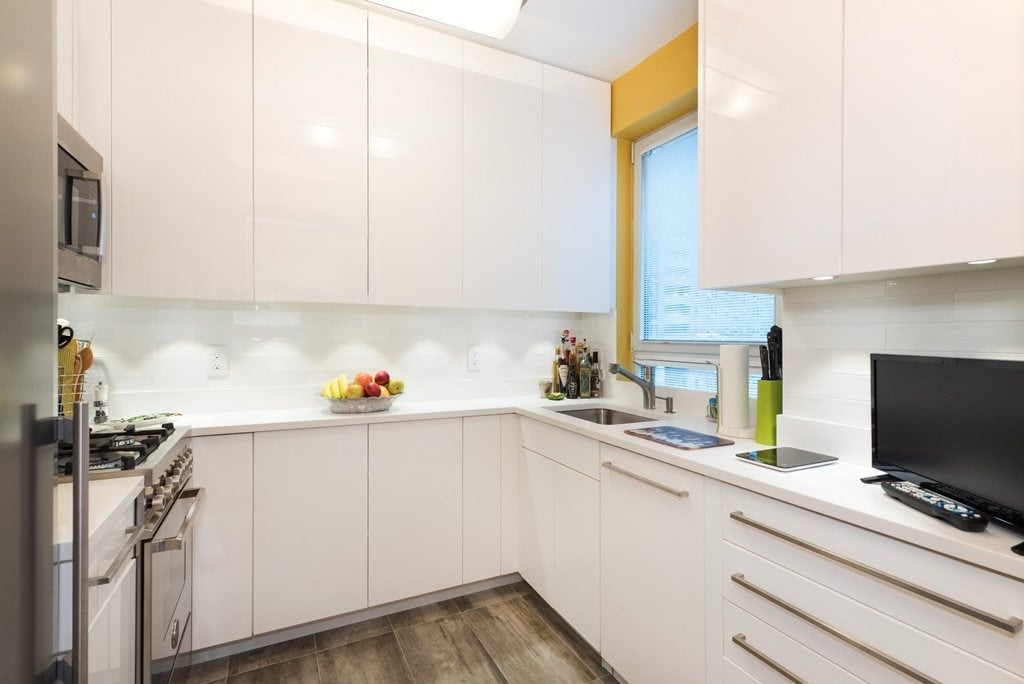 #6: Pops of Color
A high ceilings and a pop of color give an unexpected look to this otherwise white kitchen. Kitchen design fads come and go, but when it comes to forever value the white kitchen should be consider as the champion. White kitchens are considered to be an everlasting design. Warm oak floors and under cabinet lighting complement the space.
This kitchen is part of a complete remodeling of a one bedroom apartment including kitchen, bathroom, new floors, built ins, painting and multiple other projects. Click here to view the full photo gallery for this Manhattan apartment.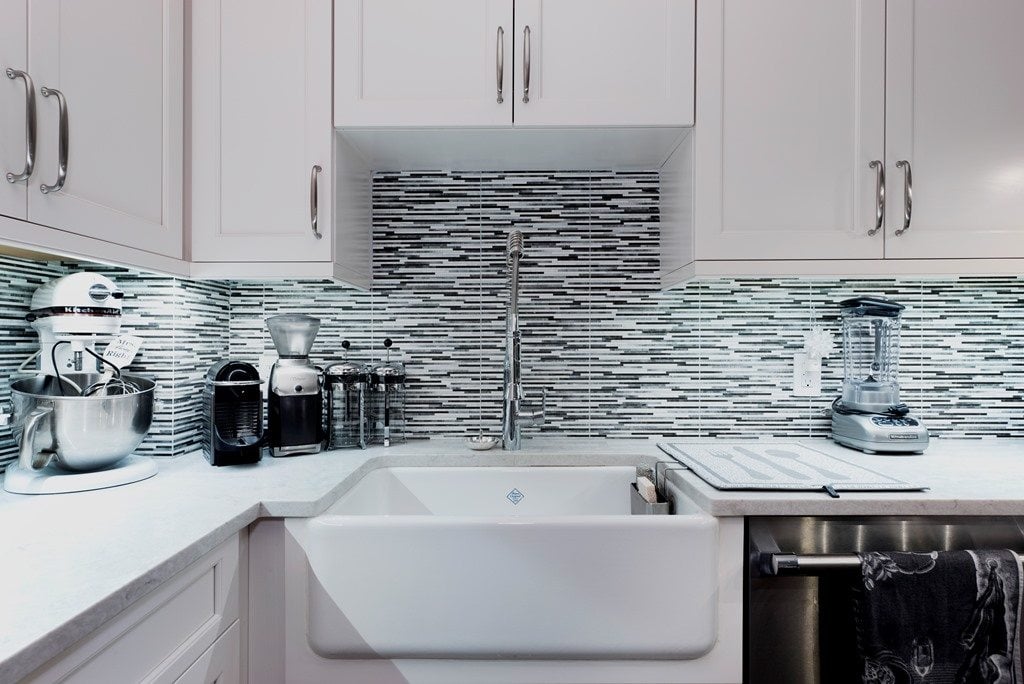 #5: Country Chic
The kitchen pictured above is inspired by the color palette of blue and airy whites. This palette gives the cozy kitchen a fresh and chic country vibe. New white cabinets mixed with a vintage-looking apron sink and a stylish faucet blend easily with a modern stainless-steel dishwasher. The blue and white color scheme is warmed by grey accents.
This kitchen opens up into the dining area with a breakfast bar. The renovation project included a change in the kitchen layout and adding a bathroom. MyHome also installed new floors, painted the apartment and completed few other projects. Click here to view the full photo gallery.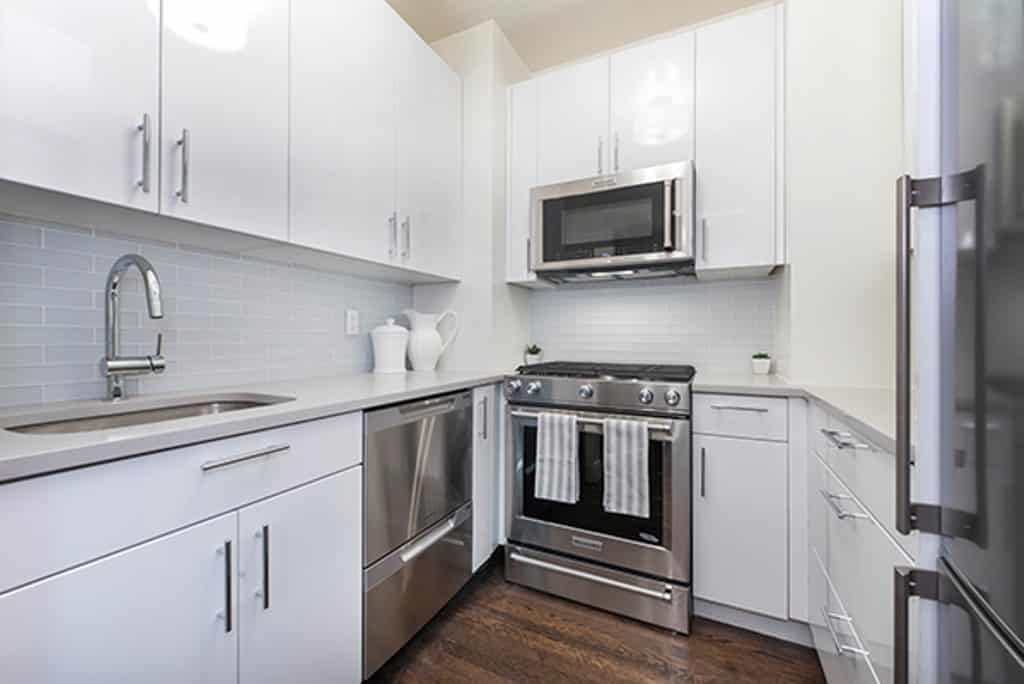 #4: Small Space, Big Appeal
Attracted to contemporary décor, but have a small space? Not to worry. You have numerous choices when it comes to kitchen cabinetry. Flat front, squared off cabinets create a unique look with some edge for a contemporary design and they became a huge trend in 2016. Another feature of this small kitchen are the small appliances. High-end appliance manufacturers are making compact models, so even serious cooks will find something that fits their space.
This kitchen is part of a complete remodeling of pre-war apartment in the Upper West Side. The remodeling project included a gut renovation of kitchen and bathroom. Click here to view more photo of this NYC kitchen and bathroom renovation.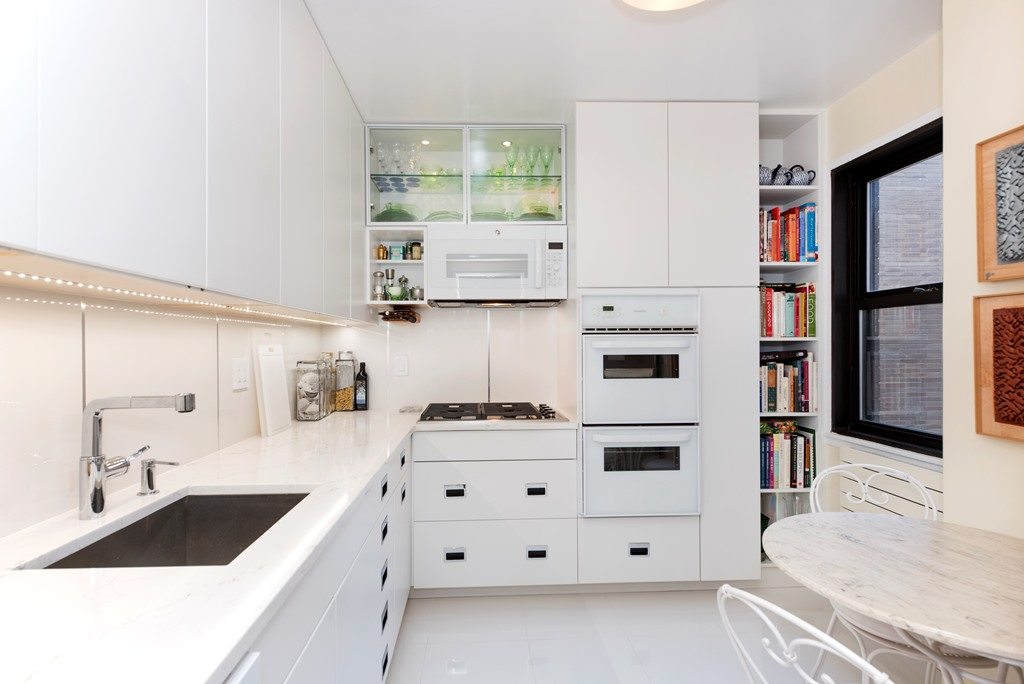 #3: Classically White
This mid-sized L-Shaped open concept kitchen features an all-white palette. Choosing an all-white color scheme can make your compact NYC kitchen look light and airy. This trendy kitchen features an under mount sink, white cabinets, quartz countertop, and white appliances.
Designed by Ben Pitt, the kitchen features cabinetry from the Satin Lacquer White collection from Craftline. To anchor the space, this Pitt used floor tiles from Porcelanosa Marmi Blanco. The classically white counter is a Pental Quartz and the backsplash is Nasco Extreme White. Click here to view the full photo gallery for this classically white Manhattan kitchen.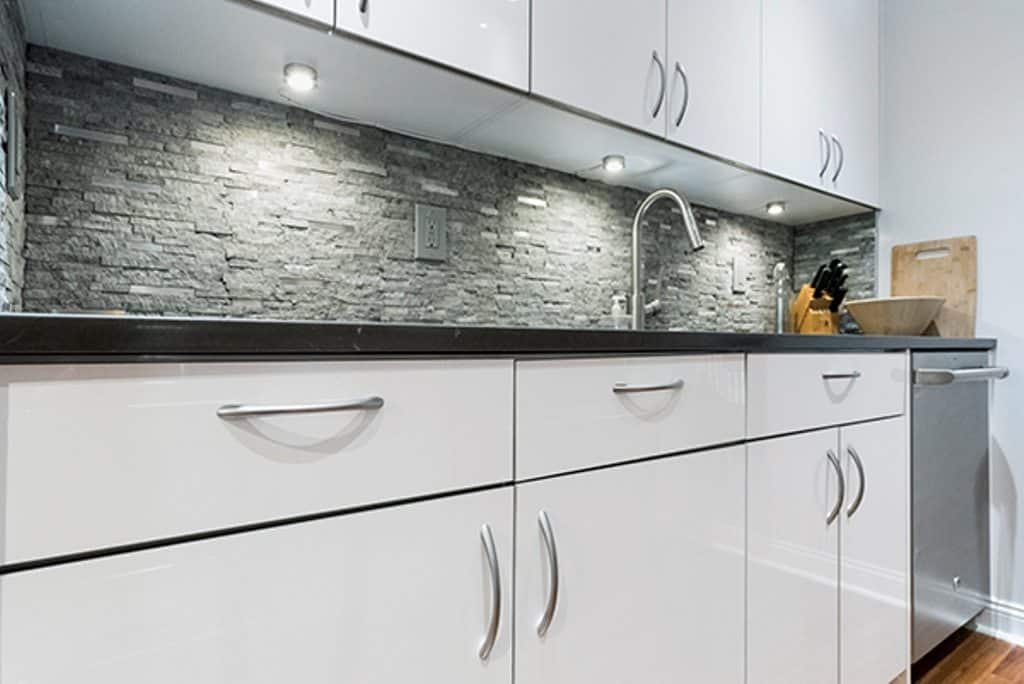 #2: Mismatched and Modern
Mismatched islands and cabinets truly up the style in your eating space. This kitchen creates visual interest by contrasting white cabinets with a dark countertop. There is something distinctive and unique about going bold with your countertop choices. Both countertop material and cabinet finish are opportunities to add color or texture to the space. Deciding to go with a mismatched island or cabinets lets you experiment without going overboard. We suggest taking a risk and combining two different cabinet styles and countertop materials together. Click here to get a look at the full kitchen renovation.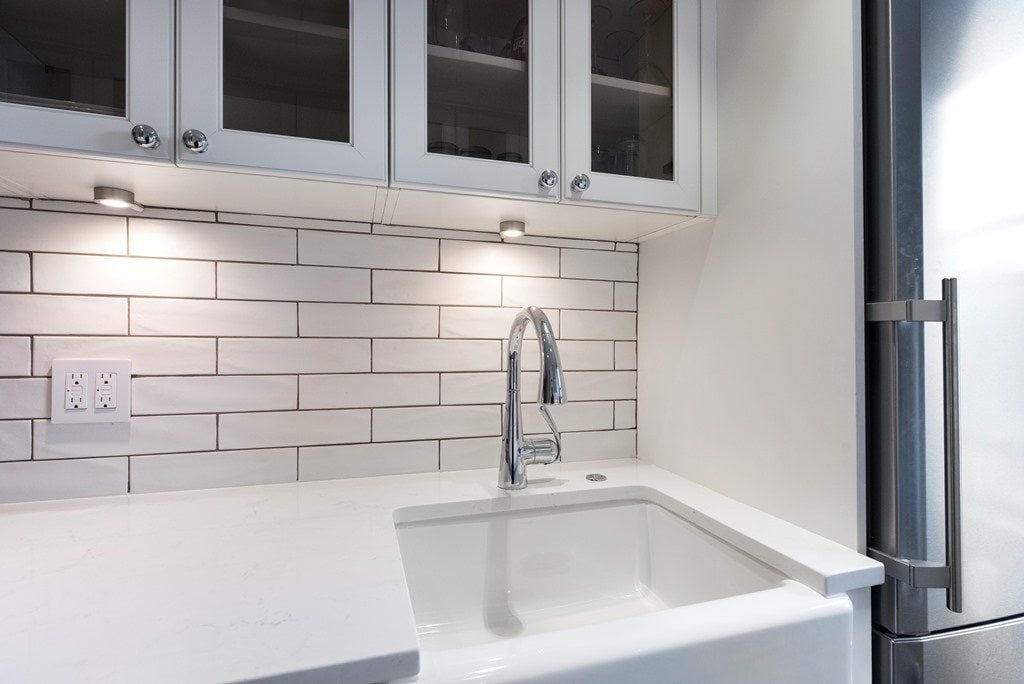 #1: Subway Style
Subway tile may be considers a millennial phenomenon, but this tile style is definitely a classic design style. It's a non-intrusive style that we can be considered a design trend that won't be dated to this decade. Subway style tiles are universal and can fit in many different designs. Their longevity has stood the test of time for a few reasons, but mostly because this style is inexpensive. It looks good with practically any other materials and pairs well with many different materials, appliances and finishes. They can also be arranged in all kinds of interesting and unexpected ways.
This kitchen was part of a complete remodeling of one bedroom apartment in Lower Manhattan. Among other projects, MyHome redid the kitchen, the bathroom, changes in layout and installed new wood floors. Click here to view the full photo gallery.

Some kitchen designs are forever trends while other designs come and go. Be inspired by these 2016 designs as you plan your remodel in the next year.
. . .
We hope you found this bit of information helpful, inspiring, and motivating toward making plans to renovate your kitchen and bathroom.