Uncategorized
5 Black Bathrooms To Inspire Your Bathroom Remodel
By Tiffany Smolick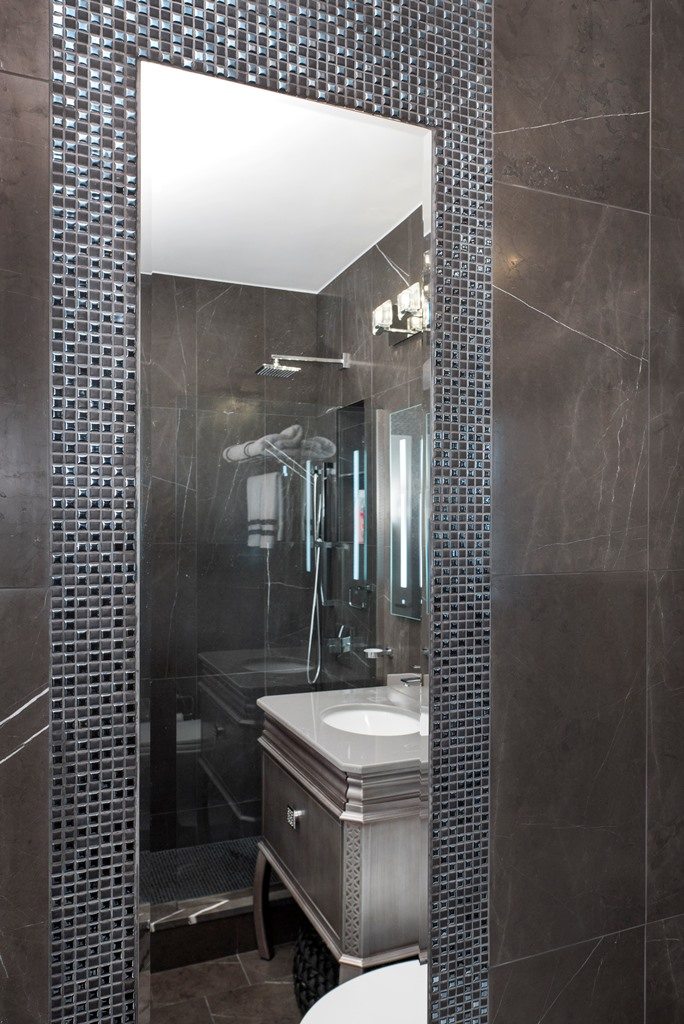 When you are designing your dream bathroom, most often you will consider neutral hues as your design choice because they complement the white in most bathrooms. But, if you are looking for an alternative to the norm and want to make a statement with your bathroom design, consider dark walls, tiles, vanities, or a combo of all.
A popular new trend is dark hues for your home, and a simple paint job can give any room a cozy boost, including your bathroom. Take a look at five examples of dark and lovely MyHome bathroom designs to inspire you to go bold.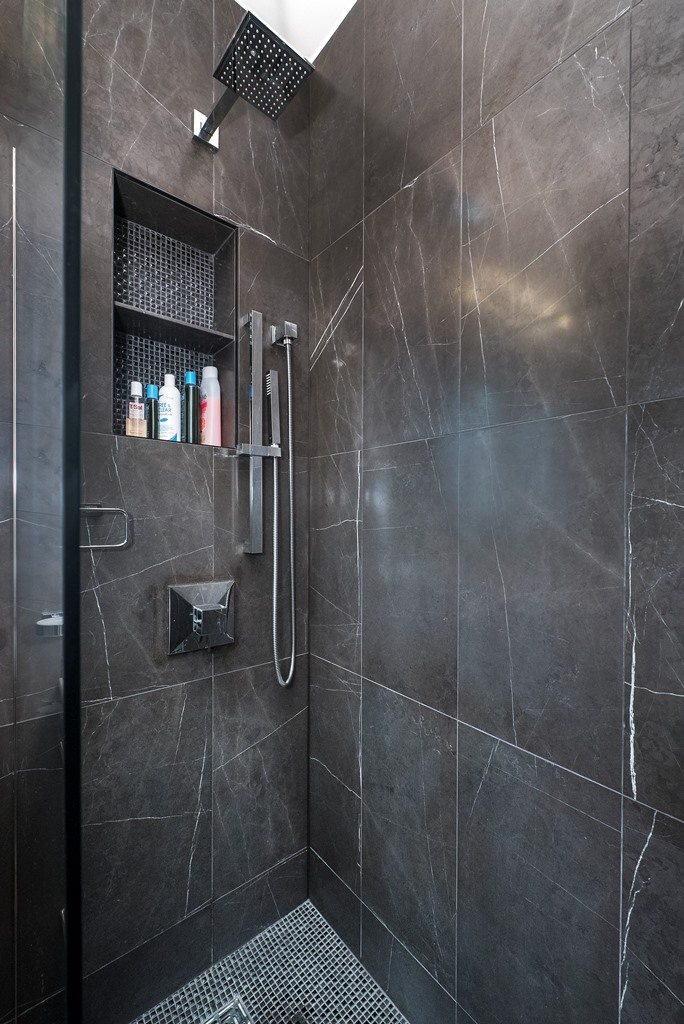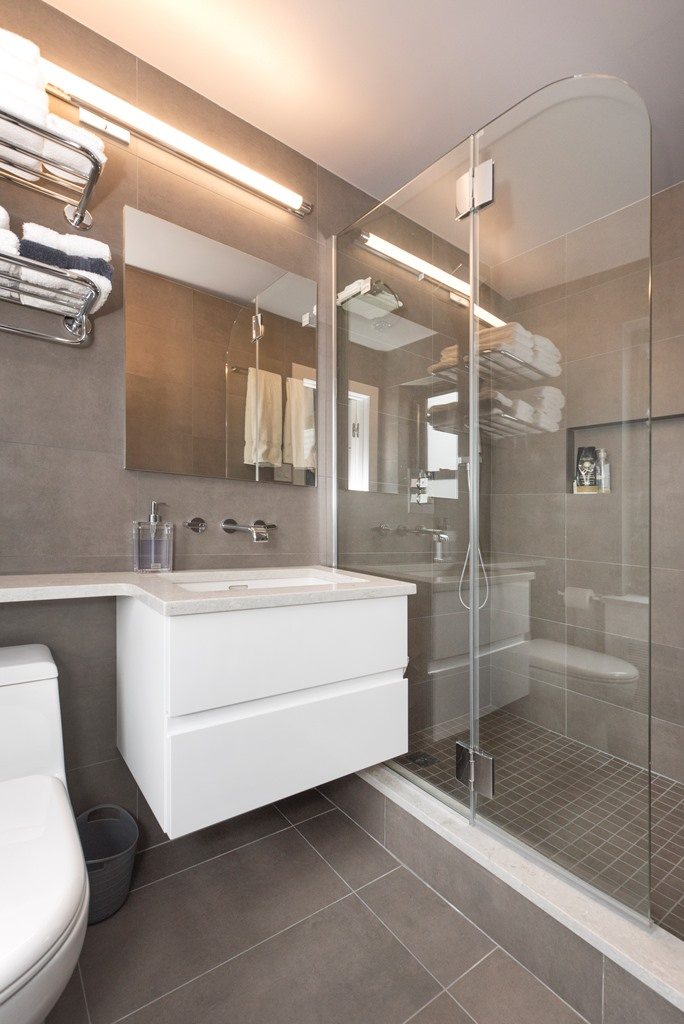 Example #1: Go Grand With Dark Colors
Dark colors work well in many homes but work best in period properties. The secret to keeping this space crisp and sharp is to contrast the dark with white embellishments, as seen in this bathroom.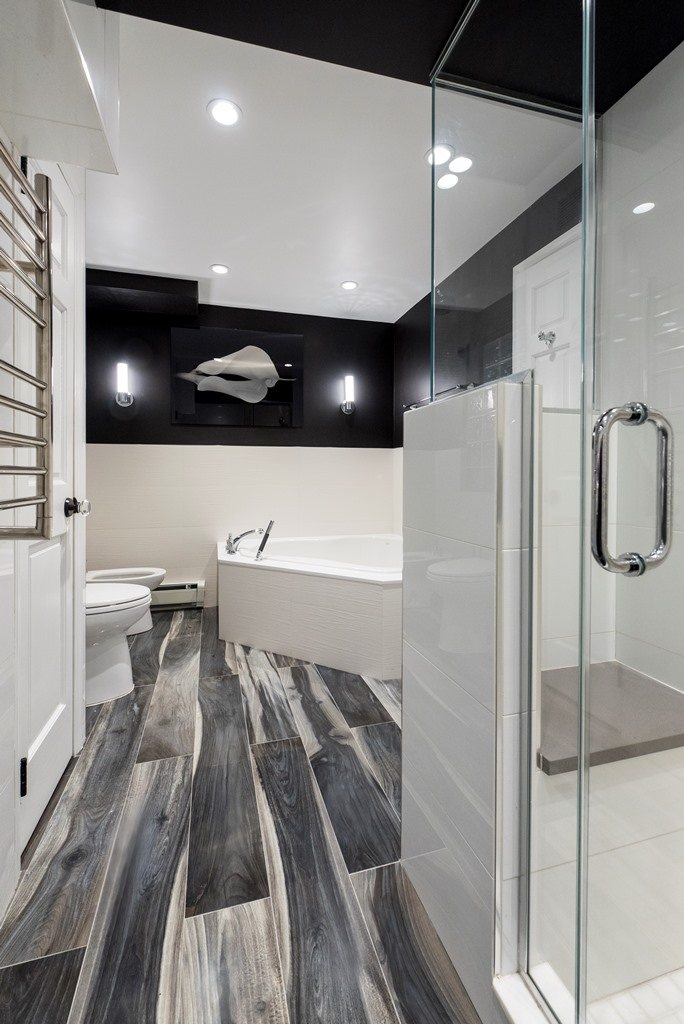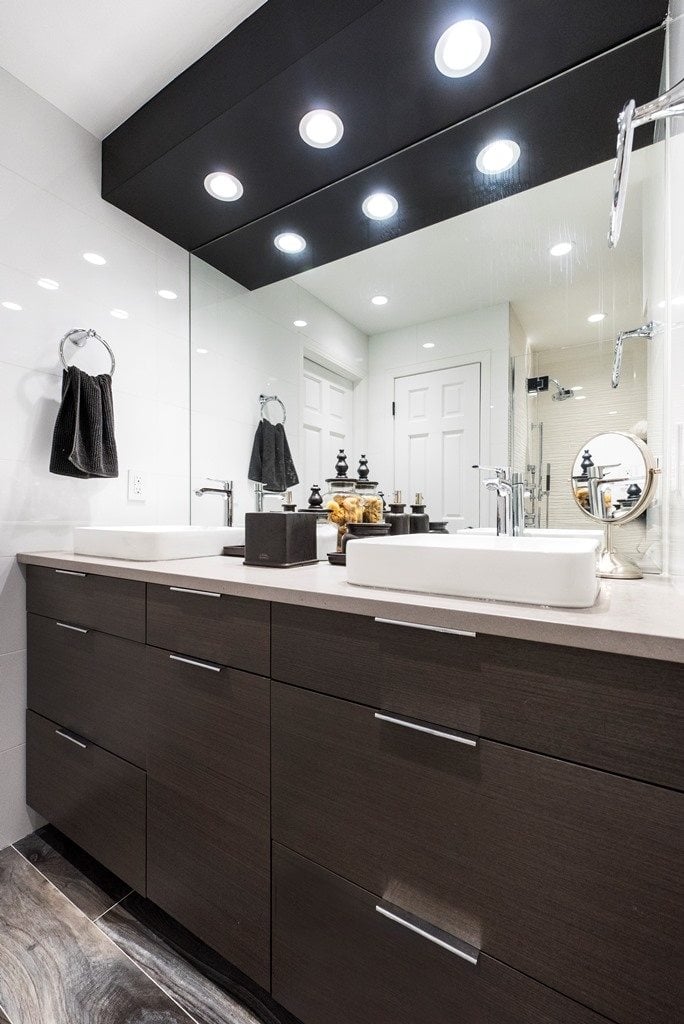 Example #2: Mix Up Your Materials
There are several dark hue finishes that keep the bathroom design from feeling flat. The white accents add a crisp and sharpness to the design without feeling overly edgy. Without the 54×54 Alcove corner tub and the Kauri La Fabrica floor tiles in Victoria finish, the vibe would be altogether different in the bathroom pictured.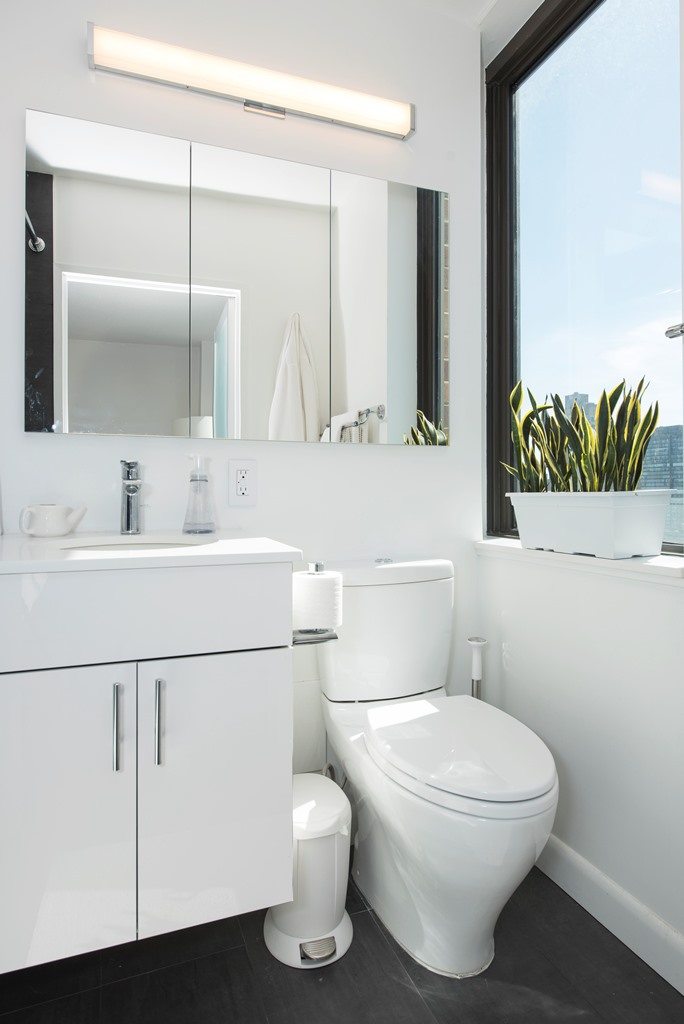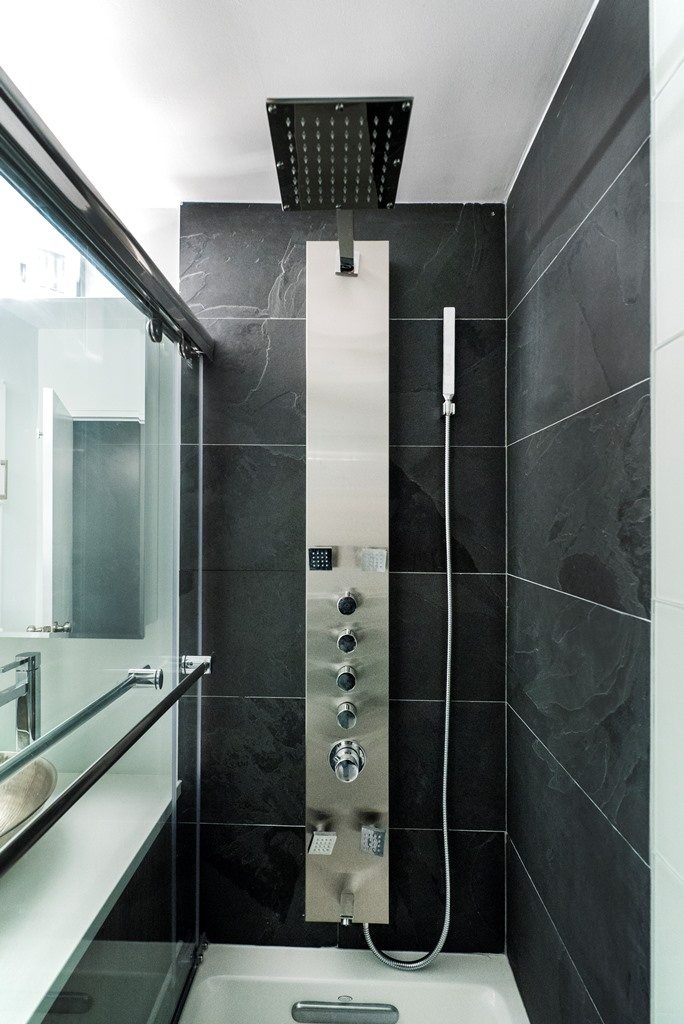 Example #3: Tie Two Patterns Together
A solid color can help two conflicting designs work together well. The black floor and shower tile would lose their design effect if placed side by side. Using a black and white design can be masculine at first glance, but with the white and some added feminine touches, your design will stand out for a unisex modern, and cozy feel.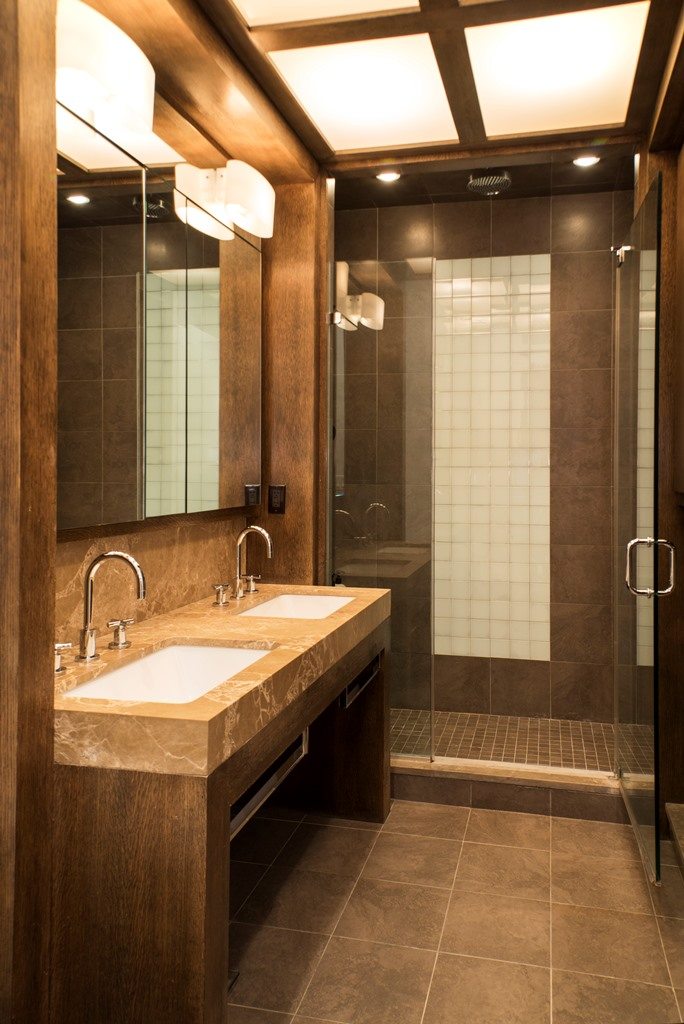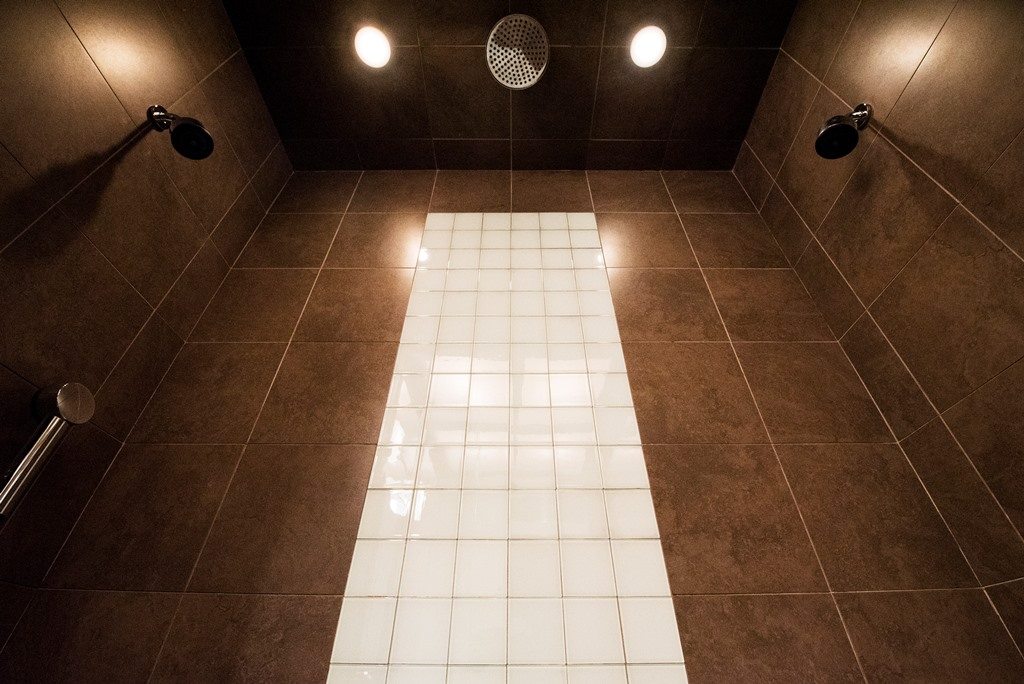 Example #4: Embrace Natural Hues
In your design, embrace natural hues such as dark browns and taupe. A wood vanity and medicine cabinet with plain edge doors give an entirely different effect than a black vanity. In this NYC bathroom, they used natural hues for the medicine cabinet, vanity and shower design for a natural feel. The side lights also give this peaceful oasis a spa-like feel. Last, the feature wall in the shower brings the whole design together beautifully.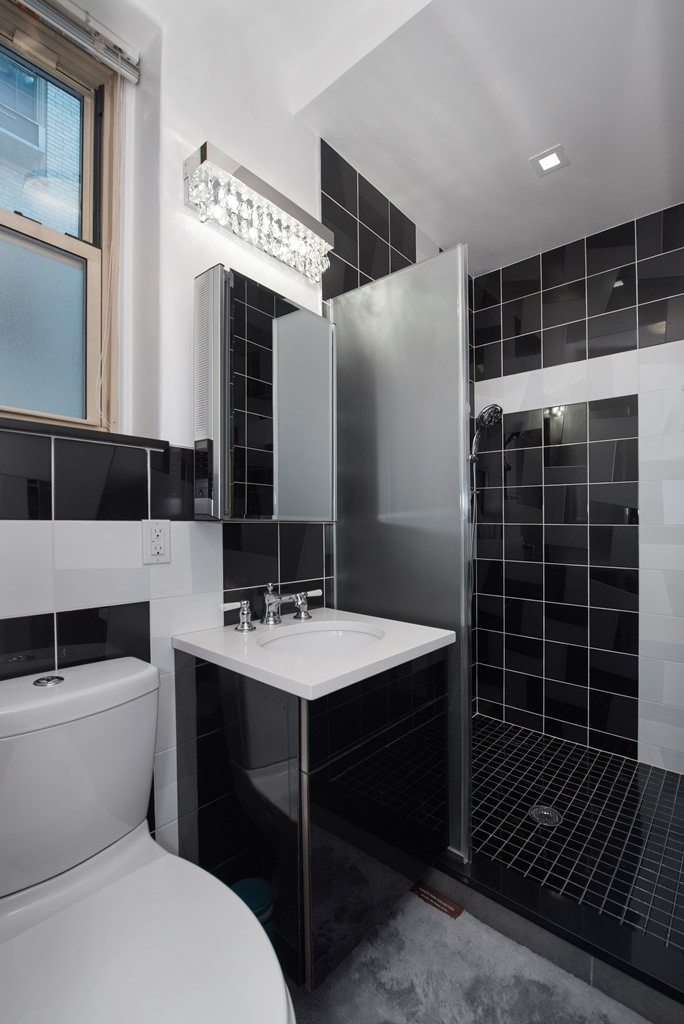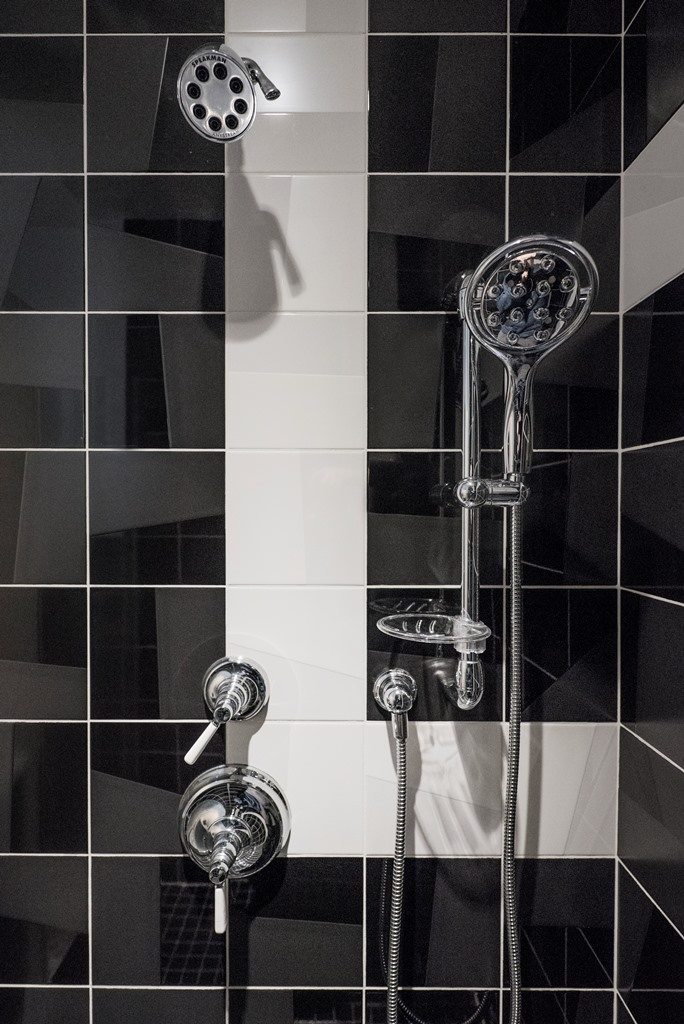 Example #5: Go Matte or Glossy
When designing your dark-hued bathroom, you can choose to go matte or gloss. Notice that little line of sparkle all around the accent mirror on the wall? It stands out alongside the matte wall tiles and the dark grey functions as a strong backdrop for this statement wall.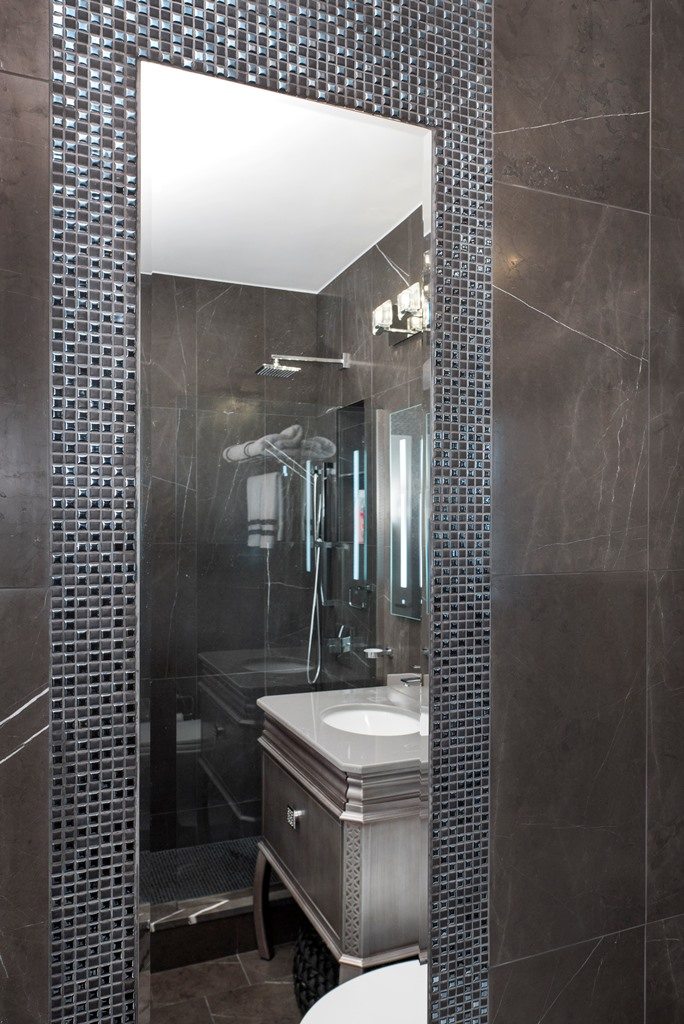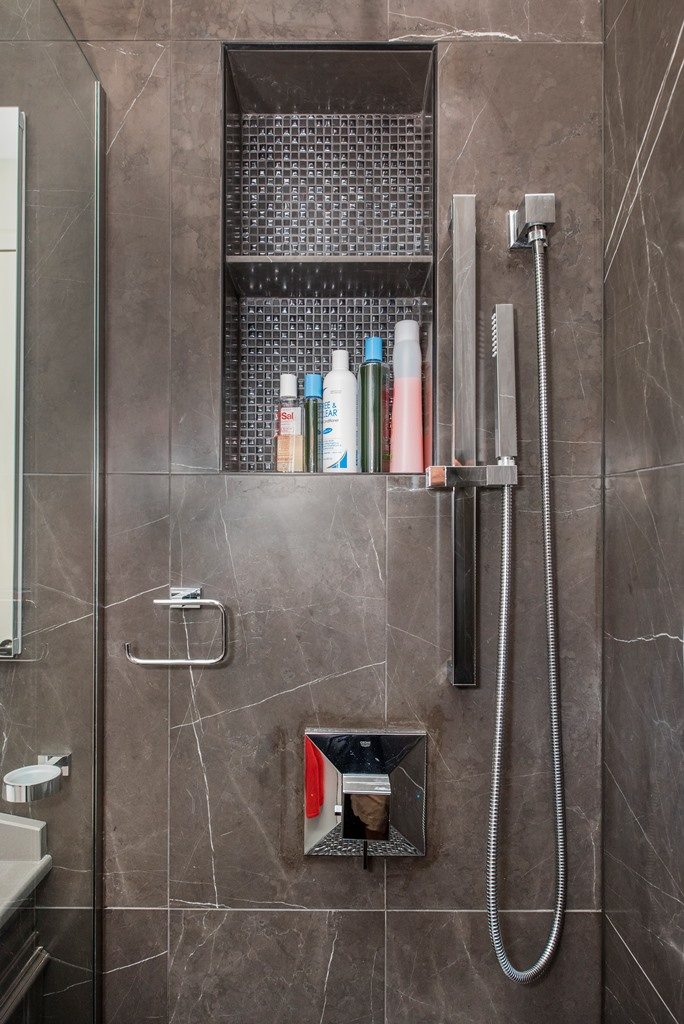 You can also choose a glossy finish, however, this effect would be interpreted as showy and not subtle. The stylish lighting on top of the mirror adds to the soft glamour of this glossy space. If you look closely, you'll see that the shine of the tile reflects off the wall tiles, but also on the fitted mirror, which helps brighten your bathroom by bouncing light around the space. Black gives any bathroom a bit of edge, but you don't want so much edge that it's not good for family life.
You can use dark hues to give your bathroom a cozy, bold, and modern feel. Be inspired by these six examples as you consider your 2017 bathroom redesign.