MyHome Projects
An Upper West Side NYC Apartment Gets A Bright and Colorful Remodel
By Tiffany Smolick
The hunt for the perfect home to buy in New York City is an arduous journey that can sometimes take years and years. That is why when you finally secure your dream space in the city, remodeling to ensure everything looks exactly how you envisioned is key.
The MyHome team recently completed a dream renovation project for an Upper West Side resident at her brand-new apartment at 420 Riverside Drive. This homeowner had been saving for years for her dream apartment, and upon finally finding it, she hired us to create everything exactly how she wanted.
NYC Design Inspiration
In order to successfully design the desired space, the client and our team worked together to find the correct inspiration. Much of the inspiration came from her existing apartment, which housed beautiful pieces of furniture and art that were collected by her and her husband over the years. Remodeling consultants collaborated with the client on colors based on the custom tiles the client fell in love with elsewhere, as well as her furniture and art.
The apartment was purchased in a beautiful pre-war building, so it was important to the client and the design team to keep as many of the original elements as possible. Through our unique remodeling process featuring home renovation technology programs, the pre-war apartment design came to life. MyHome's state-of-the-art design program, Chief Architect, created renderings ahead of time showing what the finished home would like at the end of the process.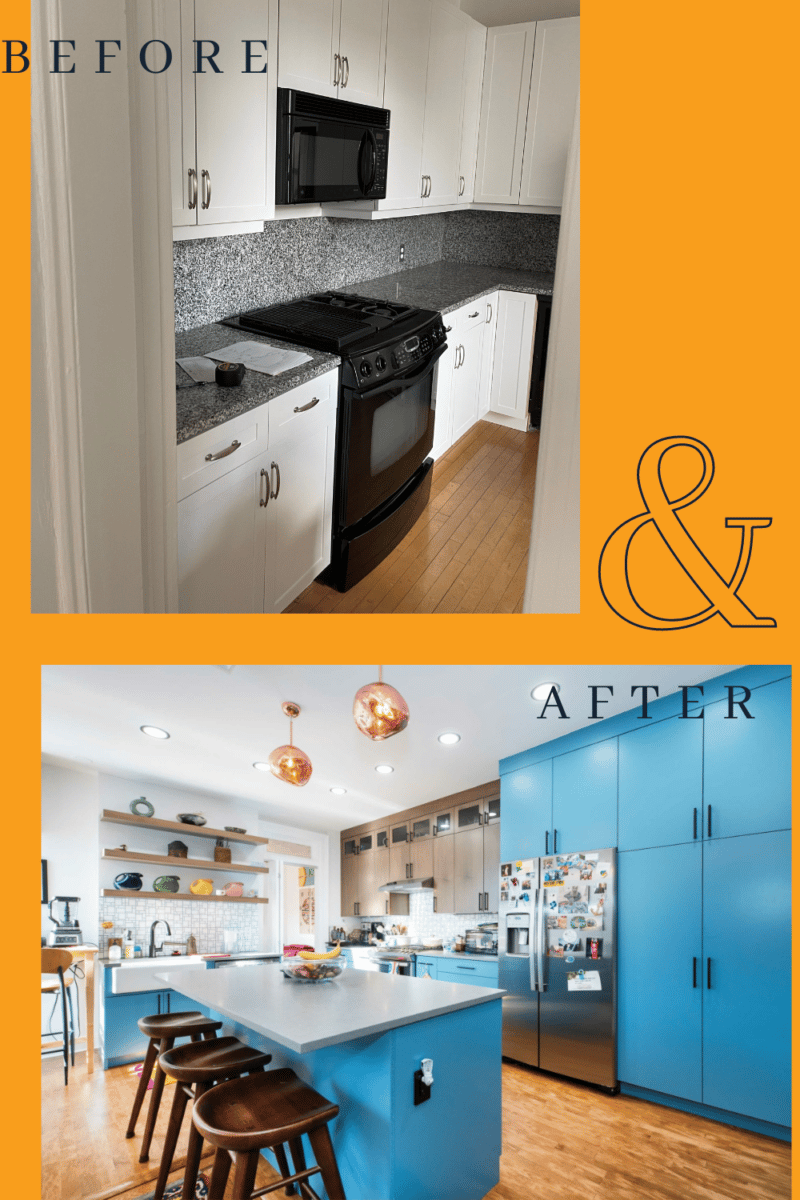 Custom Renovation Elements
In addition to the exquisite and unique custom tile in several of the remodeled rooms, Designer Justin Schlenger used his favorite fixture brand, Brizo, in a Luxe Steel finish. Cambria Countertops were installed in the kitchen, in the color "Carrick" with a matte finish, which is a cool gray tone. This complemented the upper cabinets, which are solid maple doors with a soft Elk Stain, and the lower cabinets, where Schlenger chose Sherwin Williams Georgian Revival Blue. The client allowed the MyHome team free range with appliances, so they used all stainless GE appliances. The highlight of the new open kitchen floor plan at 420 Riverside Drive was a door added to the adjacent dining room wall for entry into an office and second bedroom. Schlenger ordered a reclaimed wood barn door with matte black hinges from Rustica Hardware. The door frame was painted in the Sherwin Williams Georgian Revival Blue to match the lower kitchen cabinetry and tie the two rooms together.
Remodeling Obstacles
Every remodeling project comes with its challenges. In this case, it was the flooring refinish. The client wanted to keep the existing flooring, and the team found out there were two levels of flooring after removing one of the walls. Furthermore, the flooring was going in a different direction in the room the walls came down in. Schlenger came up with a solution to remove the flooring from one room and replace it, so all the flooring went in the same direction, as well as adding a low wood saddle for the height transition.
Satisfied NYC Renovation Clients
After completing this Upper West Side apartment remodel, the entire space featured a much more open floor plan, and bright and colorful finishes, and we are pleased to report that the client was beyond thrilled with the outcome. Our client, Ingrid, provided us with this glowing feedback:
"While writing my reviews I almost got a little teary thinking about what we did and what a fantastic experience it truly was. We really created a space from something that had potential to something quite remarkable. I often look around and can't believe it. I had some anxious moments in the process, but mostly I found it interesting to do and exciting to see it all unfold. Thank you all for everything. I really appreciate all of you and would choose you as a friend and a contractor or designer all over again."
MyHome Offers Premier Remodeling Services
The experts on our professional team are dedicated to delivering a superior level of service, including decision-making, project management, and industry-best craftsmanship. Our entire NYC remodeling process is backed by a 5-year warranty you will not find anywhere else.