Home Planning & Renovations
Holiday Home Designs Guest will Envy: Kitchen & Bath Edition
By Tiffany Smolick
Another holiday season is quickly approaching, it's often second nature to grab the boxes of holiday decorations out of storage and set up your holiday décor up in the usual places. Some of us just need inspiration to get our creative decorating wheels turning. Below are our favorite holiday home designs that will leave guests envious of your kitchen and bathroom.
Our goal is to help you define & renovate your space to create your "dream room" within a realistic budget. The MyHome process is unique and ensures that we finish projects on-time, on-budget & to your satisfaction. Let's not overlook that they are also amazing source for your holiday decor inspiration.
Industrial Modern Kitchen with Beautiful Gold Fixtures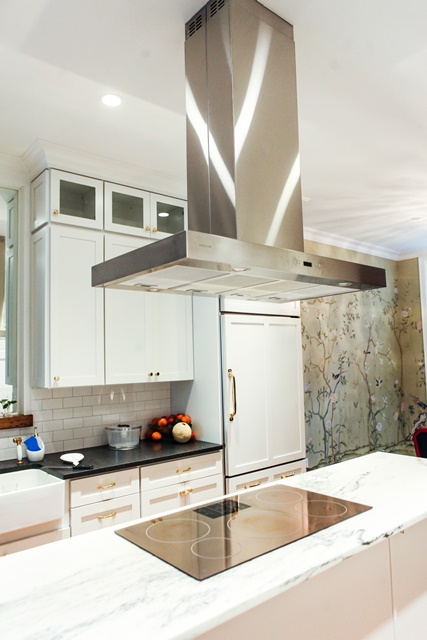 When speaking about home renovations and remodels, the one room that is on the highest on the list for most people is the kitchen. Kitchen renovations can be incredibly overwhelming when you are unsure of the direction to take. However they can be exciting when you have a well-defined idea of your budget and the style and atmosphere you are going for. If you are heading into 2016 thinking about adding that extra bit of style to your kitchen, we have just the thing for you. The fabulous use of while cabinetry with gold fixtures allows you to accomplish a beautiful kitchen with great style and functionality.
Festive Stylish Vanity with Beautiful Gold Leaf Sink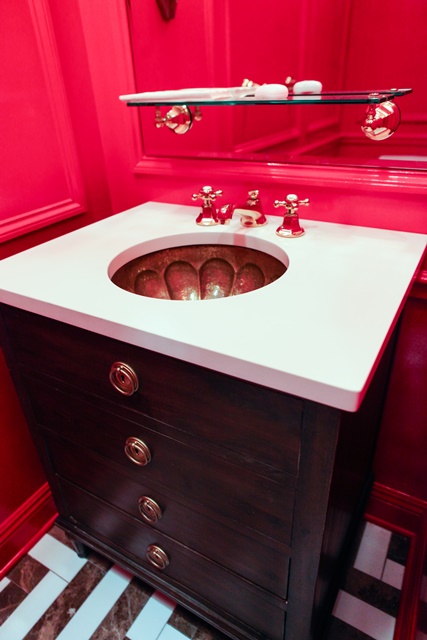 As interior design enthusiasts, we want to help you to create a warm and welcoming decor for the holidays for family and friends.
First start by choosing, the color hues you want to use for your bathroom transformation. A deep, bold hue like red can make a small bathroom feel rich and cozy all at once. The gold leaf vanity sink is a great match for this elegant contemporary bathroom. Since this holiday season will be so much more than just Christmas morning, starting to decorate at the end of November will make your house feel magical all December long.
Regal Bathroom Vanity with Purple Accents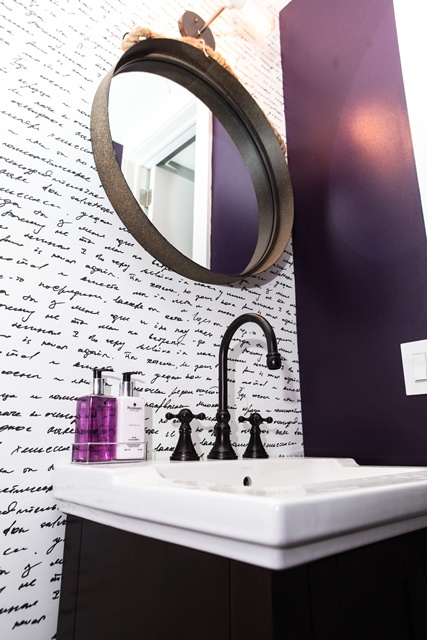 The bold use of majestic purple in this bathroom gives it a striking, unique, and unforgettable aesthetic. It's a clever design choice because it adds a regal and warm feel to a small room which adds up to warmth and interest. The round mirror adds extra depth and style. A blend of materials in this bathroom truly makes it a one-of-a-kind space.
Wonderful Mix of Modern and Country Kitchen with Red accents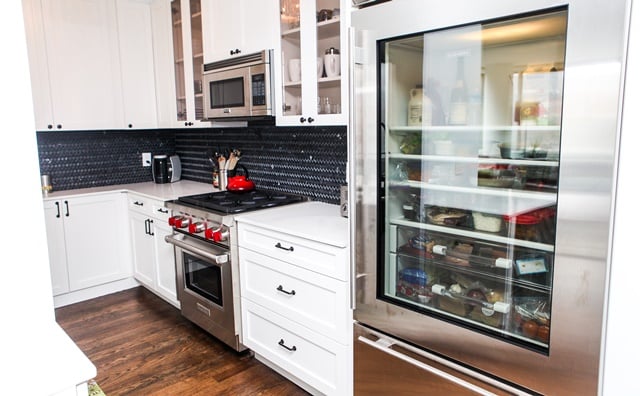 The idea of the kitchen is the heart and soul of your home has captured the popularity of the social kitchen. Turning the conventional kitchen into the family-friendly core of the house, encourages interaction and creates a fun hangout. The concept of this kitchen blurs the boundaries between the kitchen and the spaces around it.
The glass door refrigerator allows for a sense of openness. Like glass front kitchen cabinetry, having transparent refrigerator doors helps to expand a kitchen visually and alleviate the heaviness of a traditional solid front model.
Industrial Contemporary Kitchen with Beautiful Dark Wood Detail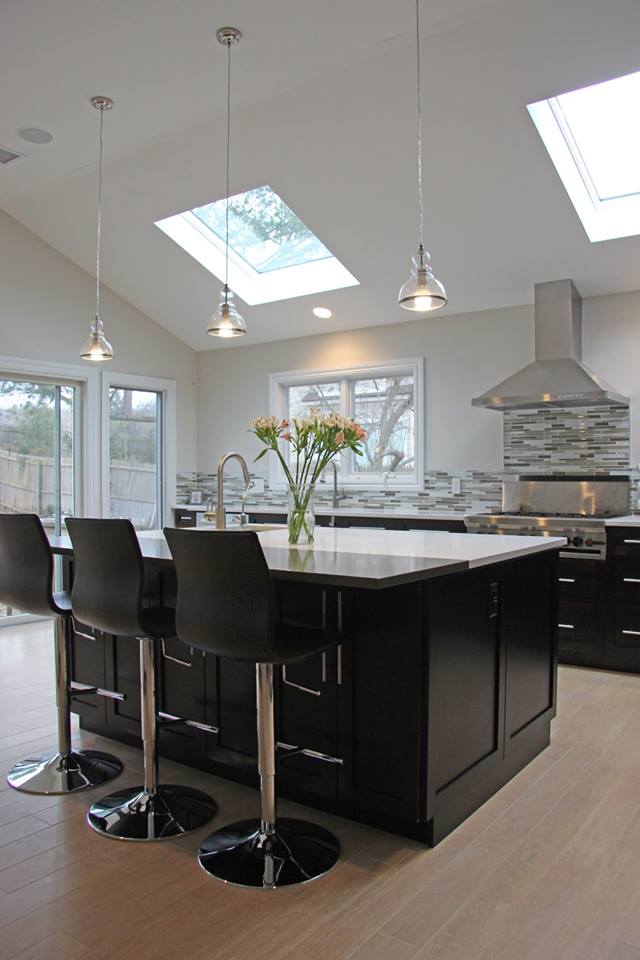 This is a modern industrial farmhouse kitchen perfect for entertaining. Here the modern island fused with the industrial stove and lighting makes for a modern farmhouse feel. Paired with stainless steel grey, paired with industrial style hardware gives this kitchen a stylish edge. To prepare ourselves for the dinner of the year, we need a checklist to make sure we don't forget anything. This beautiful kitchen allows for easy interaction with family and friends because of the large dining space on the island.
Modern Clean Bathroom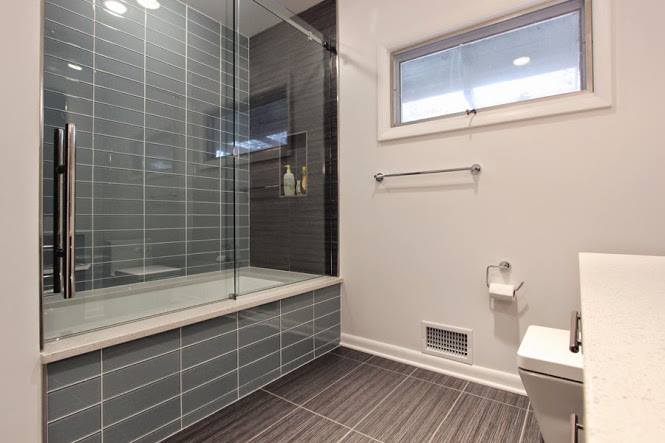 A modern bathroom creates a simplistic and clean ambiance. In order to design your modern bathroom makes sure to utilize symmetrical shapes. The bathroom is thought of as one of the most important rooms in your home, it's only natural to think extensively about how to make the best design changes. Those looking into modern bathroom designs will want to fuse creating a sharp-looking space and while making sure it doesn't feel too sterile.
The challenge is accomplishing that middle ground. How do you permeate warmth into the space while still benefiting from aesthetic contrasts? Take a look at our interpretation above; we're confident that you can put together a space that's as comfortable as it is stylish.
Trendy Industrial Modern Bathroom with Beautiful Dark Wood Detail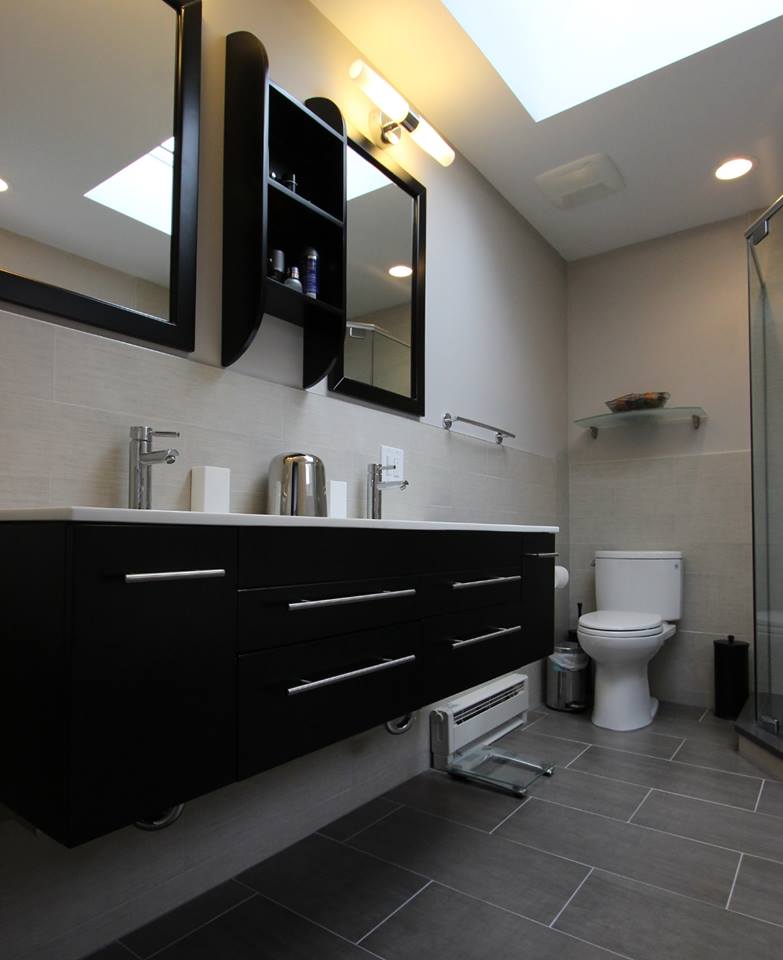 White trim and natural light coming from the ceiling keep this bathroom bright despite the sleek dark wood vanity and accessories. A slightly warm gray on the walls and floors keeps it feeling laid-back and welcoming. Beige isn't the only hue option when you want peace and quiet. This bathroom mixes gray, dark wood with soft white trim to achieve its soothing aesthetic.
Beautiful Stylish Chic Mosaic Bathroom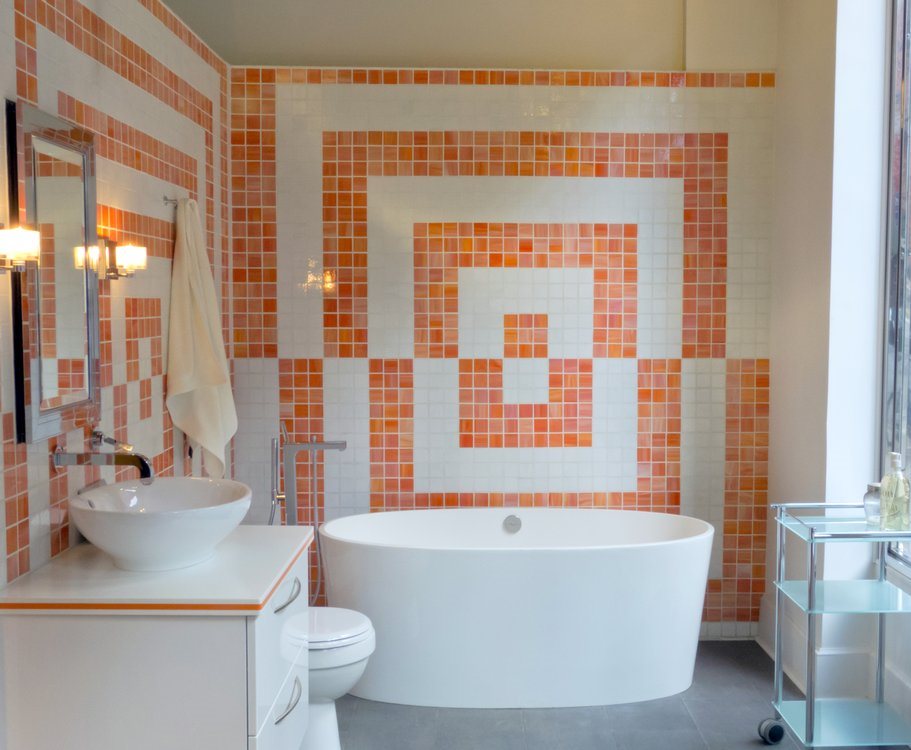 Mosaic tiles are a perfect material for interior decorating. Mosaic tiling techniques permit you to create unique and beautiful bathrooms. Mosaic tiles transform bathroom designs by adding color and texture to a bathroom. This bathroom sinks are great remodeling ideas that can easily redecorate your bathroom by using simple techniques and creating spectacular effects. Beautiful bathroom sinks designed with mosaic tiles look gorgeous, tasteful and elegant. By incorporating your mosaic tile design to your vanity, will add chic and style design to your bathroom.
Mosaic tiling techniques allow to create unique and beautiful bathroom sinks and …tiled backsplash designs and floor decoration, add chic and style to modern – A verdant living wall makes a striking backdrop in this organic-modern bathroom with a white soaking tub. This stunning bathroom was designed by MyHome Design.
We hope you found this bit of information helpful, inspiring, and motivating toward making plans to renovate your kitchen and bathroom.