Home Planning & Renovations
How to Remodel a Kitchen: What Everyone Should Know Before Remodeling
By Tiffany Smolick
December 21, 2022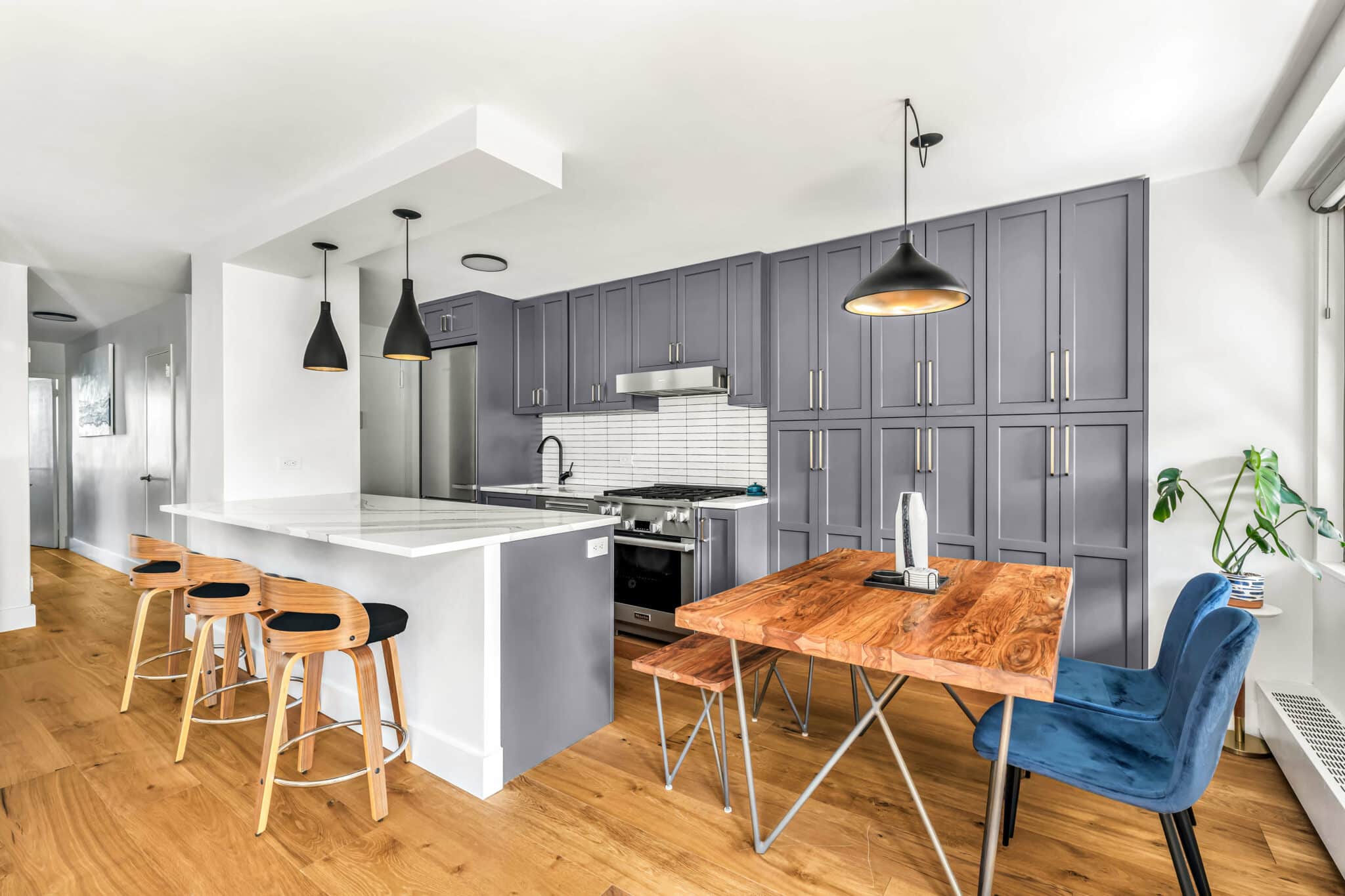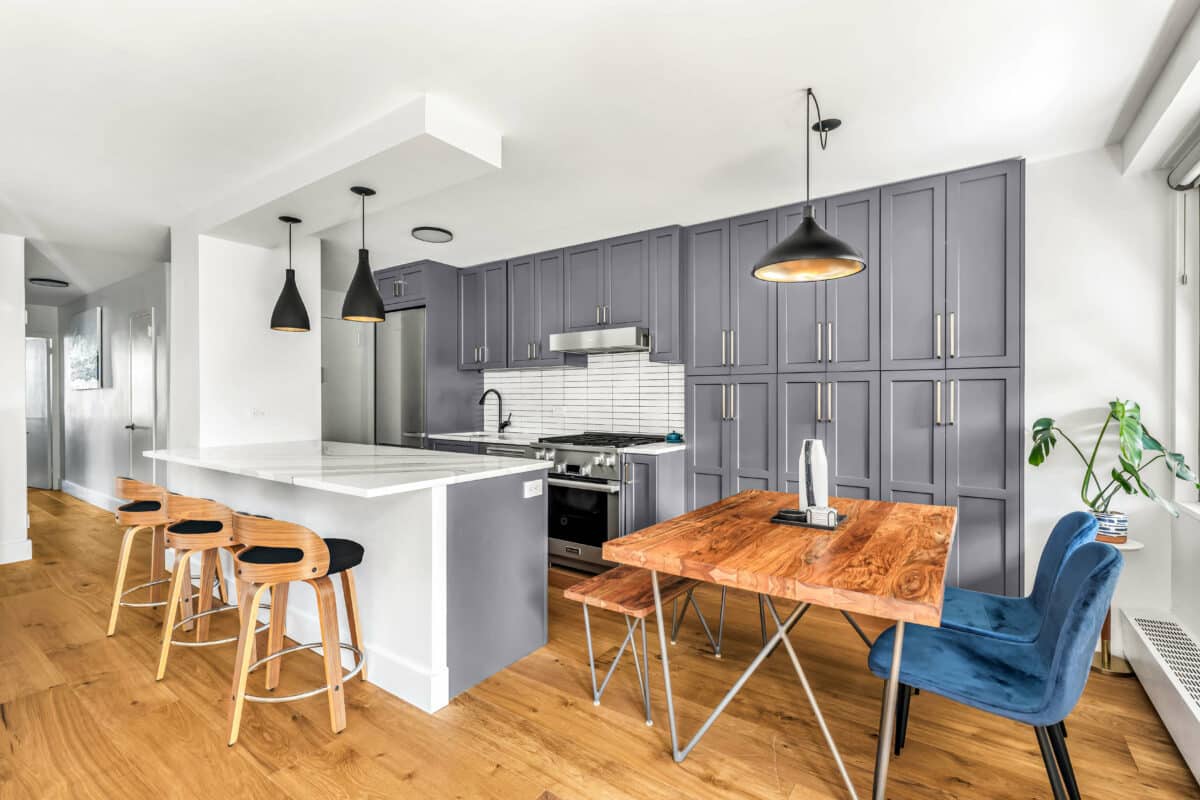 The kitchen is easily one of the most expensive and complex rooms in the house to redo. This is true even when we're talking about minor aesthetic alterations like painting the kitchen cabinet doors a different color, replacing the faucets, adding light fixtures, and so on.
The price for a kitchen remodel can easily go over $5,000. And that's only for cosmetic changes – structural renovations cost significantly more.
Major kitchen remodeling might include tearing down walls, re-imagining the layout, buying new kitchen appliances, an island, countertops, and more. All of it may require a substantial budget of $40,000 or more!
So, before you splurge on an extensive and costly project, consider a few tips and tricks that will help you get it right. This article contains all you need to know about how to remodel a kitchen to create the space of your dreams.
Super Simple Steps for Planning a Kitchen Remodel
A kitchen makeover is the second most popular remodel, right after bathrooms. When it comes to redoing your kitchen, there are certain practices you can adopt to make sure the process runs as smoothly as possible.
Now, it's worth mentioning that not every part of a kitchen remodel can be done by yourself. Sometimes, you need to call in the professionals. However, don't panic just yet!
If you have the enthusiasm and zest to carry out your kitchen remodel, great! We're here to offer some simple yet effective guidelines on how to plan the kitchen remodel project and save money, all while still getting a stunning kitchen!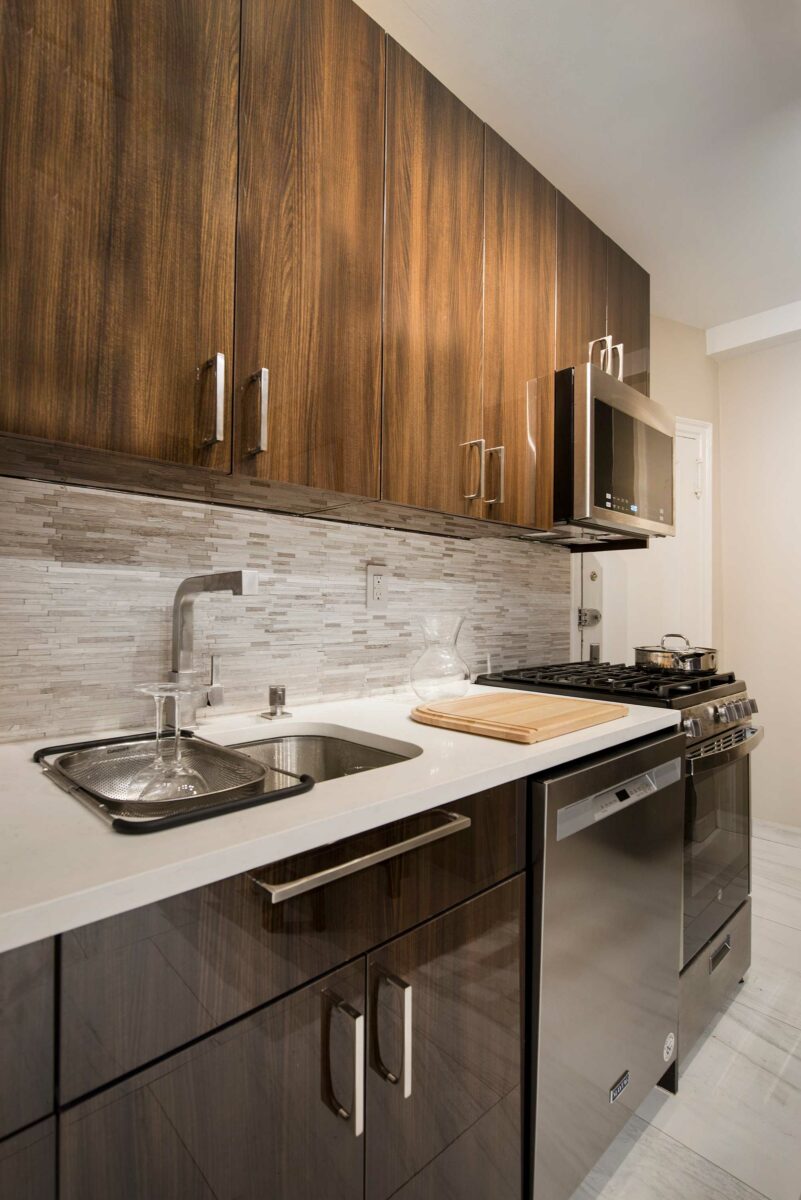 1. Look for Kitchen Remodel Ideas and Outline a Plan
Let's start with the easy part – landing on a decision about what you hope to achieve. For example, do you want a white kitchen with dark countertops, or are you more into shaker-style cabinets and hand-woven kitchen mats?
Online spaces are a great way to get inspired. Check out the MyHome website to browse different styles and see how a project can come together. You can stumble upon something you'd love for your kitchen and incorporate it into your design.
Additionally, if you're doing your kitchen remodel in NYC, you can visit the MyHome showroom to see how all the options would look in real life. You can also get advice from a professional Design Consultant on how to make your vision a reality.
When you find your inspiration, create a vision board or a folder on your computer that can help you organize ideas. You can have this with you every time you need a reminder of which direction you're heading in.
Include visuals of fabrics, patterns, finishes, and other particularities you'll need to complete your kitchen design. If you're planning on making more structural changes to the floor plan, make sure to consult with professionals first.
After you've put together the initial design for your kitchen, start sketching the outline of the kitchen remodel and focus on the room's layout. While outlining your plan, make sure you ask relevant questions, like the following:
How far apart will the kitchen cabinets be?
Where will the island go?
Where should the appliances be mounted?
Do you need a cooker hood?
Knowing such particularities will make it easier to plan the kitchen budget while following your stylistic vision.
2. Settle on a Budget and a Preferred Timeline for the Kitchen Remodel
Once you have a clear vision of what your new kitchen will look like, the next step is to define the budget. Do some research to see the average cost for a kitchen remodel in your area that's close to your preferences.
Don't use exact numbers, and always leave wiggle room for unforeseen expenses. When it comes to renovations, homeowners can't exactly pinpoint a budget, but you should decide on a range that the final cost will fall into.
Further on, you should know the duration of the remodeling process to an extent. Granted, you aren't able to influence external factors, but you should give yourself some semi-specific timeframe to follow.
Professional contractors estimate a kitchen remodel to take anywhere from one to three months, given the range of work, the size of the room, as well as the availability of kitchen items you wish to incorporate into the design.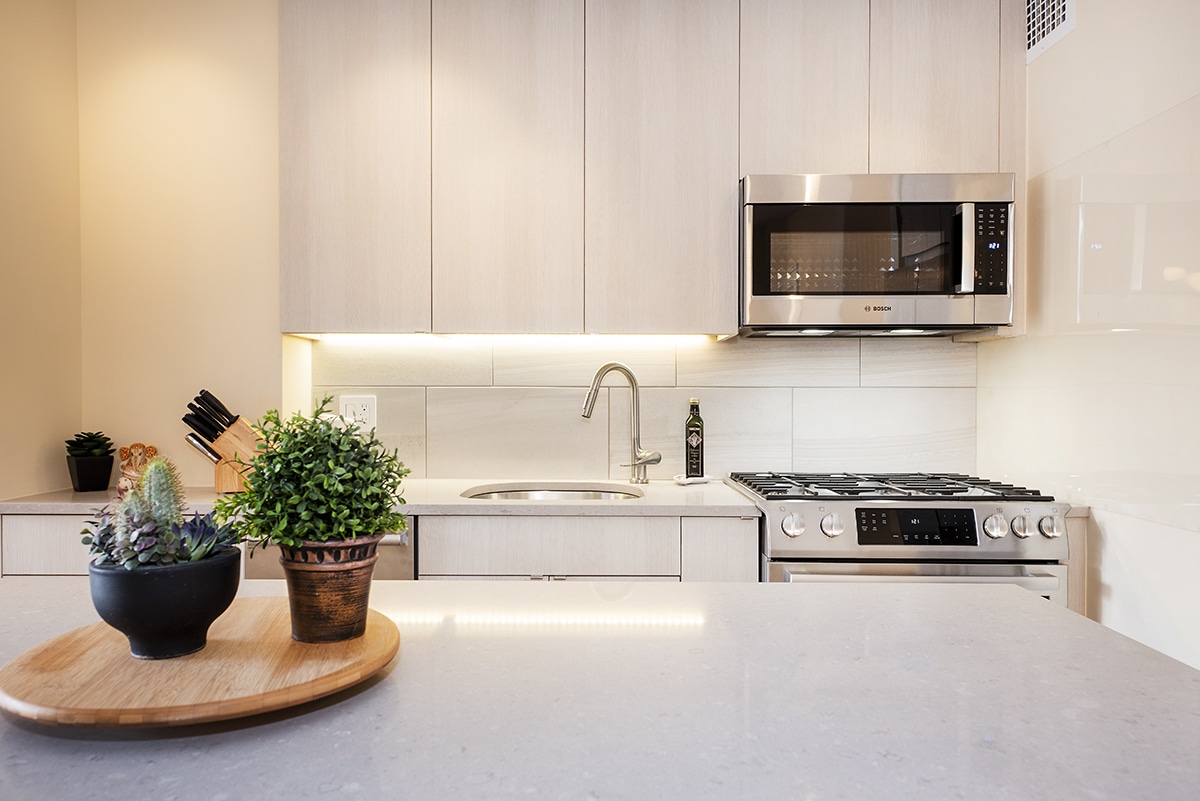 3. Call in the Professionals
Just as every aspect of a kitchen makeover entails different items, layouts, and specifications, there is a professional for almost every job. You have your countertop experts, electrical engineers, professional plumbers, tile layers, painters, island installers, and so on.
Many people think doing some work themselves will save money, but ultimately, working with an expert can be more budget-friendly. This is because professionals know the business, they can help you find materials and appliances, and they'll do the job expertly, so you don't need to spend more money fixing any mistakes.
Even if you feel confident enough to spruce up the look of your new kitchen on your own, you'd still need professional help for a lot of issues. Once you define the budget and layout of the kitchen, call in the professionals! Our team of experienced experts will follow your specific demands and offer the best price-to-quality ratio.
4. Get Ready for Demolition Day
After you have your design, budget, and the right contracts for the project, next up is demolition day! When this stage of the process begins, the majority of homeowners choose to leave the premises and relocate until a part of the project is done.
On the other hand, if the circumstances don't allow it, you can choose to remain in your house, but there are some considerations to bear in mind. Besides staying out of harm's way, here's what else to be mindful of during demolition:
Create a temporary kitchen in another part of your house;
Ensure you have enough working space to prepare small meals;
Use a mini-fridge to store food that spoils easily;
Use only must-have appliances;
Replace tableware with paper plates, plastic cutlery, paper cups, etc.;
Keep packed food close by;
You may not know exactly how long renovations will take, but you should have a rough estimate and understand how long you'll need to manage without a functioning kitchen.
5. Put Your Kitchen Back Together
After demolition wraps up, it's time to reassemble your kitchen. Trust the process, and don't be startled by the new look – it'll come together eventually! As you start putting everything together, follow these guidelines:
Do the plumbing and the electrical;
Add the floors or tiles;
Install your kitchen cabinets;
Find the place for any new appliances;
Secure the hardware on the cabinets;
Add the backsplash.
This is the major part of a kitchen remodel and creates the foundation for your new kitchen, so this is the part where you definitely shouldn't cut corners.
6. Wrap Up Your Kitchen Remodel Project
After all of the remodeling stages have ended, you'll be able to see the somewhat finished look of your new kitchen. See if anything else related to the project needs your attention.
If you've hired a contractor, ensure the agreed-upon services have been carried out before you pay them. Now, you can also put away the temporary kitchen you used during the remodeling and enjoy your new space.
When it comes to renovation leftovers like any sort of debris, cables, wires, and so on, you may clean up the space on your own or hire someone to handle the junk.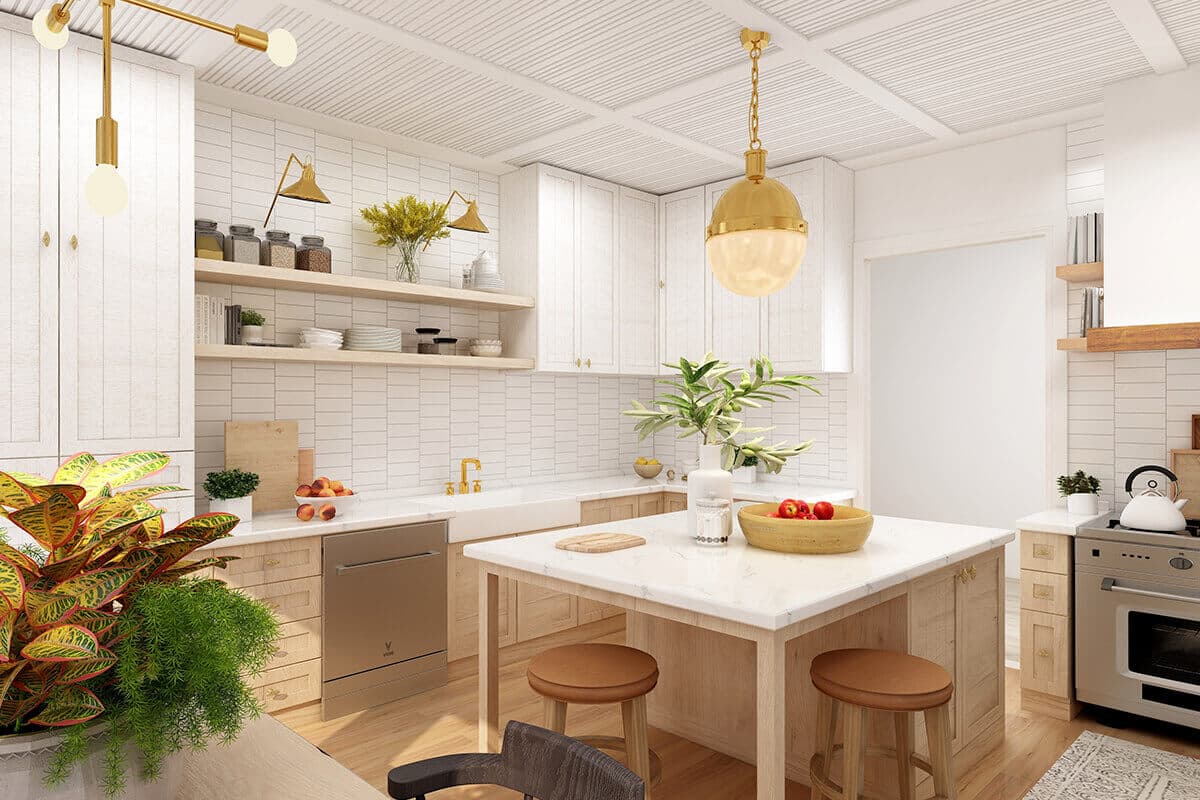 Choose Your Sink and Appliances Early
When doing a kitchen remodel, appliances can make or break the design. Consider all dimensions of the items you'll be adding, and make sure to leave some space for door openings.
Moreover, don't cut corners with ventilation. A kitchen is a place where you often see a lot of heat, water, and fragrant foods. So, invest in a good ventilation system that will let out hot air and prevent condensation or leftover smells.
Additionally, consider your sink before starting the project and pinpoint its exact location. This step is crucial since changing your original plans will incur extra costs down the line.
Call In the Designers
When renovating a kitchen, calling the shots all by yourself is great, but having professional assistance nearby is better. Interior designers know how to approach a design from angles you may not have thought of, and they can greatly contribute to a remodeling project.
The best part about having a professional designer, like our experts, is that you'll be guided through the entire process. A designer is there to help, not take charge, so you'll still call the shots and be kept in the loop on all the expenses, modifications, and everything related to the design.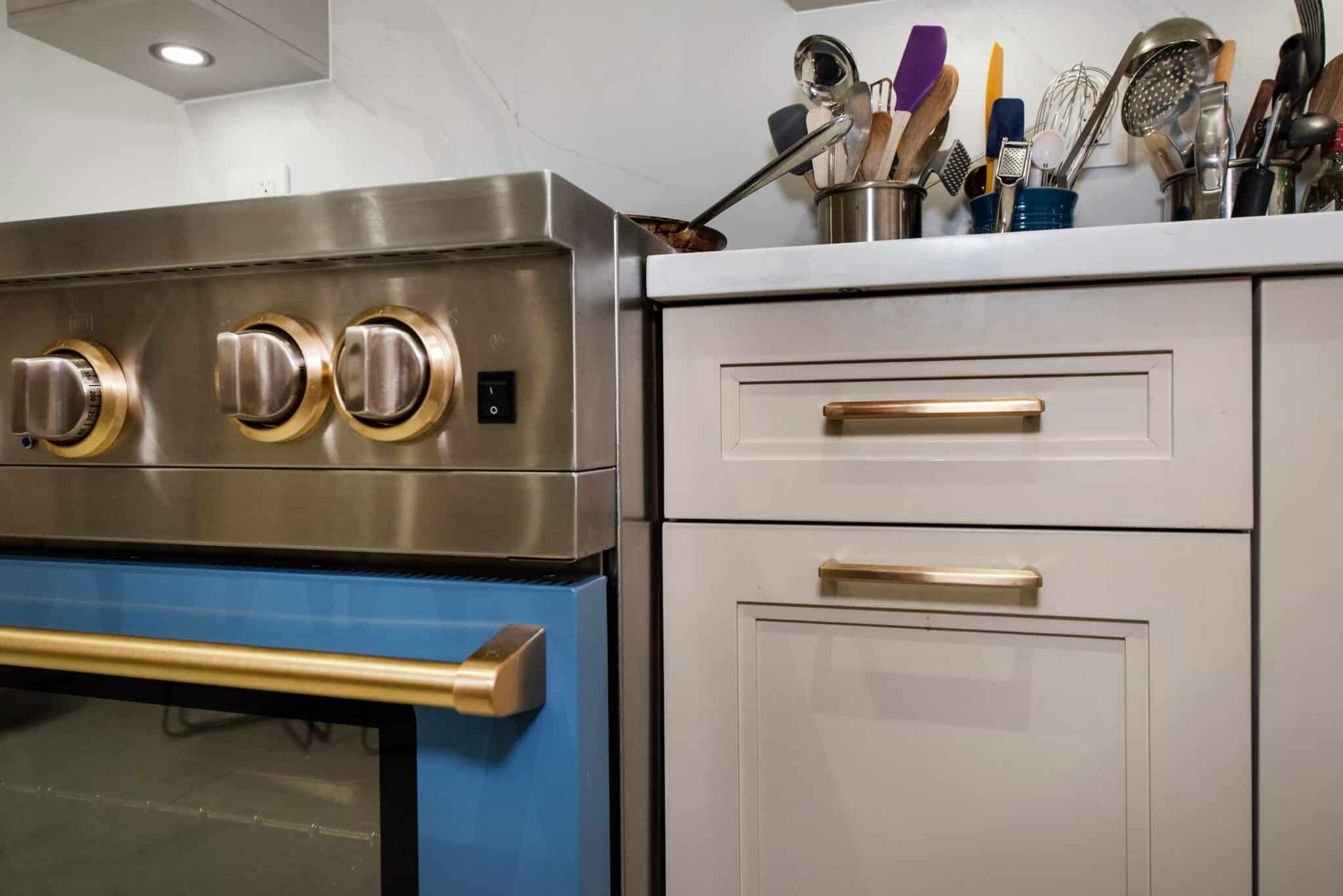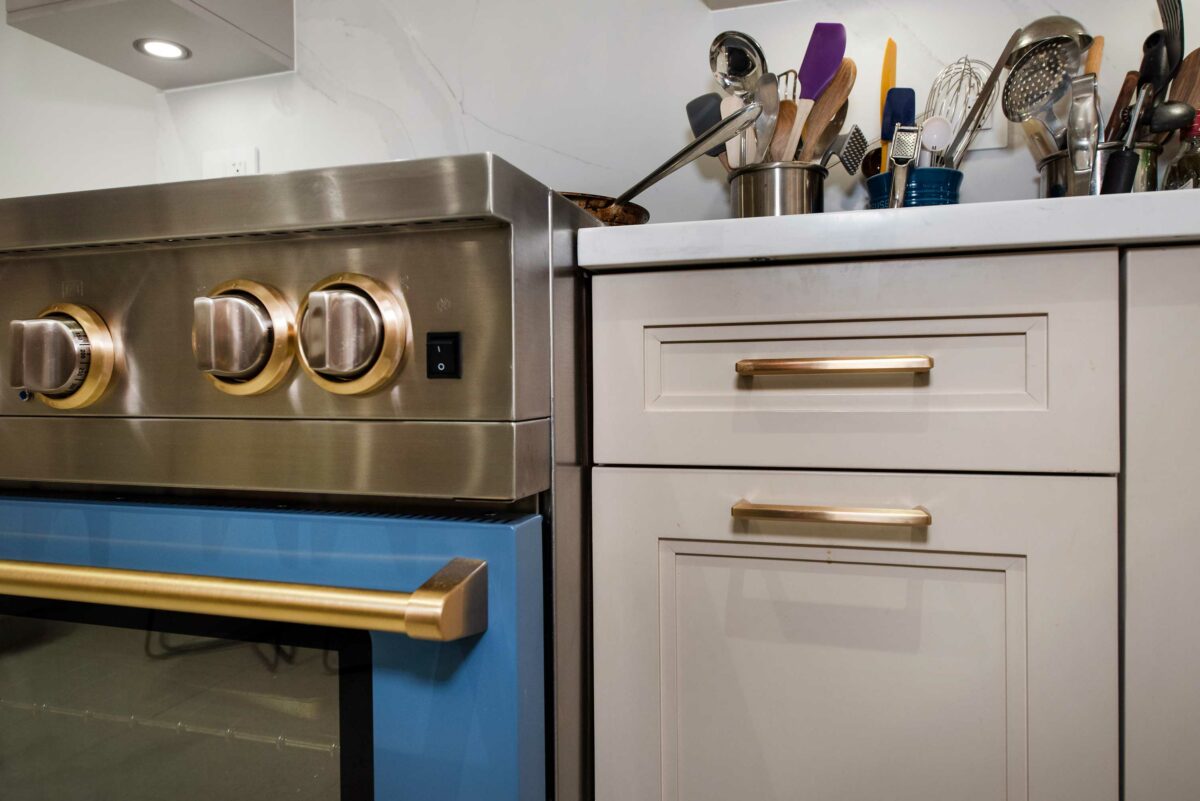 Budget-Friendly Game-Plan for Your Kitchen Makeover
From painting the cabinets instead of replacing them to knowing the most cost-effective flooring alternatives – your kitchen can get a fantastic makeover even on a budget. Next, follow several economic strategies that'll help you get a beautiful kitchen without breaking the bank.
Save Money by Painting the Cabinets
According to designers and constructors, cabinetry amasses up to 40% of the total kitchen renovation costs. If you're happy with the condition and functionality of your existing cabinets, you don't need to replace them.
Repainting your cabinets a color of preference will spruce up their look and allow you to spend more of your budget on other aspects of the remodel, like new countertops, fancy lighting, and so on.
Consider some clever design tips, like removing the doors on some of the upper cabinets! You'll get open shelvings and freshen up the look of the whole cabinetry at no additional cost.
A Quality Faucet Is Worth the Money
The kitchen faucet is easily the most used part of the room, so it's only logical to invest in a quality-made item that'll last for years. Go for a single-handle faucet model and choose one that'll fit nicely in your sink.
Regarding sinks, simplicity goes a long way. Opt for a large, single basin that doesn't go over 10 inches deep. That way, doing the dishes will be easier.
Prep Before You Paint
Before you go all creative on your walls, make sure there aren't any cracks or dents in them. If there are damages, you won't manage to cover them up with primer or paint, so prep the walls instead!
Use sandpaper to even out irregularities, and make sure to fill in any nail holes and seams. After you've prepped the walls, you can go ahead and paint them. This part comes earlier than many think – it's best done before the cabinets are installed and the backsplash is in place.
Choose a Backsplash That's Functional and Adds Character
Whether you go for the evergreen subway tiles or choose an edgier herringbone pattern, make sure you choose a backsplash that's both easy to clean and adds a nice personal touch to the kitchen.
Professional designers will tell you there are a bunch of other backsplash options like stone, metal, glass, beadboard paneling, and so on. If you're considering tiny mosaic parts for the backsplash, you will add a more modern look to your kitchen, but you'll have difficulty cleaning the many grout lines. Whatever way you go, keep both style and functionality in mind.
Give Quartz a Chance
A while ago, quartz overshadowed granite as the most popular kitchen countertop material for your kitchen island or countertops in general.
This stone dupe is a fan-favorite thanks to its scratch-free, stain-proof, chip-resisting properties.
Once installed, a quartz countertop can last a lifetime without any damage or going out of style. You can choose a plain look, a veiny model, or a subtle glitter alternative.
Don't Cut Back on Lighting
Lighting is to a kitchen what windows are to an office – without it, the look won't be complete. There are a few lighting options to choose from, although you might fall in love with all of them. Consider incorporating the following:
Under-cabinet lighting – It's best used to emphasize the space over the countertops and accentuate the backsplash, cabinets, and countertop surface;
Ceiling fixtures/pendants – These will highlight the working spaces like islands, sinks, and peninsulas. By brightening up these areas of your kitchen, you make them the focal point;
Recessed ceiling fixtures – These add a nice touch to open floor plans and work as ambient lights.
Consider Wood-Alike Flooring Options
Wood floors make any living space warm and welcoming, but while they're visually stunning, they lack functionality. Wood floors scratch easily and can wear off quickly, especially in the kitchen.
A better alternative for your floor might be low-maintenance porcelain tiles. These flooring options come in an abundance of designs and can mimic wood and stone. You may also choose laminate and vinyl floorings – they are long-lasting, easy to clean, and come in an array of wood-like looks.
Top Budget-Friendly Guidelines for a Major Kitchen Remodel
As we already mentioned, remodeling your kitchen can be a large monetary investment, and you want to make sure to avoid these kitchen renovation mistakes. However, there are ways to reduce expenses and stick to your budget.
First off, you want to have a clear action plan that you'll stick with. This way, you minimize the risk of any unforeseen costs popping up during execution. You also should consider who will be taking on different tasks in the remodel.
People often think taking on jobs themselves will save money, but they don't fully know how to remodel a kitchen. Hiring professional help is usually the more cost-effective solution. Work experience is a valuable tool, and professional designers, contractors, and workers do it all the time.
Experts at MyHome know how to make the most of materials, so they can be more efficient in their work and finish in less time than any regular homeowner. Additionally, our team can guide you through every stage of the project and find creative ways to work with a limited budget. Find more information on our website or contact us to start your next remodel!