Home Planning & Renovations
Two Types of Waterfall Counters for Your NYC Home
By Tiffany Smolick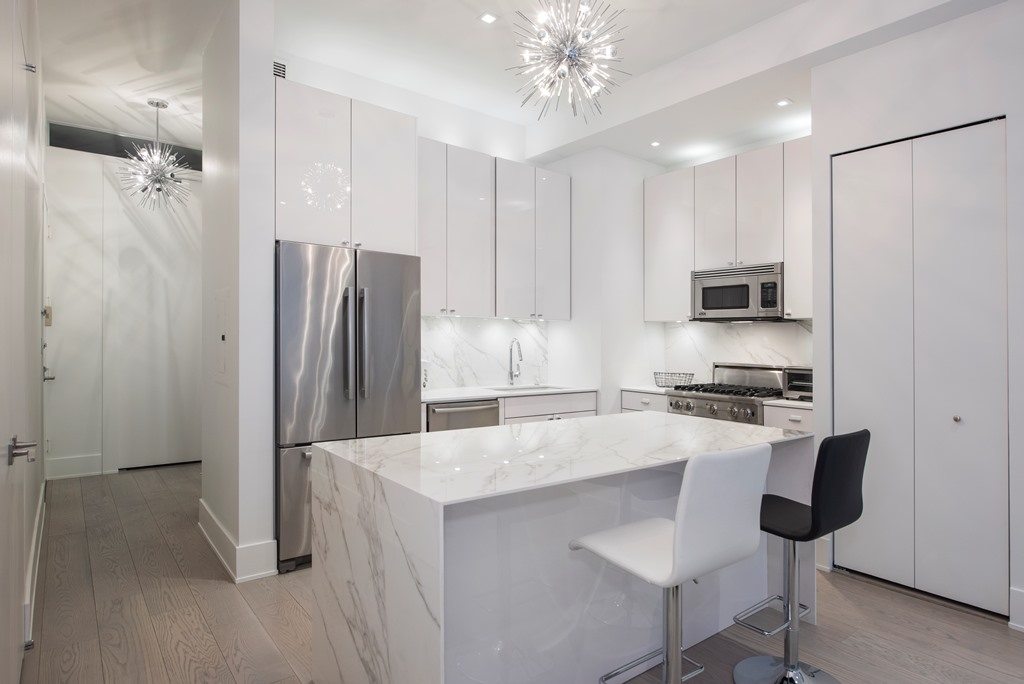 A true waterfall counter or island is defined as continuing your materials with a vertical edge. This means that the material not only runs horizontal and sits on top of your counter, island or cabinets, but it continues all the way down the sides and to the floor. Not only does it help hide cabinets or appliances, it is cohesive and gorgeous.
A waterfall counter or island was at one time considered being an extreme, modern design choice. Now, they are trickling into a variety of kitchen styles as they add a minimally sleek layout to any kitchen design, while help hide appliances and protecting cabinets.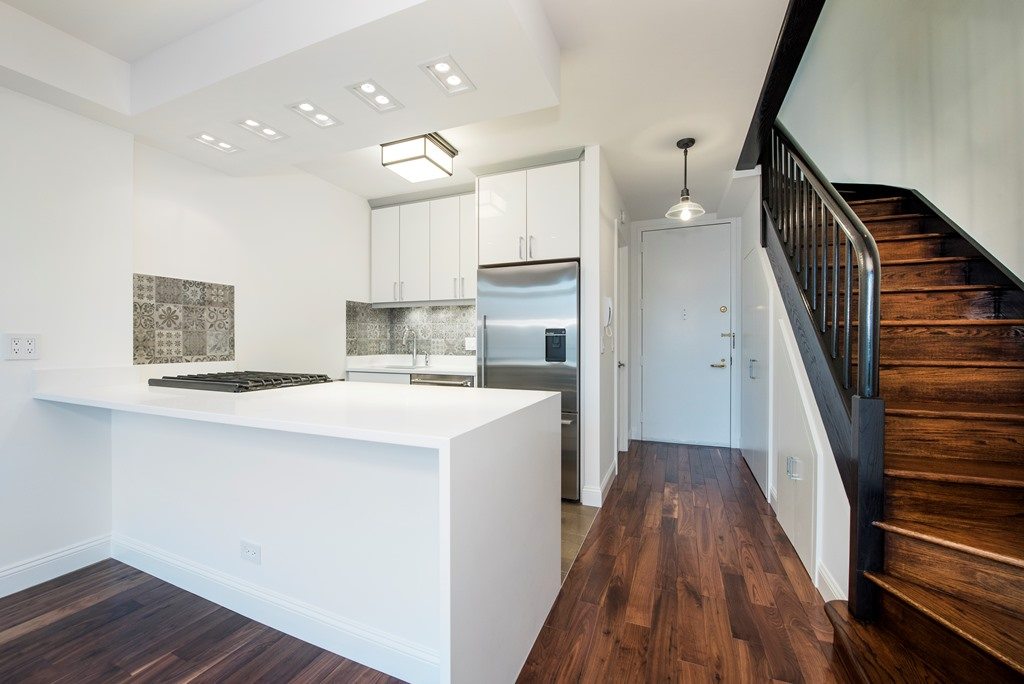 Option 1: Go White
Using the waterfall style allows you to show off more of your counter or island material. Waterfall edges can have an array of different styles and finishes, however, all white is one of the most popular finishes. You can choose to have the joint lines to be cut in a 45 degree edge, as then you cannot see where the pieces have been joined together. You can also have your joint lines cut, stacked and polished to hide the reveal, as well.
An all-white counter or island waterfall will look minimal and sleek in your kitchen. They're also often easier to clean.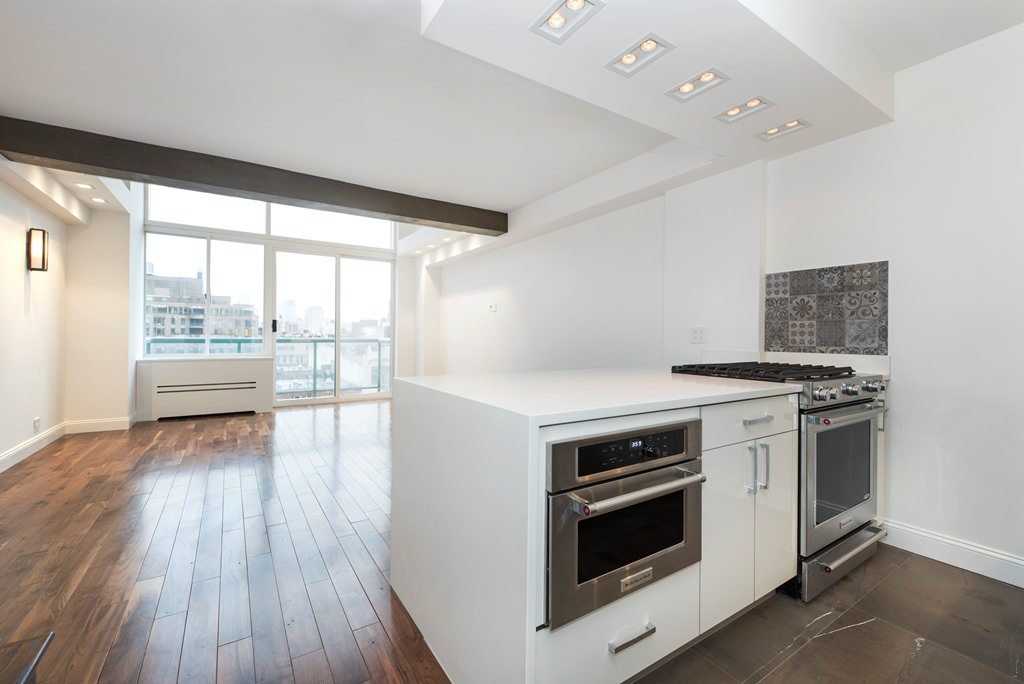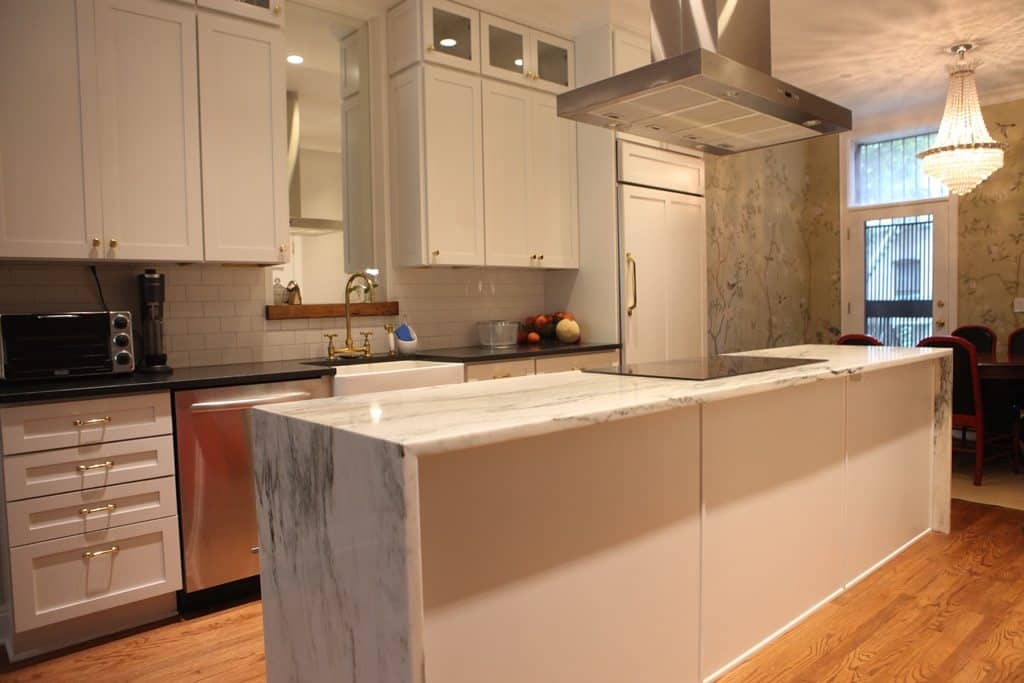 Option 2: Marble and Natural Stone
If you want to create a showpiece, an elegant marble waterfall is a perfect choice as it will add a visual appeal to your kitchen.
Many marbles finishes have very distinct vein lines and patterns, and because of this they are a natural choice for your waterfall edge design. You can have that same pattern from the top of the surface run over the edge and continue all the way down.
Other common stones used for waterfall styles are natural Quartz or Caesarstone, which have similar veining to marble, but the durability of granite. Marble is a brilliant choice for waterfall edges because it highlights the key features that made you fall in love with your stone originally.
A Departure from Traditional Design
Going away from the traditional designs, this type of counter or island edge gives the look of clean lines. In the past, to have a functional kitchen design was commonly confused with a traditional look. Worry not! It is possible to have a functional kitchen and maintain a modern feel.
Whether you are in the market for a waterfall edge strictly because of aesthetics or you'd like to hide your cabinets or appliances, this style can transform your kitchen into a modern aesthetic while staying consistently classic.
Please stop by one of our showrooms where an experienced remodeling consultant or designer will be happy to help you select a new counter or island with a gorgeous waterfall edge.
. . .
We hope you found this bit of information helpful, inspiring, and motivating toward making plans to your NYC kitchen remodeling and bathroom renovation .