Uncategorized
5 Design Tips for Your Renovation: "Fall" in Love with Blue
By Tiffany Smolick
If you're upgrading your kitchen or bath and bringing some blue into the mix you're going to have some fun. You can add blue to just about any design concept without causing a fuss and chances are the outcomes will be even better than you imagined. Here are 5 design tips for your kitchen or bathroom renovation to inspire you to use a splash or two of blue.
So if you're looking for an all grey kitchen a splash of blue will bring it to life and complement the neutral palette. Blue is the perfect crossover color. It can be sophisticated and conservative or patriotic and all business. It can take you all the way from mid-century modern cool to a traditional farmhouse and never once will you question if it makes sense.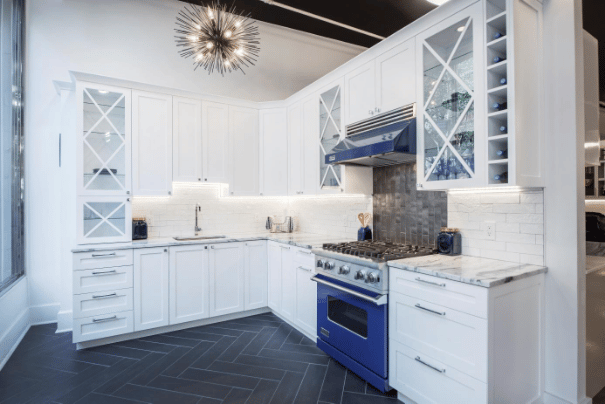 Tip # 1: Make a Statement with Accessories
Traditional shaker-style cabinets are the perfect backdrop for this blue Viking range and hood. Dark blue accessories placed throughout the kitchen add the perfect pop of color and give this kitchen a Hampton beach feel. Drop in that mid-century modern lighting you've been eyeing and everything will fall into place nicely.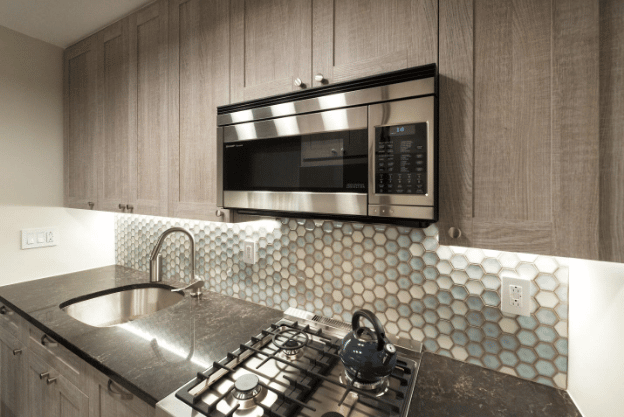 Tip # 2: Balance Warm Neutrals
Warm neutrals are always the way to go for a cozy fall décor, this hexagon backsplash with different shades of blue gives the space a fun modern feeling and balances the warm with the cool perfectly. Imagine serving your friends hot toddies in this beautifully designed kitchen.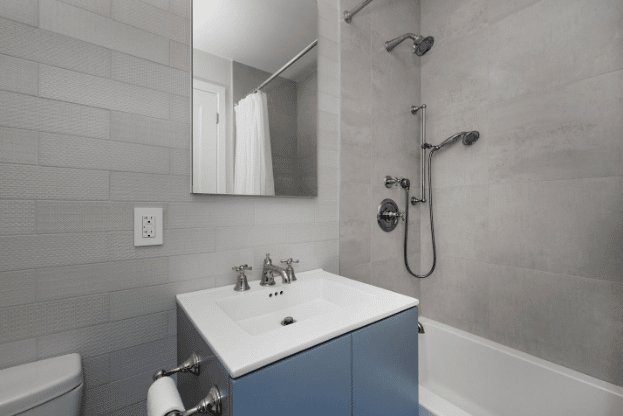 Tip #3: Add a Focal Point
This soft blue bath vanity creates the perfect focal point in this neutral bathroom. Here is another example of how blue is the bridge between design styles. This bathroom has a modern feel even with the traditional faucets, shower, and accessories it all comes together perfectly.
Tip # 4: Create a Cohesive Flow
Here we have another perfectly balanced space with the blue accent starting in the kitchen backsplash and leading us right into the living room. It creates a continuous flow of color that invites you into the space. In this way, we're using the touch of blue to connect the two spaces and make them feel cohesive.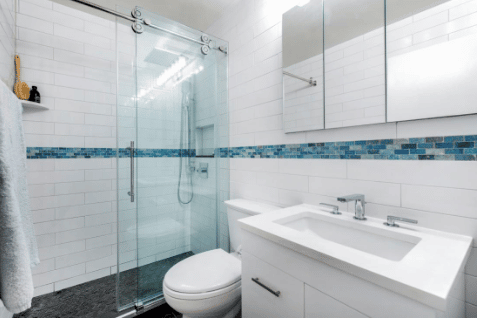 Tip # 5: Create Depth
White bathrooms will always be a classic go-to design. They're clean, sleek and spa-like. In NYC, white subway tile and variations of it are seen everywhere. So, how do we keep pre-war alive in a post-modern age? Adding an accent strip or a niche and popping it out with some color is the way to go. The strip of blue forces the eye to take in all of the space and creates depth. Of course, the added bonus is the wonderful blue mosaic tile. You can see how the similar blue iridescent tile below creates a focal point for the wall in the shower.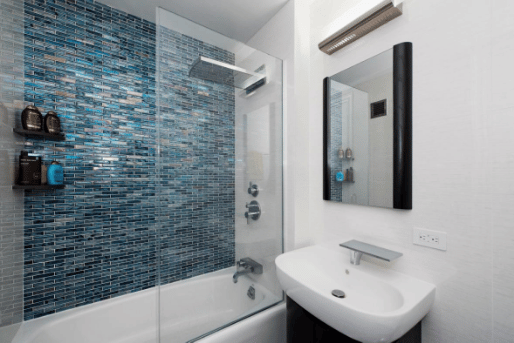 If you're in the design stages of a kitchen or bath renovation and looking for a pop of color, consider adding something blue. It's confident, dark and moody with a hint of playfulness. With blue the possibilities are endless and the only trouble you'll have is figuring out which shade you love more.
We hope you found this bit of information helpful, inspiring, and motivating toward renovating your kitchen.