Uncategorized
Getting Your NYC Renovation Board Approved
By Tiffany Smolick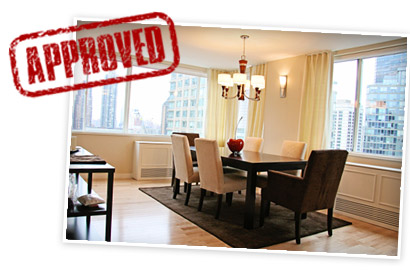 Remodeling in New York City isn't for the faint of heart.
It is labor intensive before any physical labor actually begins. After you've hiked up that design mountain and navigated the internet waters to find the perfect contractors, you reach the shore and fall upon the belief that … You. Are. Done.
Not so fast.
Did you get approval from your Board or building management company for the work you want to do?
Building management companies and/or Boards are somewhat the gatekeepers for anyone wanting to legally begin remodeling work in their New York City apartments. If you don't submit the appropriate paperwork or inform these entities properly, you can safely assume that you 'shall not pass'.
In order to avoid any delays with the start of your remodeling project, here is a list of what you can generally expect to submit.
Alteration Agreement
A building's alteration agreement is basically an application that outlines all the building rules concerning renovations and detailed documentation that will need to be submitted to the management company and/or the Board in order to have your project approved.
Scope of Work/Drawings
This is a detailed account of the work you want to do. Often times, if the work is going to involve structural changes that will change the layout of the current floor plan, drawings from your designer or architect should accompany the written scope or work.
Insurance/License
Contractors won't be allowed within ten feet of the building, much less up to your apartment if they don't carry the proper insurance and licensing. Most buildings require, at minimum, that contractors carry a policy that includes $1 million liability insurance and $2 million aggregate per damage occurrence. There are a few that will require even more than that. In some cases, requiring that contractors carry an umbrella policy up to $5 million in addition to the standard minimum. Also, a contractor's license must be current. They're required to renew their license, typically, every two or three years.
Work Permits
There are certain situations where a permit might be required. Permits are usually requested when there is extensive plumbing, electrical or structural work. It's a good idea to refer back to the buildings alteration agreement for guidelines to what each building would require a permit for, if any.
After all the proper paperwork is in place at the building, the approval turn-around time could take anywhere from a few days to a few weeks, so it's a good idea to get all the above in before ordering materials.
If this post resulted in a migraine, don't stress, for there is help. Look for a contractor who will handle this whole process on your behalf and who will only involve you when absolutely necessary. Our Team at MyHome US are happy to support you with this process – we can guide you through all of the steps.
Start the process by booking a free consultation with us!