Uncategorized
6 Things You Didn't Think Would Fit in a Small NYC Kitchen But Do
By Tiffany Smolick
Tons of NYC homeowners and renters have small kitchens. When watching home improvement shows or visiting family out of town, we sometimes see kitchen spaces that are larger than our entire homes which makes it feel like we cannot have the same designs in our homes. However, most homeowners don't realize that we can certainly incorporate some of those great features into our modest NYC spaces. You might not realize you can definitely include an eat-in space or create storage space into your small kitchen, but you can. Check out these six small kitchen additions for inspiration.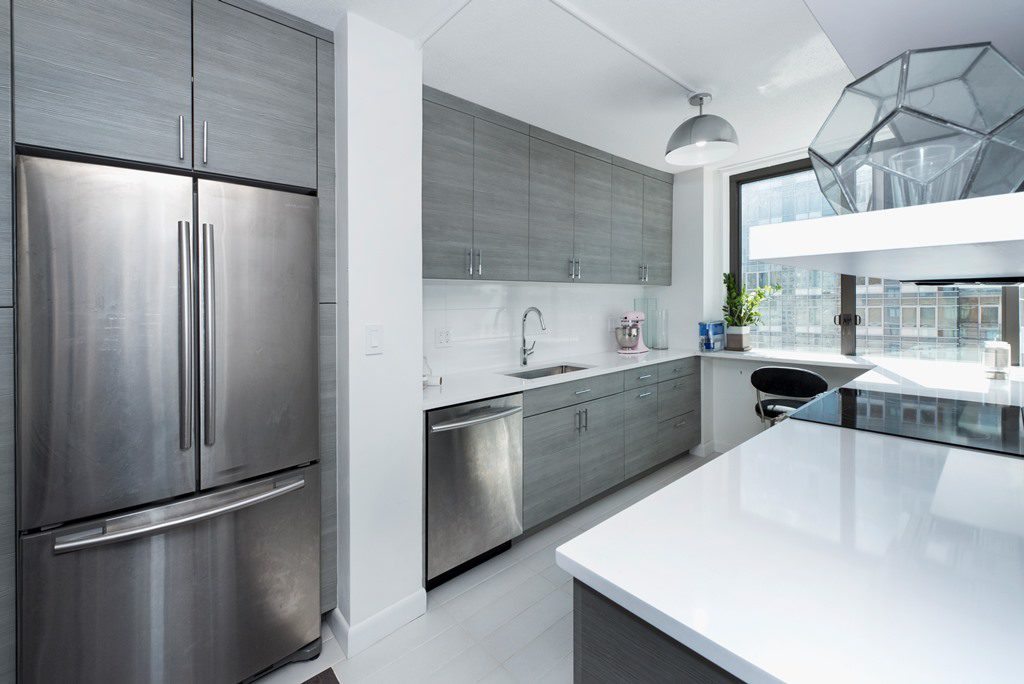 #1: Kitchen Islands
Kitchen islands are always considered a gathering space and center of the kitchen. Despite however modestly sized your kitchen is, an island can provide invaluable space with endless design possibilities. NYC homeowners are now more and more often selecting multi-functional designs. Additionally to their communal function, modern island designs are now prepared to accommodate storage, workstations, bar seating, sinks, and cooktops.
#2: Bar Seating
An active family sometimes uses their island as a dining table, hangout, or work area for themselves and their families. Many on-the-go families eat lots of their meals on their kitchen islands and eat-in areas. Many people's idea of an eat-in kitchen involves a table that seats a party of eight, but you may be disregarding the fact that it might be possible to have room for a table, small counter or even bar seating in your small space.
#3: Storage
If your kitchen feels cramped and you need more storage, taking advantage of your vertical wall space is a perfect option. When you're designing your kitchen, you will see this will be the most expensive element in your design. With countless styles, sizes, and colors to choose from, it it's imperative to choose carefully which will work best for your space.
You can also coordinate with your cabinet style and design and add extra storage to your island design. Before deciding on those options, you should consider all the things you want to store so that your kitchen design will have all the right dimensions for the most functional design for your space.
#4: Vent Hoods
Having a vent hood in your kitchen with limited space can be tricky, but it is very possible. If you're attracted to this design addition, please bear in mind that appropriate ventilation requires calculated planning. Kitchen ranges are almost always mounted against the wall. The reason for this is because it makes it simpler to ventilate the range when it's run through the wall.
However, a cooktop island can be designed as well given the right elements and this will give you freedom to cook your meals at the center of your kitchen.
#5: Waterfall Counters
There was a time that having a waterfall island was considered to be a modern design choice. Kitchen styles are increasing using this design these days. This style adds a sleek design to any kitchen. We typically spot this design choice on large island designs, but it's a great approach for a small kitchen design as well.
#6: Windows
One of the features most homeowners disregard in their kitchen design is your space's natural light and windows are the best source of natural light. If your home or apartment has a window, it can work perfectly into your design as a featured area in your kitchen. By working with your contractor or designer, you should incorporate your window to bring in as much natural light into your design as possible.
Even though NYC homes are often small, you can still include powerful kitchen features with a bit of design and strategy to make your kitchen an incredible space.
. . .
We hope you found this bit of information helpful, inspiring, and motivating toward making plans to renovate your kitchen and bathroom.