Uncategorized
Kitchen Islands: The Hub of Happiness
By Tiffany Smolick
"The kitchen really is the castle itself. This is where we spend our happiest moments and where we find the joy of being a family." ~ Mario Batali
Back in the 1800s, the kitchen was set far back in the home, away from the entertaining areas of the home. It was built for function, a space where servants prepared meals for their hosts. Rarely was this space used by the homeowner.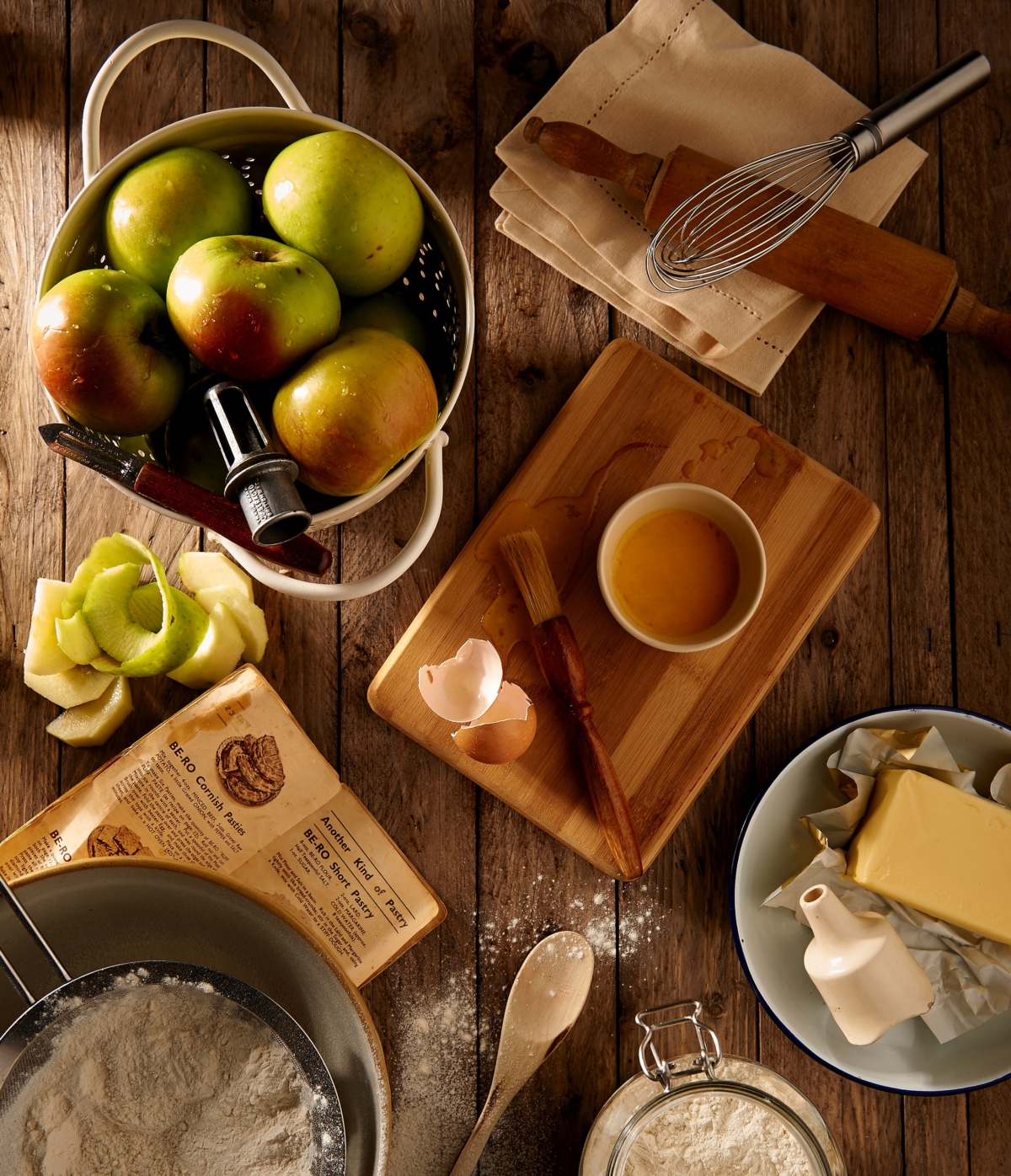 Shortly after World War II, the open floor plan began to make its way into many new homes. In the late 1930s, Frank Lloyd Wright changed the landscape of the urban house. In the wake of the great depression, most middle-class homes no longer had live-in help. He wanted to design the spaces to spill into one another, allowing the homemaker to interact with the family, while preparing meals.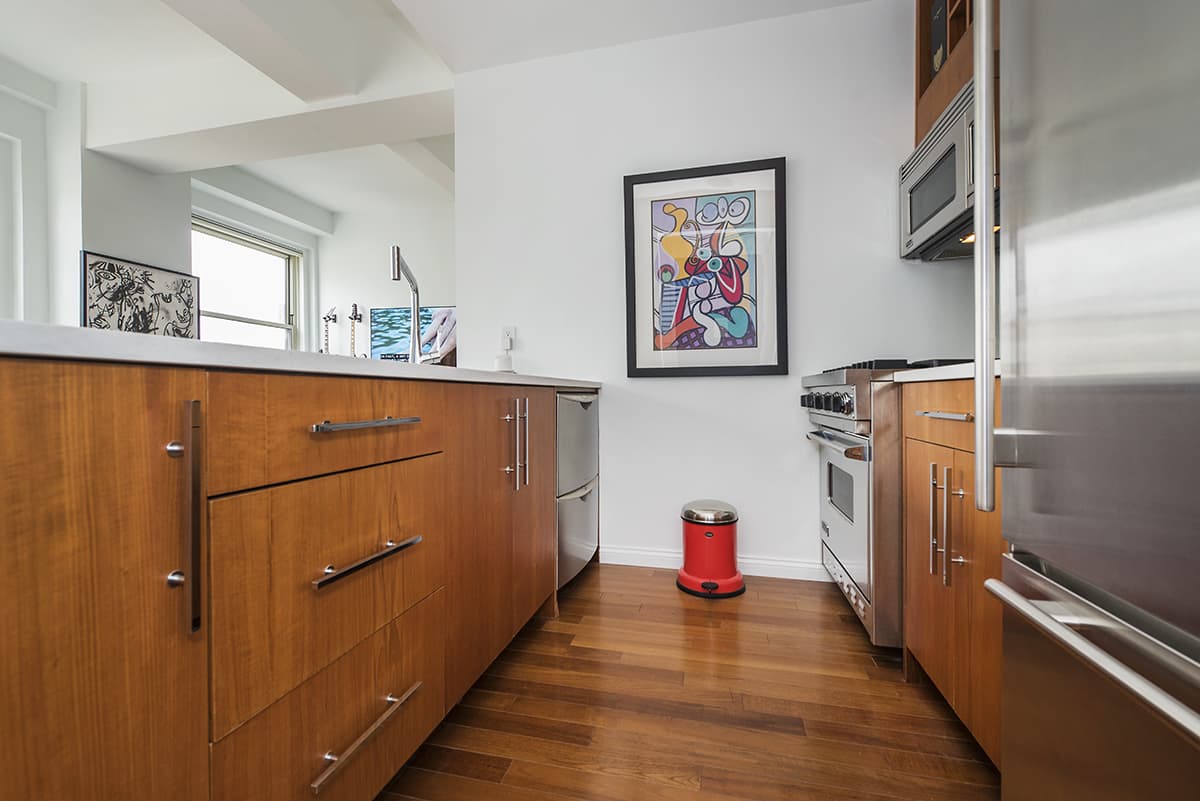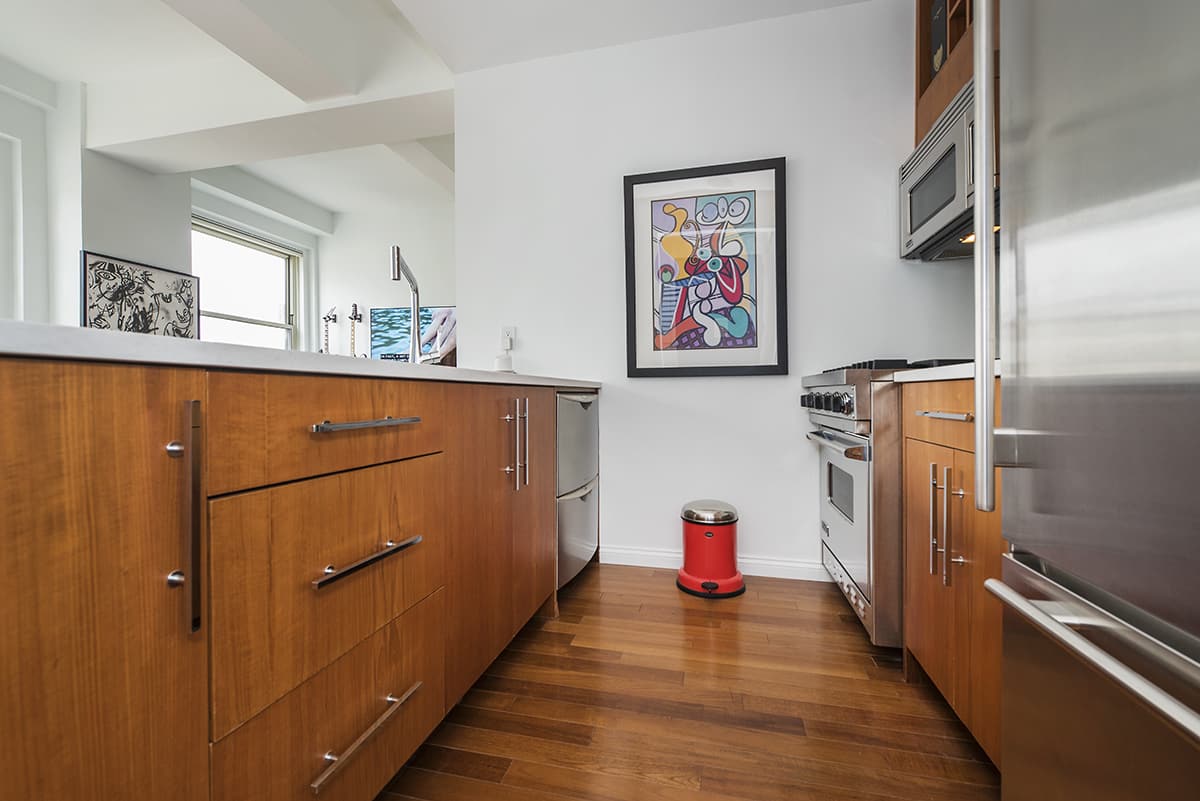 As you can imagine, the average NYC apartment doesn't offer up that open floor plan of interior design bliss. This can be quite challenging for a growing family, or those that enjoy hosting the occasional soiree. As designers, we have to be able to think way outside of the box.
We have to dig deep to create spaces for our clients that bring the best space has to offer to the table. So here are three kitchen island design tricks to save space PLUS we will start off with two tips to get your renovation started quickly and smoothly!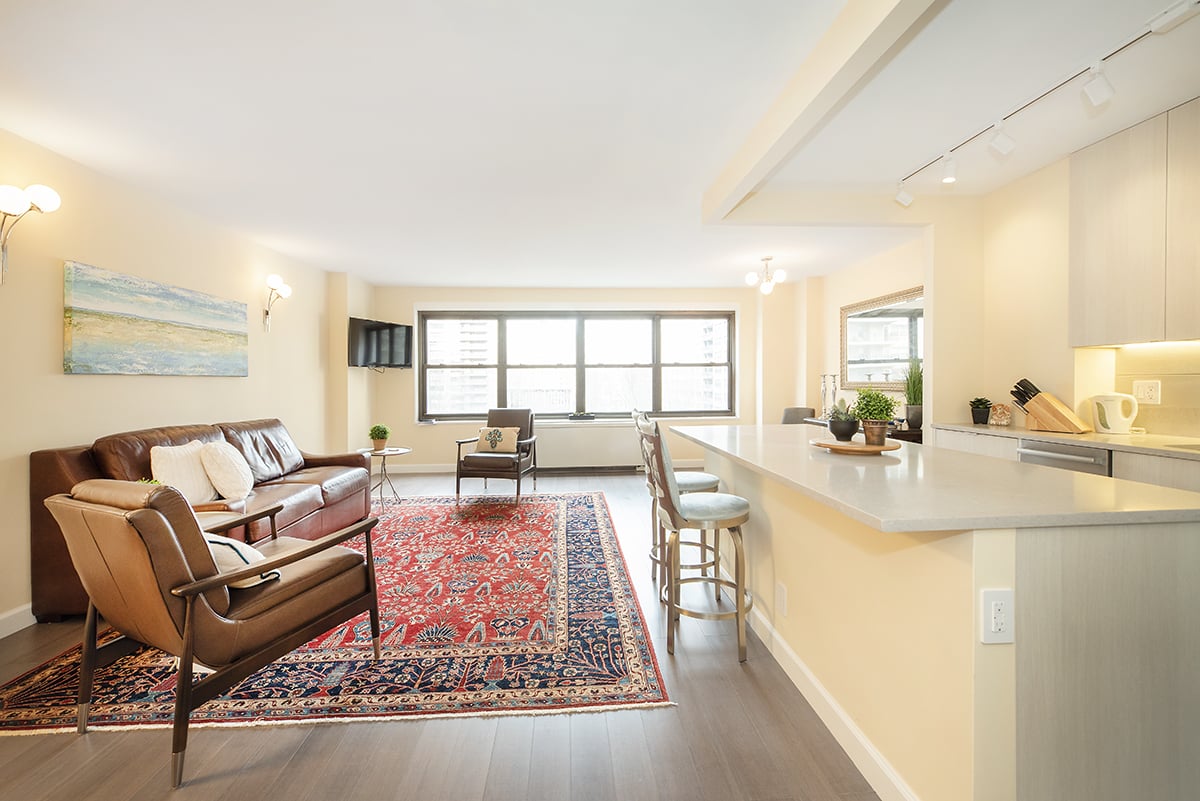 PRO TIP: Safety should always be the first factor when you are discussing opening up your NYC space. It will cost a bit of money to take down a wall. First, you need to confirm it is not load-bearing. You will need an engineer and an official report for your building management company. Second, you will need an architect. There is no way around this when pulling a work permit from the DOB which you will need to get your project approved. Click here to see our list of NYC architects.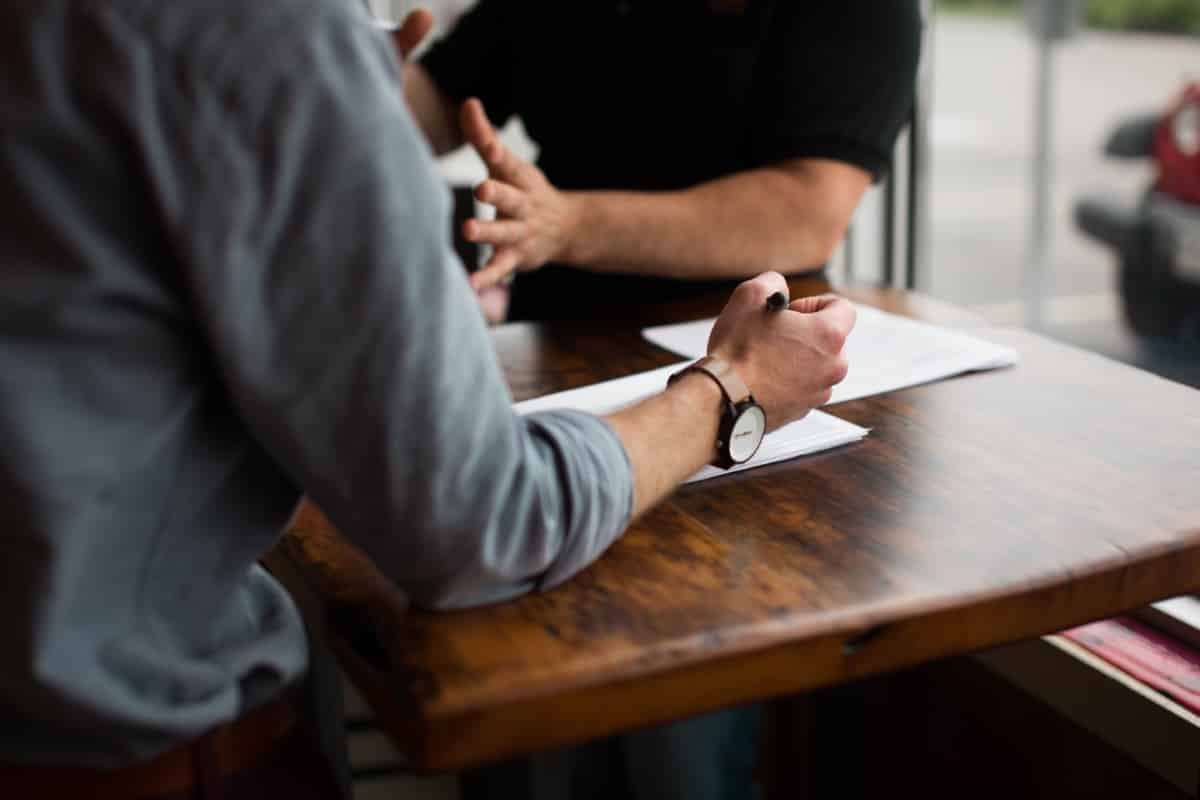 Let's talk Kitchen Islands!
The kitchen island has become the solution to so many space challenges. Offers up storage, more work surface, and a place for family and friends to eat, drink and be merry. The great thing about the kitchen island is it can be completely customized for your space, and it can be fully equipped with everything you need from under counter microwaves to pop up electrical outlets. The possibilities are endless.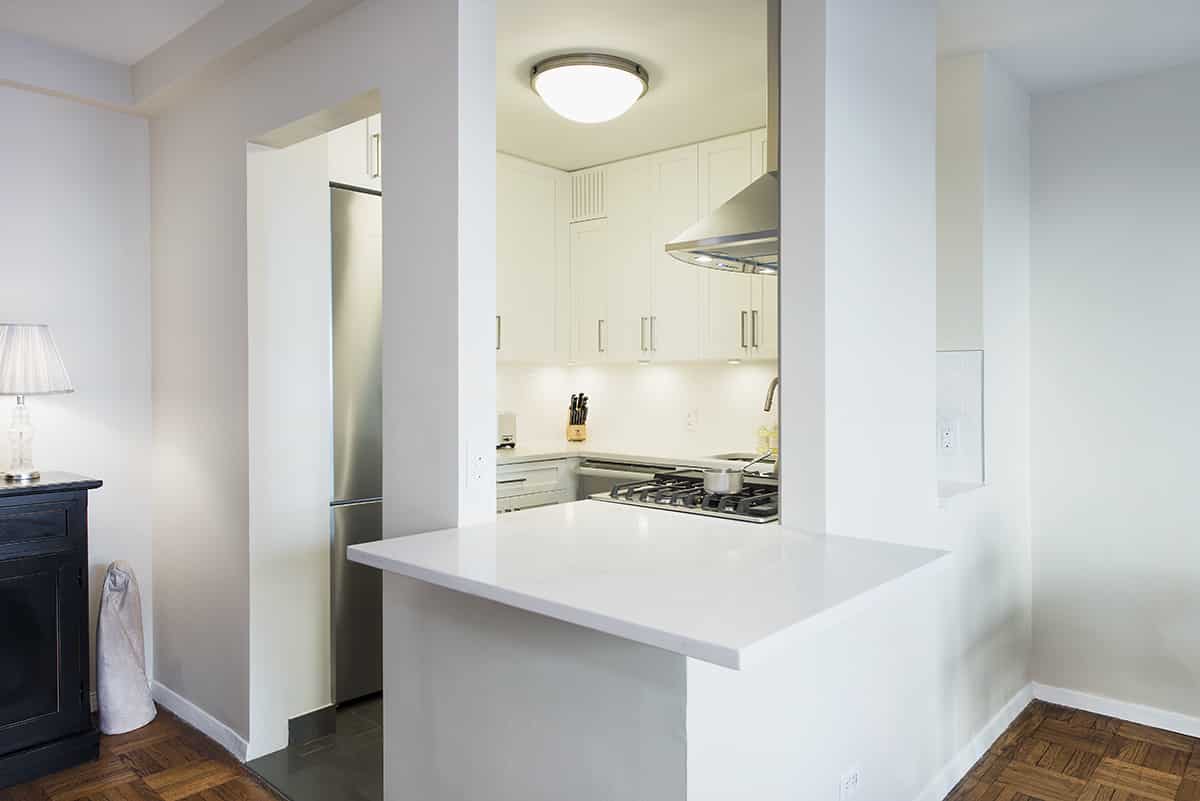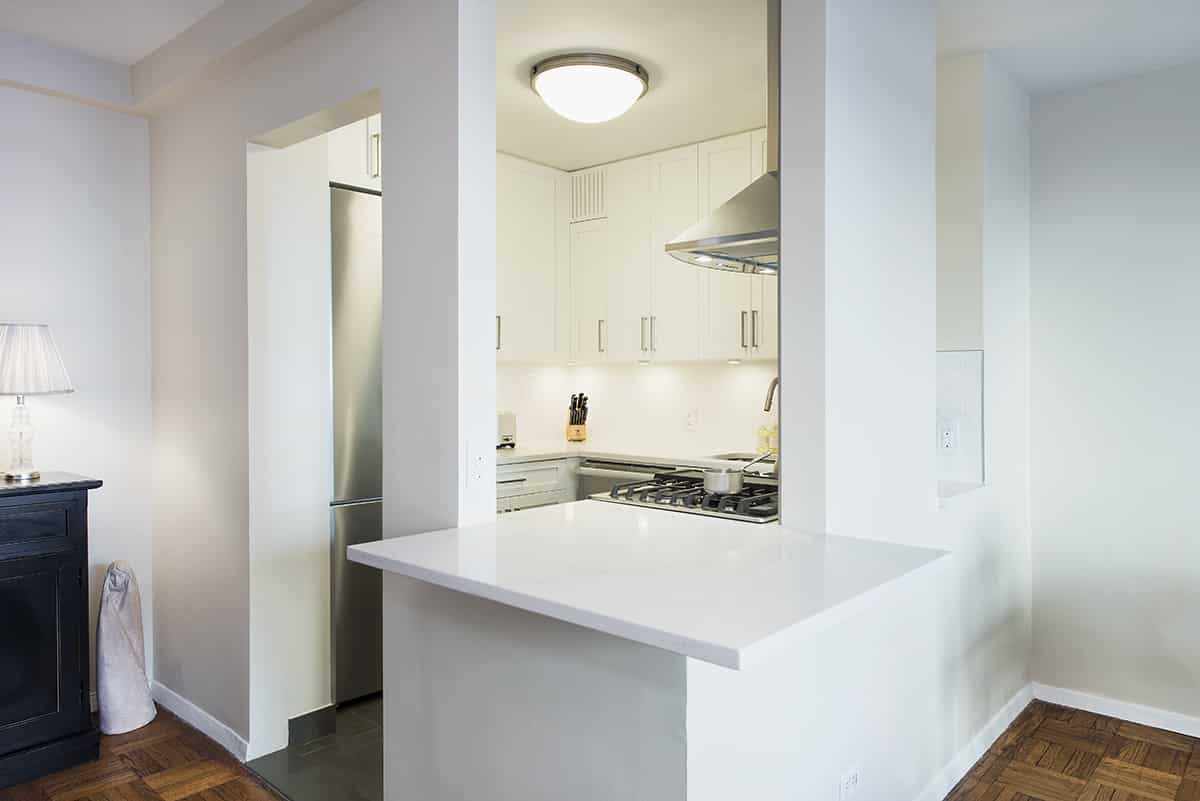 Design Trick # 1:
For a beautiful focal point, add a waterfall countertop or, wrap the island in something textured and unique like reclaimed wood.
Kitchen Design Prediction for 2022
Client request, professional expos, and design trends are showing the island will be made of different materials and colors. This making it stand out as an individual design piece.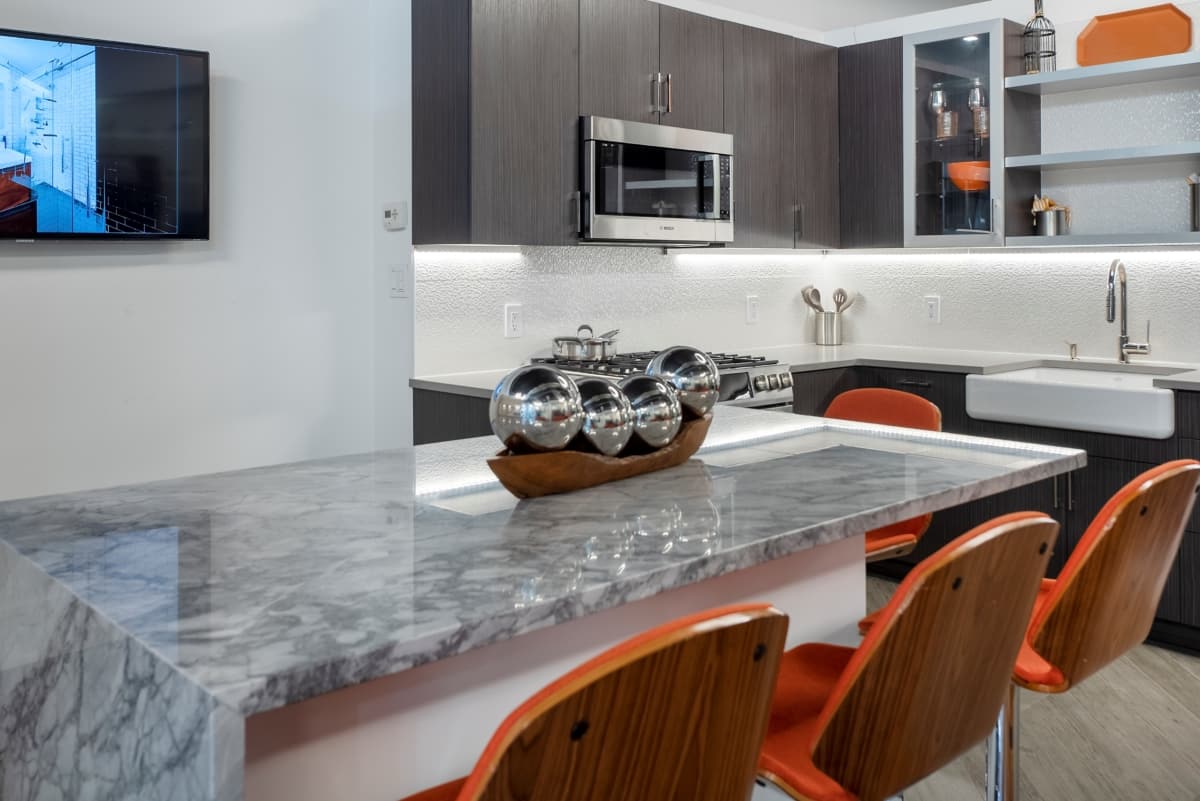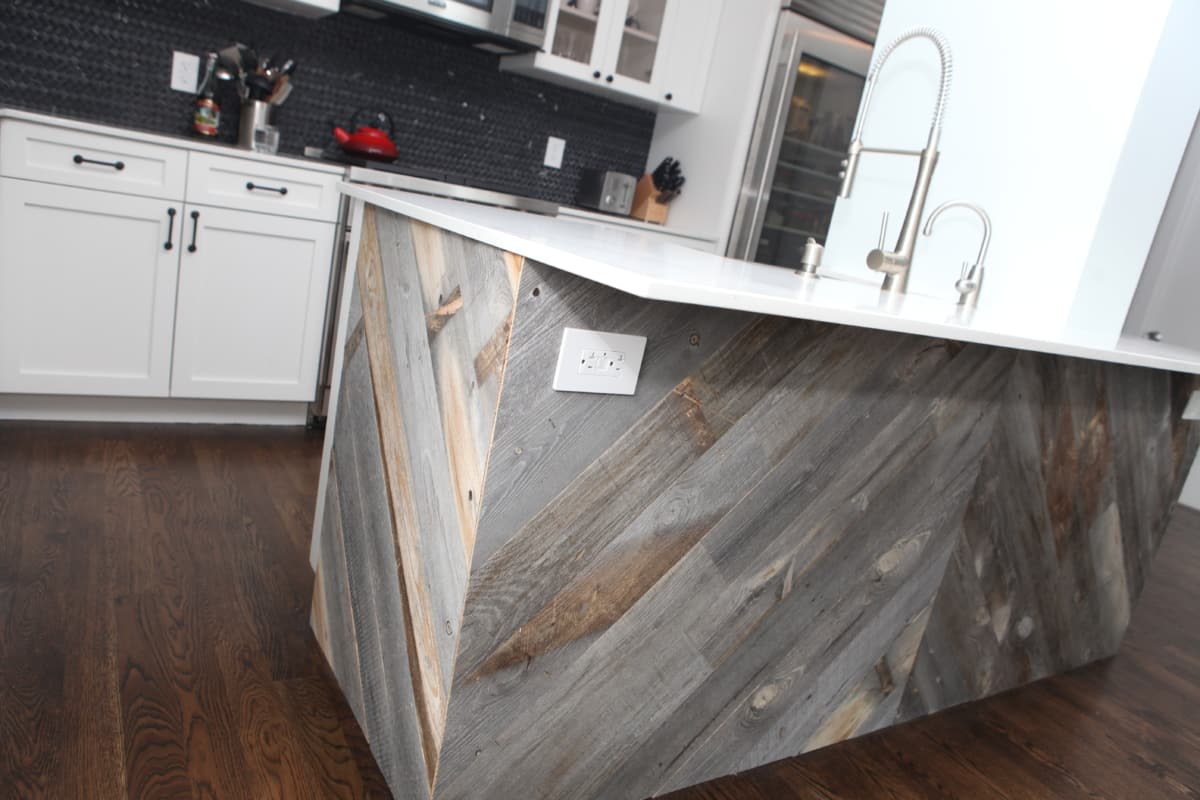 Design Trick # 2:
Adding a dishwasher and sink to your island also allows you to clean up and still engage with your family and guests. With increasingly busy schedules, mealtime has become an import time for families to spend time together.
A well-equipped kitchen island helps us reclaim cooking time for family time.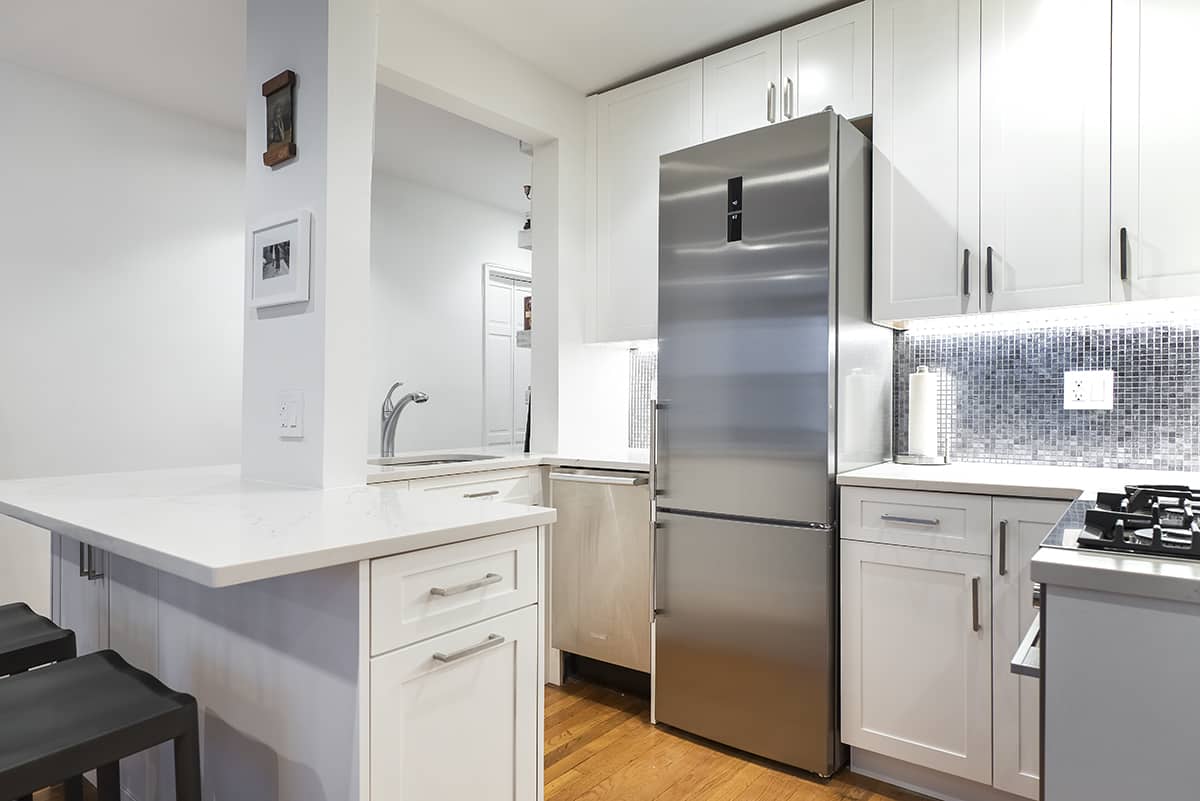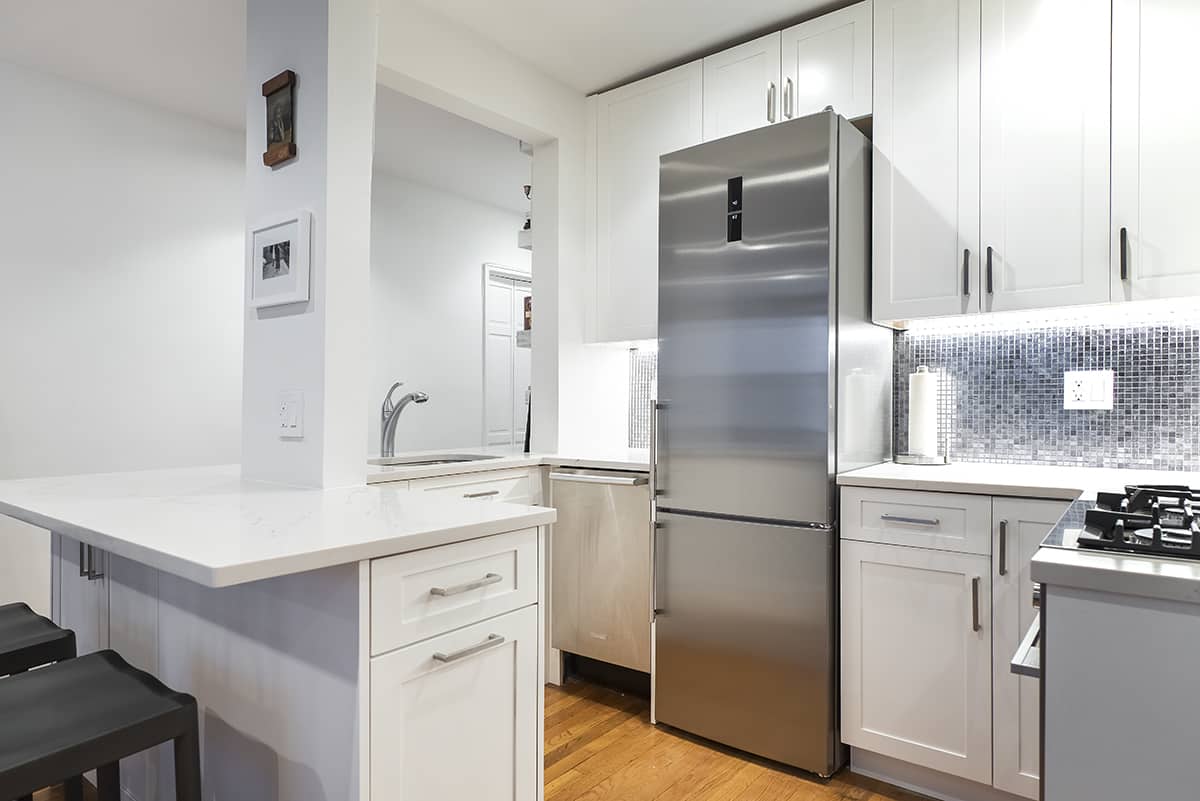 Design Trick # 3:
Have a column you can't move? Why not add base cabinetry and create additional work space and storage! It's the perfect spot to put mail, keys, and flowers to brighten your apartment.
PRO TIP: Working with a designer ensures you'll use the unique features in your NYC apartment thoughtfully and creatively. This way you can get the most out of the space you already have.

Meet Our In-house Design Team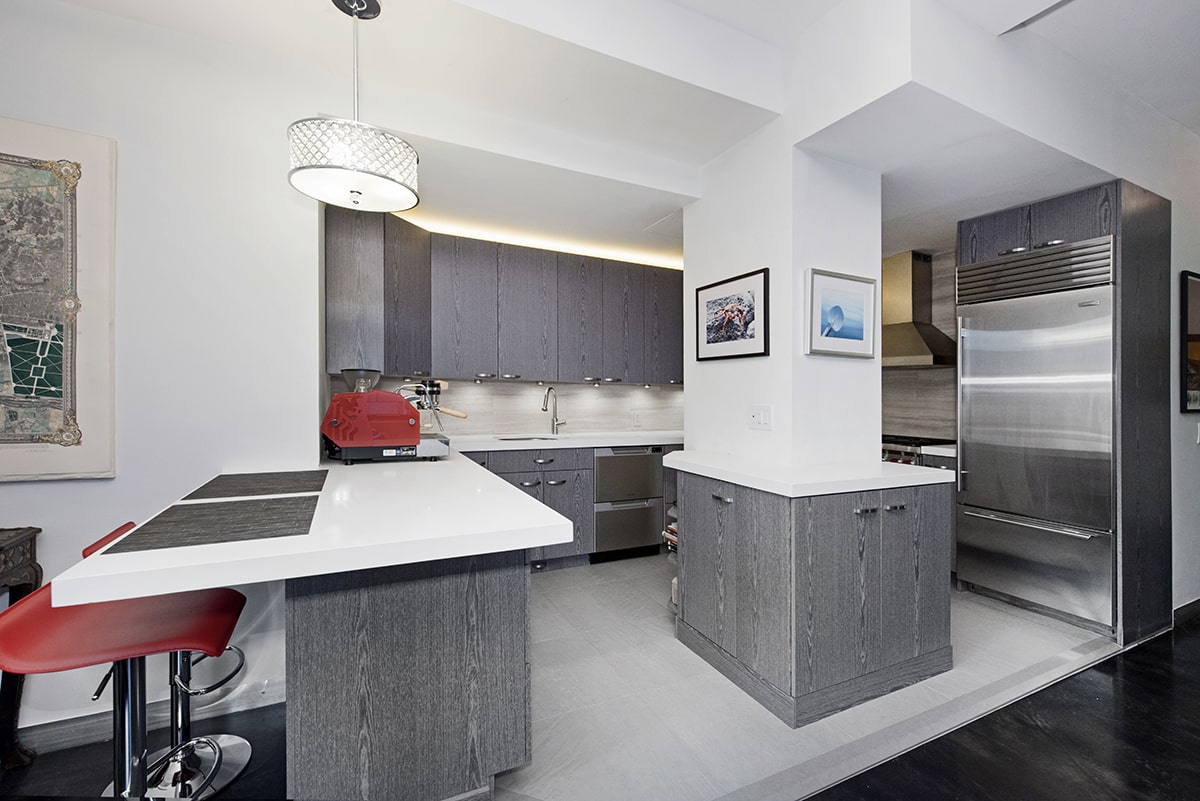 If you would like to open up your kitchen, talk to one of our designers about renovating your kitchen. The storage options available on the market today are so genius!

At the end of the day, it's all about spending time together. We hope this article offered some ideas for your NYC kitchen renovation. From our home to yours, thank you for stopping by.