Home Inspiration
25 Stylish Kitchen Tile Backsplash Ideas
By Tiffany Smolick
The kitchen is the heart of the home. This is where you eat, cook, live, and love; therefore, there is no question you want a stylish and comfortable space to enjoy.
One element that can quickly transform any kitchen is the backsplash. Here are 25 of our favorite kitchen tile backsplash ideas to revamp your kitchen.
1. Mother of Pearl
With a natural iridescence, mother-of-pearl tiles can add taste and richness to a kitchen design.
2. Glazed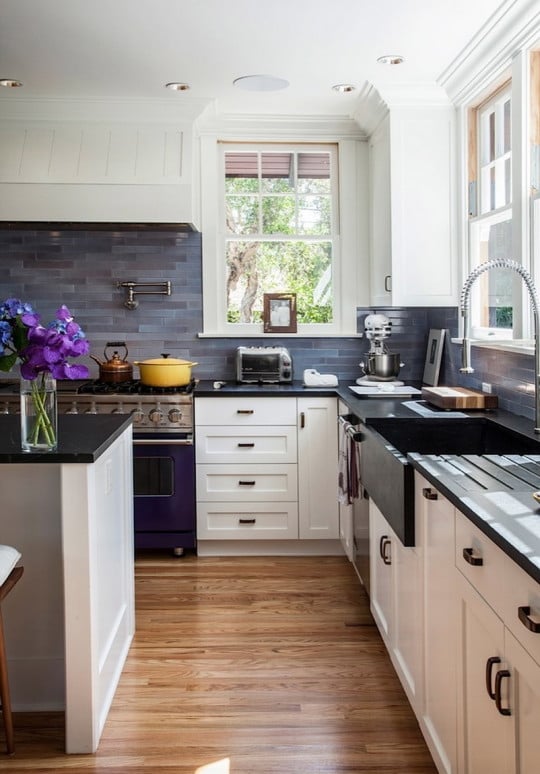 (via)
Unique and colorful, the shifting tones of a glazed kitchen tile backsplash add instant drama.
3. Light Glass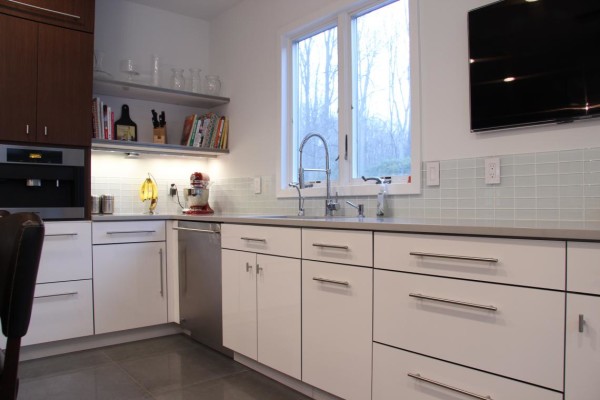 (via)
Another way to bring beautiful light into your kitchen is by using glass tiles in sea glass hues for the backsplash.
4. Mosaics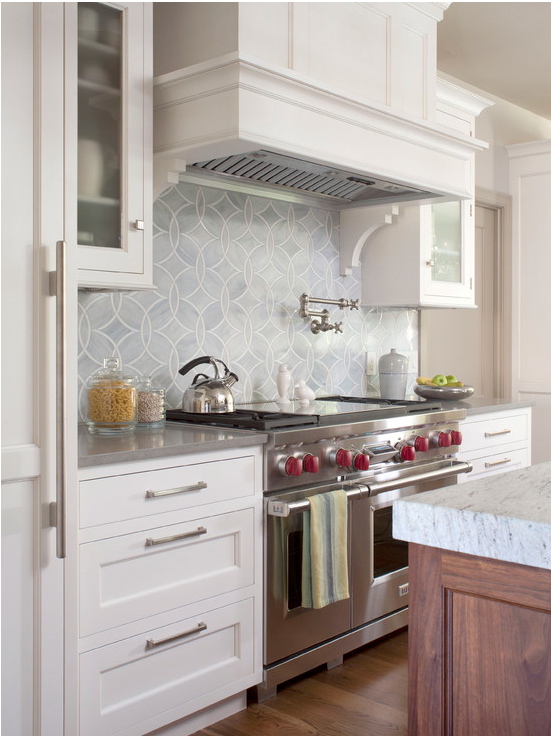 (via)
Don't be afraid of patterns. Choosing a unique pattern for your kitchen backsplash tile, like this mosaic tile backsplash, is a stylish option.
5. Herringbone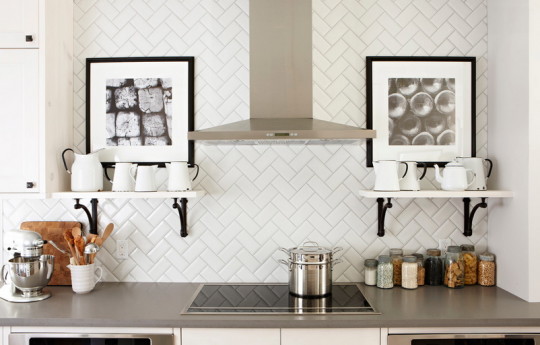 (via)
Choosing a classic white kitchen backsplash tile and installing it in a herringbone pattern can instantly add visual interest.
6. Contemporary Chic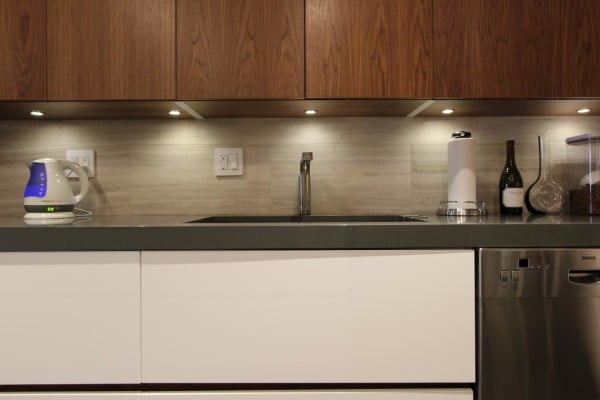 (via)
Consider using large stone tiles in a horizontal pattern behind your sink. This can help your kitchen feel fresh and energetic.
7. Translucent Tile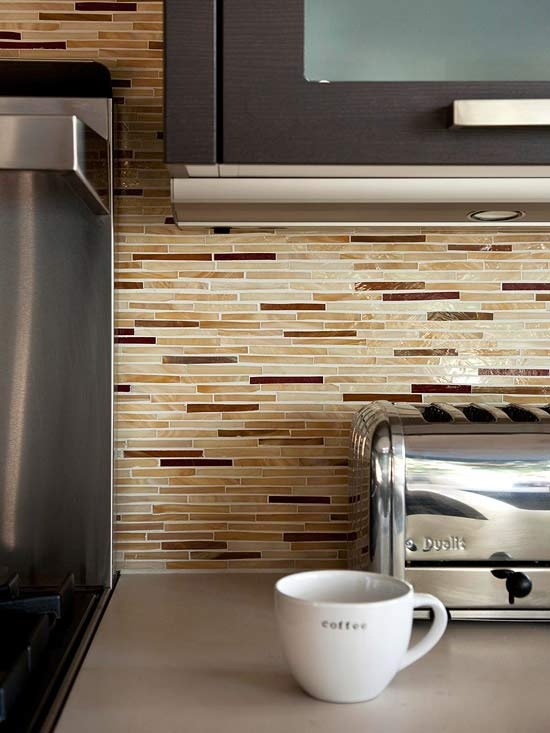 (via)
Create a glowing kitchen by choosing slim glass tiles in a combination of creamy hues and stone tiles with coppery shades.
8. Bronze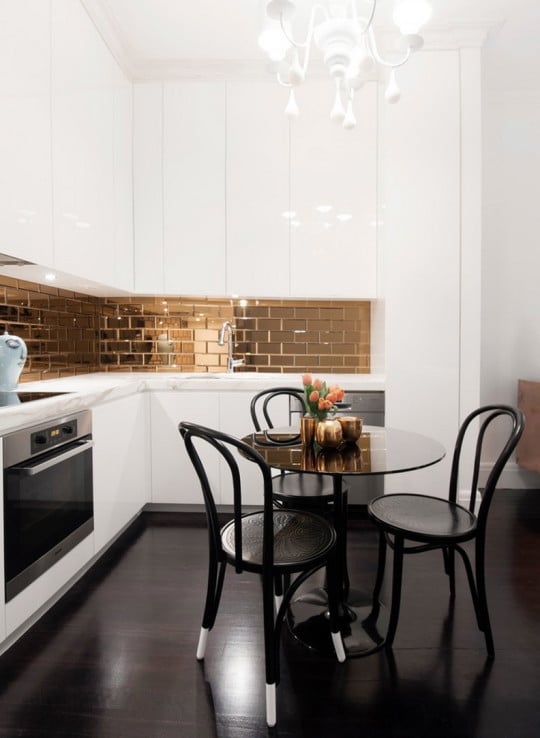 (via)
Warm metal accents are a big home design trend for 2015. This bronze metal mirror backsplash tile gives a sophisticated look.
9. Go Green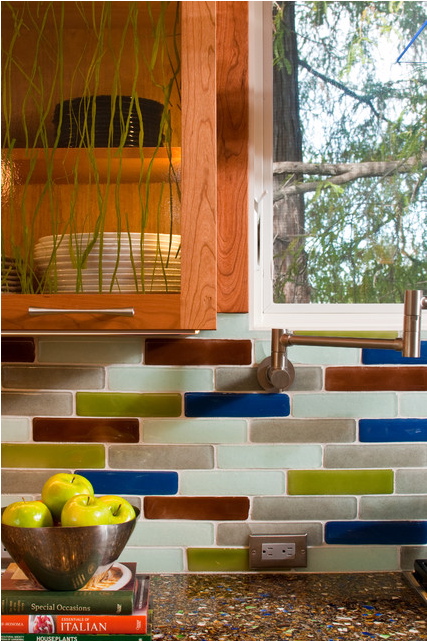 (via)
Create an earth-friendly kitchen backsplash that also has a ton of style by using recycled glass tiles. You can find colors to match any décor you have.
10. Painted Glass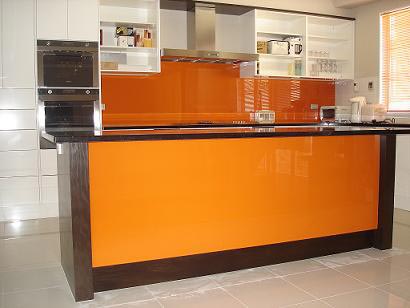 (via)
If you are looking for clean kitchen tile backsplash ideas, sanitary and seamless then consider installing a single piece of glass, painted on the back. This offers style and function.
11. Mix it Up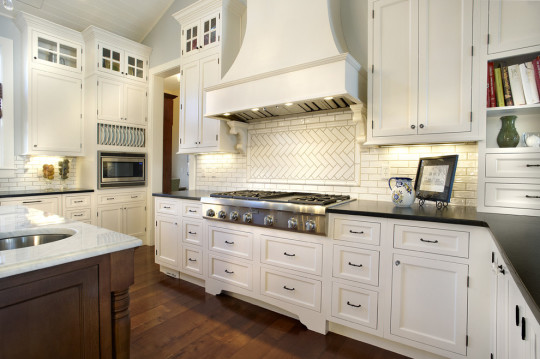 Using a basic subway-style kitchen backsplash tile and changing the pattern can add sophistication to your kitchen.
12. Create a Sense of Space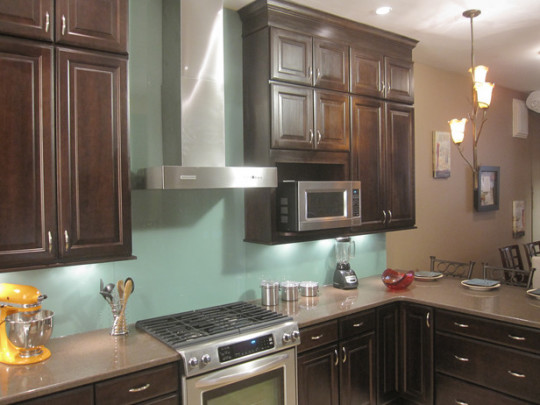 If you have limited space in your kitchen, then selecting a single-color tile backsplash (with no texture or pattern) will help the kitchen appear roomy and uncluttered.
13. Subway Tile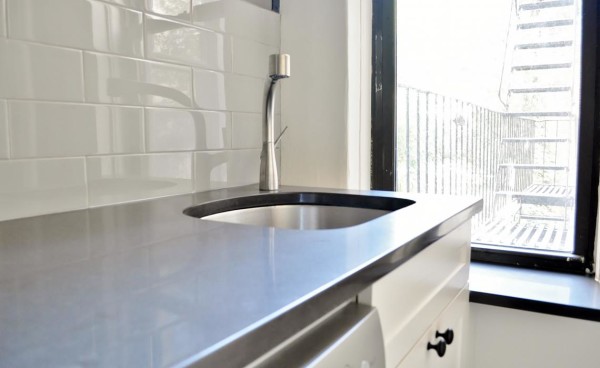 (via)
Are you going for a more modern look? If so, then using classic, white subway tiles with white grout can achieve the look you want.
14. Granite Backsplash Tiles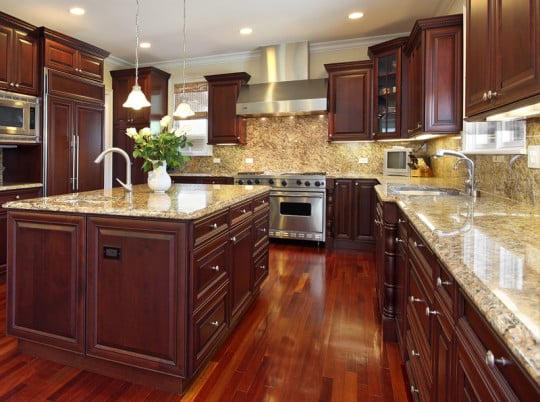 (via)
Consider installing veined granite tiles that will provide a rich, warm look for any kitchen.
15. Steel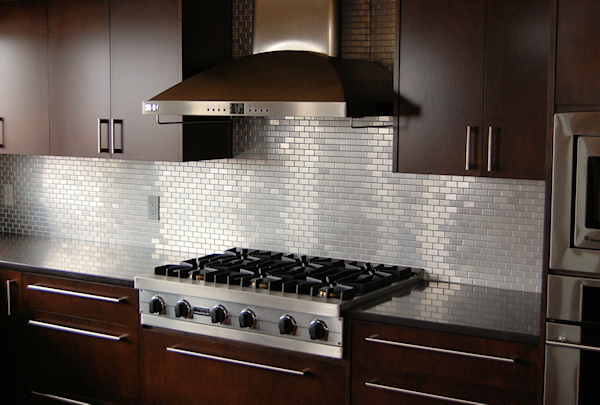 (via)
If seamless is your goal, then contemporary steel is the ideal option. You can create a modern and great-looking space with a steel kitchen tile backsplash.
16. Bring the Ocean to Your Kitchen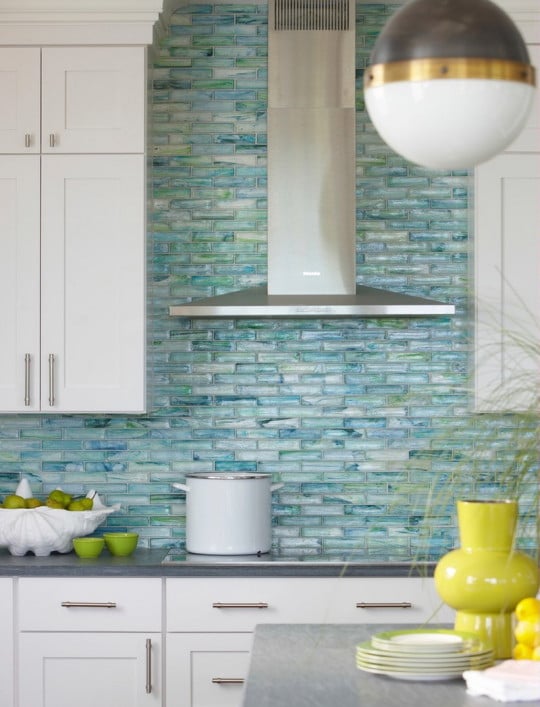 (via)
Consider mixing shades of blue tile and sea glass to bring a bit of the ocean right into your kitchen.
17. Tongue and Groove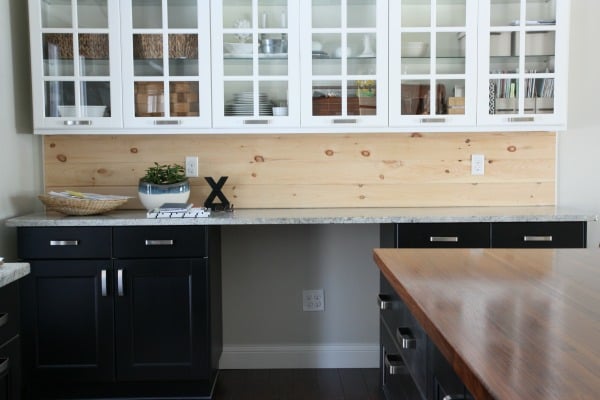 (via)
Go for a classic cottage look with a wood tongue and groove wall covering used as a backsplash.
18. Add some Accents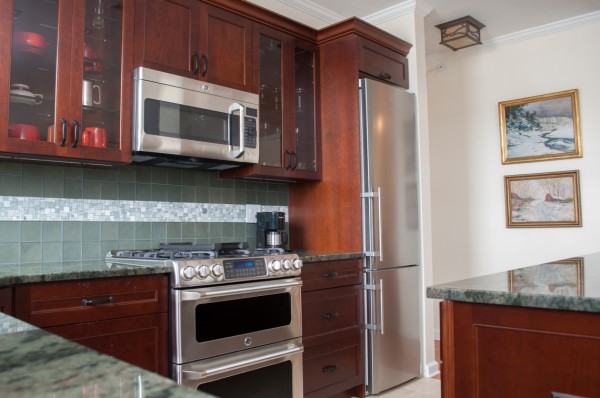 (via)
Consider a solid-colored tile with an accent near the bottom. This creates an area of interest for your kitchen.
19. Industrial Chic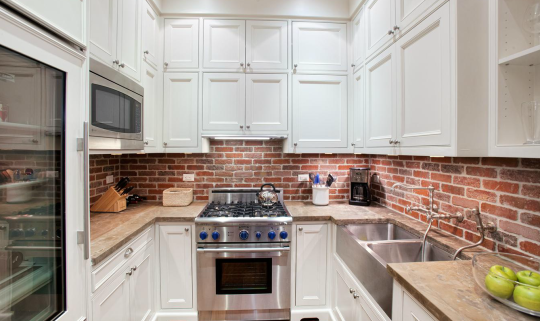 (via)
A brick backsplash offers a unique, industrial look that can add a warm feel to your kitchen. For an even better kitchen tile backsplash idea, add a few chalkboards and you will have a great-looking kitchen.
20. Modern Marble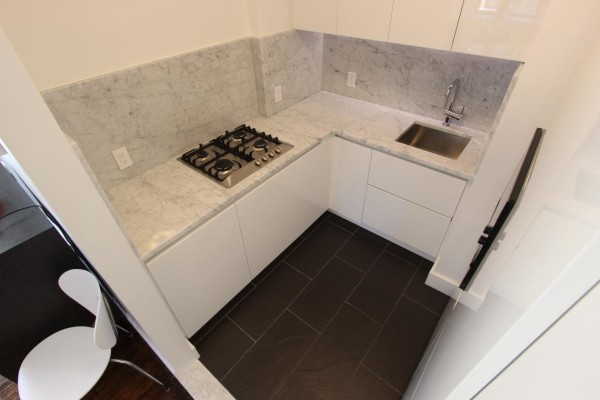 (via)
Marble offers a clean seamless look for your backsplash that integrates seamlessly with your kitchen counters and cabinets.
21. Pebbles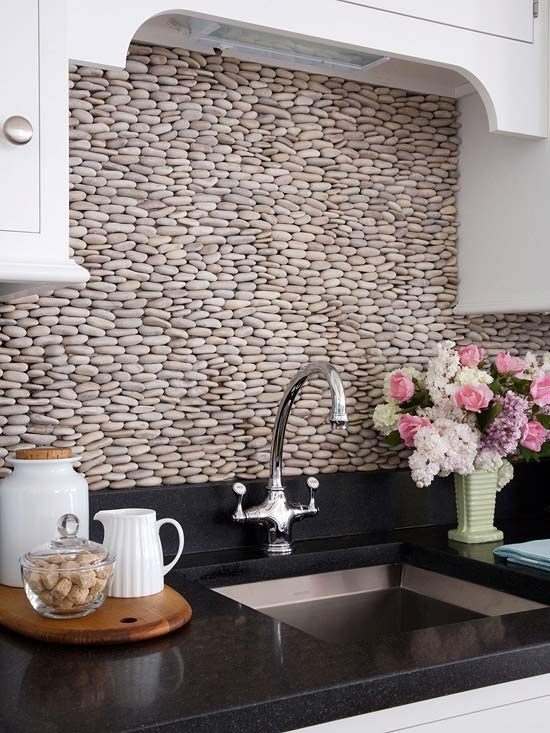 (via)
Yes, pebbles. The bigger pebbles will create a "lake" effect in your kitchen. Leave out the grout for an even more natural look.
22. Shelf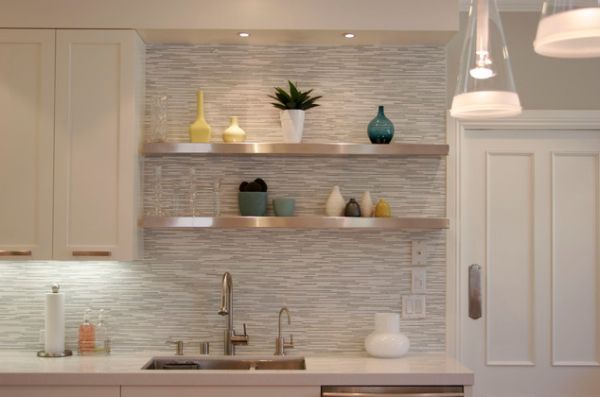 (via)
Right over your stove you can have a shelf framed out and look as though it is set into the wall. This kitchen tile backsplash idea is great for spices and for adding visual interest to your kitchen.
23. Function First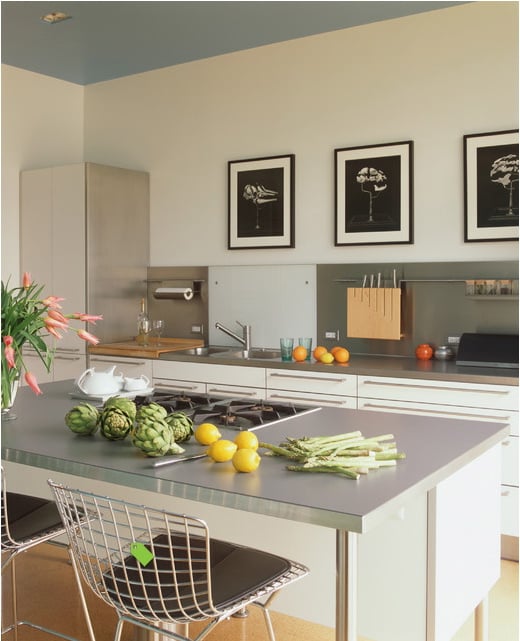 (via)
Use a stainless steel kitchen backsplash along with a rail system that will keep your cooking utensils in view and easy to access.
24. Color Compilation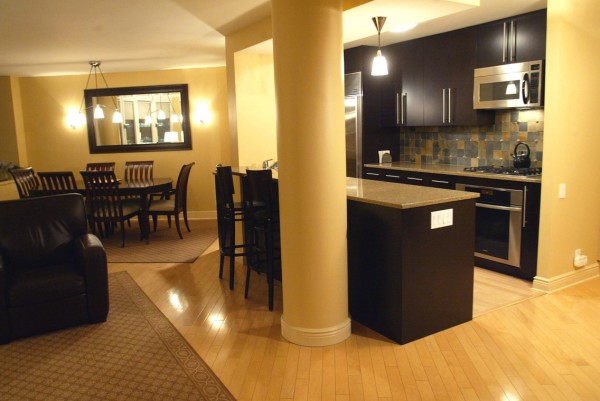 (via)
Use slate tiles to pull in all the colors you have used elsewhere in your kitchen.
25. Colorful Tiles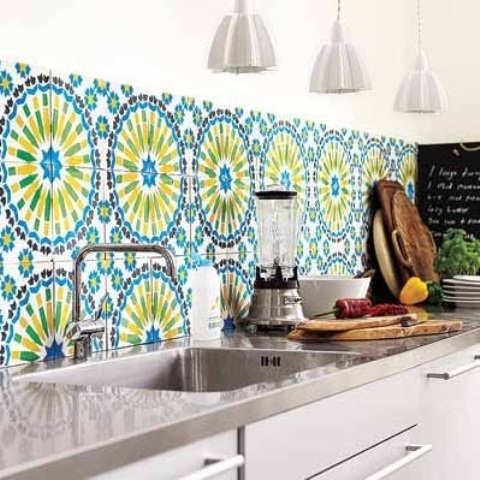 Bright and cheery, colorful Mediterranean-style kitchen backsplash tiles can add an element of interest to your space.
***
Looking for More Stylish Kitchen Tile Backsplash Ideas?
Check out MyHome Design & Remodeling on Houzz.com, search our large portfolio of kitchen remodels and renovations in NYC, or stop by our NYC kitchen and bath showroom, conveniently located in midtown Manhattan, New York City.
MyHome is Manhattan's trusted kitchen and bathroom remodeler for a reason. With hundreds of projects and satisfied clients, we excel at making the remodeling process as seamless and stress-free as possible. And we offer FREE kitchen design to help turn your ideas into reality.
So give us a call at 877-973-1114 or visit our showroom at 353 West 48th Street, NYC. We'll be happy to talk with you about creative ideas to transform your kitchen.