Uncategorized
8 Creative Small Bathroom Ideas
By Tiffany Smolick
Every now and then, you may find that your fantastic Manhattan abode could do with some sprucing up, and that the typically small bathroom that comes with it must follow suit.
When space is at a premium, you could always do with a few tips to get your creative juices flowing. To that end, we've compiled a short list of creative small bathroom ideas that all New York property owners could take on board for their projects.
1. Open-base Washstand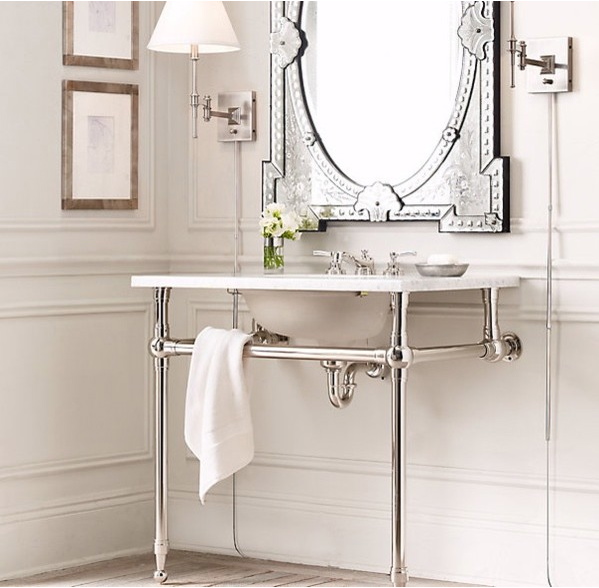 Console washstands are not only charmingly reminiscent of days of yore, but they are also far more practical than the classic pedestal sink. They come in many shapes and sizes, but one that is extremely popular with all those looking for hard-wearing yet sumptuous toilets is the marble countertop washstand, with stainless steel tubing that doubles up as towel rail.
Designer Elyssa Albert managed to combine opulent marble with polished stainless steel for a truly dazzling effect. Whatever the size of the bathroom, there should be plenty of legroom thanks to this Gramercy washstand.
2. Oval Sink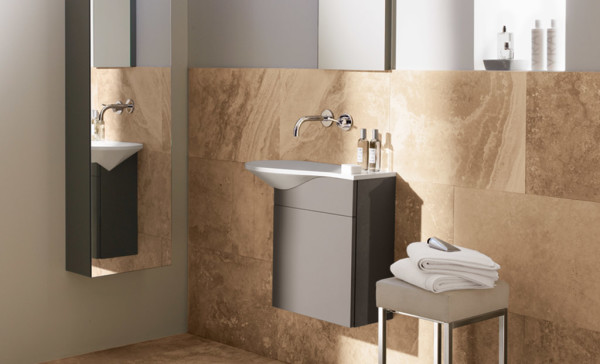 The inventors of the ingrain wallpaper, Germans have a way with small spaces, and bathrooms are no exception. In nature, every inch of space is poised to deliver optimum utility, and that's specifically what the designers at Burgbad, in Germany, hoped to achieve with their Pli sink.
This oval wash basin is not only a breath of fresh air in a room dominated by lines and geometric patterns but also a space-saving alternative to bulky conventional sinks and other conventional small bathroom ideas.
3. Open-base table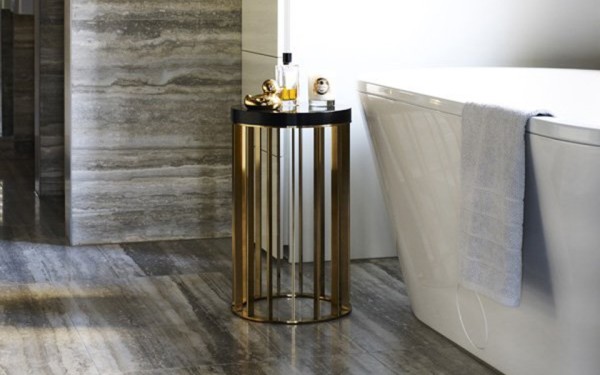 (via)
We all love a good read with a long bath. And what better way to store and showcase a book, a candle, a chilled glass of sherry, and a pair of reading glasses than an open-base table beside the tub?
That urge for bathroom design that keeps essentials close at hand in the smallest of spaces is precisely what the crew at RCG must have had in mind when they designed this open-base bathroom table. Tasteful yet functional, this sine qua non of small bathroom furniture can store your essentials on its stainless metal top, as well as underneath.
4. Eye-level Storage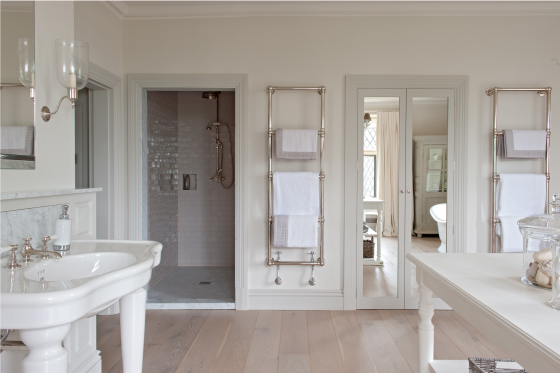 Whatever the size of your bathroom, towel racks should be an essential feature. This Cotswold manor's master bathroom seems infinitely larger than it really is thanks to the way Sims Hilditch designers configured its storage units.
Notice that there are no cabinets, the washstand is open-base, the bathrobes are stored in a wall recess, and the towels are neatly displayed on racks that double as radiators. There is ample space in the center to fit a bathtub, so that even bathrooms half this size would still be clutter-free. What's more, of all the ways to bring ingenious bathroom design to life, this one would probably be the least expensive to apply.
5. Wall Tile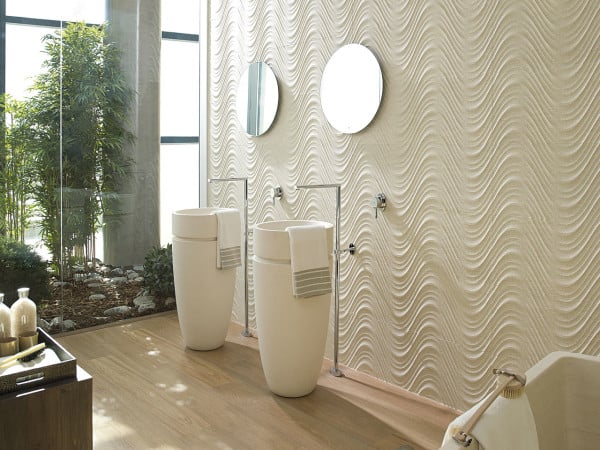 (via)
A bathroom is only as spacious as its walls make you believe it is, and bathroom design should focus on wall decorations. The illusion of space can easily be achieved with tiles in light, warm colors, and with horizontal stripes, wavy lines, mosaics, and even damask, checkered or harlequin patterns. Ceramic wall tiles in single colors can have a similar effect, and have a more fluid pattern.
While most Porcelanosa ceramic tile designs are only appropriate for public buildings and large commercial areas, this particular pattern, the Creta Caliza, would work very well with small bathroom design. Coupled with free-standing taps and ovoidal pedestal wash basins, the rich texture on the walls would make an otherwise small bathroom seem optically impressive in terms of size.
6. Free-standing Bathtub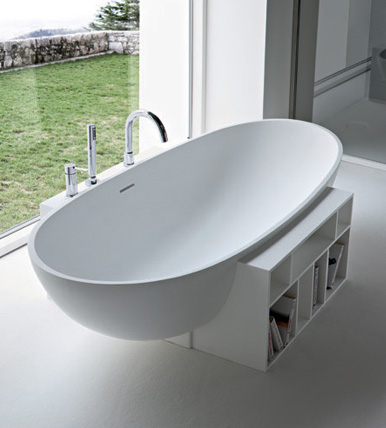 Claw-foot tubs never run out of style, but they do go out of fashion. Italian designers Rexa blend the charming curves and lines of a claw-foot tub with the generous storage space of a library headboard, serving as base, to create the Egg Tub, which is part of their Unico collection. Not only is this a fantastic example of a small bathroom idea, but it also comes in whimsical colors to boot, akin to an Easter egg.
7. Large Mirror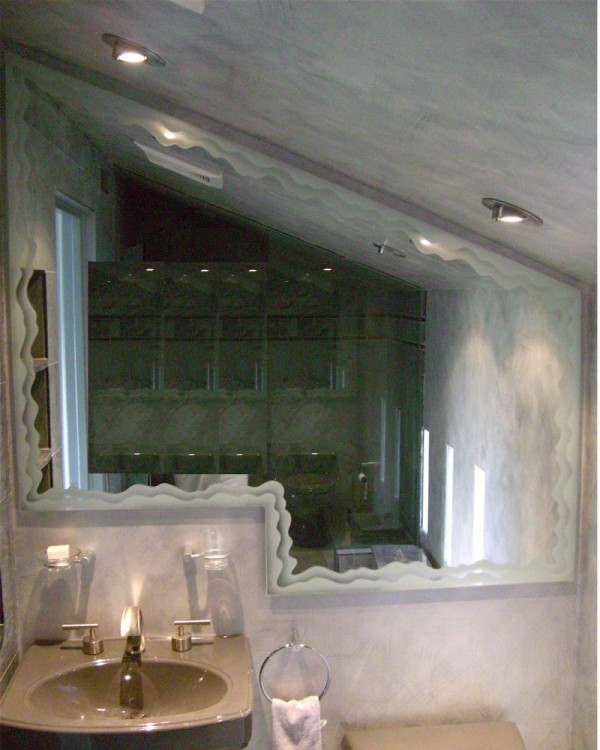 (via)
There's only so much a mirror can stretch over a tiny vanity, and that's why tailored mirrors make exceptional small bathroom ideas. An art glass studio in France called Sans Soucie ('No Worries') makes saving every last inch of space its specialty, and the results reflect this dogma for bathroom design that produces optimum utility.
8. Geometric floor tiles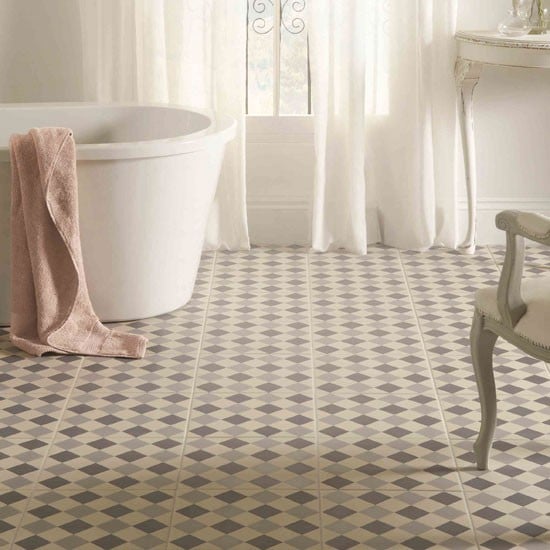 Featured in Ideal Homes, this harlequin floor tile pattern is part of the Odyssey Collection by Original Style, UK. The small, light, and dark grey squares on a cream backdrop create the illusion of space and remind us of lively Venetian masquerades. There are various other fantastic patterns that have a similar effect, including checkered, paisley, floral, and large mosaic designs, and small bathroom ideas should never disregard these options.
***
Looking for More Creative Small Bathroom Ideas?
Checkout MyHome Design & Remodeling, search our large portfolio of small bathroom remodels in NYC, or stop by our NYC kitchen and bath showroom, conveniently located in midtown Manhattan, New York City.
MyHome is Manhattan's trusted small bathroom remodeler for a reason. With hundreds of projects and satisfied clients, we excel at making the remodeling process as seamless and stress-free as possible. And we offer FREE bathroom design to help turn your ideas into reality.
So give us a call at 877-973-1114 or visit our showroom at 353 West 48th Street, NYC. We'll be happy to talk with you about creative ideas to transform your small bathroom into a beautiful oasis.