Uncategorized
Design Tricks for Small Bathrooms
By Tiffany Smolick
Tiny living is all the rage on HGTV. The smaller the space the more creative builders and designers have to be to achieve a balance of form and function. New Yorkers have been tiny living for a long time and we know a thing or two about thinking outside the "tiny" box.
The standard NYC bathroom is simple, open door…sink, toilet, tub. The layout may vary slightly but one thing rings true, the square footage is modest. Luckily, we creatives have found some fun and effective design solutions that will make the space feel larger and give you some additional storage.
Design Tip #1: Mirror Mirror
A large mirror is an obvious solution most people are already hip to. Extend your medicine cabinet, this will allow more light to bounce around creating a brighter appearance. The larger mirror will also give the illusion of a larger space.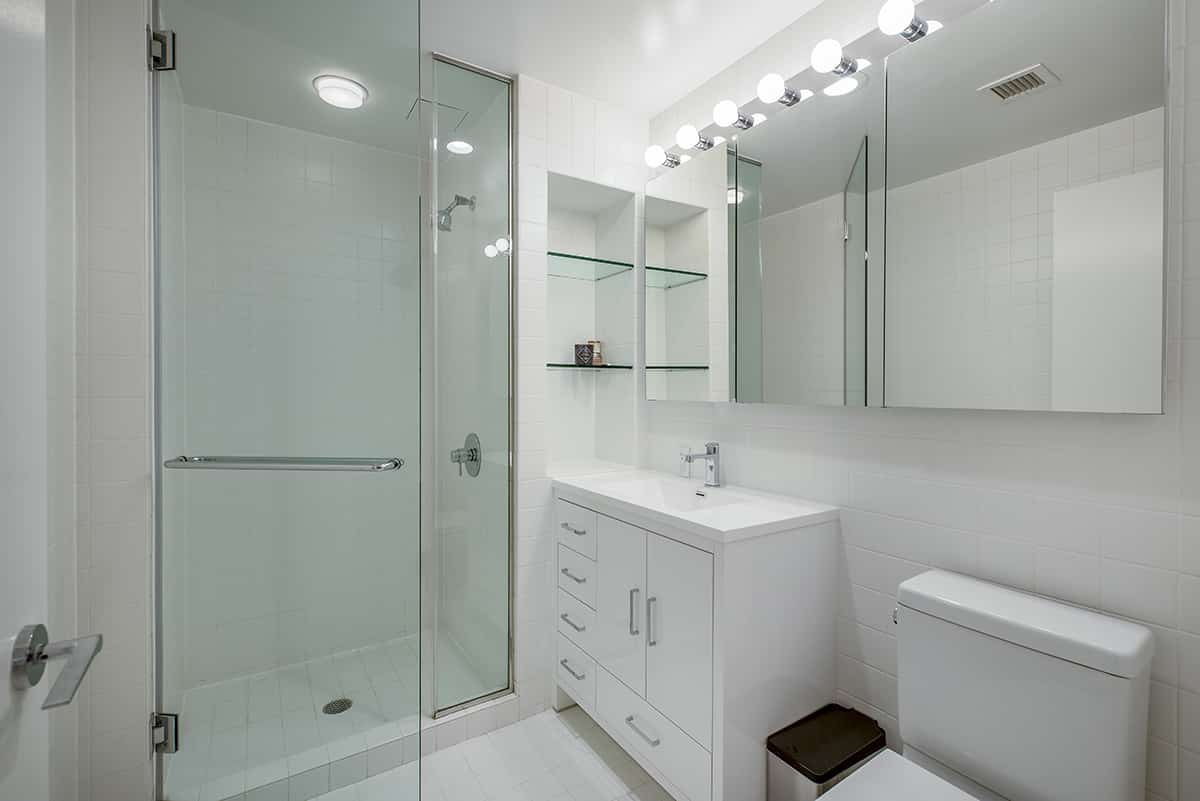 This 3 panel medicine cabinet opens up the bathroom and provides the client with ample storage for cosmetics and toiletries. The built in wall niches add more storage for items they may want to display and the custom bath vanity has a variety of storage options.
Design Tip #2: Extended Floor Tile
Extending the floor tile into shower is a simple design trick. In the layout below, extending the floor tile into the shower makes the bathroom feel longer that it really is. When you change the floor tile in the shower, you cut off the visual line making the space feel shorter.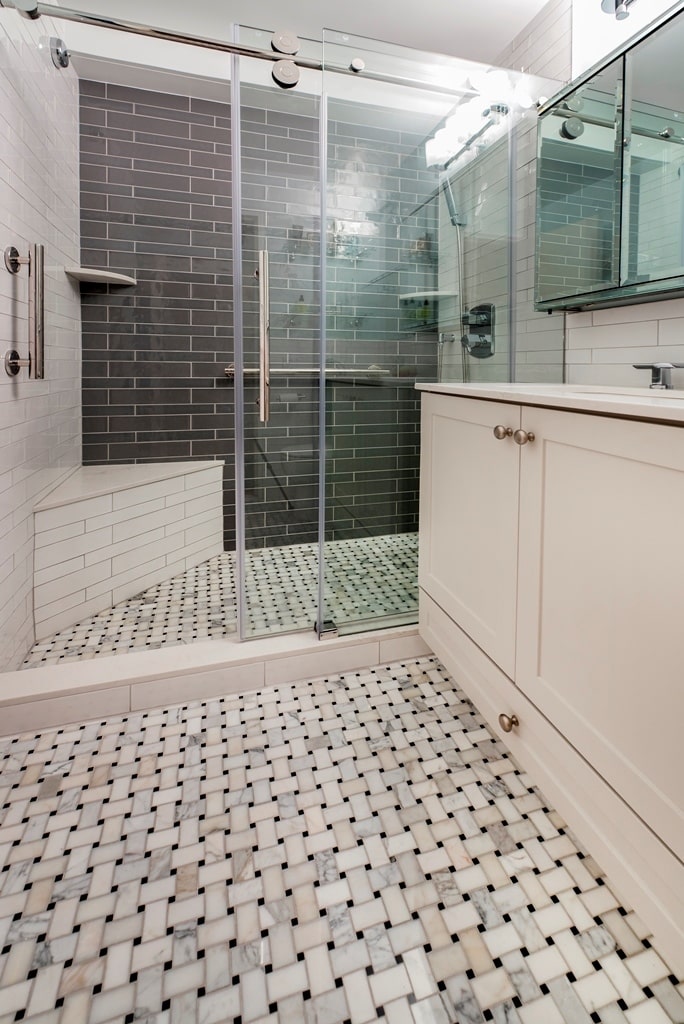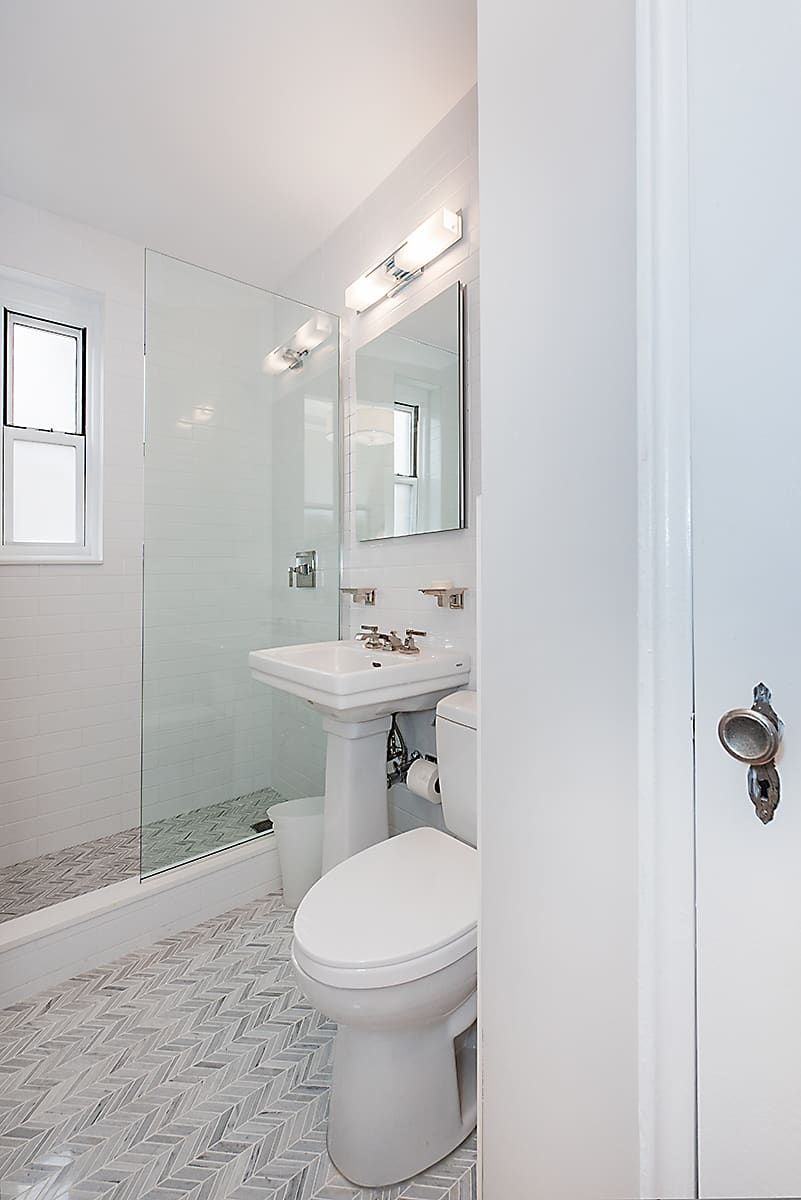 Design Tip #3: Nice Niche
Niches!!!! We love niches. You can buy inserts or customize them and the best part is they blend in with the décor. Say no to large bulky shower caddies and yes to your own customized bath niche.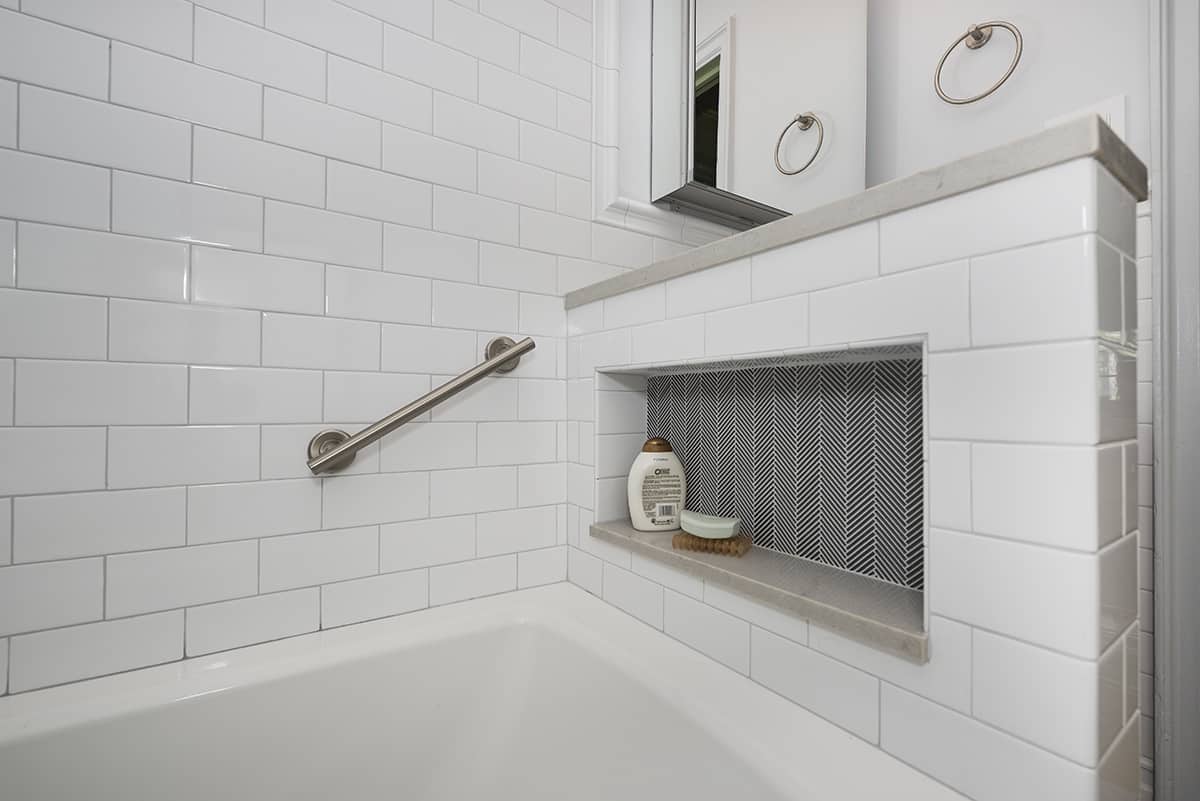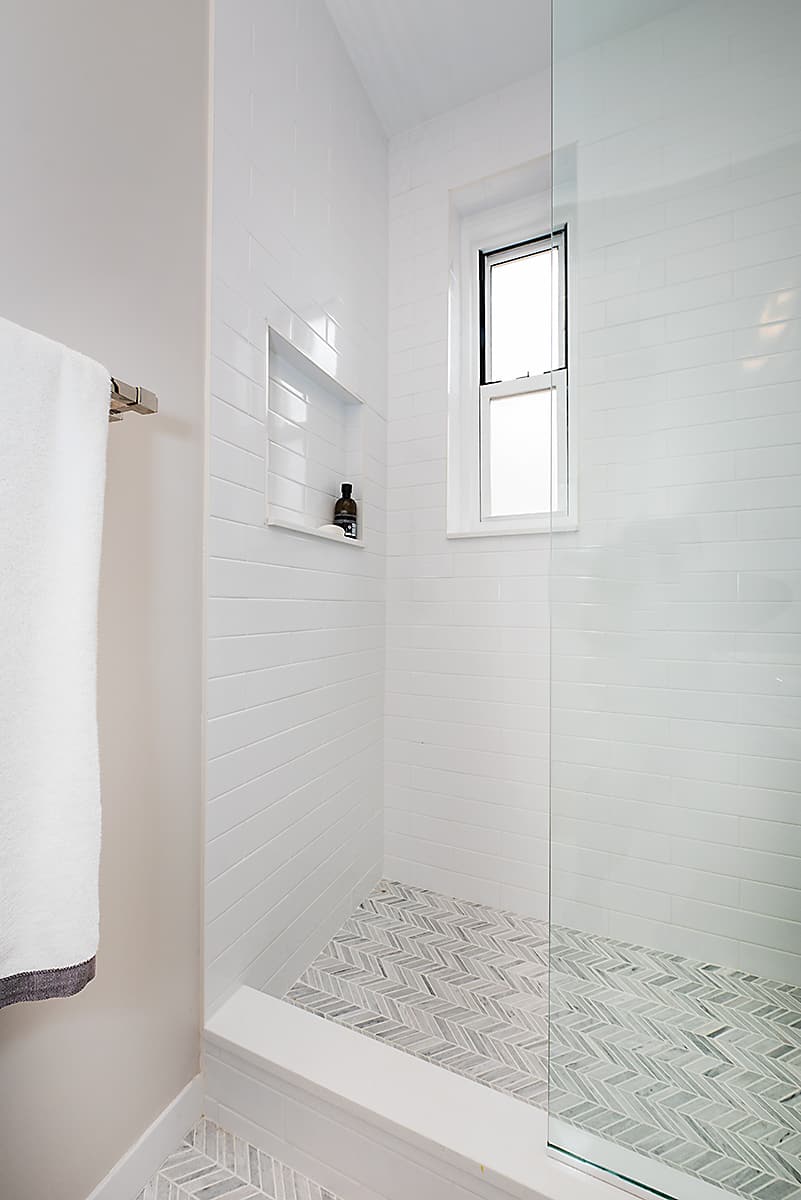 Design Tip #4: Wow with White
White does not have to equate to boring. When done properly it can be visually interesting and brighten up a small bathroom. Including interesting materials can take your monochromatic design to the next level. In the photo below the client took advantage of both an all-white bathroom and a large mirror making their bathroom feel bright and spacious.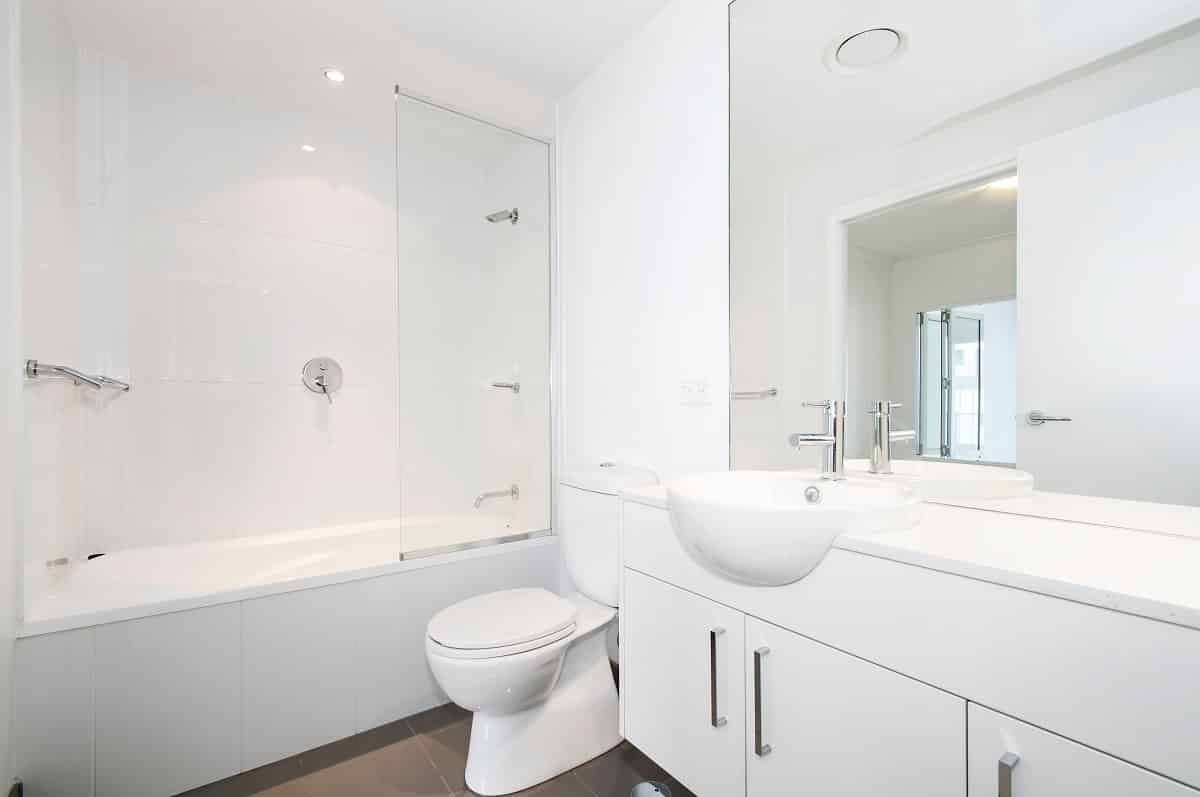 In the photo above the client took advantage of both an all-white bathroom and a large mirror making their bathroom feel bright and spacious.
Design Tip #5: See-Through Showers
Glass shower doors make for a more spacious feel. Adding a glass shower door to your tiny bathroom will give the illusion of space and allow you to show off those beautiful tiles you just installed. Keeping your space clutter free is also important so make sure to add those niches and shower shelves for you soap and shampoo bottles. Opting for a swing door over a bypass also keeps the space and open. In the photo below we installed a custom glass shower door to this very small bathroom, giving it a feeling of openness and space.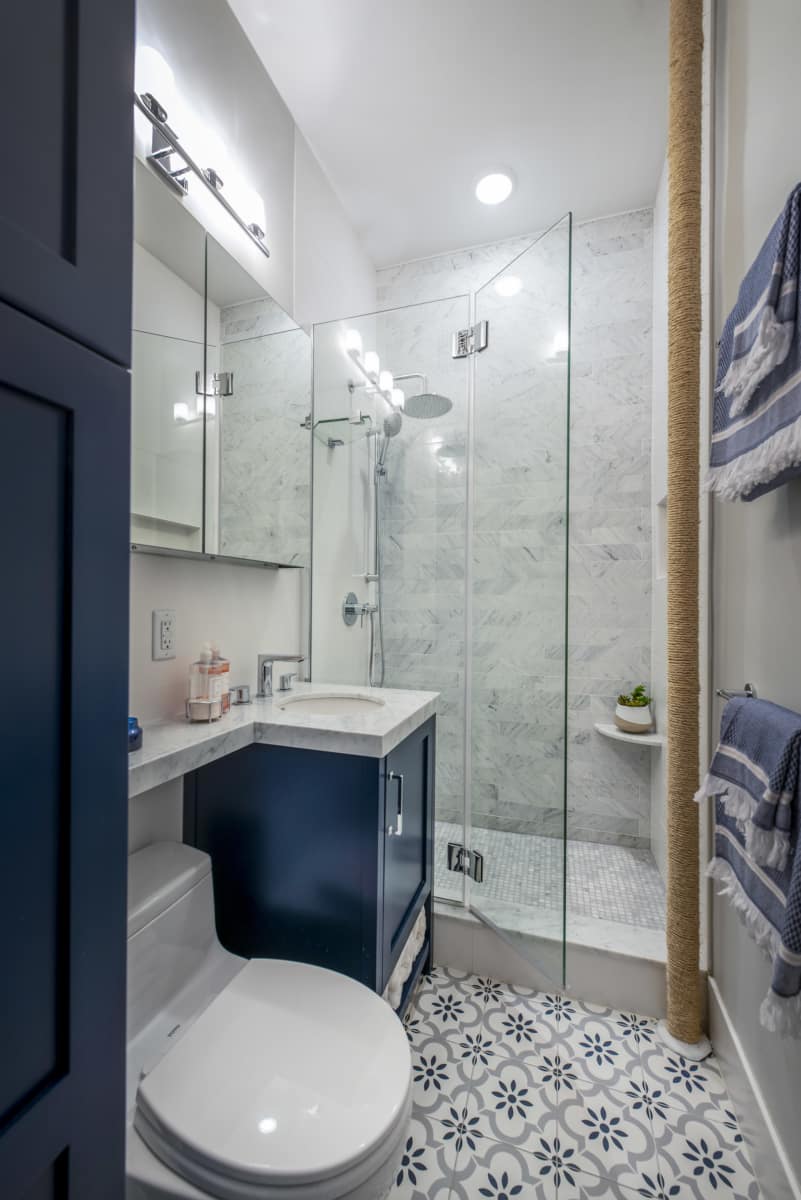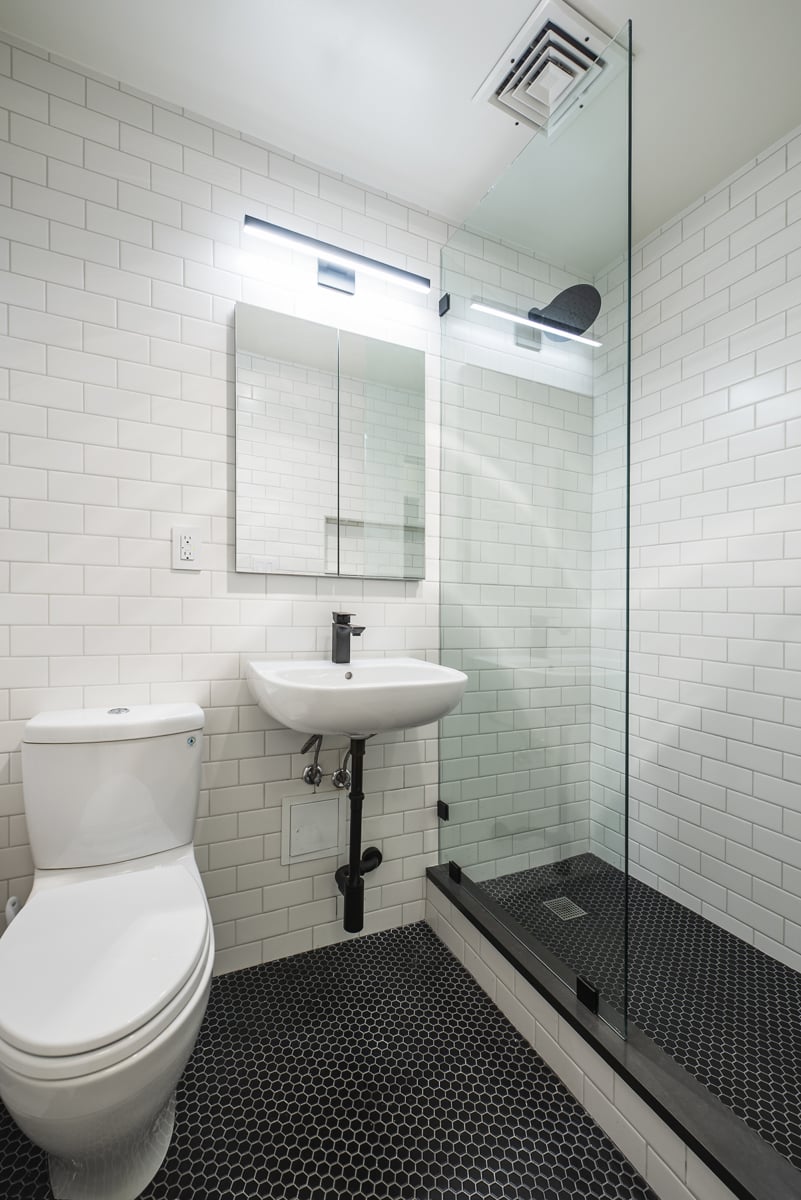 Design Tip #6: Extended Sink Surfaces
If you have some wiggle room in your bathroom Instead of a double sink vanity why not install a longer counter? This design allows for two people to get ready and offers up a ton on counter space with ample storage in the vanity. The long counter makes the space appear larger and looks great.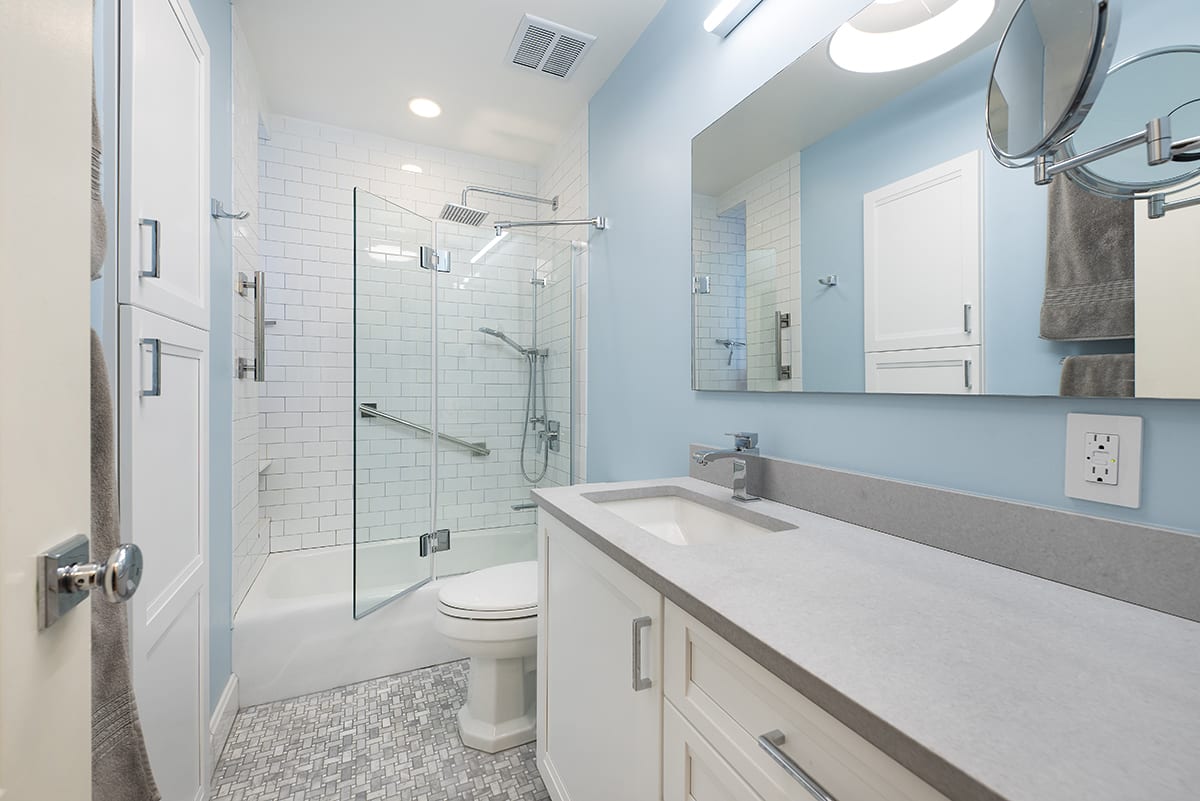 We hope you find these bathroom design tips helpful and inspiring. When you are ready to begin your bathroom renovation, contact the team MyHome Remodel + Design for a completely free estimate!
Work with Us —
MyHome has the experience and expertise to provide highly innovative kitchen and bath remodeling by exceeding client's expectations. To schedule your kitchen and bathroom remodeling in Manhattan, contact us today at 212.666.2888