Home Planning & Renovations
How to Remodel a Bathroom: The Bathroom Remodeling Guide A-Z
By Tiffany Smolick
January 17, 2023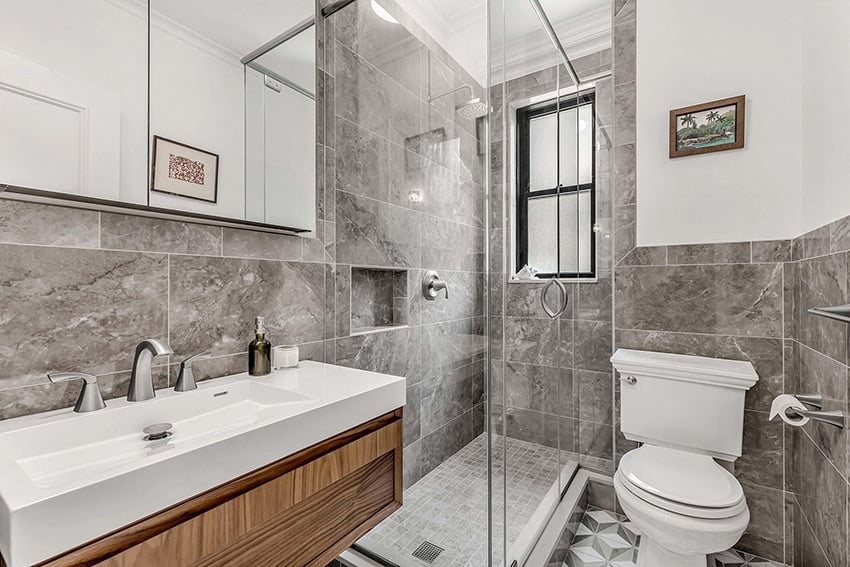 Remodeling the house may seem like a daunting and difficult task, but starting with a little bathroom makeover might be doable if you are new to the game of giving your home a refresh. After all, a stunning bathroom is a major focus of any house's floor plan, whether it's your basement half-bath, a little powder room for guests, or your own luxurious master bath.
To ensure you don't overlook anything throughout your project, we've put together a comprehensive guide on how to fully remodel a bathroom. Read on to learn exactly how to sketch out your idea, what work needs to be handled, and why you might need a general contractor to help you realize the perfect bathroom renovation!
How to Remodel a Bathroom – MyHome US
The bathroom is undoubtedly one of the most important rooms in a home. It's where you get ready every morning and where you do your nightly routine before bed. Thus, it's only natural to want to keep it in tip-top shape.
But, no matter how you spin it, a remodel is a pretty hefty task to undertake. There are plenty of factors you'll need to consider, from simple design choices to materials, tools, and manpower. Many inexperienced homeowners jump into renovations and find themselves unable to navigate the whole thing or stay within budget.
Luckily, you don't have to go through these struggles! Let's cover all the necessary steps to take before and during a bathroom remodel and help you get the best results at the lowest possible price.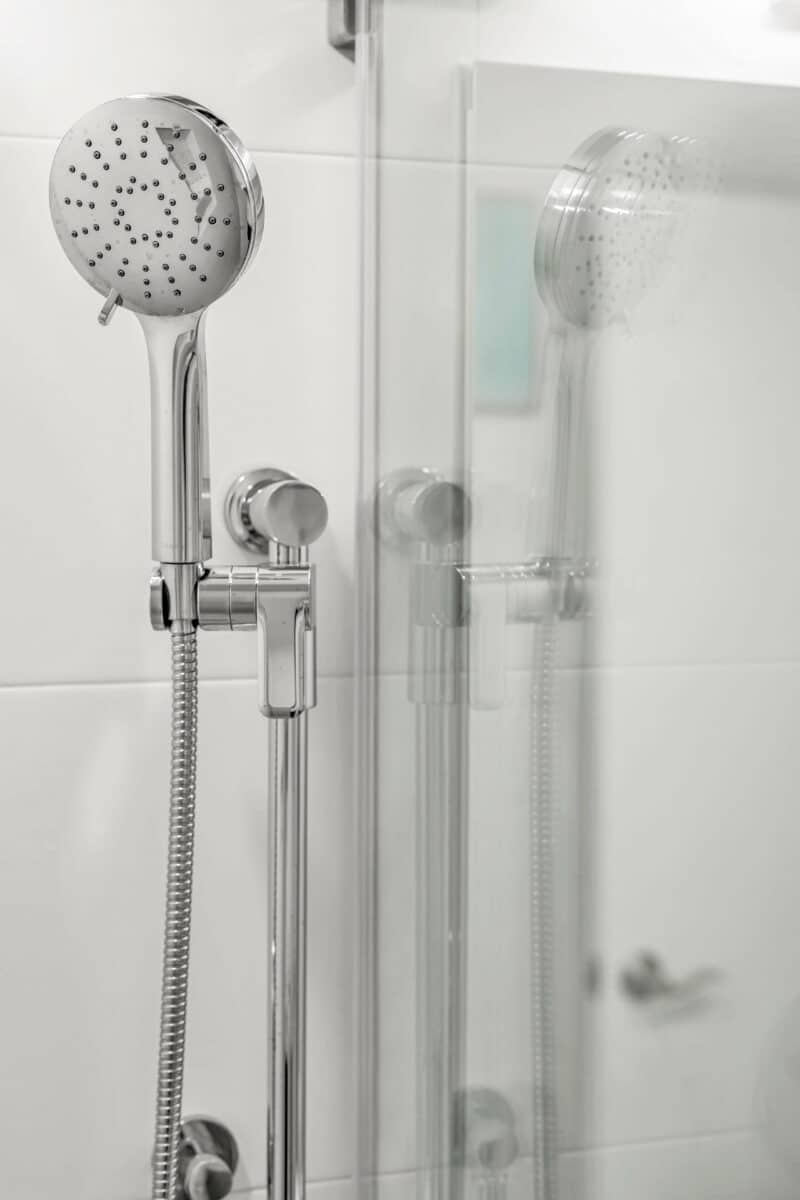 Plan and Budget
You should be able to decide on a bathroom budget for the project, or at least a rough estimate, well before you start. The number you come up with will be based on multiple elements, and the decisions you make at this point will guide the entire remodeling process, start to finish.
But accounting for expenses isn't the only part of preparing for a renovation. You need to devise an entire plan. Having a general idea of what you're doing will help you stay on track and ensure you don't incur any extra costs from last-minute decisions, alterations, or additions.
While you're laying out your plans, you'll want to do the following;
Form a vision – ask yourself what exactly you want to change;
Determine the scope of remodeling – bathroom remodels may be divided into multiple categories: surface redesign, gut and replace makeover, layout change, etc.;
Take accurate measurements – determine how much space you have to work with. Use this as a guide to how much materials you'll need, and only buy pieces that you know will fit;
Set reasonable limits – have a sensible budget and realistic timeframe in which you want everything done;
Research permits and licenses – find out if you need to acquire any building permits in your city and apply well in advance of your project;
Determine if you need a professional – you can take on some of the remodeling as a DIY project, but certain aspects like plumbing, hot-water connections, and electrical work are best left to experts. A general contractor can handle all of these services and also save you a lot of stress as they'll deal with all the permits, paperwork, and oversight;
Make storage room – plan on where you'll keep any supplies during remodeling and make preparations to haul trash after you're done;
Prepare to use other bathrooms – the bathroom will be out of service while it's under renovation, so adjust your routine accordingly.
If you're hiring experts, you could realize that your design concepts need to be modified after looking through a contractor's quote. Don't be afraid to ask for any recommendations on how to stick to your budget as professionals frequently come up with creative solutions to help clients save money. Employing a general contractor can be a godsend in the early planning stages, so don't waste time reaching out and getting help!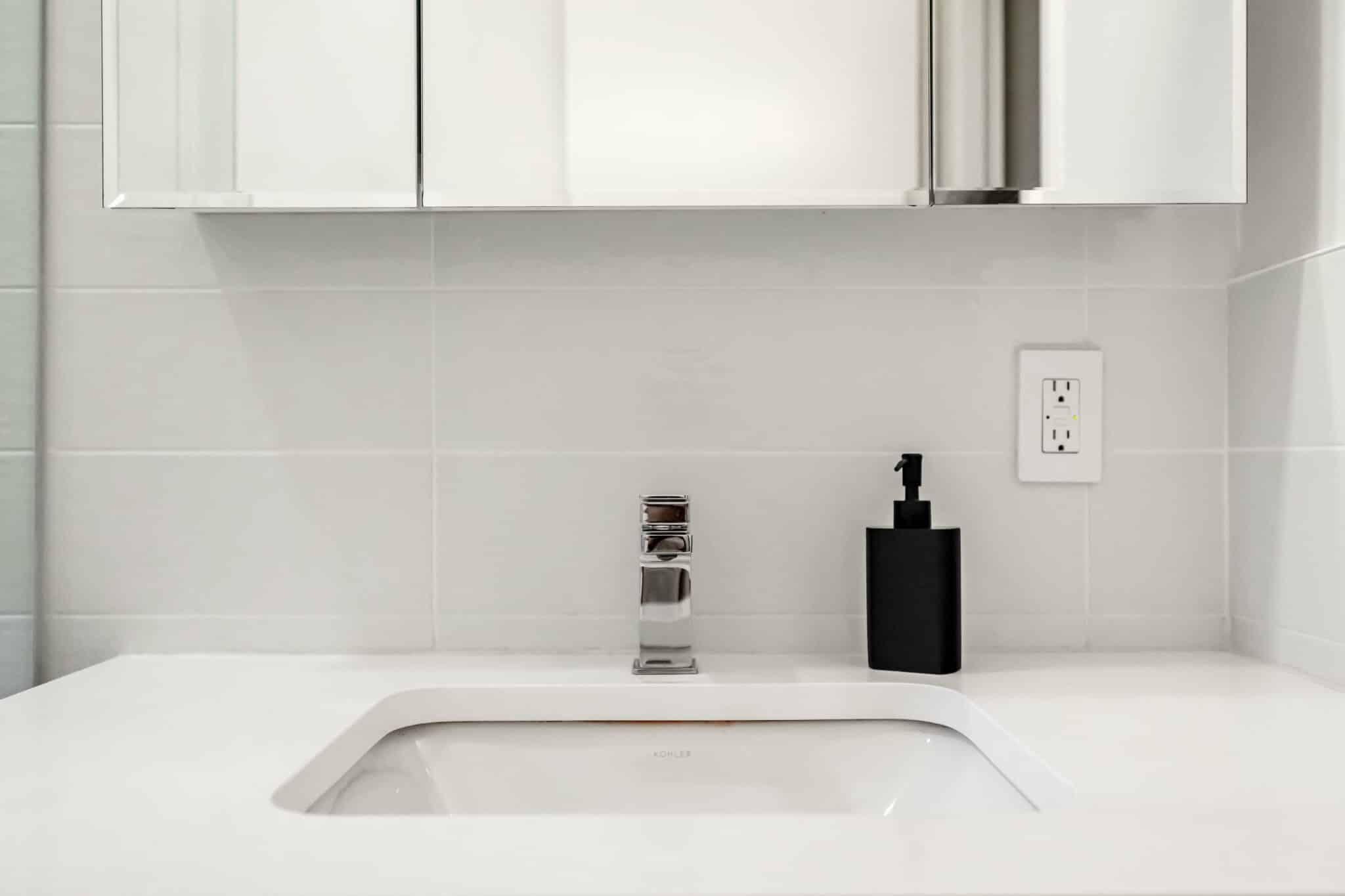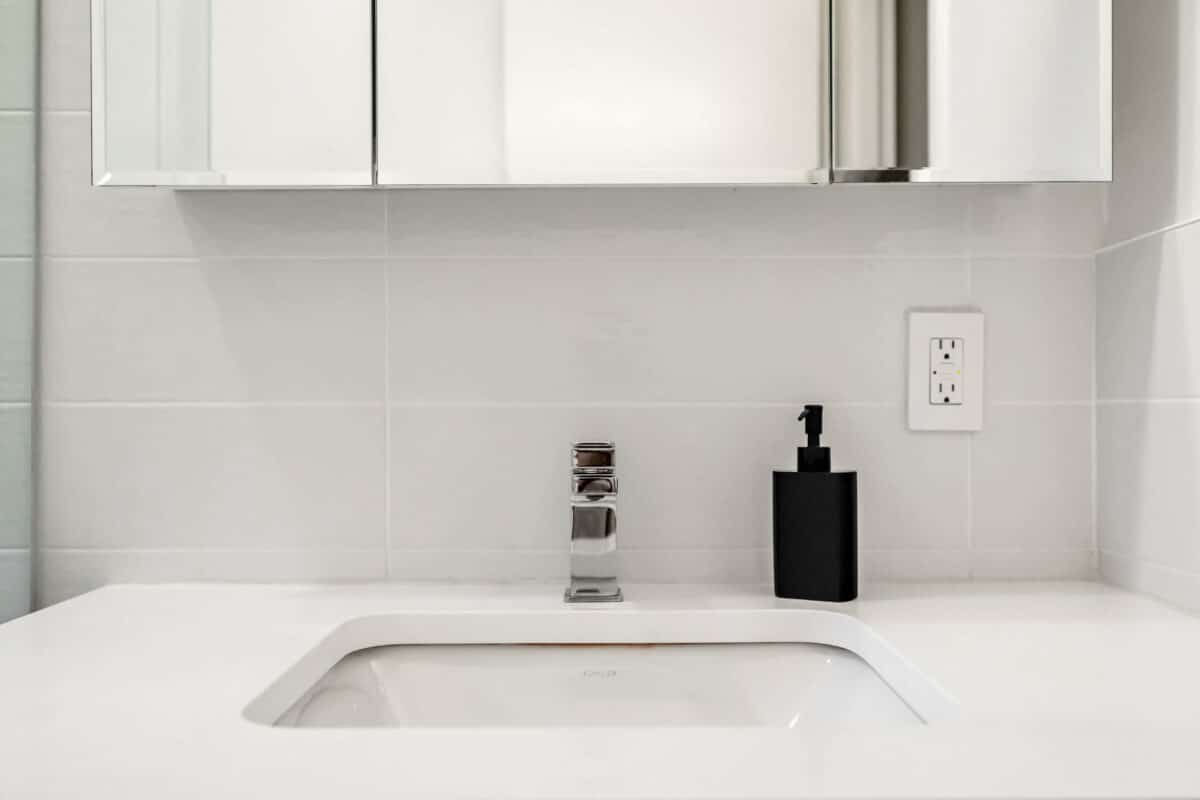 Choose a Bath Design
Once you've followed the first step of laying out a plan and budget, you should have a grasp of what's needed for the technical side of the project. Now, it's time to have a bit of fun and let the creative juices flow as you settle on precisely what the room's style, layout, and aesthetic will be. Here's what to do to find the perfect bath design for you:
Pick a color scheme you like;
Consider the final layout and how furnishings will fit;
Choose appropriate fixtures, both functionality- and design-wise;
Ensure the material and furniture choices match your budget;
Use lighting as a purposeful stylistic choice rather than just a necessity;
Pay attention to details.
You can use the internet to search for bathroom design inspiration or contact a professional service like MyHome US for a consultation. Our renovation experts can direct you on how to realize your idea or help you brainstorm if you still haven't settled on a final vision.
To help you better imagine what your new bathroom will look like, you should also view and test out certain products in person. At our showroom in Midtown Manhattan, you can explore thousands of design options and get a sense of how sinks, baths, and other features will look and feel in your house.
Take Down the Old Bathroom
Once you have all your plans in order, the very first course of action is disassembling your existing bathroom. If you've decided to do this yourself, make sure you:
Shut off the bathroom's electricity and water supply;
Wear safety gear (mask, gloves, and goggles) as you work;
Remove fixtures you plan on replacing;
Work carefully so as not to damage any features;
Check for signs of water damage and any growth of molds or mildew.
Since you're following a plan, you already know whether you'll be keeping fixtures, moving them, or laying completely new pipelines. This is when you should attend to any plumbing modifications and place the foundation for future installations.
The same goes for electrical alterations – if you need to relocate, replace, or add outlets, now's the time to take care of it. The electrical wiring in the bathroom should be considerably easier to work on now that the walls are open.
You can take care of the plumbing and electrical systems yourself, yet in many cases, it's much wiser to hire an experienced professional to do the work for you. In fact, most homeowners let general contractors empty out and renovate their bathrooms.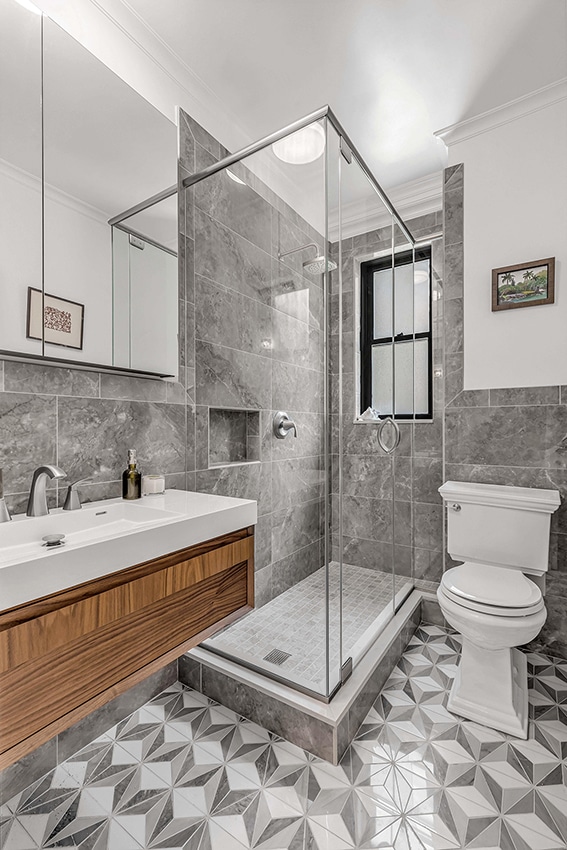 Put Up Drywall
Something that's good to consider before putting up drywall is whether you plan on installing toilet, bath, or shower grab bars. These are useful tools, especially if anyone in the family has mobility issues. You can use the opportunity of having the walls down to install blocking that'll provide additional support if you want to install grab bars now or in the future.
After this, you can finally start to close the walls. A bathroom is a place that will be exposed to a lot of water, so use cement board and a vapor barrier in moist areas, like those around the shower or bathtub.
We specifically recommend the use of cement board, as it can offer appropriate stability for wall tiles, but really any moisture-resistant backing material would work. You can use drywall for the rest of the bathroom walls that won't be as exposed to water.
Employing a contractor in this case has several benefits. It will save you time, as you don't need to do any work yourself and are free to attend to other things. Also, working with a team will speed up the entire timeline as professionals will be more efficient and work much faster than you.
Lay Tile
Once the walls are back up, you can finally start putting your bathroom back together with a fresh coat of paint. You should paint the room before moving along with other parts of the project to reduce the possibility that paint splatters on floors or fixtures that you'll be installing. Choose interior paint that has a semi-gloss or satin finish, as these are often quite durable to the high levels of moisture.
When it comes to tiling, it's a good idea to start with the walls – especially the shower or bathtub enclosures. After you're done, you can move on with the flooring and apply your selected tile there.
When you're choosing materials, look at natural stone, ceramic, and porcelain tiles. You can also consider waterproof vinyl flooring as a more affordable yet still stylish and functional option.
Keep in mind that bathroom tiling must be resistant to moisture but also needs to look fantastic, which can be challenging to accomplish if you're new to remodeling. For this reason, most homeowners employ professionals to lay down the tiles rather than doing it themselves. This ensures they get a quality result and saves them a lot of time, effort, and frustration.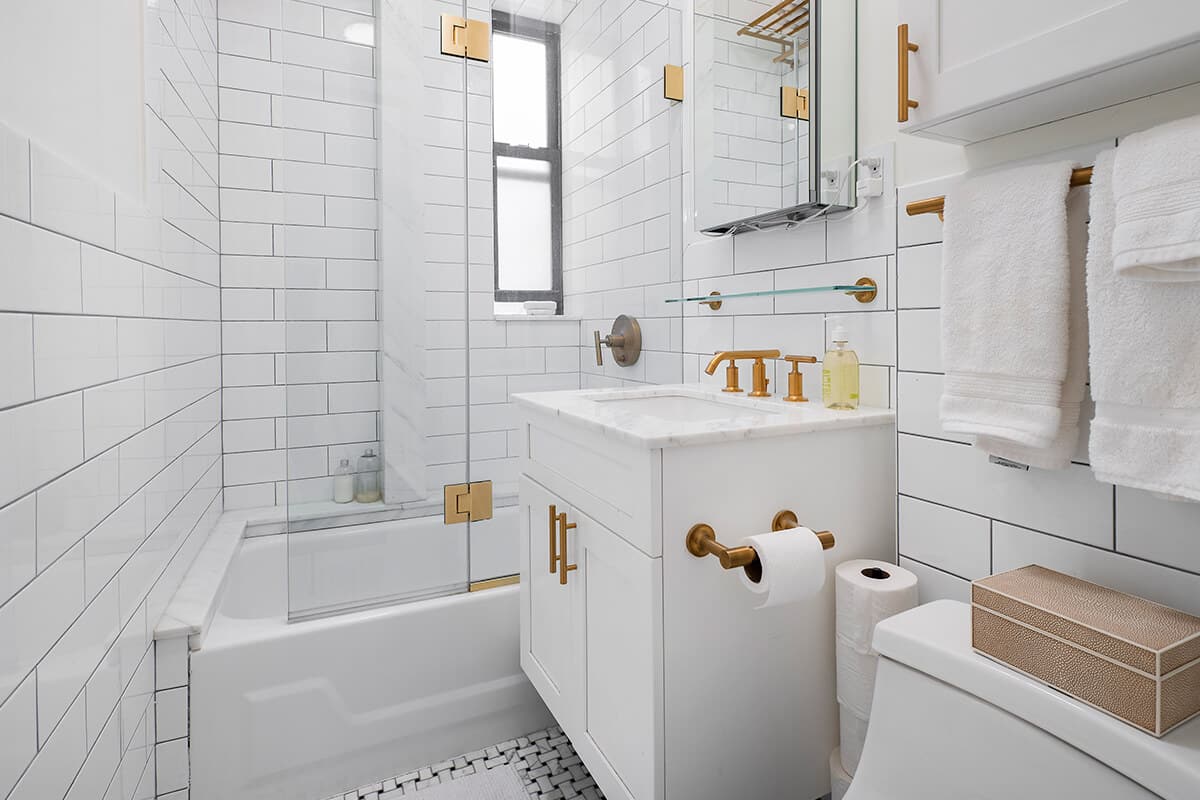 Install Showers & Tub
After you've covered the general parts of the room, it's time to add the fixtures. Homeowners can opt for many different options, and there's quite a bit to consider. Choose if you want to go for a walk-in tub, a shower, or a shower and bath combo, and go hunting for the best model.
Alternatively, you can opt for a wet room. This means the shower area is level with the rest of the room, and the entire bathroom is waterproof. For this style, you'll want to consider the walls and flooring and make sure the entire room is water-resistant.
In all cases, though, you'll likely need to install a few different elements. Make sure the shower door, the track, the curtain rod, and the shower head you select all complement the overall design of your bathroom.
You could also need to install a tub. If you do, we don't recommend that you do the work yourself. There can be a lot of heavy lifting and precise work involved, so it's better to hire a professional so you don't damage materials or injure yourself in the installation process.
Install Exhaust Fan & Lighting
Your bathroom is finally starting to come together, so it's time to add 2 more essential features – lighting and an exhaust fan. While there's nothing saying you can't reuse your old lights, this may be the ideal time to upgrade them.
Lighting needs to be bright enough for you to get ready, but it also must be pleasant, not hurt your eyes, and work with the rest of the room and aesthetic.
A bathroom remodel should be concerned both with functionality and appearance. The average person doesn't have much experience weaving these concepts together and doing a task yourself may end with subpar results. However, professional contractors are very familiar with renovations, and they'll help you merge style and purpose to create the perfect mix.
While you'll ideally be using durable and water-resistant materials, hardly anything is fully waterproof, so you need to get rid of excess moisture for the sake of your new furniture. Also, nobody particularly enjoys the humidity that can get trapped in a bathroom.
A remodel doesn't necessitate changing the exhaust fan, but if not now, when? This feature is essential to any master bath as it removes moisture, and renovations are a great time to update it.
For lighting and replacing your exhaust fan, you'd be wise to hire an electrician, especially if you've never dealt with home electrical systems before.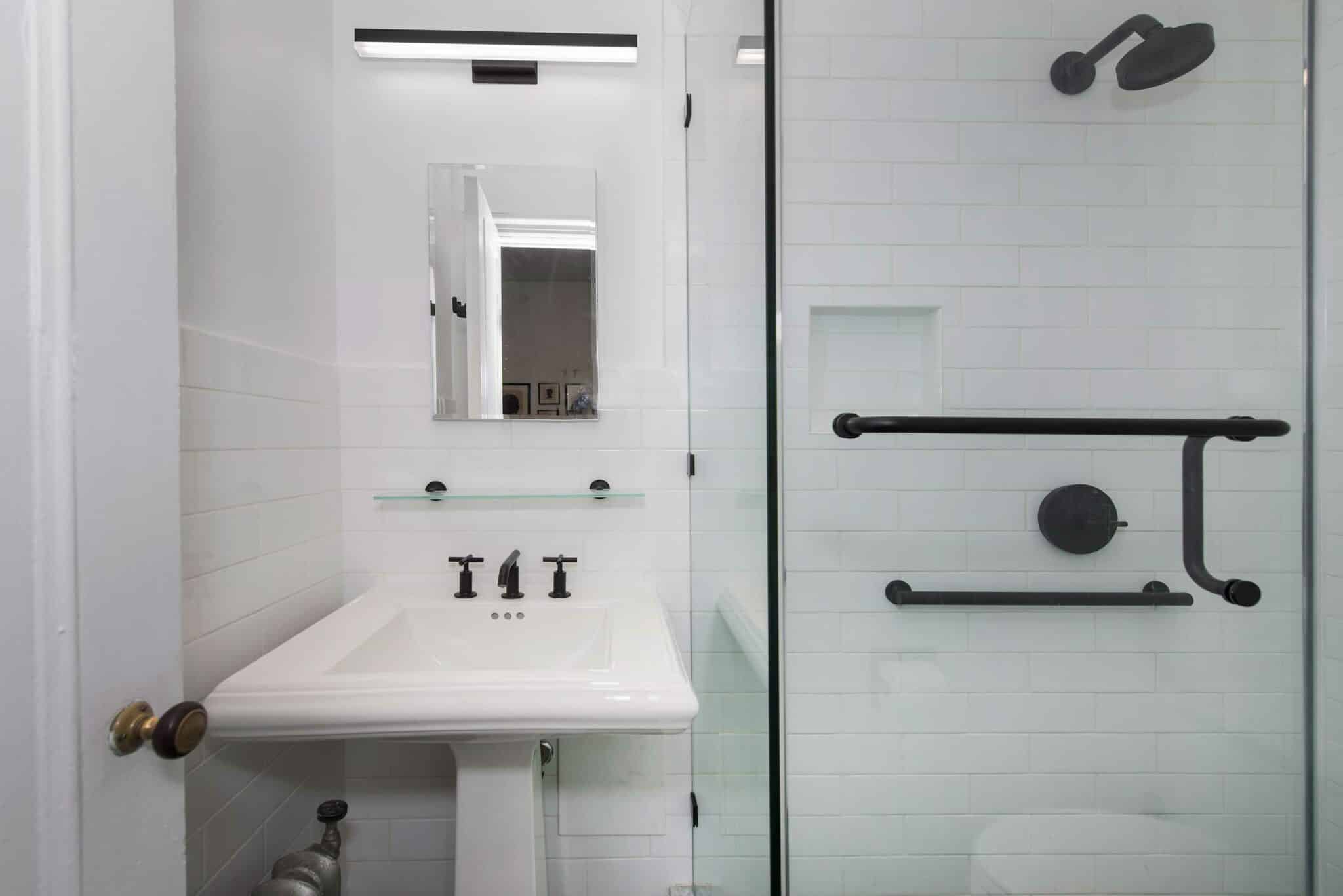 Add Vanity & Sink
The next part of the renovation is placing the sink. The amount and type of work you need to do here depend fully on the sink you've chosen. Vanity sinks require a few tools and a bit of know-how, but in general, they aren't too difficult to put in place. You simply need to:
Use a stud finder to find and mark studs;
Level the vanity;
Drill holes for pipes;
Secure the top and faucet (if necessary);
Connect supply lines;
Run the water to test for leaks.
However, installing a pedestal sink is quite a bit harder, As there is no cabinet area, you can't hide plumbing and water supply lines behind a set of doors. Thus, everything needs to be installed perfectly in place.
If you want a neat and clean sink area where all the connections are hidden from view, consider working with a contractor.
Install Toilet
Finally, onto one of the most important steps – installing the toilet. Whether you buy a new toilet or put back your old one, you'll need to do the following:
Inspect the flange and see if it needs replacing;
Set the toilet seal or wax ring into the proper position;
Place the toilet on the flange and press down;
Bolt your toilet to the floor;
Secure the tank to the bowl (if using a two-piece toilet);
Install the toilet seat;
Fill the tank and flush it to test for leaks.
Toilet installation is perhaps one of the easiest parts of your project, and some homeowners may choose to do it themselves in order to save money. However, a poorly installed toilet can be really messy.
Overall, many prefer to leave the toilet installation to professionals who can guarantee the work's been done properly. As you can imagine, the aftermath of a malfunctioning toilet is not a pretty sight, so hiring someone to do this job is well worth the money.
Add Storage & Bath Accessories
Now you're pretty much done with your bathroom remodel. All the essential features are in place, and the room is nearly fully functional. All you're missing are some accessories and small finishing touches.
With pricier pieces, like the toilet and shower, you may have had your options limited by budget consideration. However, with details like shelving, towel bars, and bathroom decor, you may find you have more design choices available. Use these items to add personality to your new bathroom and truly make it your own.
Choose bath accessories, like soap dishes and trash cans, that match the bath design you've gone for. Finally, you can finish off with new towels and bath rugs to add some novelty to the room and an overall cozy feel.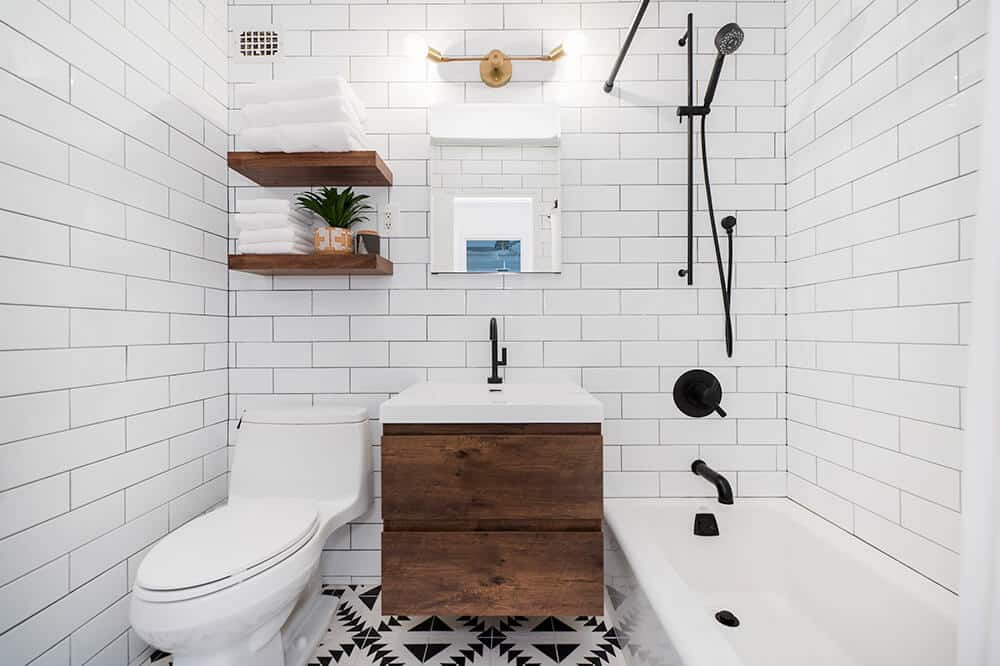 How MyHome US Can Help You Remodel Your NYC Bathroom
Even if you're only looking at small improvements, you'll have to take significant time out of your day and spend your hard-earned money on any renovations. MyHome US can help you easily work out a plan within your budget and take a load of remodeling off your shoulders.
We assist you in every step of the remodel. This includes drafting plans, finding materials, constructing new features, and finally, making your vision come to life. If you're looking to transform your bathroom, get a quote and let us turn it into the ideal space for you. Where you reside – some cities, like New York and Los Angeles, simply have higher renovation costs. The cost of a bathroom remodel generally coincides with the price of real estate, and in more expensive states, you will need a larger budget;
The size of your bathroom – if you have a larger bathroom, you'll naturally pay more than you would for a small powder room. This is where estimates based on square foot come in handy for determining the potential price of a project;
The extent of your remodel – partial renovations will be on the cheaper side and only cost a few thousand dollars, while full remodeling projects can stretch the required budget by tens of thousands;
Materials used – choose between ceramic or porcelain for tiles, brass, stainless steel, or chrome faucets, wood or PVC cabinets, etc. Your choice of material will impact the price but also the durability of a bathroom, as pricier high-end materials are less likely to need replacing after a short time;
Labor costs – bathroom remodels have a particularly large cast of contractors. A designer, building permit expediter, demolition contractor, carpenter, plumber, electrician, tile setter, drywaller, and painter are just a few examples of the contractors and subcontractors that might be used;
Current condition of the room – any bathroom has a lot of plumbing and electrical, much of which is concealed behind walls in moist locations, making it possible for unexpected corrosion or failure to go undetected. Remodelers should budget between $80 and $1,000 for each anticipated electrical or plumbing component.
Carefully consider all of these factors in the planning stages. One of the most expensive things you can do during any project is to change your plans in the middle of it. At best, it causes a delay while you buy new supplies and return the old ones. At worst, you will have to hire a remodeling contractor to redo previously completed work.
We at MyHome US would be happy to help. Contact us by filling out this form – and we will get back to you!