Home Planning & Renovations
17 Small Walk-in-Closet Ideas
By Tiffany Smolick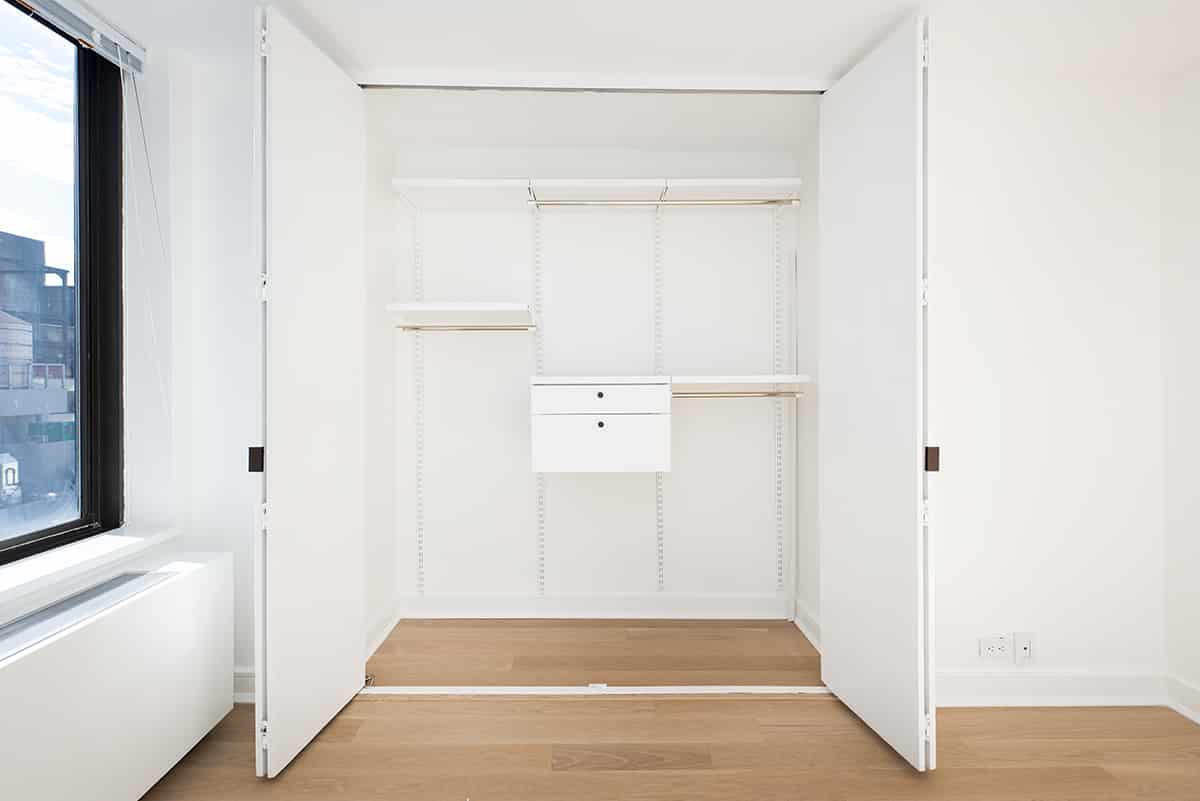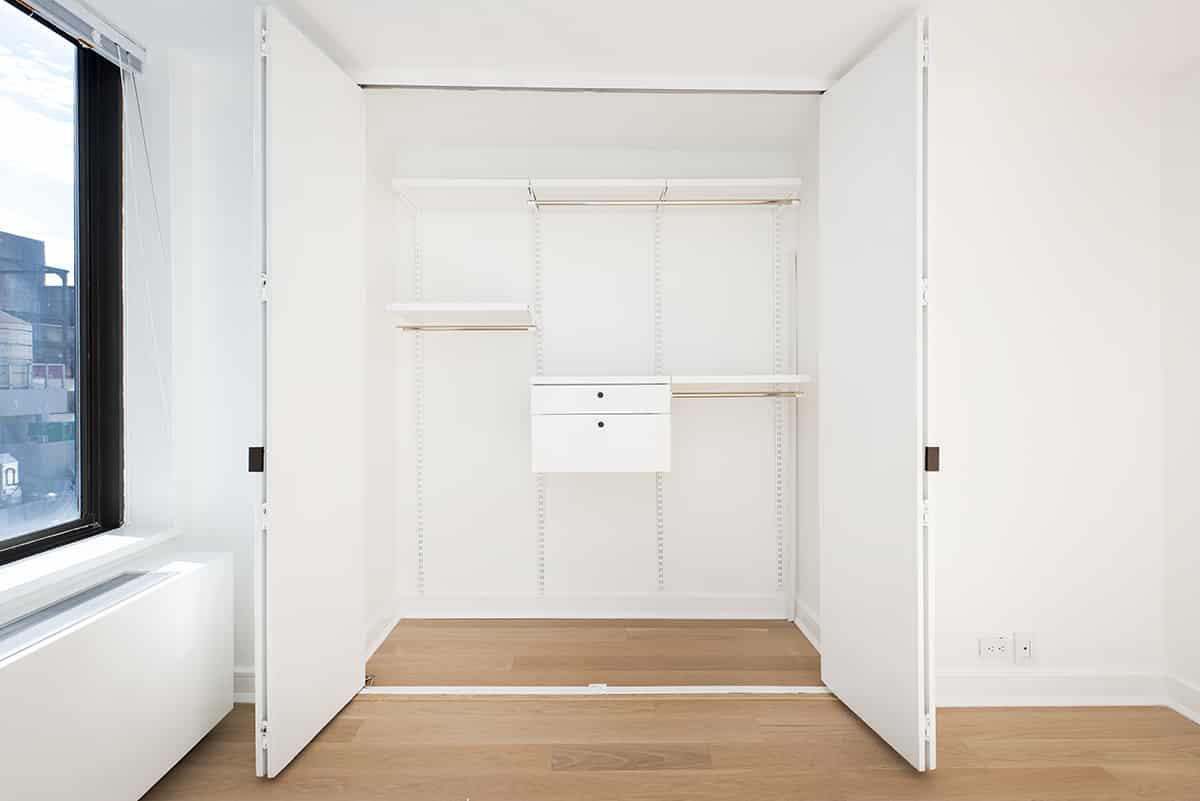 It is time to organize clothes in even the tiniest of NYC bedrooms!
Small walk-in closets or pantries can help you save space and – at the same time – make you feel comfortable and highly organized. When you have the right walk-in closet idea, you can find enough space for the piles of clothing items and other materials even in the tiniest NYC bedrooms.
In this article, we'll elaborate on the 17 small walk-in closet concepts and ideas to help you stay organized and keep your closet system always accessible and tidy like you would in a master bedroom.
Let's see how the DIY small walk-in closet ideas can be fun and stir your creative imagination!
Make the Most of a Single Wall
In a tiny walk-in closet, designate a feature wall to make use of all the available space and leave the rest clutter-free to enlarge its appearance. Making the most out of a single wall is an old but practical trick for enabling closet space by utilizing the dimensions of the only free wall. Remember: you can always place hanging rods and other extensions to make your single-wall walk-in closet more versatile and organized.
The easiest and most practical way to make the most of a single wall is to position shoe storage, including additional shelving and cupboards that can fit almost all your shoes and clothes. You can adjust your walk-in closet design depending on the wall's dimensions, nearby objects, and available budget.
Go for Floating Shelves in Confined Spaces
If you prefer hanging clothes for easier maintenance and organization, consider the floating shelves one of your primary walk-in closet options. The floating shelves are very practical if your free wall or space is tiny and doesn't allow a standard shelf system.
People usually design and set up floating shelves to leave some room for outfit planning. Floating shelves are also an incredible solution for adding a stylish touch to your walk-in closet while using the space above your closet rods.
Choose a Mirrored Front to Enhance a Small Space
One of the best ways to elongate small spaces visually is to consider mirrored door designs. Depending on the method, a small walk-in closet can have a door to keep your clothing concealed away from you or your visitors.
DIY enthusiasts choose the mirrored front because mirrors can make the space look larger. Mirrors are a great solution for adding taste to both a windowless or smaller room and a huge closet. However, people place bigger mirrors to amplify the room's depth and size.
Create a Multi-functional Space Full of Personality
You may use your small walk-in closet as a dressing room, hanging space, and more. That's why you'd want to make it multi-functional and spice it up with your personal design, coloring, and space-organization solutions.
You can design your small walk-in closet with multiple shelves and storage units. You can implement almost any solution that pops up in your mind! For example, DIY enthusiasts usually love to place ceiling wallpaper and dark backdrops to make clothes and additional accessories visible against the millwork.
This was a single example – many multi-functional space solutions can be combinations between different types of shelves, mirrors, lighting, and drawers.
Stretch Space with White Walls and Pale Flooring
This is another excellent small walk-in closet idea that is both practical and elegant. It's all in the name – you can stretch the space of the tiny walk-in closet by painting the walls white and choosing a more pale floor coating.
You can also go for pale green, blue, or pink to capture that spacious look and perspective. The minimalistic design of the stretched space goes well with various models of mirrors, shelves, and drawers.
And just remember that while dark closets look stylish and elegant, they're a no-go when you have little to no space to remodel.
Keep It Open
Keeping your closet open is one of the small walk-in closet ideas that are simple yet very effective in creating a comfortable and lively feel. And no, we're not talking about a reach-in closet!
For instance, you can build your small walk-in closet into a single bedroom. Then, you can use the vertical space between the ceiling and the floor to add shoe shelves or hanging space.
Nonetheless, in any case, if you want to enhance the look and feel of your small closet, you'll have to keep this tiny space and all the clothing tidy. However, this trick will make your small walk-in closet look drawn and projected by an interior designer who knows how to use a small space, decorate it and combine it with the contours of the whole room.
Kid's Room Closet: Fit It as a Part of a Shelving Unit
The greatest joy of a kid is playing with their new toy! However, over time, the amassing of toys can become a big problem for effectively using the kid's room space. That's why utilizing the tiny closet as a part of a shelving unit is one of the best small walk-in closet ideas.
In simple words, you incorporate a small walk-in closet into the shelving units for your kid's toys. For example, you can create a tiny hanging space that'll delicately hide the colorful chest, lockers, and cases full of your kid's toys. Then, you can place a low-lying chest of drawers to fit shoes, hats, or similar clothing.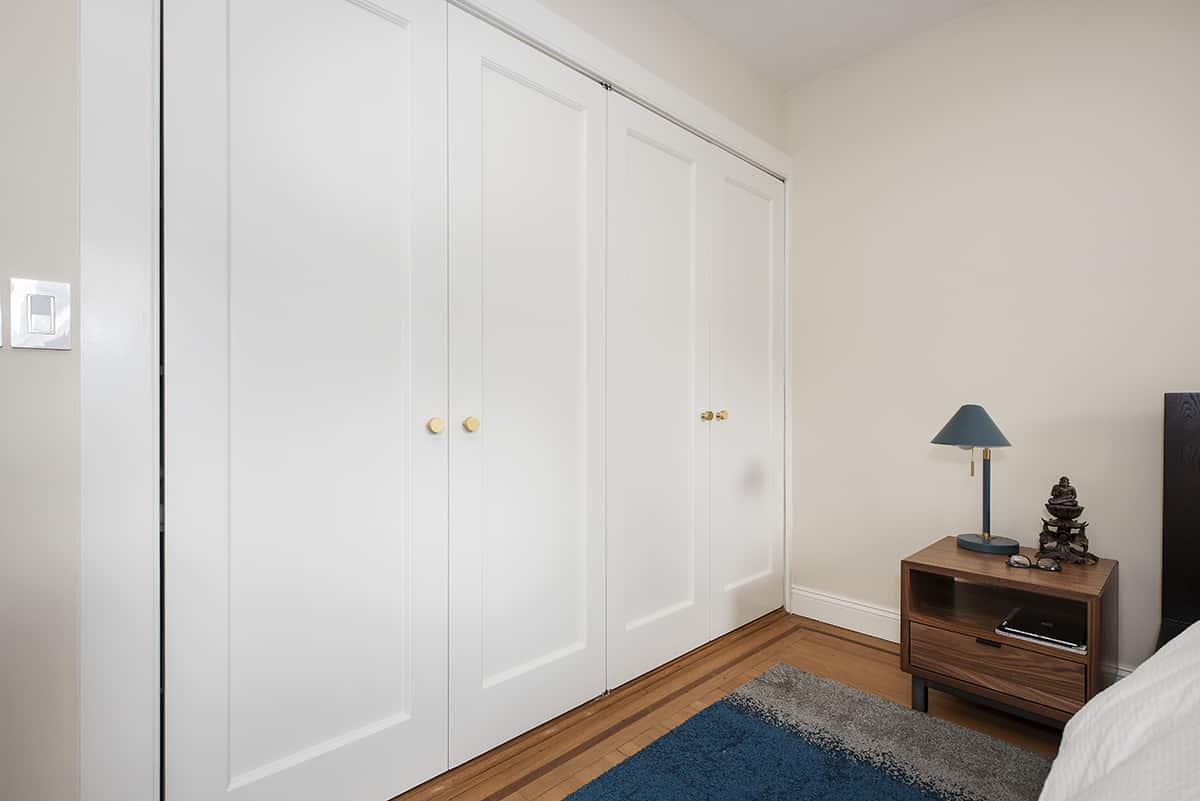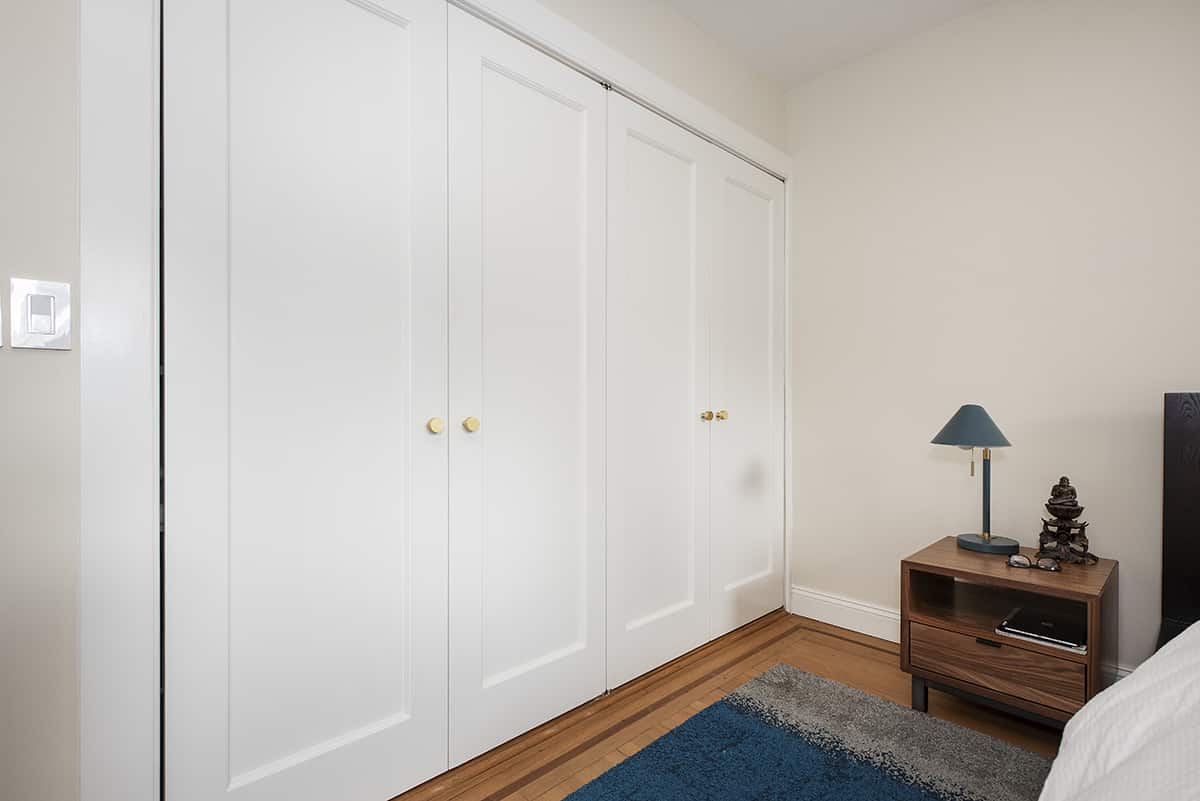 Add a Mirror
Adding a mirror has always been one of the small walk-in closet ideas because you can use mirrors in many different ways to enlarge, deepen, or decorate the space. For a more exotic or romantic atmosphere, you can use mirrors and decorative glass finishes to enhance the look of your walk-in closet doors and maximize the light-reflecting surfaces and the space of your closet.
Furthermore, you can use a mirror to cover one of your small walk-in closet doors. In this way, the room will reflect your personality and character. You can also install under-cabinet lights and much more!
Add a Sliding Glass Door or Install Mirrored Doors
Adding a sliding glass door or installing mirrored doors is one of the small walk-in closet ideas for enhancing a smaller space. Sliding glass doors are an especially designed solution for smaller bedrooms, where you need to use the space as effectively as you can while making the bedroom look larger and comfier.
On the other hand, mirrored doors allow you many combinations. For instance, you can install mirrored doors opposite a window to double the space and reflect the natural light.
When Space Is Tight, Choose Clever Lighting
The interesting thing about choosing clever lighting is that you can experiment until you find the best solution. That's why, if the small walk-in closet space is too tight, you can play around with the coloring and the intensity of the lightning and the reflecting surfaces.
We suggest hiring a professional to choose the lighting fixtures to go into your closet for more of an open-plan feel. They'll know exactly which lights should go where.
Use a Bedroom Corner to Maximize Space
Many of us have bedrooms without sufficient space for a fully-fledged small walk-in closet. That's why one of the best small walk-in closet ideas is to use the bedroom corner to maximize the space and avoid obstructing other everyday activities.
You can enrich your corner closet with shelving and drawers. This way, you'll create a multifunctional and well-used space. However, the most popular bedroom corner idea is using two separate walls for different purposes – one can be for storage, and the other for a dressing table.
Choose One Single Color for a Cohesive Look
Choosing a single color or variations for all the elements and the closet walls is one of the simplest yet most effective small walk-in closet ideas. The general rule is to make your small walk-in closet look cohesive and appealing.
For example, you can do this by choosing different shades of blue or ecru to paint your walls, storage, and floors. Painting the ceiling is also a great idea, especially if you go for a lighter shade.
Labeled Storage Baskets Are a Life-saver
If you simply have too many items you'd like to place in your closet, there's no better way to keep them hidden away than by organizing them in labeled storage baskets. Have folded clothes that don't fit on the designated shelves? Place them in the basket. Too many hats and scarves hanging around? Again, pop them right into the basket!
To take it a step further, you can then label everything so that you won't have to roam through your stuff whenever you're getting ready.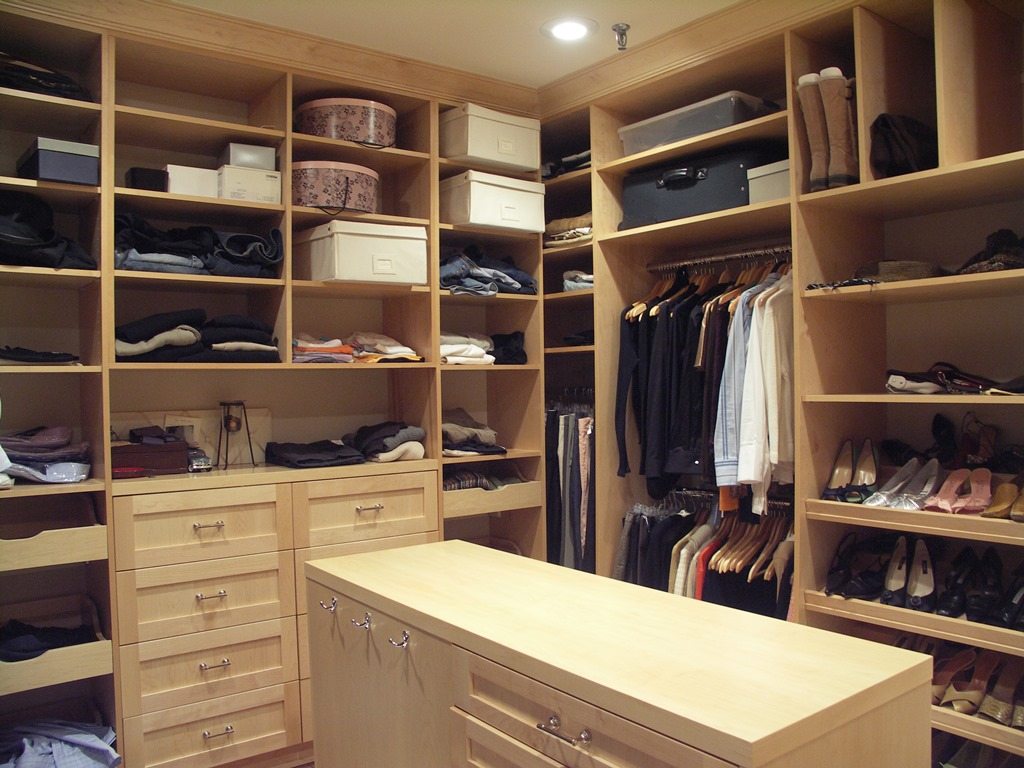 Add Drawers
The best way to add drawers is to add them as sliding storage units with soft closing and full-extension glides. You can even add glass drawers and mirrors – it's up to you! However, you must be careful when choosing the color, calculating spacing, and considering other nearby elements. Make sure to make good use of any dead space in there and tailor the drawer unit to it.
Built-in Storage Will Utilize Unused Alcoves
Many bedrooms have unused alcoves because of the design of the whole house and their usual under-roof position. DIY enthusiasts, furniture manufacturers, and design companies usually install built-in storage, such as shelves and drawers, to fill all the alcoves.
Love the Minimalist Style? Keep Your Closet Streamlined
If you want a more modern and minimalistic small walk-in closet style, keep it streamlined! You can do this by installing sliding doors, shelves, and rails. One of the best small walk-in closet ideas is to design a simple set of rails and shelves to fit in the free space and fill the alcoves. You can then add color box shelving or back panels for a more posh touch!
Freestanding Designs are Great for Apartment Living
If you live in an apartment without much space for a fully-fledged small walk-in closet, consider the freestanding designs you can add or relocate at will! These standing units can be narrow and are great for filling small alcoves.
Today, clothes racks are the most popular freestanding units. They allow you multiple options, such as placing them in an L-shape or dismantling them to get two side-by-side elements. Freestanding designs are great for tiny closet spaces and effective apartment living space usage.
Choose a Combination of Hanging and Shelving
Combining hanging space and shelves is one of the best small walk-in closet ideas for storing clothes, decorations, shoes, and other accessories. Sometimes the storage boxes and drawers won't fit in the tiny space of the closet. In cases like this, a combination of hanging rails, shelves, and other closet systems is an effective way to use all the space and ensure extra storage.
We Can Help You Design Your Dream NYC Walk-In Closet!
You can use any of the small walk-in closet ideas to use the space cleverly and create a simple yet appealing walk-in closet! Each small walk-in closet idea will help you organize your clothes even in the tiniest NYC apartments.
However, some small walk-in closet ideas are hard to implement because of their complexity and working conditions. The reason is that it's hard to find all the necessary materials, elements, and design solutions.
In New York City, professional and dedicated companies like MyHomeUs are always on the call! We can design and build your walk-in closet in a cost-effective and premium-quality manner. Contact us and get a perfect design for your small walk-in closet while saving a lot of time, money, and effort!