Home Planning & Renovations
Learning to Love Your Small Galley Kitchen
By Jessenia Toro
January 20, 2023
Chances are, if you live in NYC, you either have a galley kitchen or know someone who has one. It's an NYC staple. Most people secretly dream of an open-concept floor plan when planning their kitchen renovation, but with the right design, a galley kitchen is quite functional.
In this blog post, we'll outline a few advantages to having a small galley kitchen in NYC that you may not have thought about before. Plus, you'll get design tips to revamp the flow of your kitchen in this new season.
If you're already eager to renovate your kitchen, don't miss our free Kitchen Planning Guide designed specifically for NYC homeowners.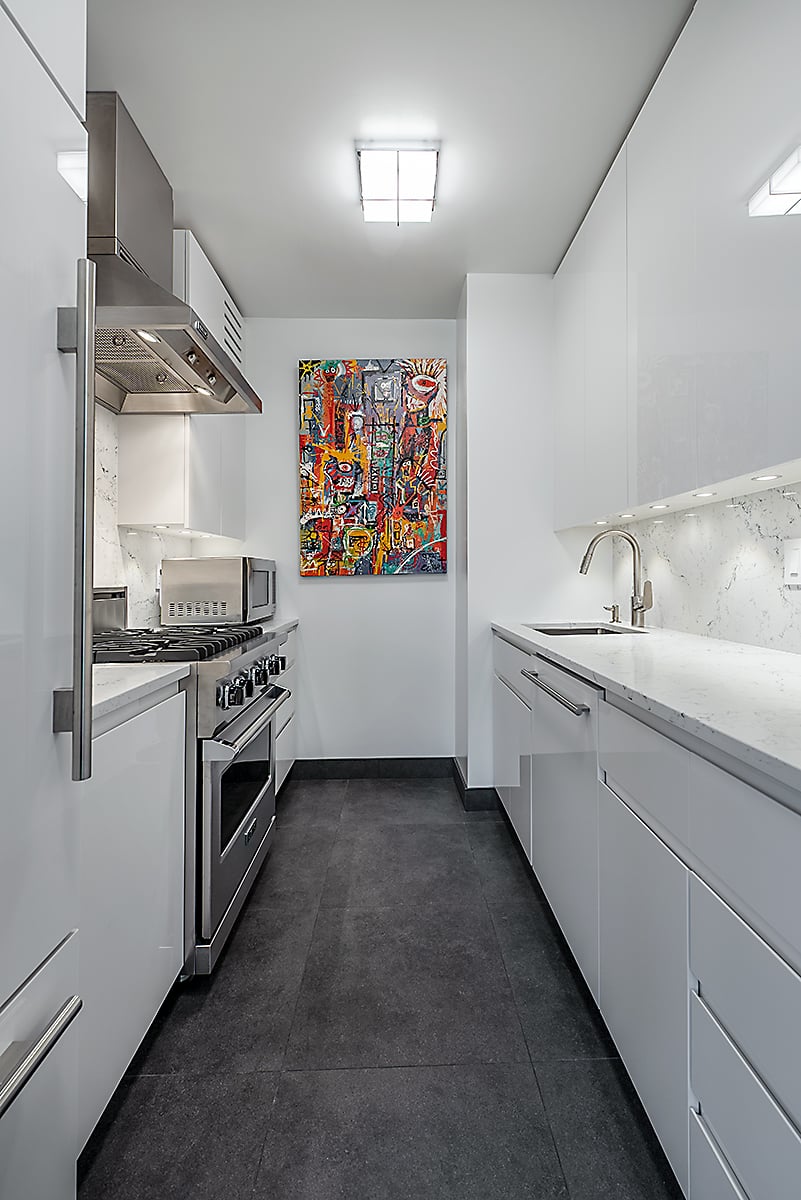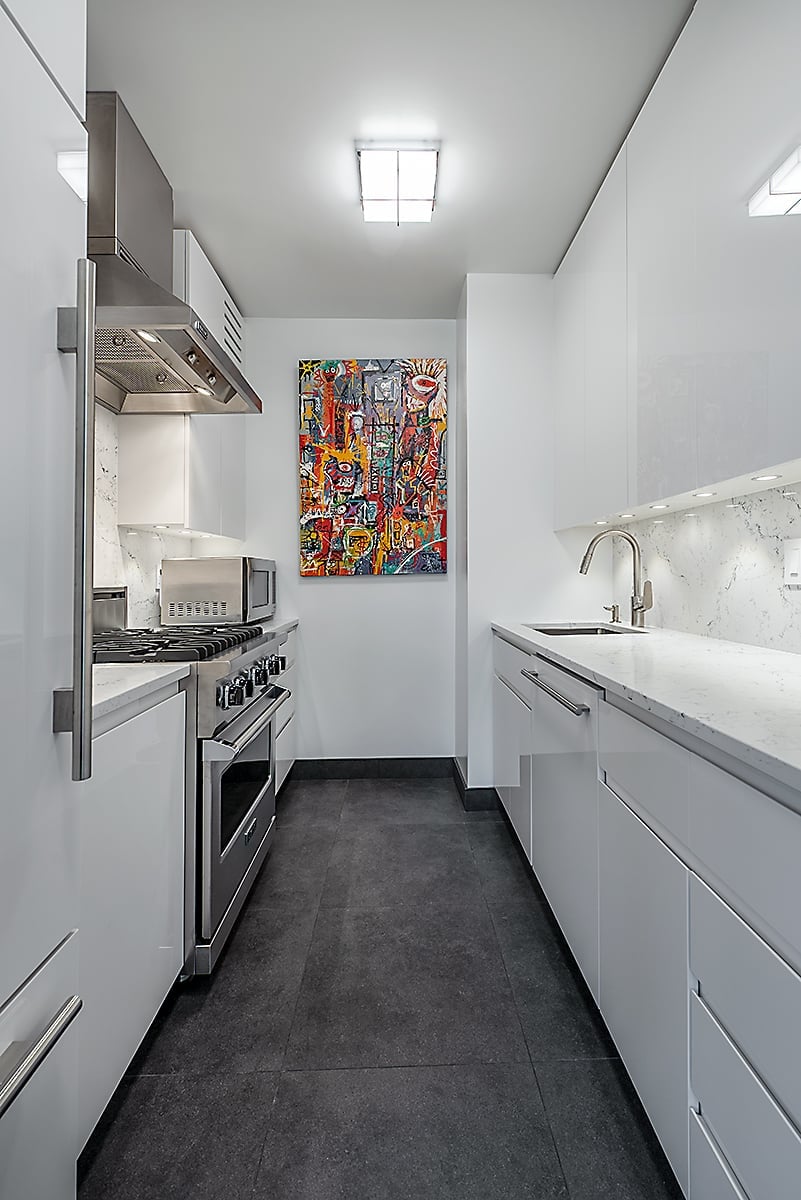 Less Renovation Cost
A great feature of a smaller galley kitchen is the renovation cost. You won't spend as much as you would renovating a large kitchen, which means you will have extra cash for customizing your kitchen so that it is perfect for you.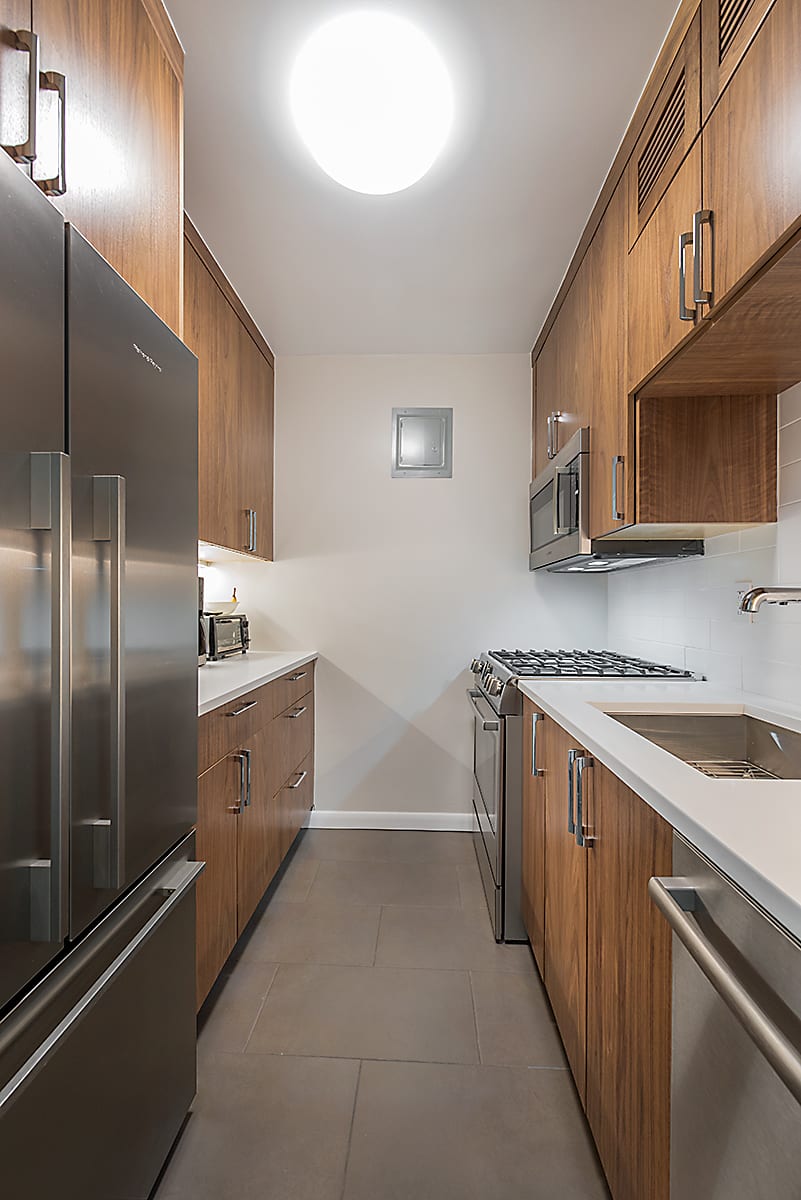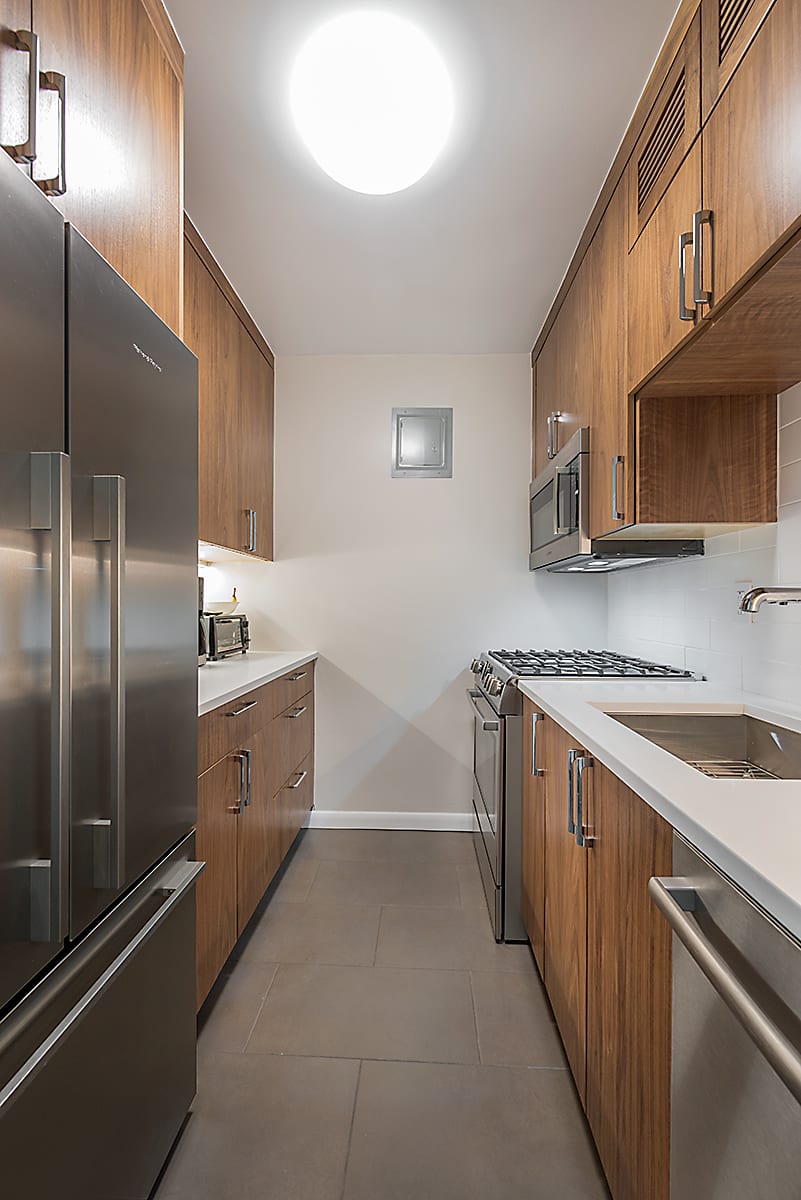 More Efficient Workspace
The galley kitchen is a modern and contemporary design that offers the opportunity for ample cabinets and lots of counter space. It's also really easy to design the basic work triangle, which allows you to reach all areas of the kitchen within minimal walking distance.
PRO TIP: The best distance between the two walls is 4-6 feet to maximize efficiency and workflow.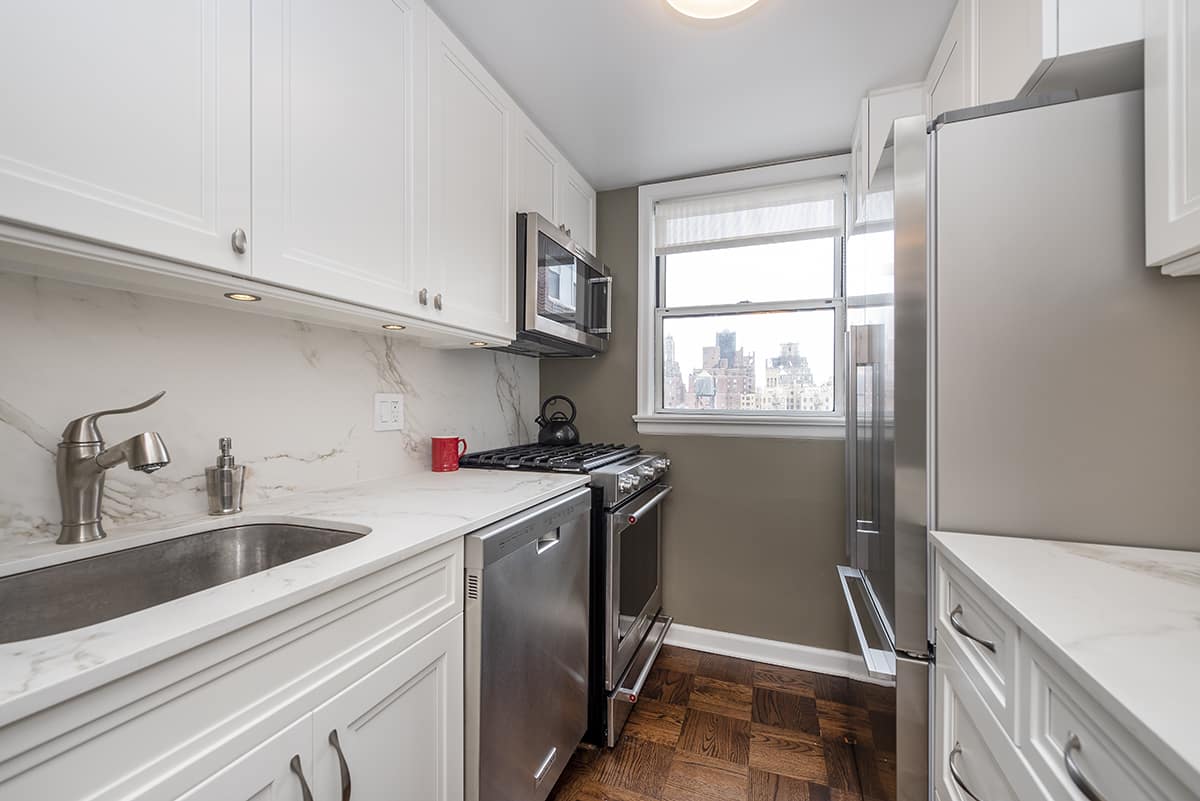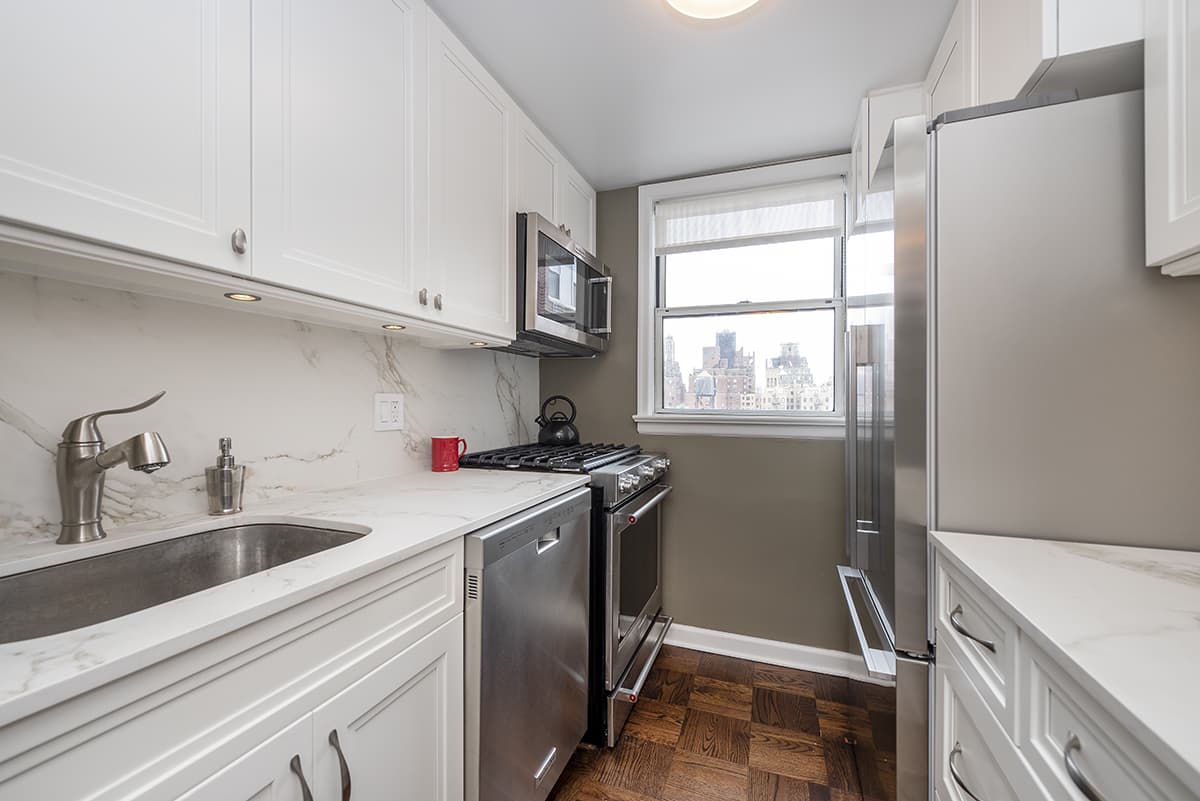 Maximize Vertical Space
A lack of square footage doesn't have to mean a lack of function, style, or organization. Most kitchens don't utilize all the empty walls. If you have higher ceilings, we recommend taking the cabinetry up to the ceiling to maximize storage space. The higher cabinets are great for storing items you don't use often, like holiday servers and party supplies. It also makes the kitchen feel taller, which is always a bonus.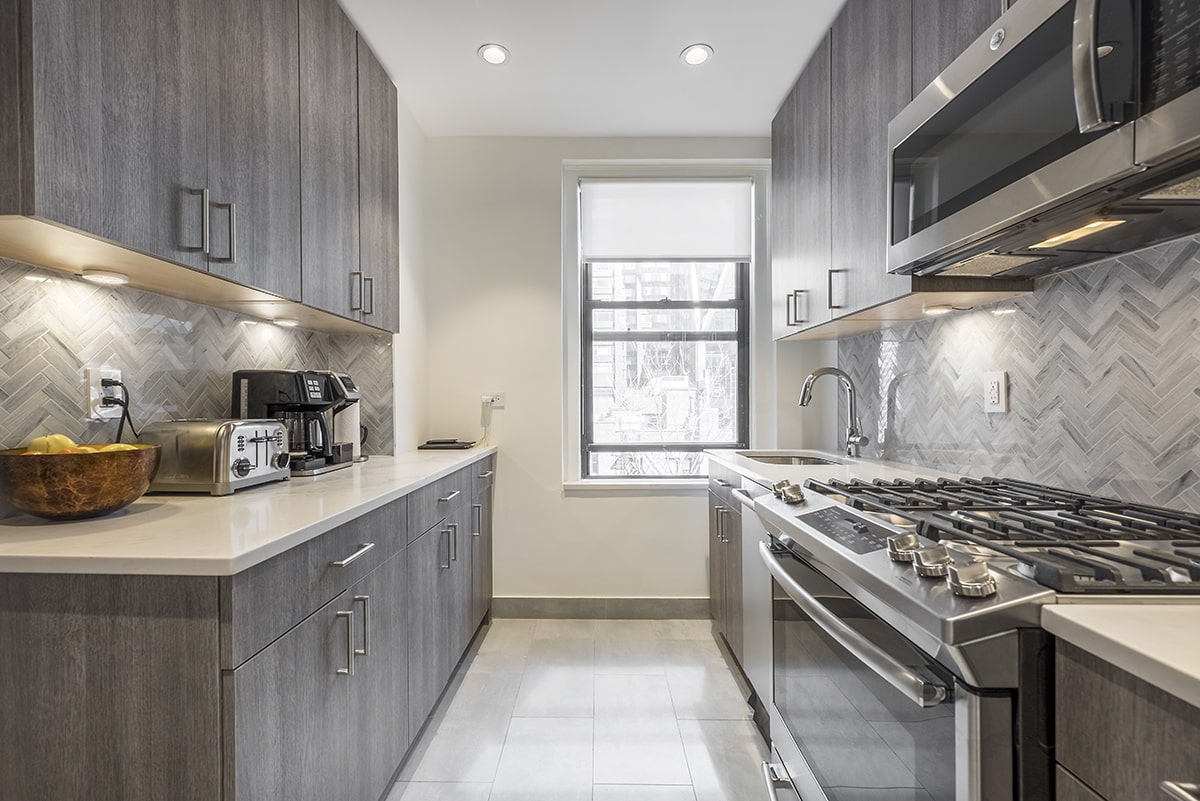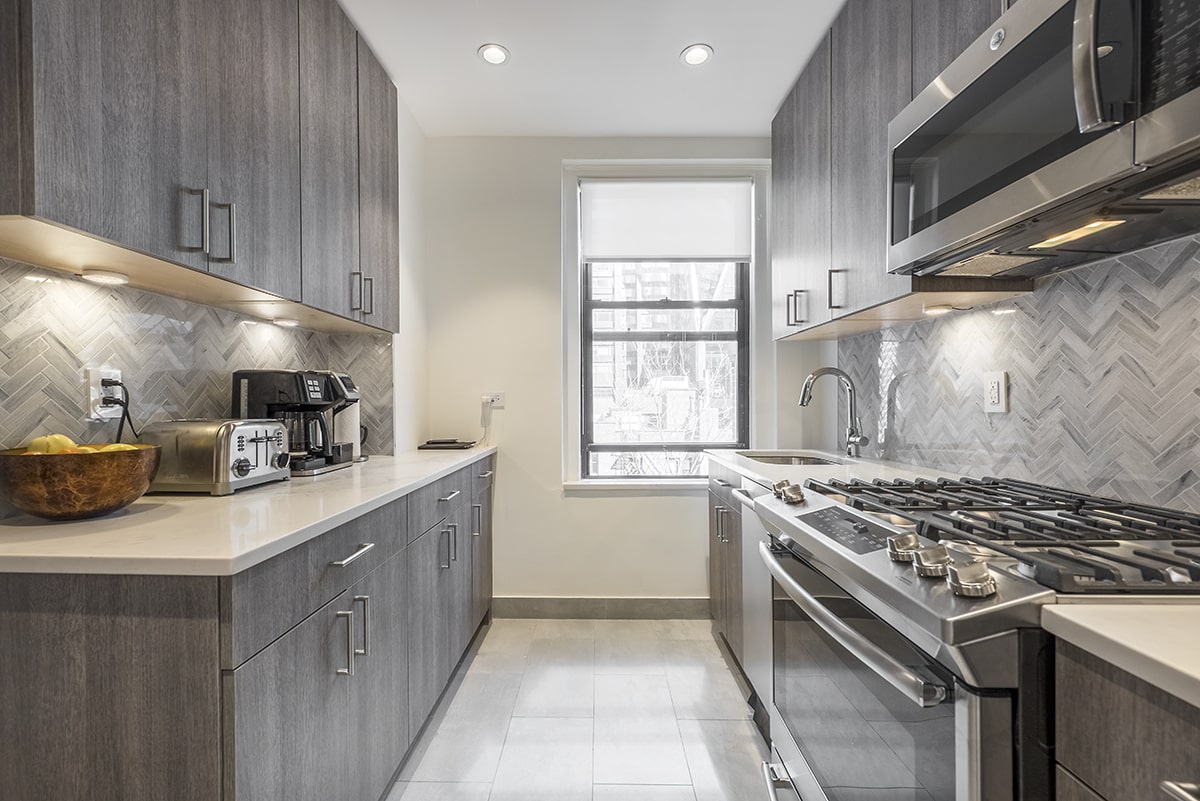 4 Simple Design Tips for your Next Galley Kitchen Renovation :
Open up the space by removing a part of the wall
Add upper cabinetry with open shelving
Contrast base cabinets with wall cabinets in a lighter color
Add an eye-catching backsplash or floor tile
Open Up The Space
If you want to open up the space a little, removing part of the wall to create an opening between the kitchen and living space can give the kitchen a more open feeling. It will also create a new layout that is not only ideal for entertaining but adds an eat-in counter with seating.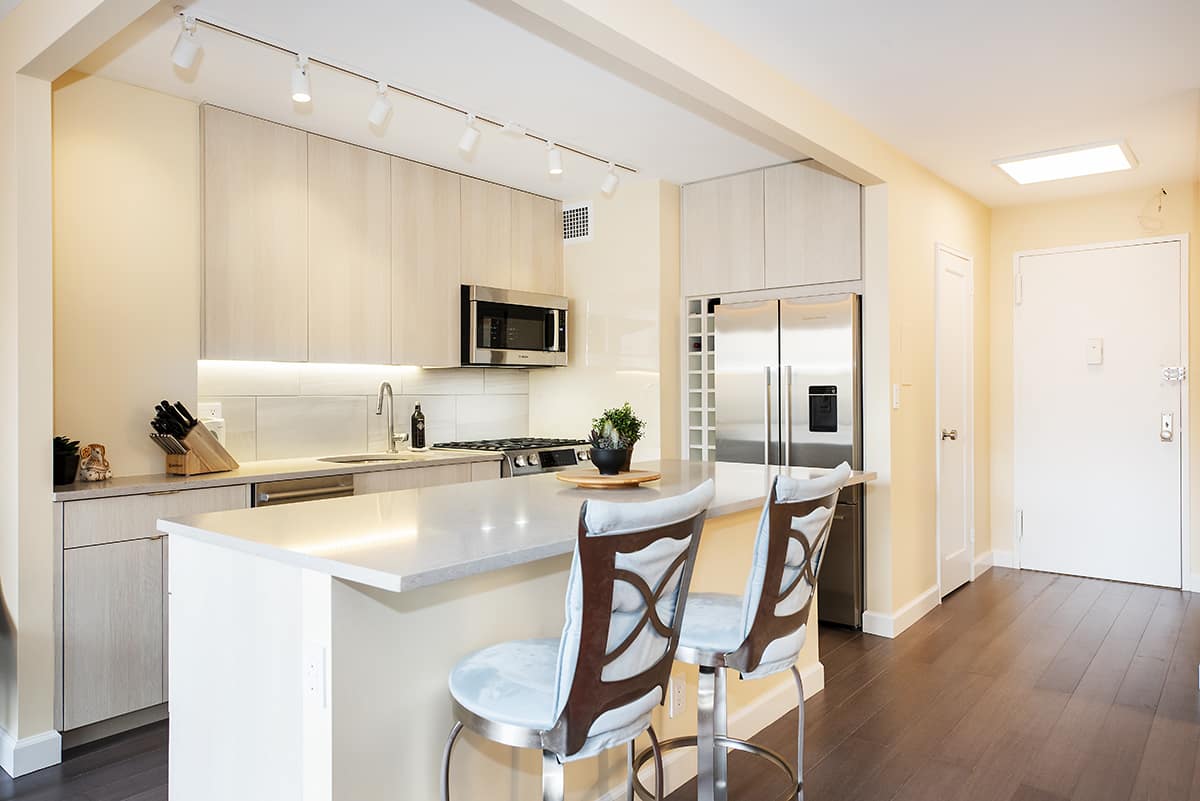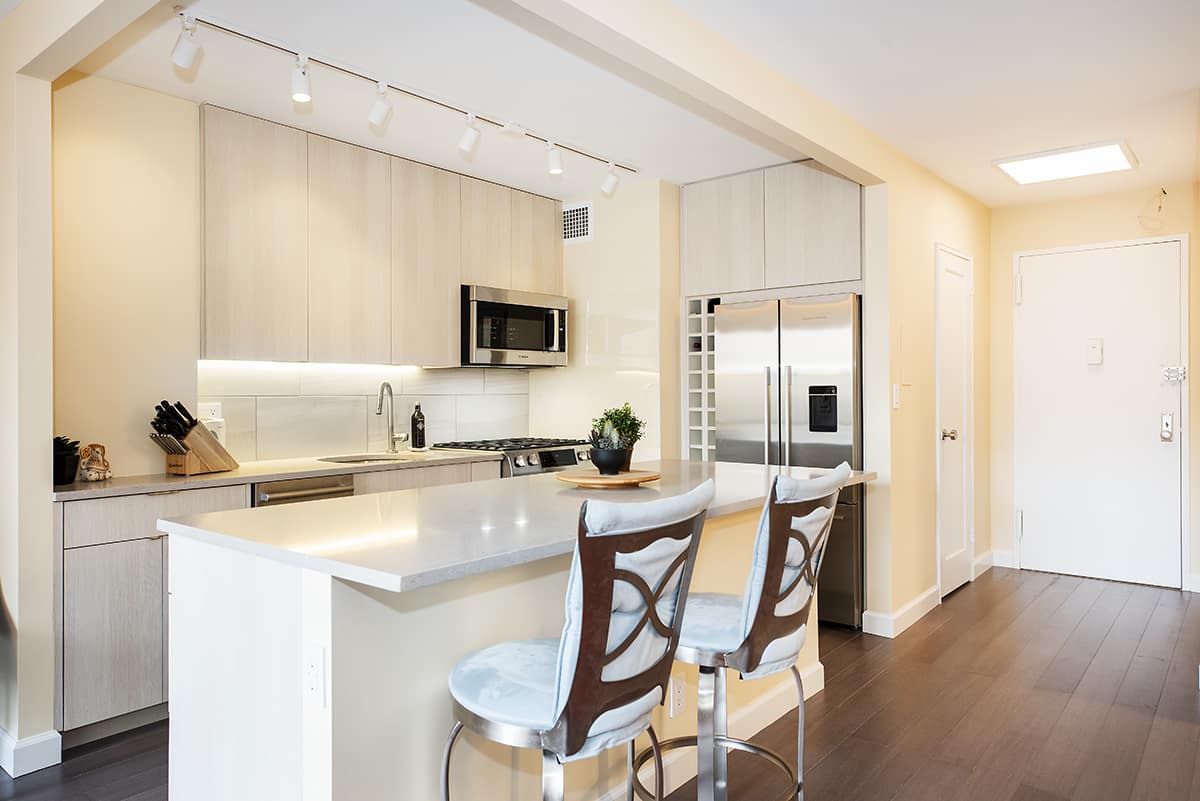 Add Open Shelving
In some cases, it's nice to break up some upper cabinetry with open shelving. This allows you to showcase some of your nicer pieces, or simply just put your everyday cups and dishes there for easy access. Display your vintage olive oil bottles, small plants, cookbooks, or pottery on open shelving and your kitchen will have a finished design feel to it.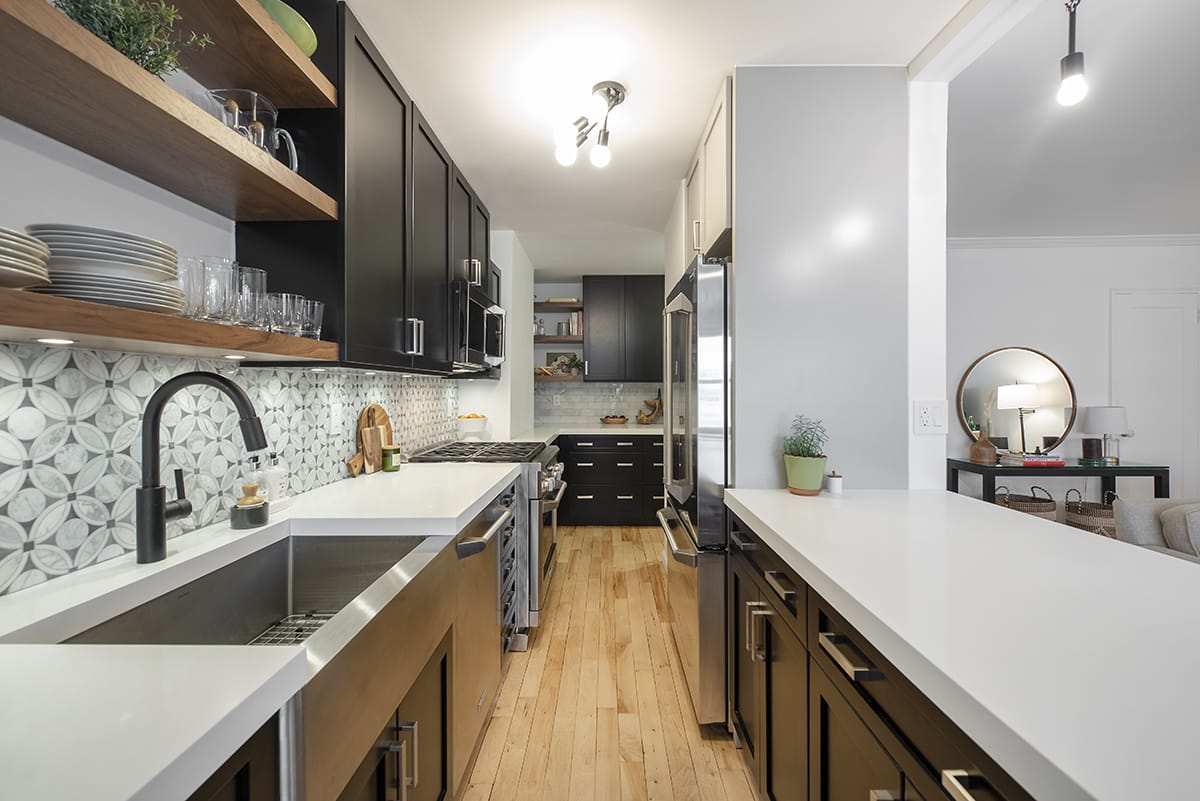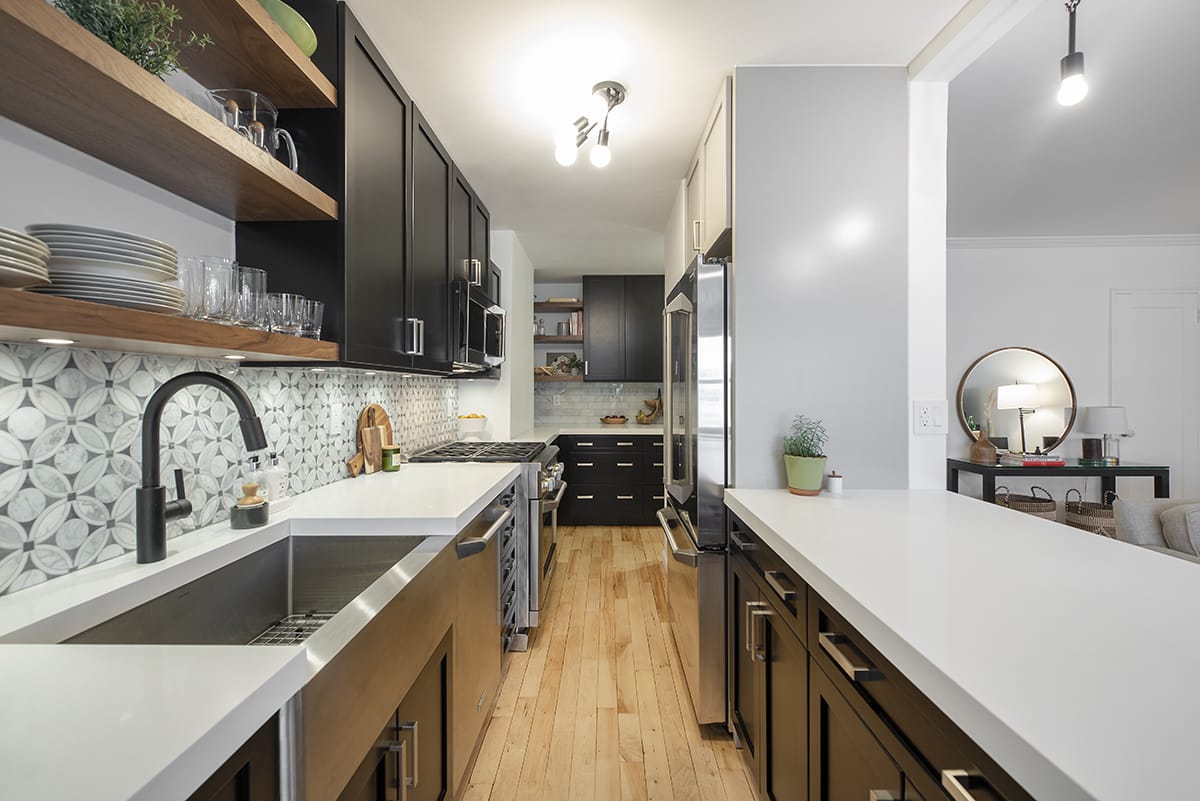 Mix and Match Cabinets
Another way to break up the space is with darker base cabinets coupled with wall cabinets in a lighter color. This will connect them more with the ceiling, which will give the space a lighter feeling up top. Light will also bounce off of lighter cabinetry, so if you have a galley with no window, this trick will come in handy.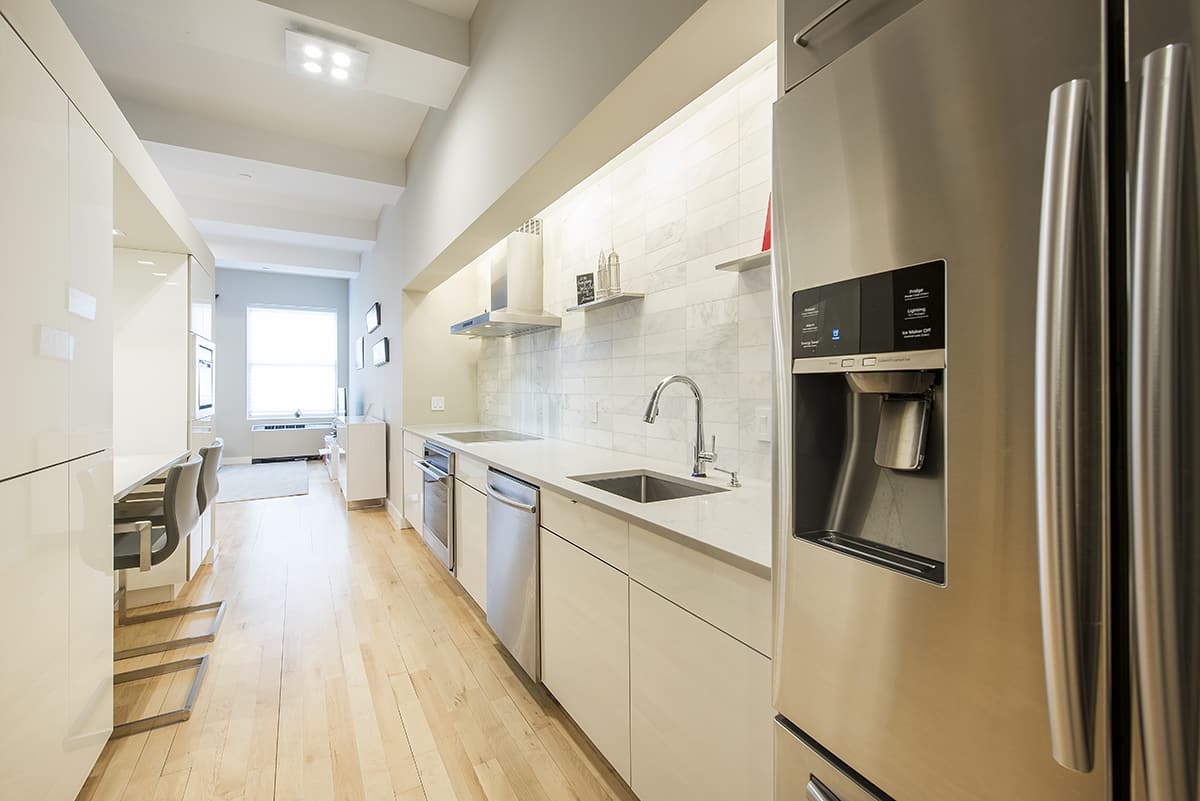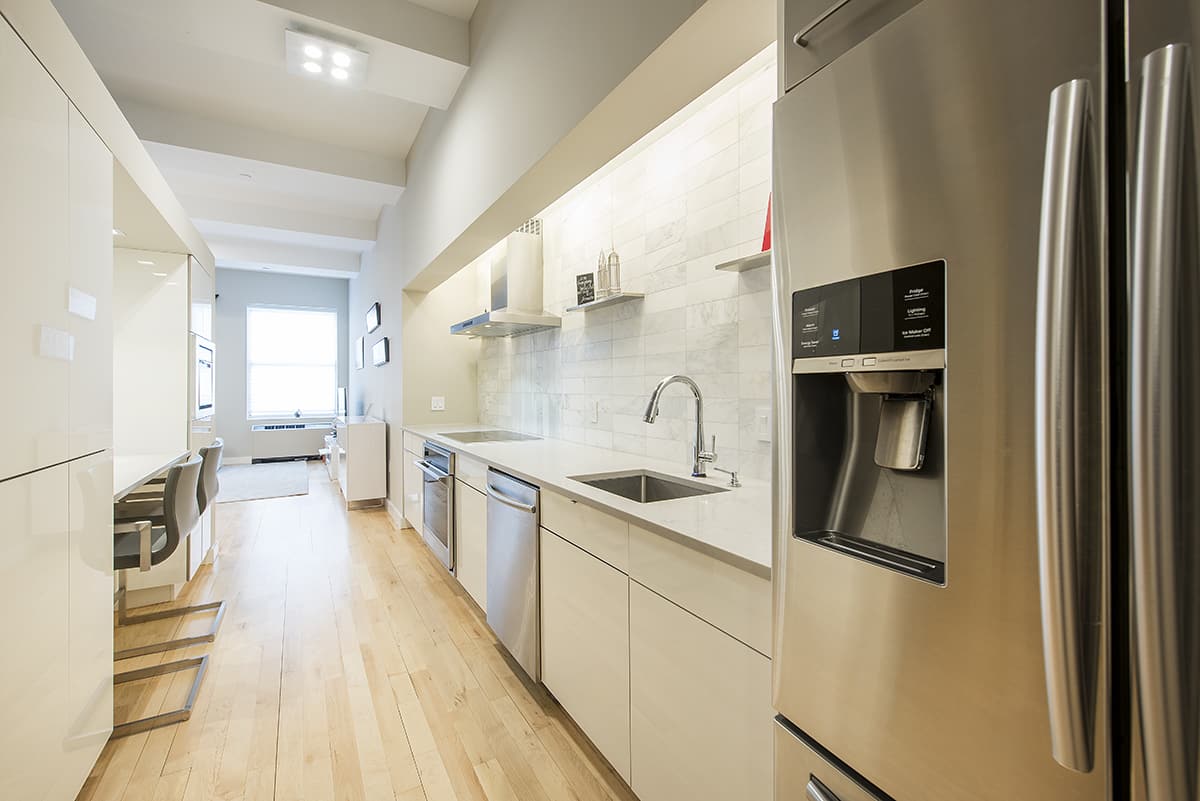 Create a Showstopper
This is also the perfect opportunity to invest in an eye-catching backsplash or floor tile. Because of the smaller footprint, you can bring in at least one showstopper to the design, and it won't break the bank. An accent wall at the end of the galley is also a great place for bold print wallpaper or a nice piece of artwork.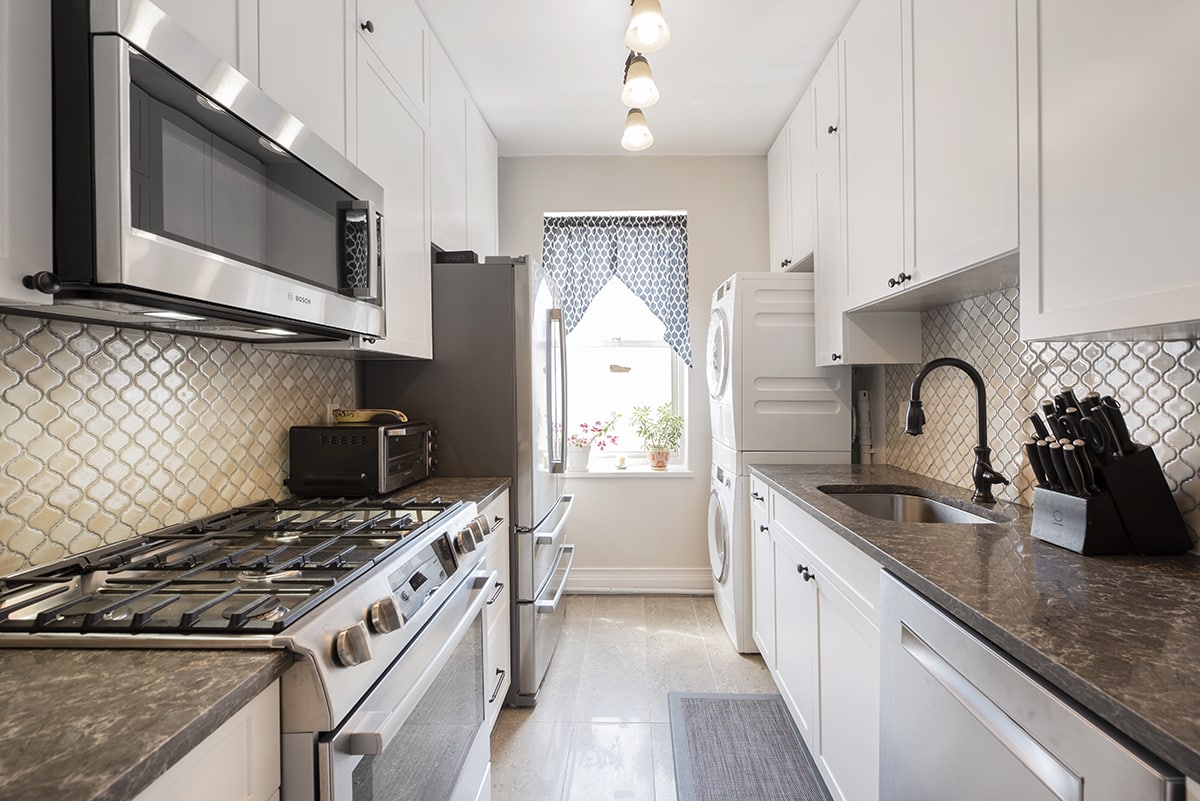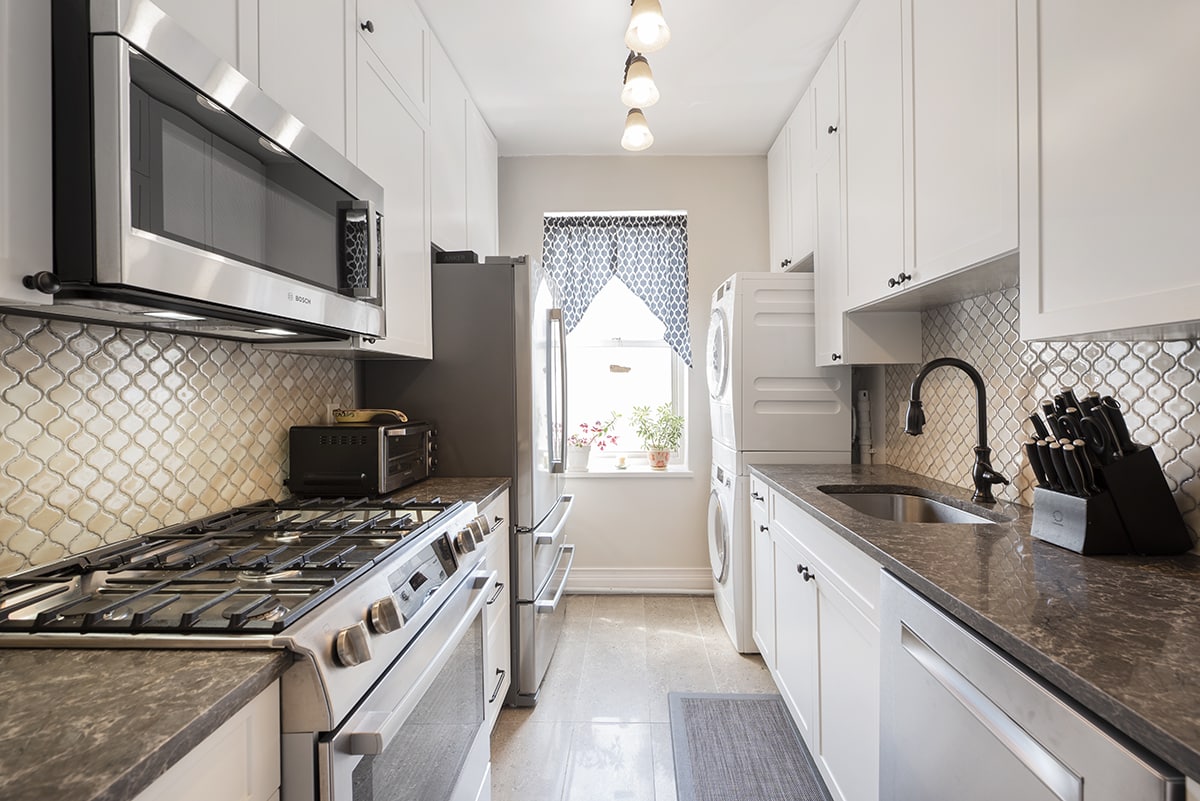 We hope this information has sparked your creativity and given you some ideas for your next galley kitchen renovation.
If you're ready to renovate your NYC kitchen, we're happy to help you through the process! Contact us and get your kitchen remodeled!