Home Inspiration
2023 NYC Kitchen Trends – A Quick Reference Guide
By Tiffany Smolick
December 30, 2022
Kitchens are often associated with a warm gathering place for families and friends.
The kitchen is the first room where the whole family meets before everyone goes about their busy daily schedule. It is also the space that holds a lot of delicious memories and aromas that remind us of happy times.
Kitchens may seem like a place where you just add some white cabinets, throw in a few appliances, and be done with it.
Well, many interior designers and manufacturers of kitchen items will disagree. Although there can be different approaches and philosophies on how to incorporate the latest kitchen trends, experts unanimously agree that the kitchen should represent the character and spirit of those who use it the most.
Read on to learn what's hot in kitchen decor, what's out of style, and what upcoming trends will bring upon us.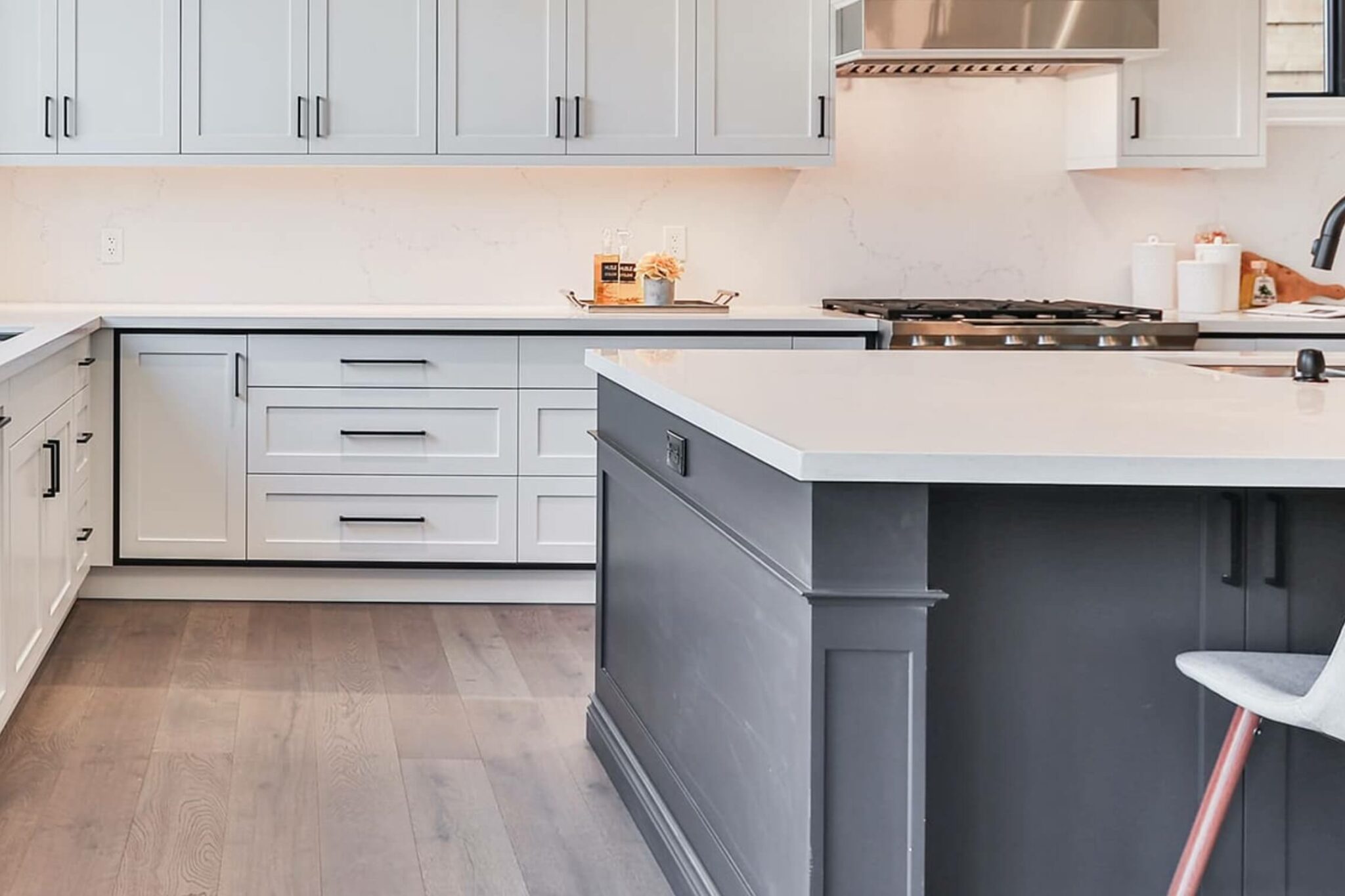 What's In? Unveiling the Latest Kitchen Trends
When discussing the latest kitchen trends, people may get skeptical about what's in fashion. Kitchens are full of expensive equipment and appliances and it is very unlikely that everyone can follow the trends year after year. But then, there are also evergreen trends that will always be in style and in demand.
Today's modern kitchens are smarter – making cooking fun, easy and exciting due to the use of the latest technologies. Simple and elegant designs, the use of neutral shades, and natural light are always favorites among designers.
When starting your kitchen renovation, think of all the things you'll be needing to make the space usable and practical, but also, inspiring and appealing.
Use the advantage of smart appliances to make your life easier when moving around the place. Hands-free faucets will come in handy when you have your hands covered in flour. And with voice-controlled cabinets, there will be no more arguing about who slammed the cabinets harder.
The latest trends in the kitchen design field are all about boldness and advancement. Hi-tech appliances, floor-to-ceiling backsplashes, combinations of earthy and calming colors, and mixing materials are just your starting point in staying on trend. Remember, you don't renovate your kitchen every year, so give yourself time to decide what trend will work for your space.
At the start of every new year, interior designers treat us to the latest kitchen trends and introduce new materials, new colors, backsplash ideas, and more. Following what's on the list may help in making the best choice for giving your kitchen the long overdue facelift.
Stainless Steel Modular Kitchen
Stainless steel is a popular choice in many homes and takes the leading spot in our top kitchen trends list. Tailor-made to fit everyone's budget, modular stainless steel cabinets are easily installed and add value to the space with their high resistance, durability, and ease of maintenance. Not to forget, they are also environment-friendly.
Smart Appliances
Installing smart appliances helps every household turn their dull cooking space into a welcoming place. Today's appliances are easy to control with a simple click of an app. There are also those that are voice-controlled so you don't even have to bother clicking buttons. Possibilities to set a timer and go about your day makes cooking much simpler.
Earthy Designs
With the increase in environmental awareness, the top kitchen trends include earthy natural designs. White is not trending as much in 2022, warm and mellow colors are a standard staple for quality space. Recycled countertops, distressed effects, patterned or ceramic floorings, and hardwood are other elements that give kitchens a rustic yet modernized feel.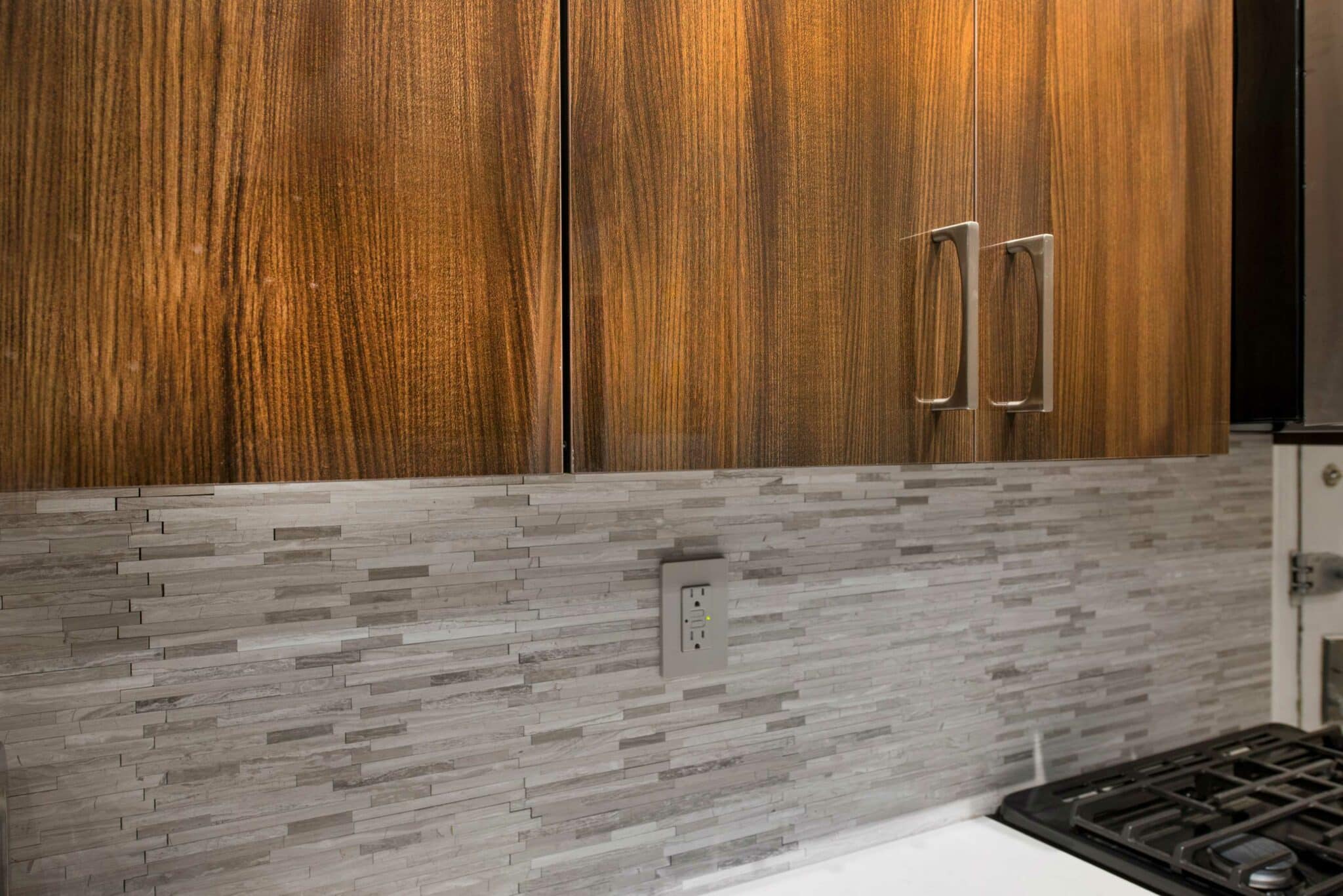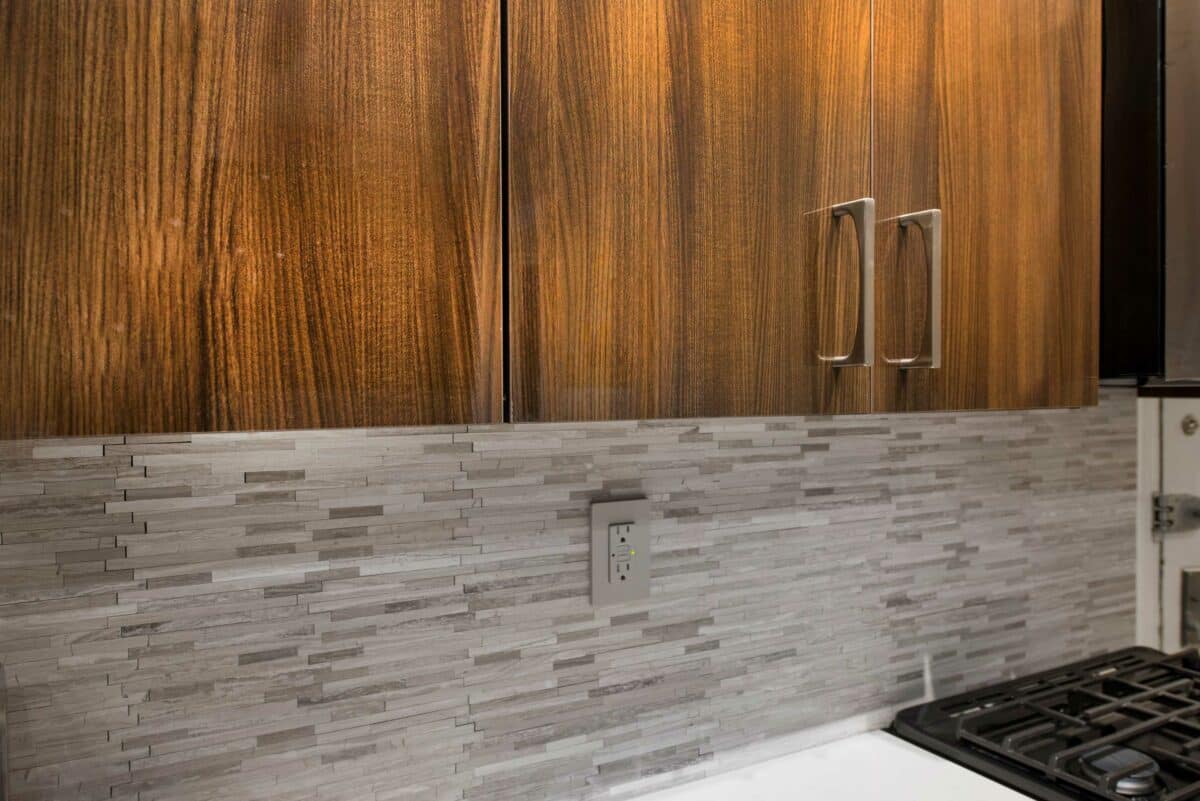 What's Out? Unveiling Outdated Kitchen Trends

With the arrival of new trends, it is time for older ones to retire. Be brave to breathe some fresh air into your new kitchen design by taking out some of the following outdated trends.
Short Backsplashes
Four-inch and 18-inch backsplashes are old news. Some interior designers find that backsplashes are not as functional or stylish anymore. Full backsplashes are taking the scene by covering the whole wall, top to bottom, not just the space between cabinets.
All White Kitchens
Designers find that white kitchens have lost their magic and are lacking personality. Instead of a sterile environment, kitchens should promote happiness and joy through the use of color. If white cabinets are something you cannot give up, at least add some color or texture to brighten the space, like modern doorknobs, stickers, and plants.
Granite Countertops
Granite countertops are a definite sign of outdated kitchens and are being replaced by marble and quartzite countertops. The grained stone gives a speckled appearance and is now being replaced by clean-veined stones. Darker and lighter stone veining is giving kitchens a high-end finishing touch and an appeal of richness, too.
Ornate Details
Ornate details have no more room in your kitchen. Today's trends are introducing simplicity and minimalism, so go for something plain yet chic. Don't overload the space with heavy ornate detailing when everyone is going simple. Stick to the elegant route and choose timeless accessories to boost the space.
Farmhouse Decor
It may have been the choice of design for years, but country chic kitchens are now fading away. Use some of your favorite pieces and incorporate them into your new kitchen, like a vintage sink, a retro lamp, or feather bouquets in a vase. Mixing old and new is exciting, and the elements you introduce can be both practical for your kitchen and serve as a corner decor or a centerpiece.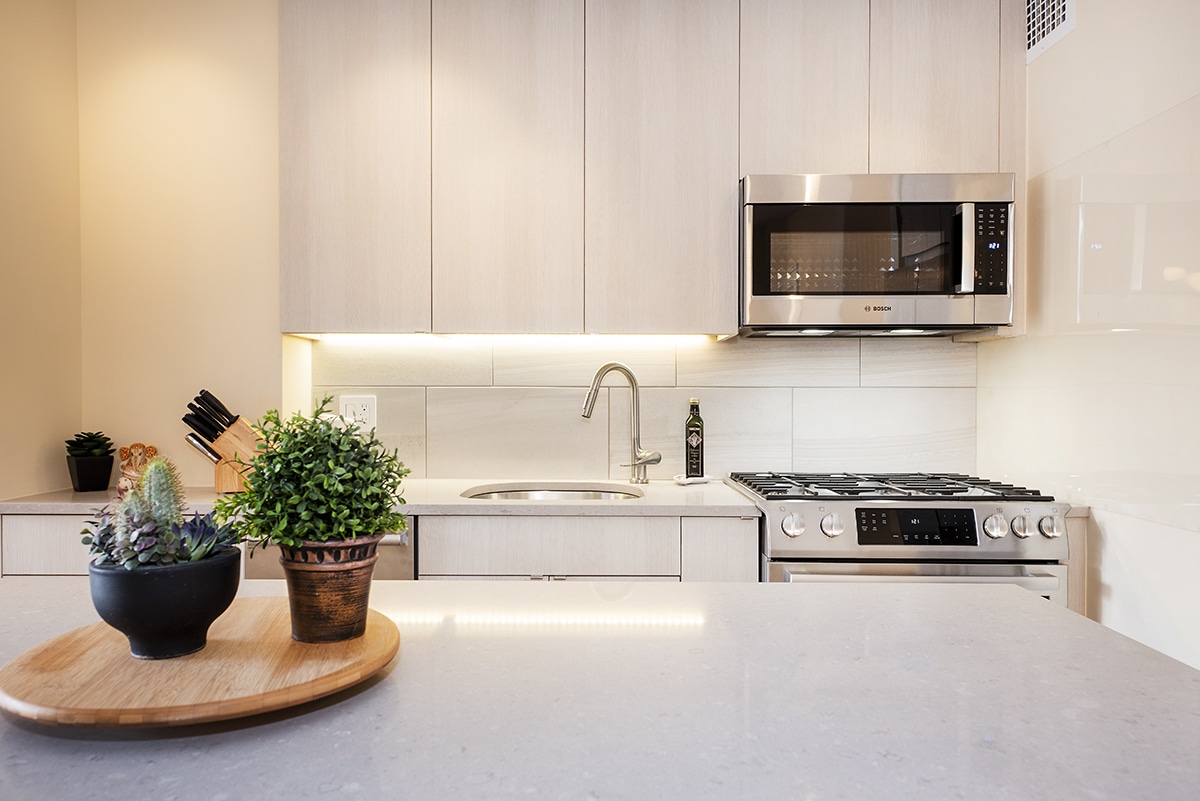 What's on the Horizon in 2023
As a popular home improvement project, kitchen remodeling will continue to introduce top kitchen trends for us to follow. There are many fresh and upgraded ideas that you can consider for your next kitchen remodeling project. Following trends blindly is not always recommended, but you can always incorporate some of the trends that also meet your aesthetic preference. Here's what's trending in the kitchen industry in 2023.
Eco-centric Designs
Increased ecological awareness will bring about more eco-friendly and green designs. Natural and eco-friendly materials will be incorporated into the designs giving them an organic look. People are slowly returning to nature and trying to bring as much of it inside their homes as possible.
Practical and Inviting
With many families spending more time in the kitchen, homeowners are looking to turn their minimalist and sterile kitchens into inviting places. The design should portray harmony and comfort with the selection of colors and designs. Opt for simplicity by using decorative handles rather than knobs, as well as automatic opening systems.
Bring the Light in
More designers are introducing natural light into the kitchen by opening large picture windows where possible. This gives the feeling of space and openness while contributing to a clean and classic look. Bringing the outdoors in, combined with the warmth from the sun, will make your kitchen a dream area in your home.
Trends Through Images
Good dining brings people together, so why not make the place enjoyable, cozy, and trendy at the same time? You'll want cooking to be pleasant, not just another task you want to tick off your to-do list.
Every designer or expert has a different approach when it comes to decor. Some bring the outdoors in, some like to follow the color pattern throughout the whole house, and some offer to embrace the bold and unexpected. The different approach to using the trends is what makes every kitchen design unique.
The below images give a presentation of some of the latest trends in kitchen design.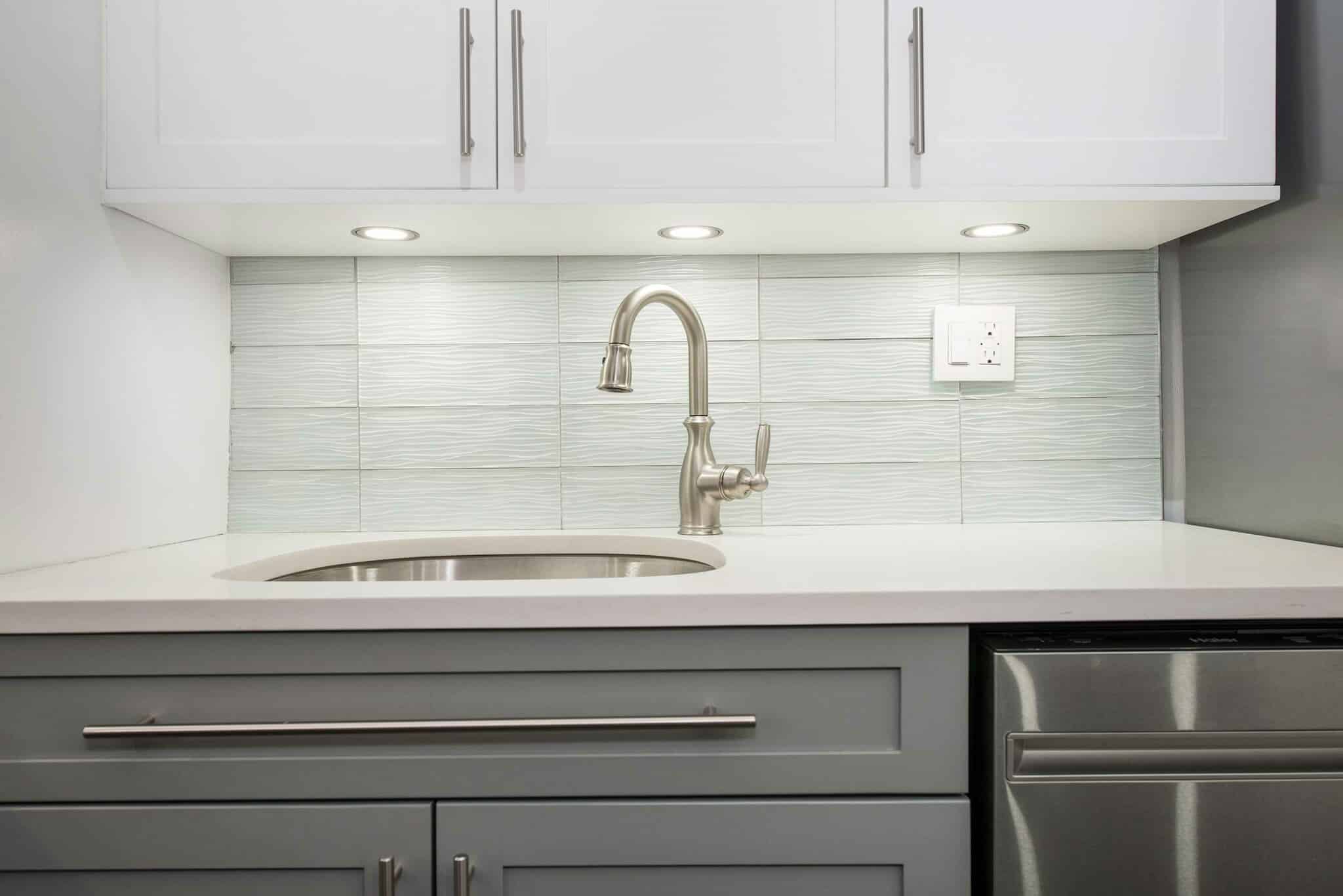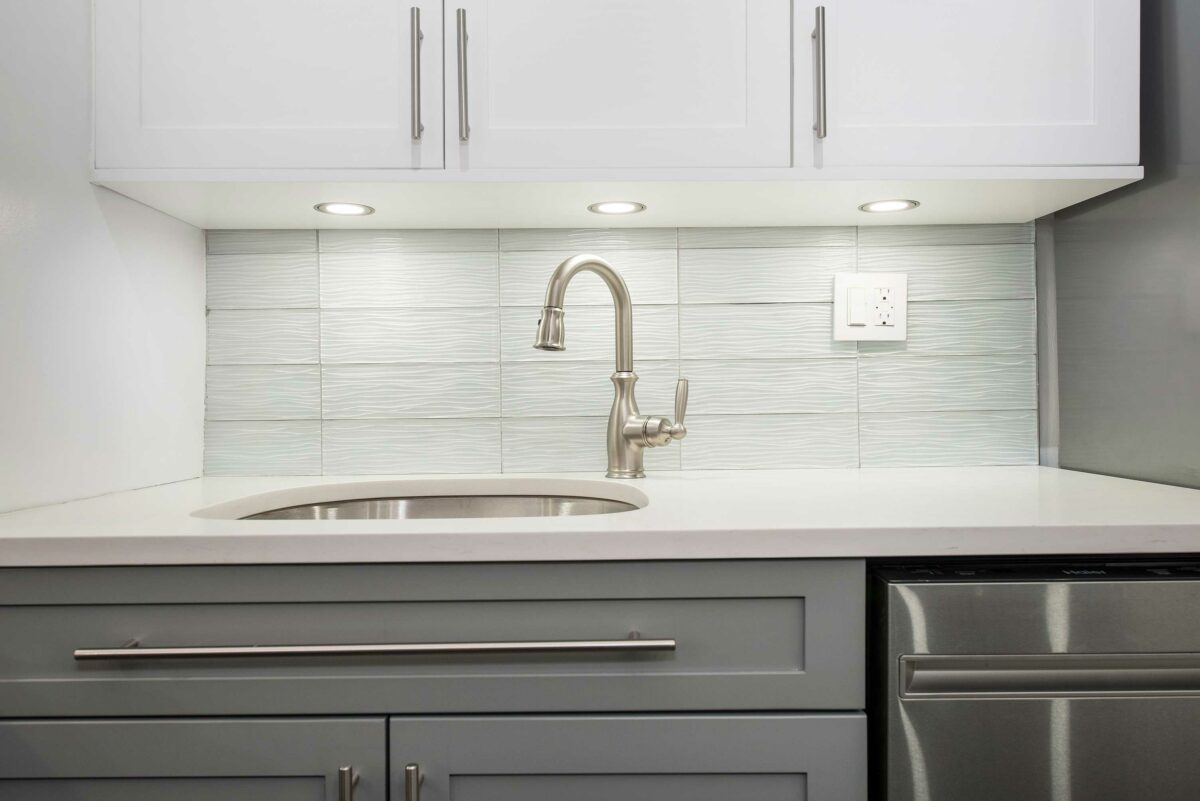 Details and faucets in stainless steel are the number one detail for our top kitchen trends – it makes for an elegant and timeless look that lasts for generations.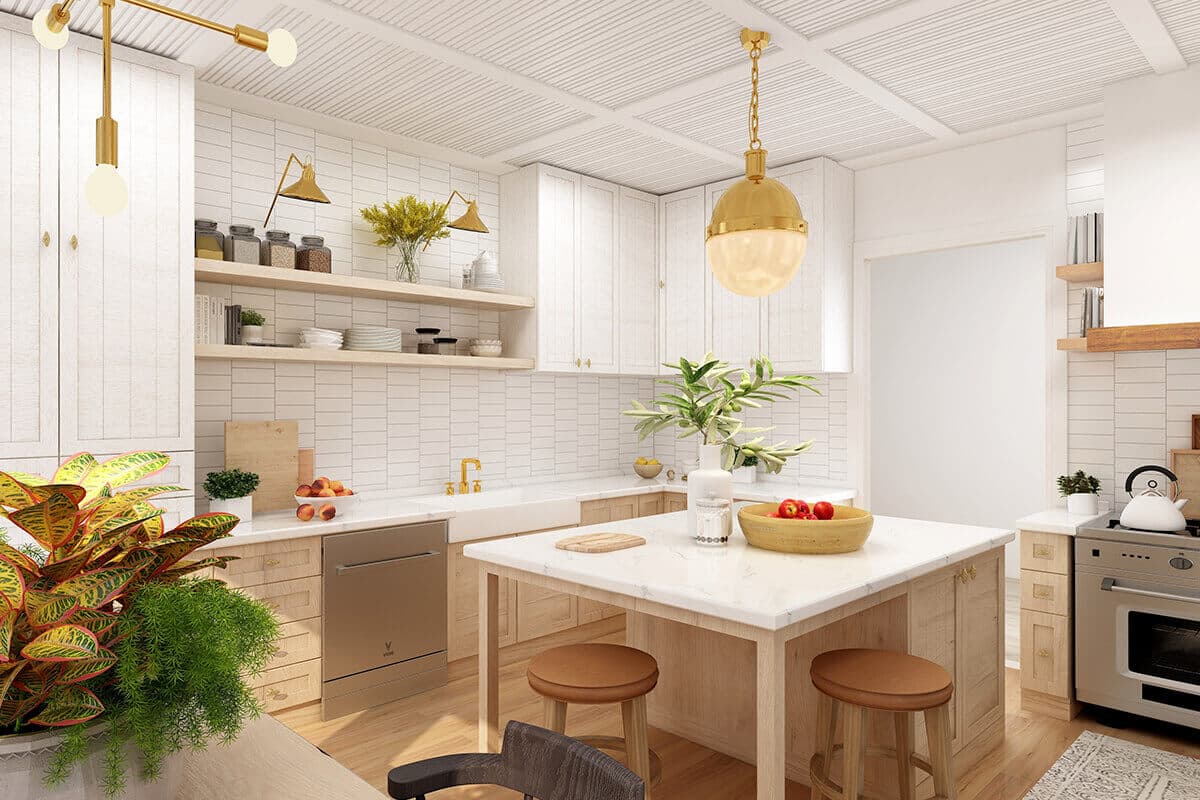 If you're into earthy design, then you're in luck, because that's also super modern and among our kitchen trends this year. Using different materials, including recycled items, not only makes your kitchen trendy but also more environmentally sustainable. It's a win-win!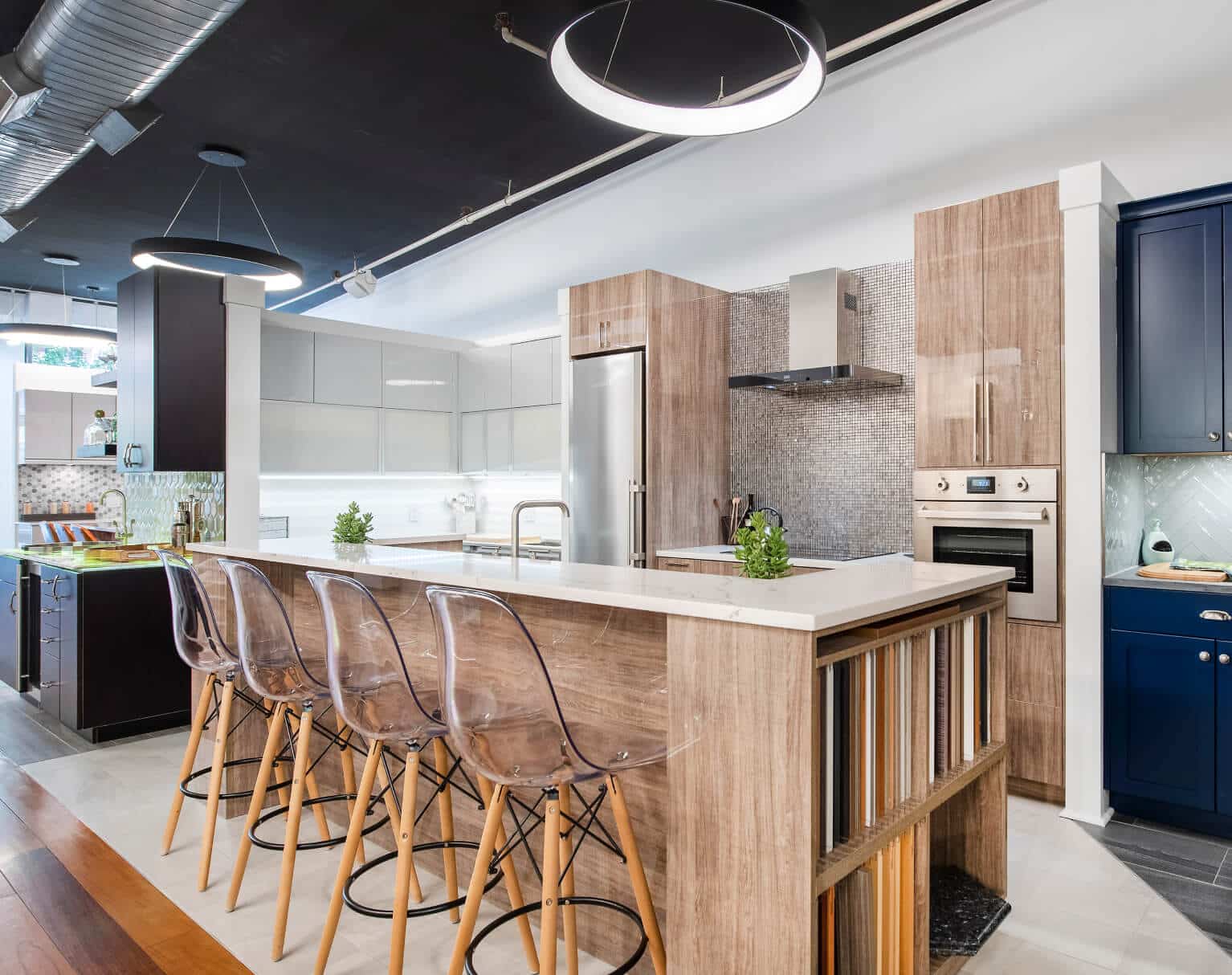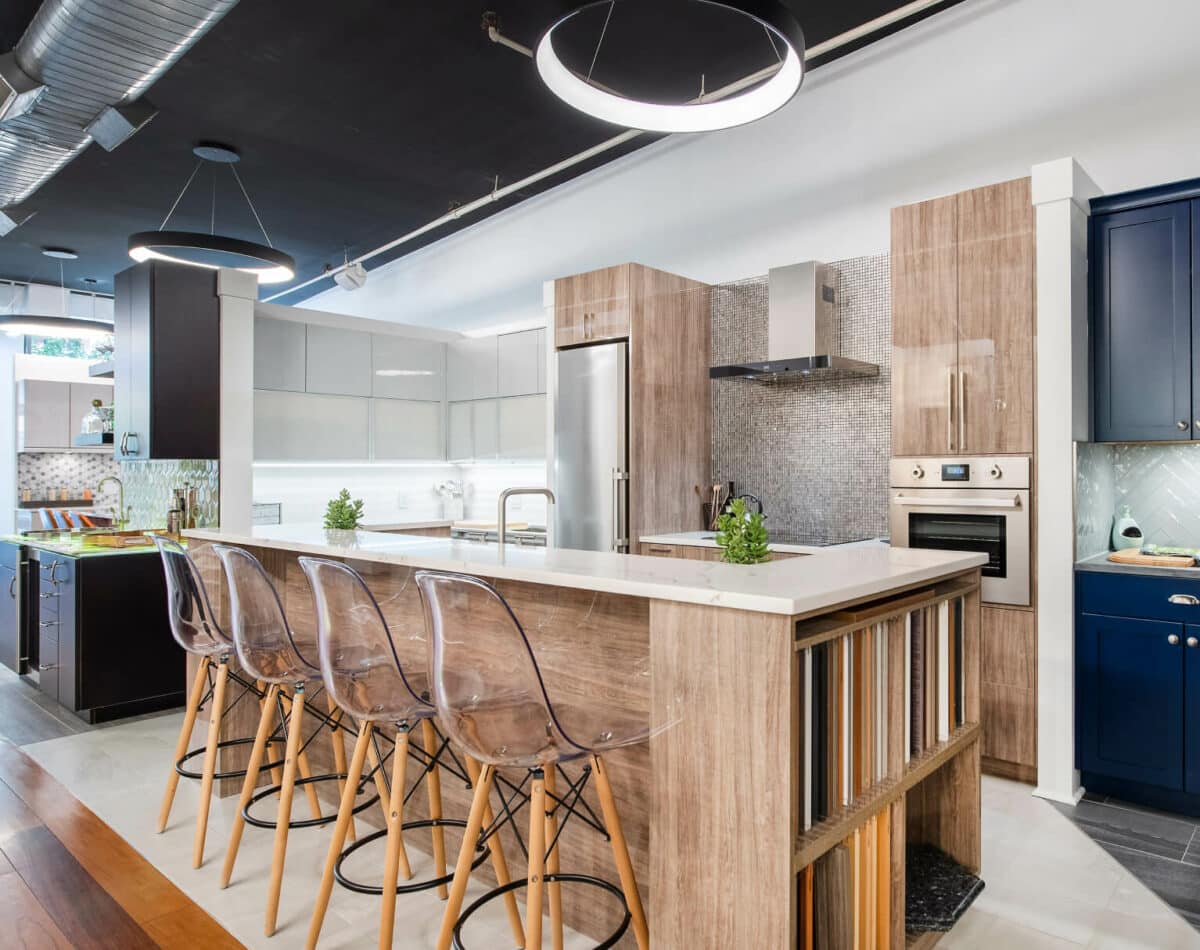 Using different textures and making your kitchen space diverse, is always a winner when it comes to kitchen trends, so make sure to consult with an experienced general contractor in your New York area, to find the best solutions for you and your family.
Expert Trend Prediction for 2023
Interior designers have a lot to say when talking about trends, especially kitchen-wise. As experts, they are the ones creating the trends and know how to best incorporate them – and here is who has predicted what.
Sherwin-Williams
Sherwin-Williams is a paint and coating company that knows color. For 2023 they offer a warm and neutral pallet of colors that connects us with nature. The expert picks from their color palette include light and very natural green (evergreen fog) and a darker shade in navy blue.
For those going for dual-toned kitchens, a combination of creamy white and stardew (blue-grayish) gives the kitchen a calming and relaxing effect.
Remain and Remind
Dawn Stafford, the designer behind Remain and Remind, believes that interior design has to be a reflection of the owner. For 2023, she predicts we will see a lot of mixed materials in the kitchen – from combining tiles and stone to mixing metal and wood.
She mentions the use of high-technology features in the 2023 kitchens as well. Such are voice-controlled smart cabinets, hands-free faucets, and others. To give these trendy kitchens the complete look, choose bolder colors to give the kitchen island some character.
Loretta J. Willis, Allied ASID

As a designer, Loretta Jfaucets. Willis understands that kitchens should be a reflection of one's kitchen lifestyle. She prefers practical kitchens with a "sense of understated elegance". An increasing trend installed in kitchens is pet stations which give pets a special place in the room, alongside the rest of the family.
FAQs
What is the kitchen trend for 2023?
The 2023 kitchen design is cozy, comfortable, and inviting. Kitchens are the heart of the house and should be equipped with earthy dual-toned cabinets and a statement hood, and introduce plenty of light. The trend is oriented toward the use of natural materials, toned-down colors, and eye-catching details.
Are white kitchens out in 2023?
White is a classic color that will never go out of style, but all-white kitchens are simply not in anymore. Avoid the sterile and clinical look of an all-white kitchen and create a more comfortable and inviting space. Add some color to the kitchen, but don't go overboard. Too much white in the kitchen is considered flat and cheap, but not using a lighter tone similar to white will not do your bolder shades contrasting justice.
What color kitchens are in for 2023?
With kitchens, it's all about color. Nature-inspired green is definitely at the top of the list of kitchen colors for 2023. Different shades of eye-catching blue are also ranking high on the list, and surprisingly, yellow is also having a moment.
What is the most popular kitchen cabinet style for 2023?
Shaker-style cabinets are the talk of the season in kitchen cabinetry. The square-edged or box-shaped appearance gives your kitchen a simple design and simultaneous depth. Flat-panel cabinets take second place as the most popular style in kitchen cabinetry.
What is the kitchen trend for 2023?
In 2023, designers will play with natural light by installing large windows that follow the line of the counter and ensure enough sun penetrates the space. Different materials and textures will also be mixed to create a calming environment. Some designers might use bolder patterns to put an accent on a certain area of the kitchen.
Are granite countertops out of style in 2023?
Yes. One way to spot an outdated kitchen is to check if it has granite countertops. Their speckled appearance is already going out of style and veined stone patterns found in marble and quartzite are replacing these outdated kitchen countertops.
What is the most popular color for kitchen cabinets in 2023?
Kitchen cabinets in 2023 are all about earthy colors and milder tones. Earthy green is at the top of the list along with the use of natural wood cabinets. Different shades of blue, and even black or dark hues are also ranking high on the cabinetry color pallet. Homeowners are advised to experiment with two-toned kitchen cabinets for a full effect.
What is the most popular appliance color for 2023?
Stainless steel and white are among the most demanded colors for appliances in 2023. And, even with the out-of-fashion white, you can still color-coordinate your appliances to match the kitchen's overall palette, be it the cabinets, floors, countertops, or decor.
If you're ready to renovate your NYC kitchen, we're happy to help you through the process!
Click here to get started for a FREE consultation.