The MyHome Team – Ben Pitt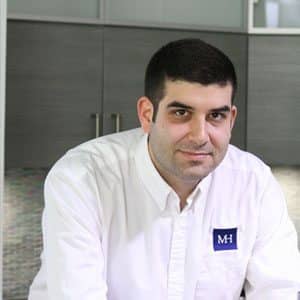 Ben Pitt
Remodeling Consultant
With MyHome Since: 2003
Years in Industry: 19
Showroom Location: NYC
212.666.2888

212.665.0146

Email Ben Pitt
>> View Ben Pitt's Recent Projects
For more than a decade, MyHome remodeling consultant Ben Pitt has been assisting clients with developing exciting home improvement ideas for their bathrooms and kitchens. By providing expert advice concerning any design issues that may arise before, during and after the project, Ben has an established reputation for being an innovative and productive remodeling consultant.
Ben is also responsible for creating production drawings that conceptualize lighting schemes, closet construction features and built-in cabinetry arrangements for the client's consideration. Whenever the project manager or customer requires assistance, Ben is always right there to offer his talented and solidly professional advice.
In addition to having a Bachelor of Fine Arts degree from The Rhode Island School of Design, Ben possesses an impressive list of other credentials, beginning with a license as a Home Improvement Salesperson with the New York City Department of Consumer Affairs ( License #: 1358242). Ben is also an EPA Certified Renovator in accordance with lead paint safety practices last updated in April of 2010.
When he is not helping clients with home remodeling projects, Ben participates in various tradeshow and product vendor seminars providing valuable information to the public about the home improvement industry. He is especially interested and knowledgeable in regards to designing remodeling plans for NYC apartments, including full home improvement makeovers involving bathrooms, kitchens, lighting/electrical, doors/closets, creating 3D color cabinetry renderings and flooring plans.
Ben can often be seen providing clients with design consultation services in MyHome's showroom, as well as helping customers in their research and selection of the best materials for their next home improvement project.
Ben Pitt's References
John Lorenc — "I have been very impressed with your firm, especially your professionalism, the ease you had working with our various ideas and the beautiful package you prepared outlining all the work MyHome was going to perform." Read more
Stephen McLeod — Ben Pitt's design addressed my wants and needs precisely, and helped me to visualize what was going to happen in great detail, including reviewing with me every detail of the project before beginning, emailing me with drawings and plans, and always returning calls or emails about 5 seconds after I made them! Read more
Joanne Sayers — Ben Pitt did a wonderful job with the design while Udi Hollander was diligent in managing the project with the support of Lasha the foreman. Read more
Elisabeth Austin-Page — Ben happily did the added work, as I complained about having to find a painter and floor refinishing company. Ben offered to give estimates for that as well. He had beautiful ideas for what could be done to my small and claustrophobic kitchen; when I had trouble imagining the kitchen as he described it, he drew pictures and I began to get excited about what would soon be my new kitchen. Read more
Henriette Arzewski — I get raves from friends and family when they view my apartment. The high quality of the workmanship is admired. The concept developed between myself and Ben Pitt has resulted in an airy, attractive living space in sync with the 1920's feel of this apartment building. Read more
Kyle Shadix — Thank you so much for all the AMAZING work you arranged for my uncle Greg's apartment at 609 Columbus Avenue #4Q. Read more
Ira Machowsky — Ben and Udi have been terrific from the very beginning of the Project. Your attention to detail and follow-up has been consistently excellent throughout and you both could not have been nicer to work with. Read more
Christopher Beggs — Ben was sensational! We worked out the design-plan together and got the home owners on board quickly! The cabinetry was ordered and delivered on time. We had minimal snags and finished the project on time & on-budget. Read more
Recent Projects