Uncategorized
The 10 Most Popular Bathroom Design Trends of 2017
By Tiffany Smolick
When selecting our most popular bathroom design trends of 2017, we have plenty to choose from. We've worked in hundreds of building in Manhattan remodeling bathrooms and kitchens. This year we've seen designs from bold flooring to gorgeous accent walls and everything in between. Below, you'll find our list of MyHome's 10 most popular bathroom trends.
#10: Pendant Lights
Pendant lighting is common in kitchen designs, but new this year we're seeing it in bathroom designs too. Adding pendant lighting to a bathroom design is a creative solution to a problem that actually comes down to aesthetics.
Pendant lighting or sconces can light your entire bathroom if the space is small enough. However, if your bathroom is larger, you'll likely still require additional light sources such as mounted fixtures, recessed lights, track lighting, and ceiling fixtures.



#9: Built-in Lighting
This type of design has been very popular in 2017 with MyHome designers. The streamlined aesthetic offers effective face-level lighting, which is ideal for grooming routines. Since it omits the need for pendant or sconces lighting altogether, it's a favorite for New York City homeowners who like a clean look.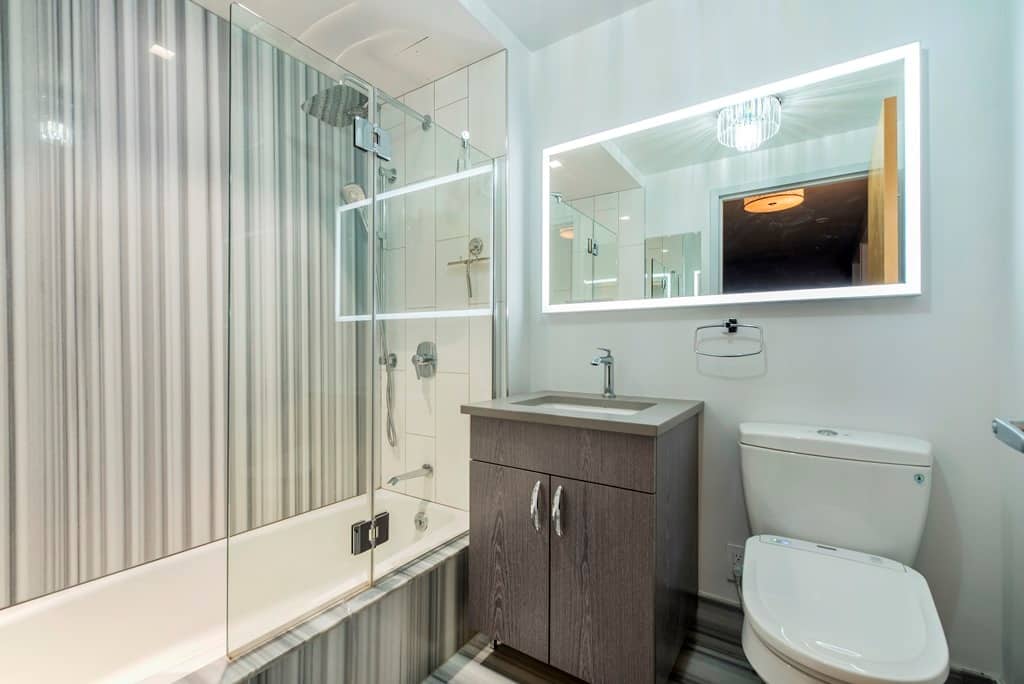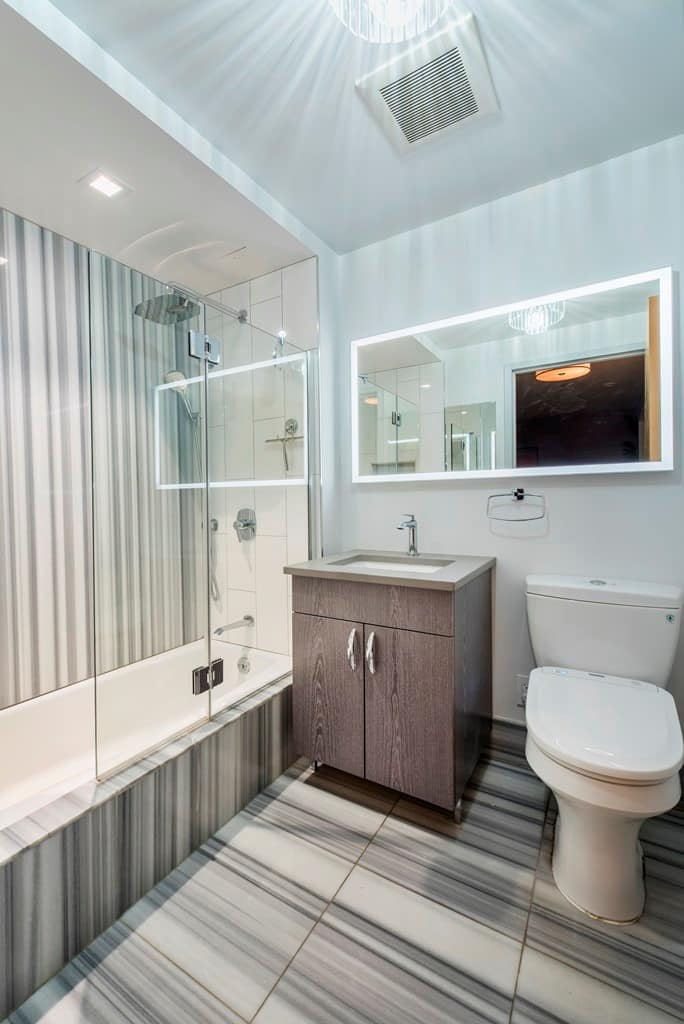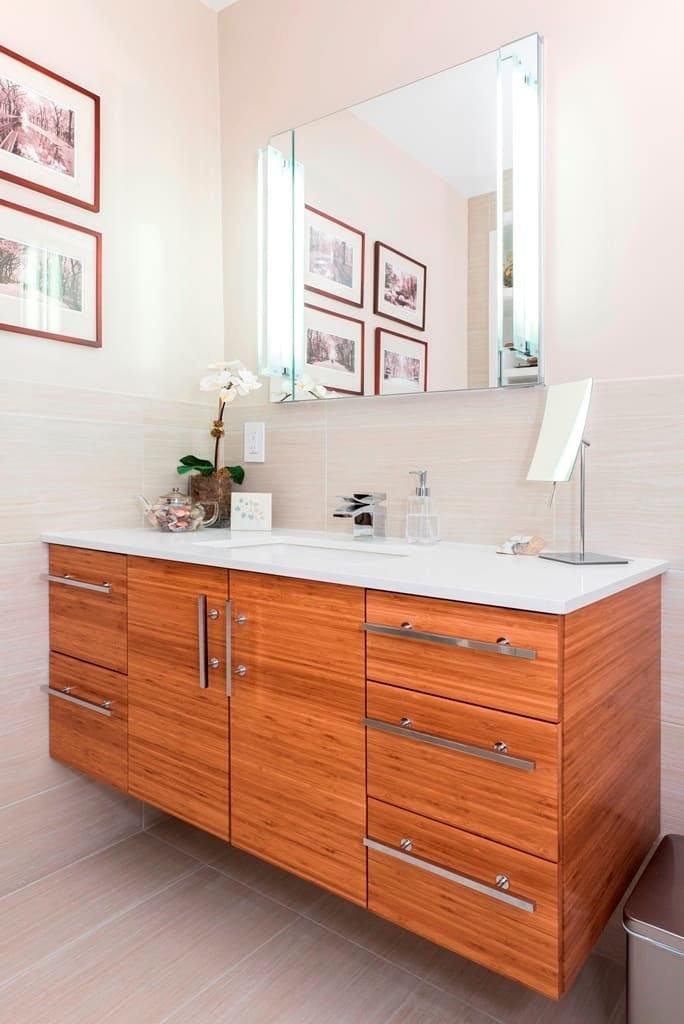 #8: Oversized Sinks
If you're one of the lucky few who have a large bathroom, you might consider installing an oversized sink. The deeper sink and larger size will keep water from splashing on the countertops. Another good option is a double sink vanity, perfect for performing your morning beauty regimens.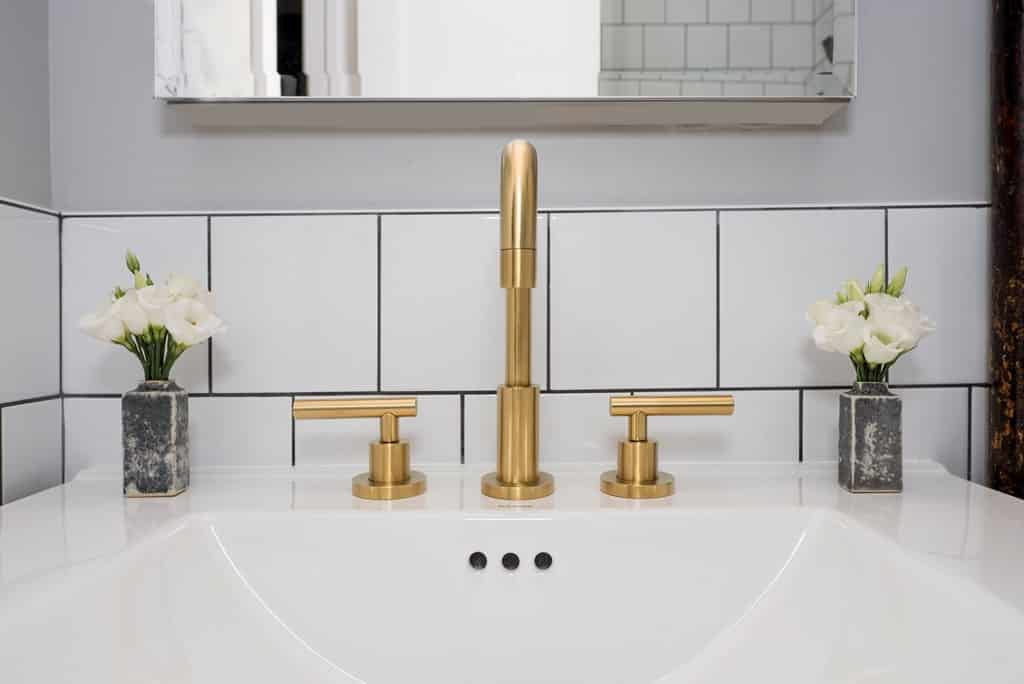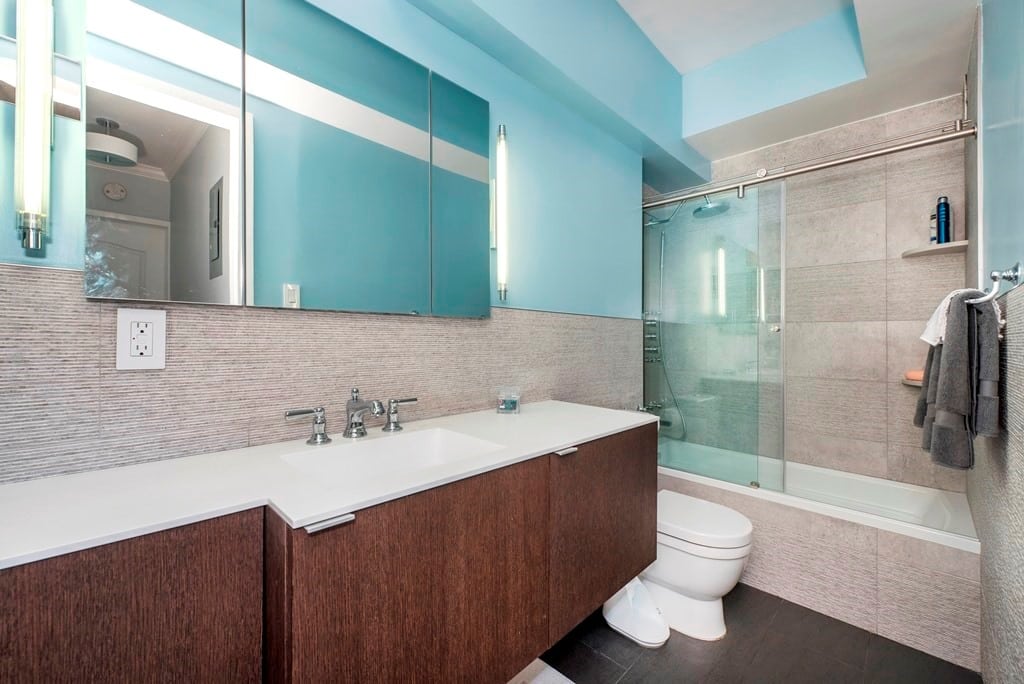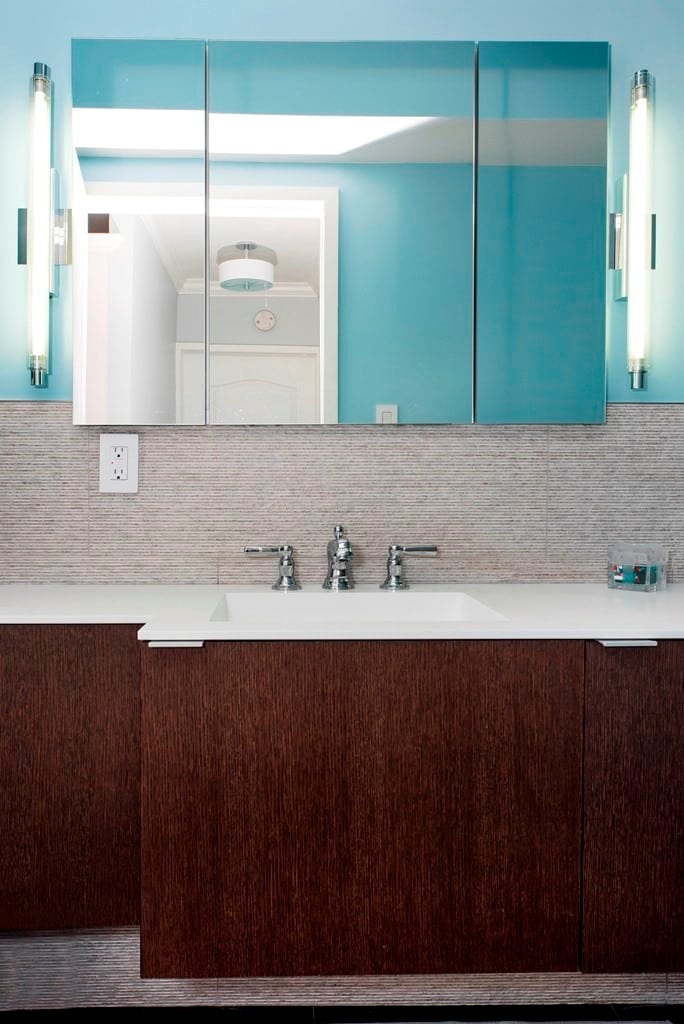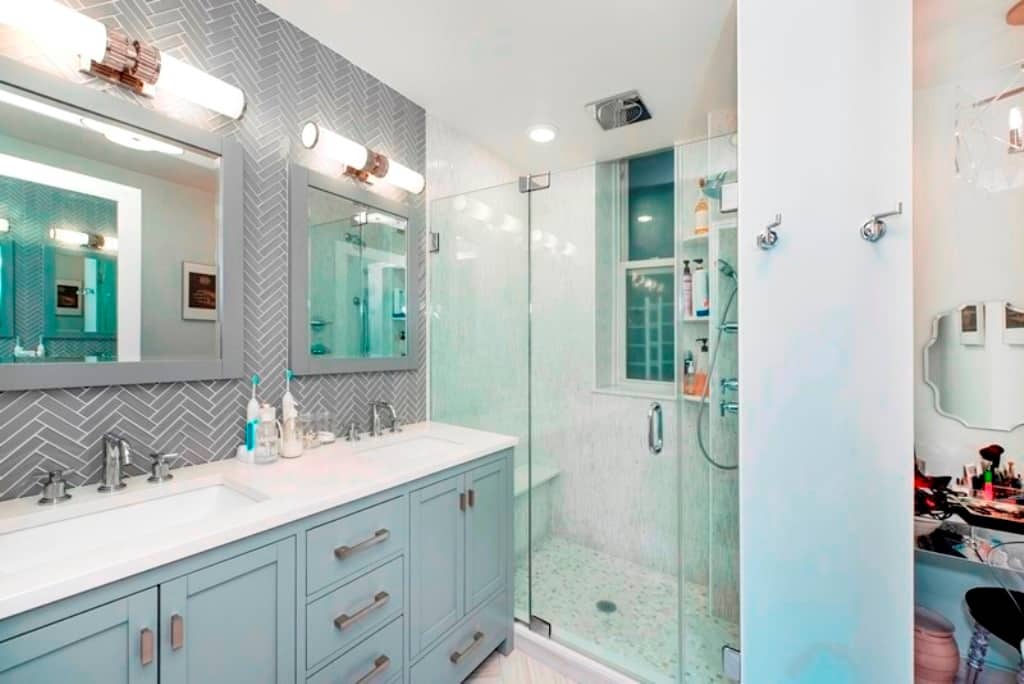 #7: Efficient Storage
If your bathroom feels cramped and you need more storage, you can take advantage of a double vanity (a vanity with plenty of drawer space or built-in shelves to create storage in any small bathroom). Before determining which design option works best, consider all the things you want to store. Know this information you can choose the materials that have the right dimensions and offer a functional design for your space.




#6: Bold Flooring
If you're looking to give your bathroom design a pop, try bold flooring. One trend that was big in 2017 was the classic black and white, checkered tile pattern. Checkered floors may seem retro, but they can also be contemporary, elegant, or rustic. Another trend this year was faux wood floors in the bathroom as this option offers maximum stylishness without any worry of water damage.




#5: Accent Wall
The options for selecting your tiles for your bathroom can be overwhelming. Moreover, it can be expensive. One incredible way to blend in a more expensive tile tile is to use a box or two of pricier tiles as accents. One of the effective places to do this is in a shower stall. One option is a glass mosaic, in this example which was designed by MyHome's Ben Pitt, the blue conveys calmness and features Rainbow Crystal Mixed 1"x1" Mosaic.





#4: Walk-In Shower
A walk-in shower is an ideal design for you if you need more room in your bathroom (or if you're just attempting to make the illusion of it). There are different options you can choose from such as frameless or completely open designs.
Frameless showers usually have the floor tiled throughout the entire space with a frameless glass door to shield the water from spilling into the rest of the room. Another option is an open walk-in, though this option is dependent on the size of your bathroom.






#3: Niches
A shower niche holds only one purpose and that is to hold your stuff –because, let's face it, no one wants to see all their products unorganized in the corner of the shower floor. A niche can capture your eye and gives your design a little flair. If you have an accent wall, it's also an opening for you to repeat the tile or pattern to tie the design together.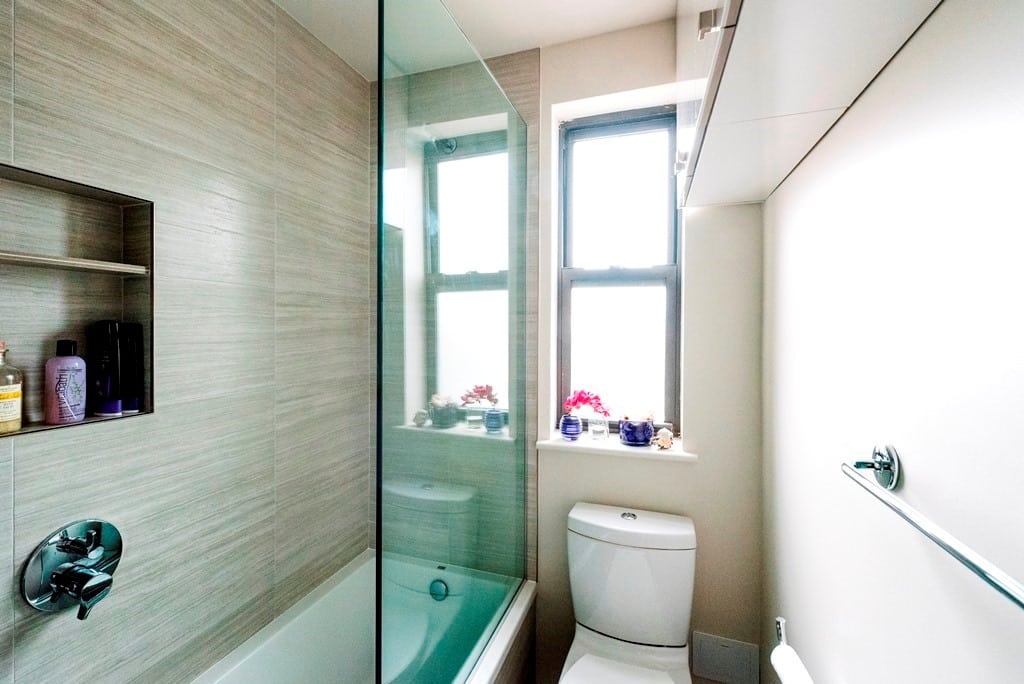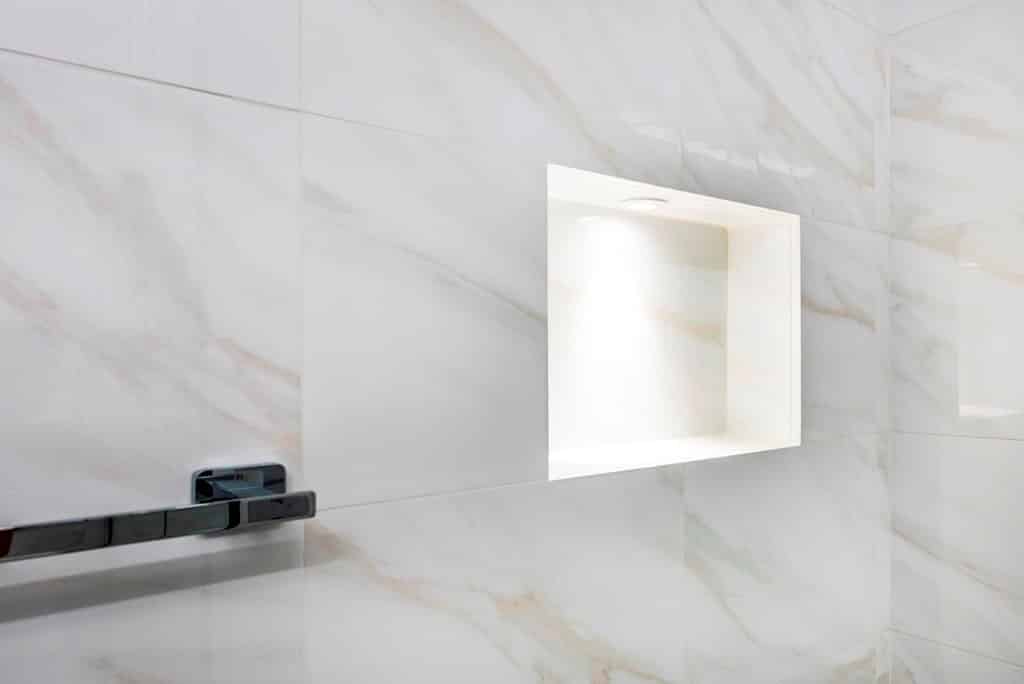 #2: Subway Tile
If you browse home magazines, you are sure to find designs emphasizing subway tiles. Subway tiles have a long-standing reputation for being a tile choice that coordinates and matches with nearly every style. We don't see this trend subsiding anytime soon. Subway tiles were extremely popular in 2017 and expect that waves to continue well into next year.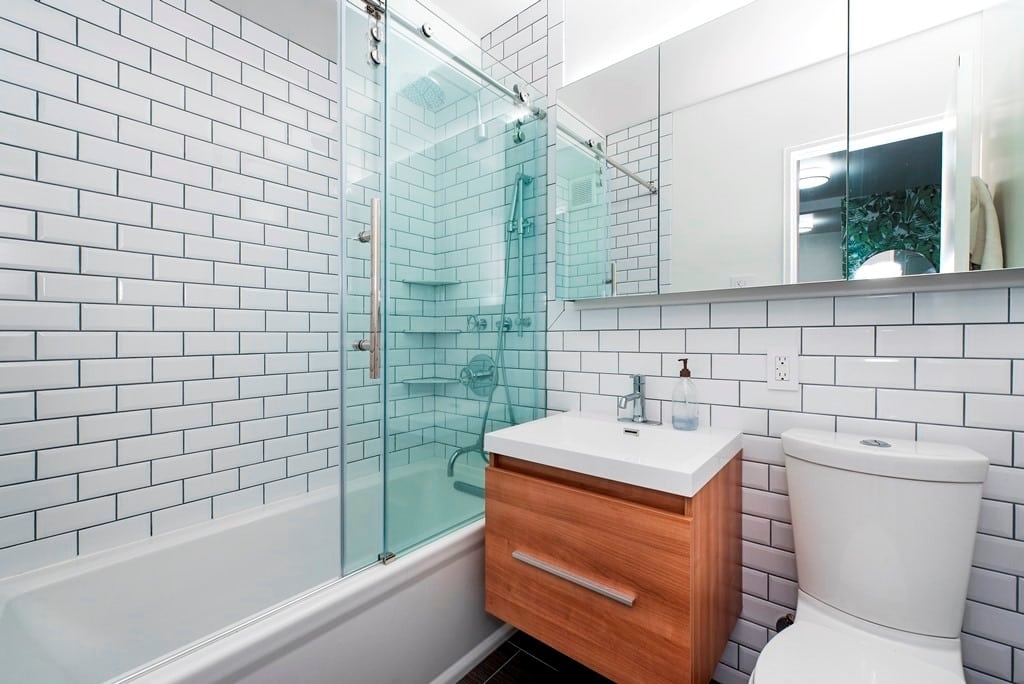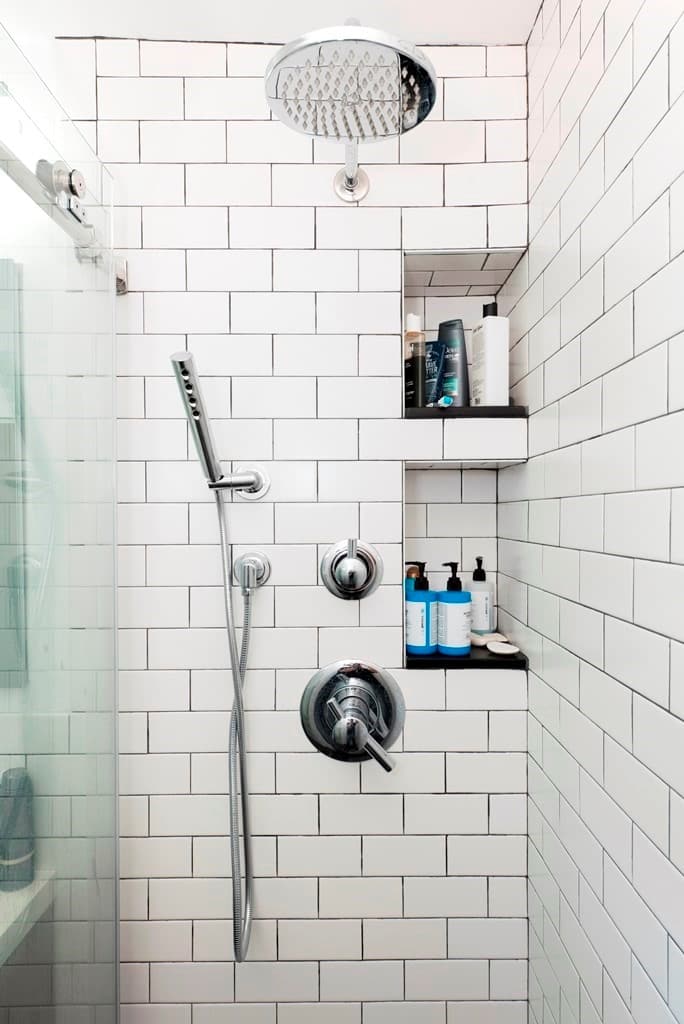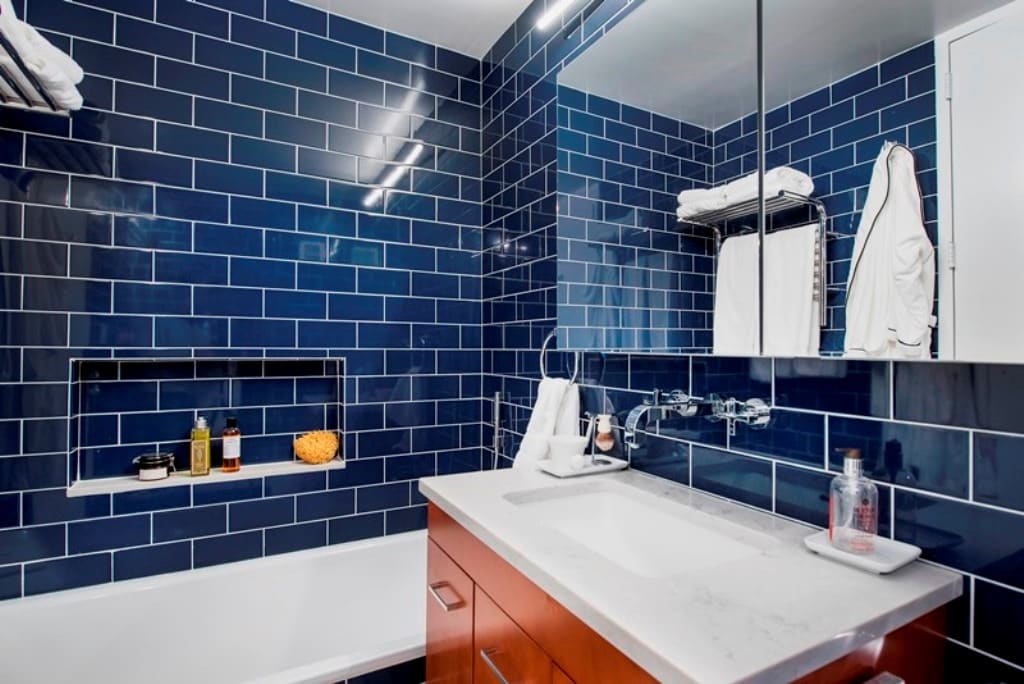 #1: Trendy
The most trendy bathroom designs of 2017 included:
bold fixtures,
accent walls,
adventurous floor designs,
natural hues,
and so much more.
If you are a brazen lover of bright colors or are in love with bold flooring, your bathroom is the best place to take a risk in the name of style. The bathroom is a small enough space that bright and bold materials can be used without over-committing.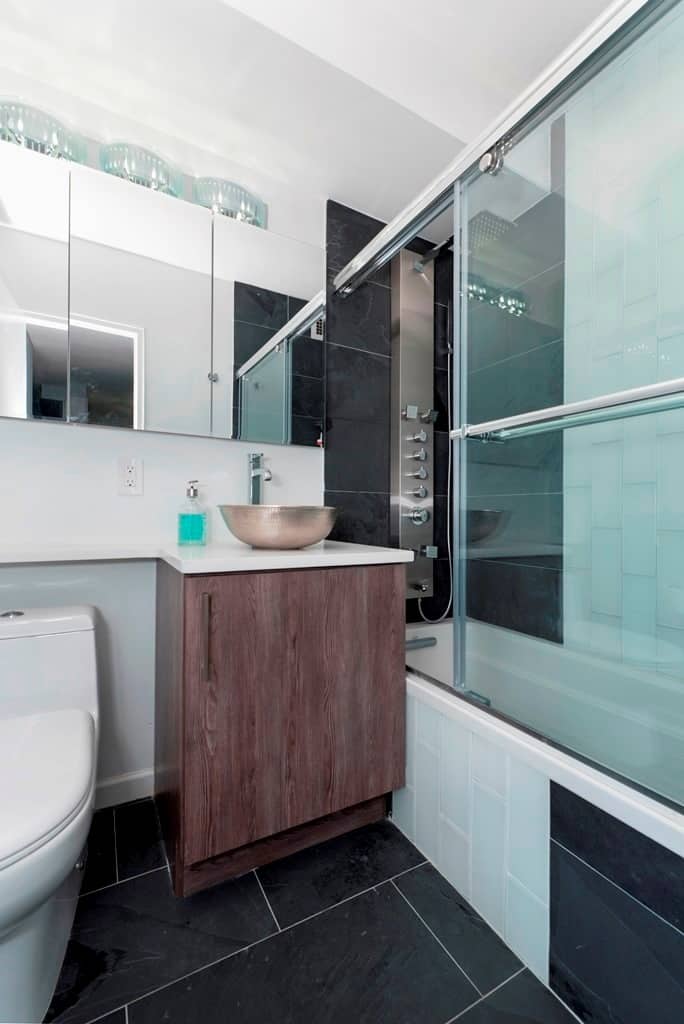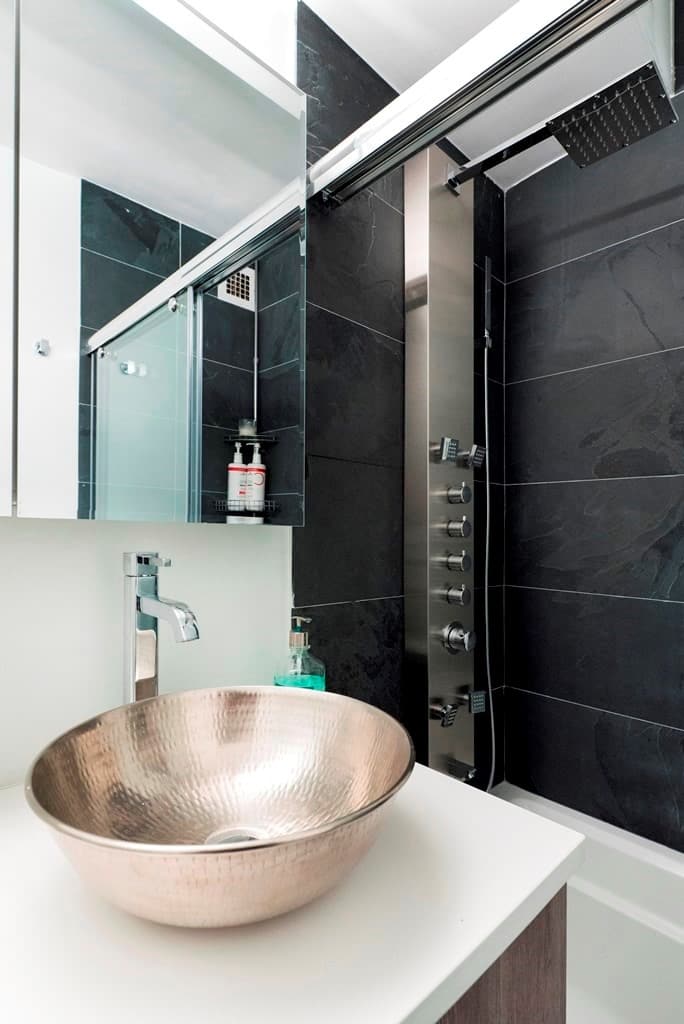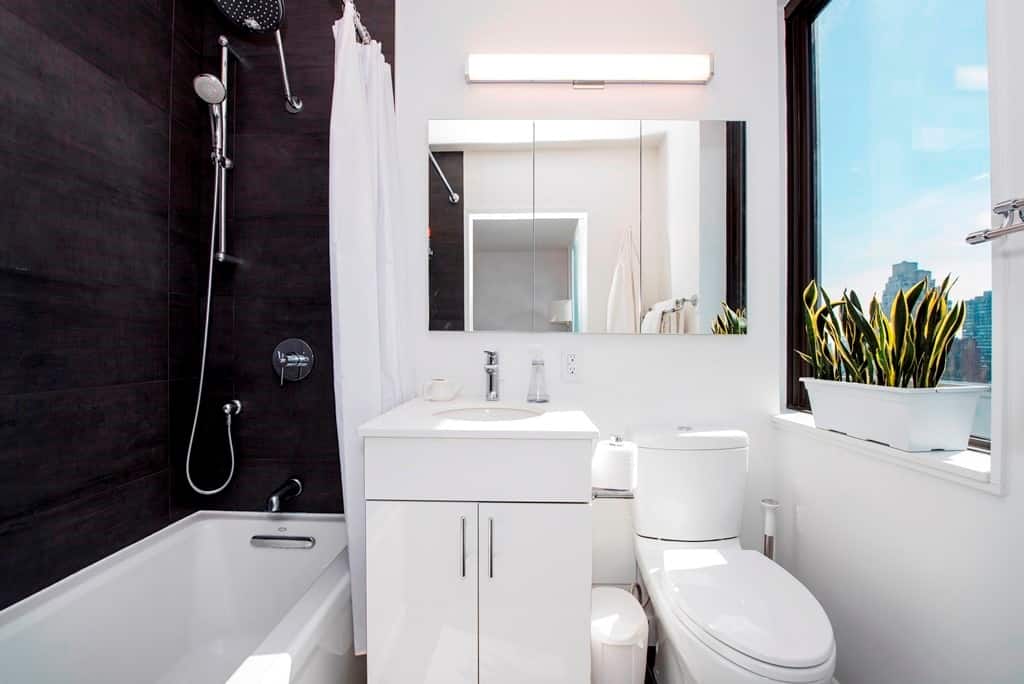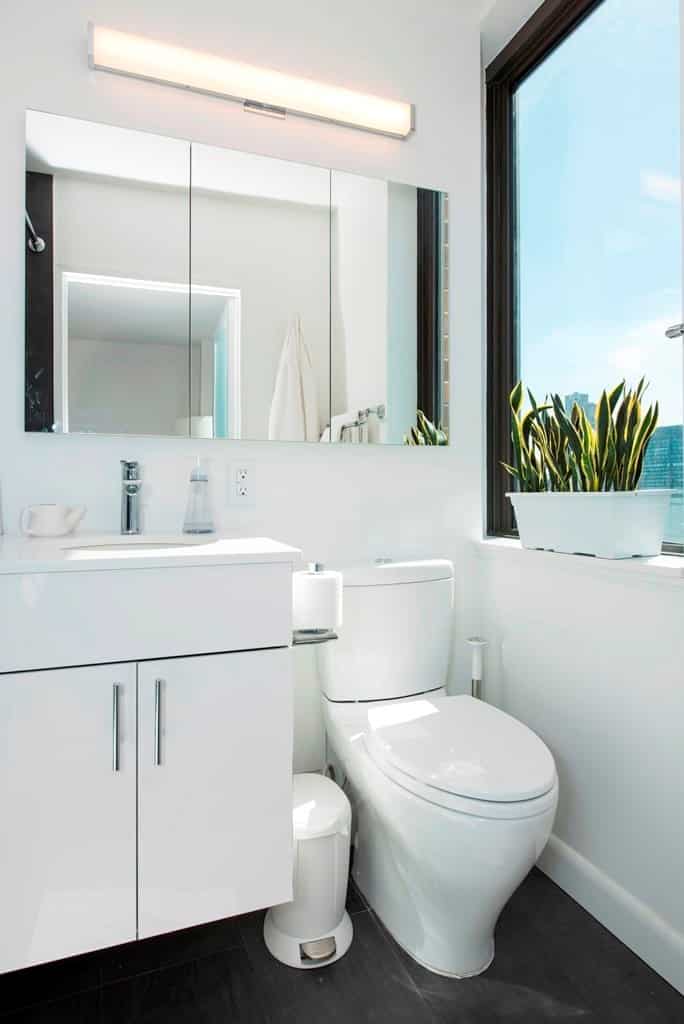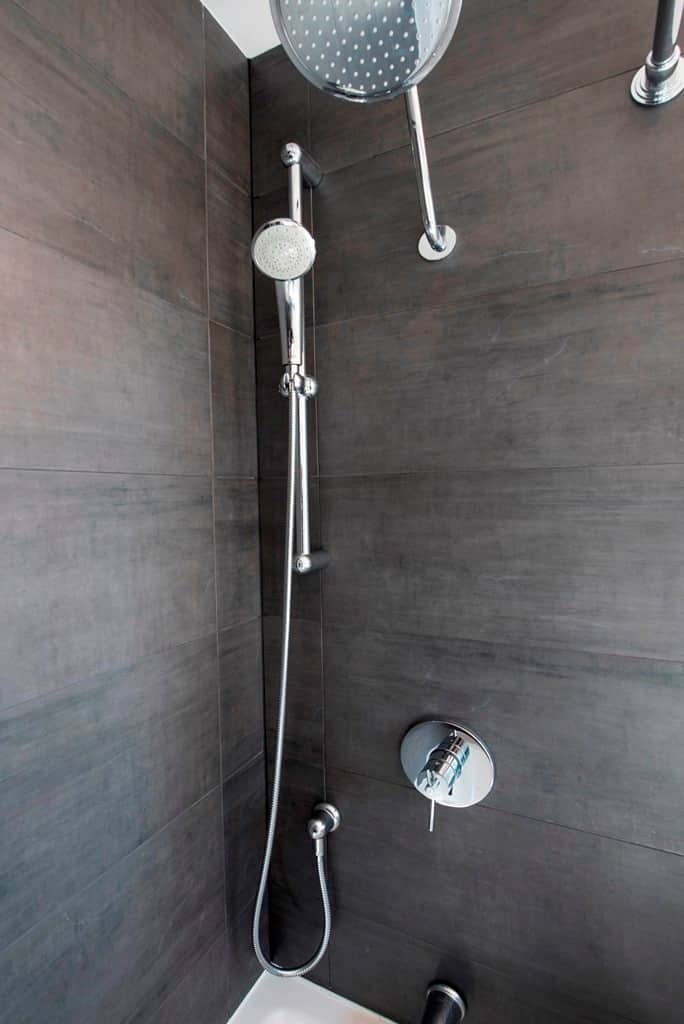 Consider our most popular design trends in 2017 to inspire your bathroom renovations. For more inspiration please see our photo gallery of projects recently remodeled by MyHome Design + Remodeling.
. . .
We hope you found this bit of information helpful, inspiring, and motivating toward renovating your kitchen and bathroom.